Content curation is collecting and organizing relevant information for your audience from different sources. A very few websites provide original content interpretation and commentary. However, creating content for different platforms is a difficult task, even for professional bloggers. It means coming up with fresh, interesting ideas every day.
So how do you create content and what strategies do you exactly use to market it? If you just do Google, believe me, you are missing a lot of things. There are many copywriters who still are unaware of proper content creating and marketing strategies. That's why we are presenting a few useful content curation tools for bloggers and marketers. They can help you get incredible information on a particular theme and can also help you figure out new topic ideas.
18. Utopic
Utopic is a visual bookmarking tool with social features that lets you easily save webpages and sort them in folders. You can collect favorites on the web, browse and save contents, and discover related items from people you trust. You can also use Chrome extension or bookmarklet to create bookmarks. All you need to do is just sign up with your Twitter or Facebook account.
Recommended: 30+ Websites to Get High Quality Images for Free
17. MyCurator for WordPress
MyCurator is a WordPress plugin that works continuously in the background delivering a bunch of interesting, usable article throughout the day. You can easily curate these contents onto your site.
The plugin uses a cloud process to perform article classification and intensive AI processing. You don't have to search every time, it automatically finds the content you want.
16. Triberr
Triberr is a community of blogger and influencers come together to read and share great content. It's a great way to connect with other professionals and curate their content. There are groups called tribes, which are basically areas of interest. You can find tons of great articles on any topic and comment/share them.
15. ContentGems
ContentGems is developed to quickly find and share the most valuable content on the internet. The platform gives you access to over 200,000 blogs, news sources and social media accounts. It keeps you updated about the latest trends and news in your areas of professional interest.
To search articles on any specific topic, there is custom keywords search system with optional advanced syntax. The results can be filtered by social signals, custom source, media and more. Also, you can monitor content that people share on Twitter, and any website with RSS feed.
14. Saved.io
Saved.io is a simple bookmarking system that allows you to create bookmarks without installing any extension or plugin. All you need to do is just type saved.io/ in front of any URL to save bookmarks to the cloud. All your links are saved privately and not shared with anyone. You can create lists on the fly by typing AListName.saved.io/ and add quick notes to the links. Also, you can export your bookmarks and then import into any browser.
13. Spundge
Spundge is end-to-end content platform for bloggers that makes it easy to discover, create, publish and monetize your content. All you need to do is just set up a keyword, find related content and save it for later use. Over time, the tool learns what you are interested in, adjusting results to meet your needs. You can also distribute your curated content in RSS form and even set up content subscription within few clicks.
12. Curata
Curata is an advanced, enterprise-level content marketing platform that streamlines content production process and analyzes marketing and sales pipeline impact. With their content curation software you can discover, organize and contextualize your content with just a few clicks. The publishing and promotion allows you to broadcast curated content across your blog, newsletter, social and automated marketing platform.
The platform is quite expensive; base price starts at $499 per month and there is no free version. However, you can request a free demo before purchasing.
11. Protopage
Protopage is a feature rich tool that lets you create a complete custom page just for yourself. It's an RSS reader and you can use it as a virtual desktop or internet start page. The basic organization on the page is done by creating, editing and rearranging widgets according to your needs.
Here you can read your own selection of news and blogs, add sticky notes, keep bookmarks, add to-do lists, manage your calendar and more. There is also an audio and video podcast function, the option to add cartoons and categories to organize your information.
10. PublishThis
PublishThis is designed to solve the increasingly complex content problem through advanced computer algorithms and Big Data smarts. It is all about matching the right content to the right customer at the right time. It centralizes your communication channel on single platform, making posting and publication easier. The platform takes care of SEO-friendly needs and automatically monitors contents, trends, key topics and competition. It also comes with an API that helps you customize articles to a specific set of audience.
9. Bundlr
Bundlr takes what you have found across the internet and wraps it into easy-to-manage categories. You can create bundles with any kind of content such as articles, real-time breaking news, photos, videos, tweets, links etc. Once you've created a bundle you can add meta-data and publish it for others, and track how many followers your bundle(s) have. Moreover, you can use Bundlr as a research platform for any type of work assignment.
8. Kippt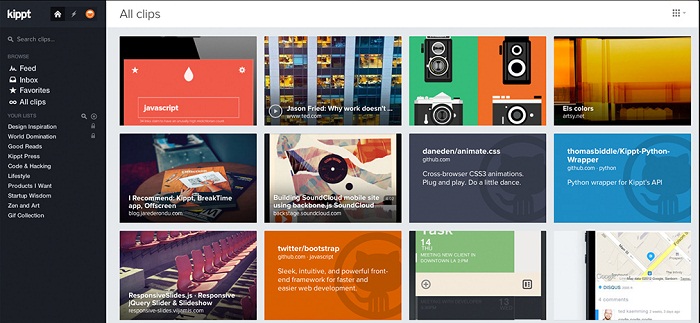 Kippt is full-feature curation tool where you can build your own library of amazing things. You can browse and read articles, watch videos, save links, share stories and much more. Make your collection either private or public or share with the people you work with. It is great for designing projects and saving work resources, and makes your information workflow and archiving effortless.
7. Swayy
Swayy integrates your social accounts and topic of interest in one place to read and share. Just add one of your social accounts and it will start curating the most engaging and popular content that comprises your social network. There is analytics system that shows you what content is most effective for growing your community.
The free version comes with one dashboard. For additional features and functionalities, price starts at $9.99 per month and goes up to $119 per month.
6. Listly
Listly allows you to create and discover smart lists that your readers can interact with. Copywriters know list based stories work and that's why we have "10 ways to …", "12 facts about", "5 things you need to know" kind of articles flying around. And these posts actually work, because they are easier to consume than a text flooded article.
In Listly, you can collaborate with friends, and make beautiful and fun listicles. Once the list has been created, readers can add items, vote entries up or down, comment, share and even embed the list.
5. TrapIt
TrapIt is an intelligent tool that helps you to engage with your audience through quality, curated content. It lets you combine your branded content with content from over 100,000 sources including magazines, journals, blogs, news, services, videos and more.
It is also integrated with analytics and reports that help you understand how your readers are responding to the content you share, providing you the guidance you need to shape your social selling strategies, while keeping your readers delighted.
4. Prismatic
Prismatic is personalized recommendation app that uses machine learning algorithms to filter content that aligns with the interests of a user. It fills you up with all things you care about. Here, you can learn interesting things alongside a community of people who share the same interests.
To get started, select or follow at least 10 topics out of many available such as technology, politics, food and health, automotive, DIY, science etc. Once you've done that, you'll be redirected to the homepage which presents stories from people and topics you've selected. Prismatic will automatically serve you content based on your engagement with the app.
Download app for Android | iOS
3. Flipboard
Create beautiful custom magazines of any theme. Flipboard is a great content curation platform where you can discover a lot of new things on any topic. However, it requires little time commitment for optimal results. If you are visiting the website first time, you'll be asked to select or follow a few topics like Earth science, food, supercar, technology etc. Once you've done that, it will create stunning layouts (filled with latest articles) that look and feel like a professionally designed digital magazine.
2. Diigo
Diigo is a personal knowledge management tool that dramatically improves your workflow and productivity. We all spend a big part our day working with online information. Most of our researching, organizing, collaborating, sharing and connecting dots into knowledge, is still a large ad hoc and inefficient.
And that's where Diigo comes into play. It streamlines the information workflow by allowing you to read more efficiently with annotation tools, build your personal library, provide feedback and catch attention, organize and share your information as little or as much as you want.
1. Storify
Storify is the place to research, collect and share what people are saying all over the web. You can also create stories from social media sites like Instagram, Twitter, Facebook etc.
Now companies have started using this platform to broadcast their on-going events, product launches and Q&As. At present, Storify has over 2 million stories from breaking news to your fans' views, businesses, brands and blogger. You can use the platform to turn your content into shareable stories every day, for free.
Now Read: How often you should Update Blog post?