Contract reviewing is considered a cumbersome process. It involves analyzing a lot of details like commitments, compliance mandates, pricing discounts, additional milestones, etc.
Imagine the amount of effort required to proofread hundreds of pages written by other party to make sure the document reflects what's been agreed upon. Plus, you may need to exchange numerous emails or make calls to clarify details while working within deadlines. It's a laborious and time-intensive process, even when both parties are using a neat template.
That's where contract analysis tools come in handy. They use natural language processing and machine learning techniques to help professionals scrutinize contracts more efficiently and effectively.
More specifically, these tools search, process, analyze, and extract various important data from contracts to help you better understand what you are getting into. This includes anything from estimating the cost of missed contract renewals to determining friction points within the contract workflow.
Since these tools can significantly cut down the time it takes to review complex contracts, they are primarily used by law firms and legal discovery experts. They are common for finance departments, human resource departments, legal departments, and sales teams that deal with contract production and execution.
Some studies have shown that poor contract management can cost businesses up to 10% of their annual revenue. To help you mitigate this risk, we've featured the best contract analysis software platforms that ensure all terms are properly documented and enforceable.
10. Kira Systems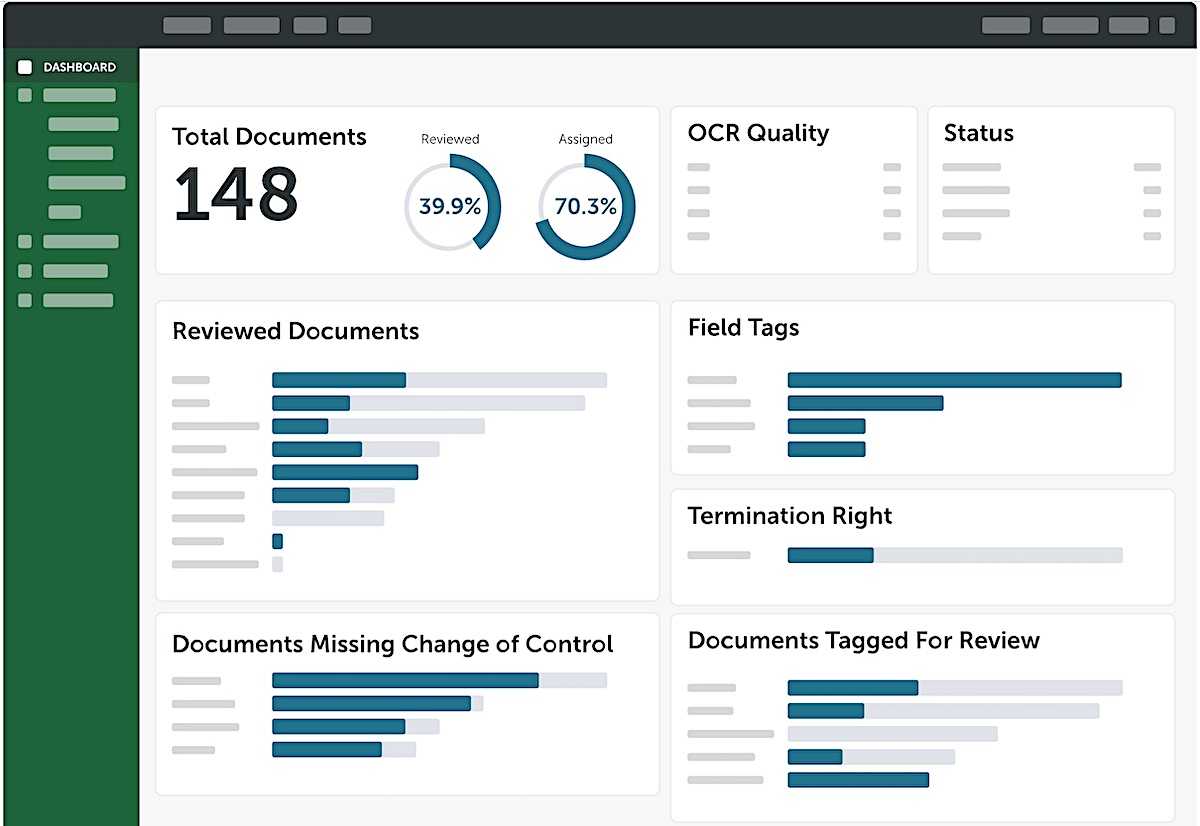 Released in 2011
Price: Based on business requirements and contract complexity | Free demo available
Ratings: 8.1/10 from 100+ clients
Built on powerful patented supervised machine learning technology, Kira Systems can efficiently extract common clauses, provisions, and key information while providing actionable insights into your business.
This is how it works — it imports files in any format and converts them into machine-readable form. It then uses its proprietary AI model to identify important data points such as commercial terms, compliance, contract renewal dates, and more. You can even teach the model to detect clauses in foreign languages like Spanish, French, and German.
Kira Systems also comes with on-screen editing tools to refine results and an intuitive dashboard to give you a complete view of your project. The dashboard makes it easier to communicate risks with your team members, create custom reports and summaries for any data point, and export/share those reports with colleagues and clients.
Key Features 
Comes with 1000+ smart fields to accurately extract common clauses and data points
Identifies risks due to any legal, regulatory changes, and unexpected liabilities
Optimizes internal workflow and speeds up the review process.
Kira's machine learning models are trained by a team of experienced accountants, lawyers, and subject matter experts who have worked at prominent companies like PayPal, Goodmans, Bank of Montreal, and Torys.
Kira claims that their automated platform can help you save up to 90% of agreement review and analysis time.
9. Icertis Contract Intelligence
Released in 2009
Price: Based on contract processes and the business size | Free demo available
Ratings: 8.5/10 from 200+ clients
Icertis Contract Intelligence software transforms static documents into strategic contracts by organizing and connecting key data that determines how a business runs.
More specifically, it applies advanced AI models (trained on millions of agreements) to identify opportunities, trends, and potential risks in a business. This accelerates contract turnaround, improves contract language, and reduces tedious admin tasks.
It also allows you to address past contract challenges that were handled poorly. This includes importing external contracts at scale, digitizing legacy contracts, evaluating previous negotiations, and visualizing data to gain detailed insights into contract performance and relationships.
Key Features 
Intelligent workflow and built-in analytics
Provides complete visibility into past, present, and pending contracts
Built-in risk scoring and obligation tracking
Integrates with SAP, Salesforce, and Microsoft Office
Overall, the platform ensures that when agreements are created and signed, the language in the document reflects that intent. It has already been used to draft more than 10 million contracts (worth over $1 trillion) in 40+ languages from 90+ nations and across 25+ industry verticals.
8. LinkSquares Analyze
Released in 2015
Price: Based on the number of users and business requirements | Free demo available
Ratings: 8.9/10 from 300+ clients
LinkSquares saves businesses thousands of dollars and hundreds of hours by eliminating tedious, manual contract processes and cutting down the need for outside guidance.
The platform utilizes advanced machine learning models to extract 'Smart Values' (such as termination dates and renewal terms) from all types of contracts. It allows your team to quickly uncover hidden values and data that are crucial to your company's growth.
LinkSquares can also organize multiple contracts in a secure, central location, so authorized team members can easily access the agreements and make necessary changes. They can even run detailed reports across the whole legal portfolio within three clicks.
Key Features 
Tracks internal and external metrics
Dynamic reporting and real-time snapshots of contracts
Supports several popular document storage and e-signature tools
Encrypts everything for maximum security
Their proprietary AI models are built from scratch to tackle subtle details in contracts and provide accurate information at the highest levels of speed. To make this AI reliable and as precise as possible, it is continuously trained on millions of agreements.
The AI is smart enough to evaluate customers' data, assess risk exposure and security commitments, gain insight into your liability obligations, track payment terms, and identify fundamental limitations in contracts.
7. DocuSign Contract Management
Released in 2022
Price: Starts at $15 per month | Free demo available
Ratings: 8.5/10 from 200+ clients
DocuSign makes the contract management process easier, faster, and less risky, whether you are buying something for your business or closing the next big deal with a client.
It allows you to create and organize documents with a click of a button. You can use built-in templates and a clause library to generate new agreements. There are over 100 pre-configured workflow steps to produce, review, approve, and send contracts for signature. Or you can use the drag-drop editor to design the contract processes the way you want.
The software utilizes more than 100 pre-trained AI models to efficiently extract, examine, and report on key contract data points. It gives you valuable insights that might be helpful for closing sales deals faster, decreasing procurement costs, and speeding up the process of legal review.
Key Features 
Eliminates entry errors and discrepancies
Automate contract routing for internal and external review
See who made changes to which version and why
Integrates with Salesforce, Netsuite, SAP Ariba, and Coupa
All contracts are stored in a secure, central place
DocuSign takes care of repetitive contract-related tasks, so you and your team can spend more time on high-value strategic work. The average business sees an 80% reduction in contract drafting time and a 50% reduction in contract completion time.
6. ContractWorks
Founded in 2012
Price: Starts at $700 per month (when billed annually) | Free trial available
Ratings: 8.6/10 from 80+ clients
With ContractWorks, you can store all your legal documents in one secure, searchable, scalable contract repository. It keeps all business documents organized at reasonable costs, allowing you to stay ahead of obligations and never miss important dates with automated reminders.
It is packed with an advanced OCR tool that generates a liner outline as per your agreement's section headers, making it easier for you to navigate to key sections and quickly find what you are looking for.
And as soon as you upload documents, an AI-powered tool adds key contract tags like effective data and termination date. It even highlights key details of the agreement. You can quickly review these tags and details across multiple contracts and create custom reports to track data points most crucial to your business.
Key Features 
Custom reporting, alerts, and notifications
Advanced search and OCR
Sign documents securely from anywhere
Pre-approved templates to unify language and reduce errors
You can use the in-built template to create custom, compliant contracts within five minutes. Set up stakeholders to approve sections, clauses, or entire contracts. ContractWorks claims that its AI models can reduce contract drafting time by 80% and approval time by 70%.
The standard version, which costs $700 per month, is suitable for small businesses. It allows you to add unlimited users, up to 2,500 agreements, and 5 electronic signature licenses.
5. Lexion Contract Analysis
Released in 2018
Price: Based on the number of users and business requirements | Free demo available
Ratings: 9.2/10 from 100+ clients
Lexion simplifies and streamlines contract workflows for each department across your business. It brings all agreements in one place, making it easier for all departments to know where their deals stand and take steps to keep them moving.
The platform integrates with Slack, Salesforce, and Email, so stakeholders can submit contract requests and initiate tasks. All discussions (on a task) are captured in one place.
The No-Code Workflow Automation allows you to create and enforce standards within minutes. You don't have to worry about who to include or when to send for sign-off. It manages routine admin tasks, so your team members can focus on what's important, like negotiating more favorable terms.
Key Features 
Automatically generates clause language or inserts clauses from previous agreements
Tracks key dates and provides reminders of upcoming events
Search by clause type, party name, and more
Organizes all your existing contracts
The company utilizes GPT-3 based AI Contract Assist to help lawyers draft, negotiate, and summarize agreement terms. The AI saves time by creating an initial draft, producing suggested redlines, and summing up clause language.
The platform instantly creates detailed reports about what's in your contracts. Once you save the report, it is automatically updated with new data, and can be easily exported and shared with team members.
4. Conga Contract Intelligence
Released in 2006
Price: Starts at $35 per month per user | Free demo available
Ratings: 8.8/10 from 100+ clients
Conga Contract is an AI-driven contract performance platform that helps you control spending, increase profits, and minimize risks. It is designed for small businesses looking to optimize complex contracting operations that span multiple departments.
The platform automatically identifies key information (hidden in a long, complicated agreement) and transforms it into proactive alerts and tasks. More specifically, it extracts, verifies, and transforms the legal language into common English.
You can easily search across the database, generate automated reports, and enable notifications to track crucial information about your business.
Key Features
Generates risk reports pinpointing the area of concerns
Shows contract performance by department
Integrates with ERP and business intelligence tools
Conga Contract Intelligence can be deployed on all types of contracts, irrespective of the author of the agreement (internal or third-party paper). So far, the company has analyzed over 2 million contracts and 1.5 billion data points, saving 2,000+ hours per user on average.
3. Evisort Contract Analytics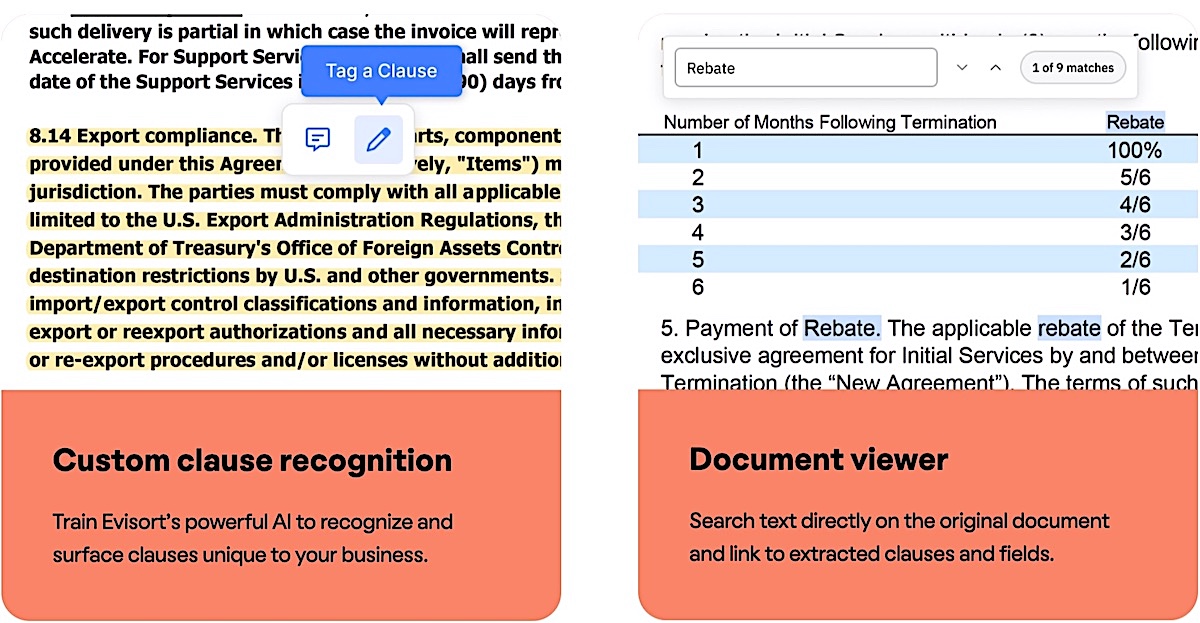 Released in 2016
Price: Based on your business requirements | Guarantees significant ROI in days | Free demo available
Ratings: 9.2/10 from 150+ clients
Evisort offers one of the smartest artificial intelligence tools to scan legal documents and extract key information. Their proprietary AI model has been trained on more than 11 million contracts and over 1 billion data points.
It can instantly extract specific fields, clauses, and metadata from all types of contracts. Unlike traditional software tools, it can detect similar documents and put related sections together by using logical relationships.
Its intuitive dashboard allows you to search specific agreements, review micro/macro level data, and summarize all your contracts or third-party papers for quick evaluation.
Key Features 
Scans physical contacts with OCR to make them fully searchable
Extracts clauses and data based on context and semantic meaning
Analyzes trends across your entire business domain
Visualize key data like payment terms and expiration dates
Supports all types of contracts, including BAAs, ISDAs, NDAs, and leases
You can also train the software to recognize your specific business terms and industry. And there is no need to acquire any programming skills to do that — everything can be controlled and managed through Evisort's automation tools.
Once the software is trained, you can search for particular fields and associated notes at the individual agreement level.
As for pricing, the platform doesn't offer any 'one size fits all' service. However, they do guarantee significant returns on your investment in days, not months.
2. Loio
Released in 2020
Price: $59 per month for solo lawyers and legal teams | Free version available
Ratings: 9.4/10 from 50+ clients
Loio allows you to analyze and edit complicated contracts faster and more conveniently. It automatically checks documents for drafting errors, detects important data, and quickly assesses the entire agreement.
The software assigns a Health Score with each document, and it is updated every time you scan the document. The score is calculated based on the number of errors (as well as their priorities) found in the document. A perfect contract (with no error) would score 100 points.
Moreover, Loio can automatically add Table of Contents (ToC) in long contracts, making it easier to navigate through them and understand what's inside each section or clause.
Key Features 
Eliminate high-risk errors and small issues like typos
Integrated clause management
Fix broken formatting
Supports bilingual contracts
It also features an automated clause management system for crafting accurate agreements with comprehensive clauses. You can either select from 100+ pre-built clauses for various kinds of legal notes or add custom provisions and collaborate with confidence.
While their services are reasonably priced, you can start with a free version — it scans up to 20 documents and detects 5 mild issues and 5 critical issues.
1. Summize
Released in 2018
Price: Based on the number of users and requirements
Ratings: 9.3/10 from 50+ clients
Summize is a game-changer for companies that deal with contracts on a daily basis. It makes it easier to extract information, track usable data inside contracts, and identify missed profit opportunities, renewal dates, and more.
The Contract Analysis Engine generates precise contractual summaries and highlights red flags so that you can minimize legal risks within minutes. According to the company, it accelerates review processes by 85%.
You can extract important dates (almost instantly) and add them to the Summize calendar, create email reminders for contract renewal, and customize the interactive dashboard as per your needs. Actionable data and smart insights are available at your fingertips.
Key Features 
Creates instant, precise summaries
Highlights opportunities and risks within each contract
Built-in reminder automatically extracts important dates
Categorize contracts based on type, employee, region, and status
The platform integrates with several popular tools like Microsoft Word, Teams, Sharepoint, and Slack to deliver a seamless user experience. To make things easier, Summize puts all contract requests in one place and allows beginners to draft business contracts using a quick Q&A chatbot.
While they have not disclosed the pricing model, your quotation for the cloud-based solution is based on the number of users, business requirements, and implementation plans.
Other Equally Good Contract Analysis Platforms
11. XtractEdge
Released in 2020
Ratings: 8.8/10 from 50+ clients
XtractEdge helps firms across industries extract valuable data from their contracts and other legal documents. It uses advanced machine learning techniques such as semantics-based, language-sequence-based, and vision-based to efficiently analyze and review lengthy contracts.
It works with almost all types of documents, including commercial insurance papers, legal contracts, handwritten notes, emails, PDFs, images, and SOPs. Whether you have tons of highly complicated documents or myriad unstructured data, XtractEdge can deliver measurable business value.
The software can even compare different clauses and terms to help you better understand the agreement and minimize contractual risks.
Key Features 
Provides a 360-degree perspective of each contract
Identifies risks and deviations during contract negotiation
Prevents revenue leakage
Ensures contractual compliance
Its parent company, EdgeVerve, has served numerous large companies worldwide. One of their customers, a giant telecommunication company, manually reviewed over 650,000 tower rental contracts, which impacted both data accuracy and team efficiency.
With XtractEdge AI, they were able to automate the contract review operations, saving $20 million in expenses and improving employee productivity by 60%. 
12. SirionLabs Contract Analytics
Released in 2012
Ratings: 9.1/10 from 100+ clients
SirionLabs's AI engine finds the information you need to uncover opportunities, reduce risks, and make better business decisions. Whether you are a trainee or an experienced professional working in a law firm, the platform puts you in control.
It allows you to evaluate contracts, flag missing and vague terms, and ensure compliance with organization's preferred positions.
More specifically, their AI models can efficiently extract and analyze hundreds of clauses, obligations, service levels, industry-specific metadata, pricing tables, and more. They even offer advanced analytics to support re-negotiation strategies and find market opportunities.
Key Features 
Tracks obligations, expiration, renewal, and milestones
Smart risk analytics and contract management
Supports all documents types, image formats, and zipped folders
Integrates with ERP and CRM platforms
Compared to traditional contract life management platforms and legacy solutions, SirionLabs can reduce extraction time by up to 80% at 50% cheaper costs. So far, the company has processed more than 5 million contracts (worth over 450 billion) across 70+ countries.
13. Luminance
Released in 2015
Ratings: 8.5/10 from 50+ clients
Developed by mathematicians at the University of Cambridge, Luminance is an advanced AI platform for processing legal documents, identifying key information, and streamlining operations. It handles everything, from contract drafting and negotiation to review and analysis.
The AI combines numerous machine learning techniques (including pattern recognition, natural language processing, and deep learning) to accurately label key information in contracts and help professionals make data-driven decisions.
Luminance is smart enough to identify anomalies present in lengthy, complex agreements and categorize them by type and severity. This could help legal firms meet tight deadlines, reduce expenses, and rapidly get to the heart of the matter.
Key Features 
Detects anomalies almost instantly
Recognizes over 1000 out-of-the-box concepts
Comes with collaborative workflow tools
Integrates with Microsoft Word, Outlook, Sharepoint, Salesforce, and Dropbox
So far, Luminance has analyzed more than 100 million agreements in 80+ languages across diverse fields of law, from property leases and NDAs to emails and WhatsApp messages.
More To Know
What's the difference between contract analysis software and contract management software?
While contract management platforms handle the process of creating new agreements and storing and tracking existing agreements, contract analysis tools focus more on extracting and interpreting crucial information present in agreements. Both are part of the contract lifecycle management process.
What are the major benefits of using contract analysis tools?
Contract analysis tools offer numerous benefits to your business as a whole. It allows legal teams to
Track important data like expiration and renewal dates
Improves legal team productivity
Reduces risks and unnecessary expenses
Identifies opportunities to increase revenues
Provides insights for better decision making
Some comprehensive platforms, like Juro's contract automation software, allow users to quickly create contracts as structured data, build customizable dashboards to track all agreements in one place, set renewal reminders and user permissions, and run reports based on fields and tags.
The market size of contract lifecycle management (CLM) platforms
According to the Precedence Research report, the global CLM software market size will reach $5.8 billion by 2030, growing at a CAGR of 13.2% from 2023 to 2030.
In terms of deployment solutions, cloud-based platforms have dominated the market with a revenue share of about 68%. By region, North America retains the highest market share of almost 40%.
Why you can trust us?
We thoroughly researched numerous contract analysis software available in the market and read clients' reviews. It took more than 30 hours to find everything we needed. Eventually, we decided to shortlist the 13 platforms based on their features, AI models, and ability to integrate with third-party tools (like MS World and CRM tools).
Our "Rating" is the average of all ratings given by genuine customers on trusted review sites. In order to show you the true picture, we haven't considered reviews and testimonials featured on the software's official website.
We DO NOT earn commission from any of the featured platforms. Furthermore, we have two independent editors who have no influence over our listing criteria or recommendations.
Read More 
11 Best Law Firms In The World