Converting your design to SEO friendly, multi-browser compatible code is a tough task. Fortunately, there are numerous tools and online companies that perform that difficult task for you. All you need to do is upload a design file, provide a brief description and wait for a while. They'll do the slicing and coding work and you can download the ready to implement output.
Here is the listing of leading tools and services (on the web) to convert your design to code. Most of the companies stick mainly to PSD to HTML conversions, while others offer a wide range of services. Requirement, prices, method of payments, waiting period will vary according to the project size and complexity.
20. Netlings
Netlings is a small company that transforms your design to websites, markups or applications. Their services include PSD to HTML/WordPress/Shopify/Emails and Ruby on Rails product development. The code will always adhere to W3C standard and turnaround is usually 1 to 2 business days. If you find bugs any time after delivery, they will fix it for you for free.
19. SliceCrowd
SliceCrowd delivers high quality sliced PSDs on time at affordable prices. It goes beyond PSD to HTML conversion, working with subcategories like CSS3, HTML5, LESS, SASS and Bootstrap. Their team will help you integrate your design in the most commonly used CMS.
There is no fixed price, they'll charge according to the nature of your project.
18. Elemente by Divine Project
Elemente is definitely one of a kind program that many designers have been dreaming of since WordPress became mainstream. It's a PSD to WordPress Photoshop plugin that helps you create WordPress theme in few minutes. The best thing is you don't need to have any coding or technical skills. A 200Mb PSD can normally be processed within 5 minutes.
The code generated will be SEO friendly, readable, W3C valid and semantic. You can download it for testing purpose or buy a developer license for $200.
17. Markup Box
Markup Box converts your design into pixel-perfect markup including HTML5/CSS3, various CMS themes and eCommerce frameworks. For each project, you will be allocated a project manager who will keep you updated about the progress.
The company has completed more than 12,000 projects from over 5,500 clients. All projects are covered by 100% money back guarantee and 180 days free support.
16. XHTMLJUNCTION
XHTMLJUNCTION provides finest PSD to HTML/CSS conversion service at an affordable price. They charge $59 for homepage and 50% discount for the inner pages. Your design will be revamped into a cross browser compatible, W3C valid HTML/CSS markup.
The additional services include responsive coding, WordPress theming and eNewsletter coding. You can submit your design in any format and they'll do it within 48 hours.
15. ExciteMarkup
All of the ExciteMarkup's code conversion is done manually. Their service includes PSD to HTML/Responsive design/CMS implementation/eCommerce Integration/Mobile template/Outsource web design. The results are 100% W3C compliant, SEO friendly and cross-browser compatible.
The company works with you under stick NDA rules, so your design will be in safe hands. They also provide 30 days free technical support and money-back policy in case you are not satisfied with the results.
14. XHTMLized
XHTMLized provides both front-end and back-end development support. They transform PSD to HTML/CSS/JavaScript as well as HTML Email. Back-end services include design conversation to a fully functional website, including WordPress/Joomla projects.
The development team has CSS3 expertise to create clever animation for your website. Retina-Ready support is also available on request. The end result is high quality, well documented, semantic code.
13. XHTMLChamps
XHTMLChamps offers all types of PSD conversion service for creating unique and attractive websites and applications. The conversion service includes PSD to HTML/Responsive design/WordPress/Joomla/Opencart/Newsletter/Drupal/Magneto and more.
The company also deploys the right eCommerce platform for your website/app, based upon requirements. They deliver all customized solution and complete technical and customer support.
12. HTMLPanda
HTMLPanda is a website and mobile app development company that specialize in converting PSD files into W3C-validated, SEO-optimized XHTML and CSS markup, well-structured and commented as well as adaptive to media devices. Their services include providing assistance in website/mobile design, development, integration and testing.
HTMLPanda offers money-back guarantee, 100% client satisfaction, quality assurance, round-the-clock service, prompt delivery and seamless customer support.
11. XHTML4U
XHTML4U offers high quality PSD to HTML/CSS, Email template, CMS theme service as well as Skin/Templates or extensions for various engines. The end result is W3C validated and optimized for fast loading. Price Starts from $138 (no hidden charges).
The company provides LIVE technical support and up to 15% loyalty discount for returning customers. If you ask, they will install the code on your server. And if you are not satisfied with outcomes, they'll give your money back.
10. Webby Monks
Along with the PSD to HTML conversion Monks add amazing interactivity to it. They have an interesting gallery of interactive elements which facilitates the clients in selecting a wide variety of components, while ordering a PSD to HTML transformation job.
Webby Monks offer responsive design services, CMS integration and eCommerce services like Virtuemart, Magento and WooCommerce. The results are SEO friendly, W3C validated and integrated with CSS or jQuery interactive elements.
9. Direct Basing
Direct Basing has slicing services from PSD, Illustrator or Indesign file to HTML5, WordPress, Joomla or Magento. Their team will ensure your slicing template is accurately converted into a responsive, hand written, well documented and SEO friendly, cross-browser compatible website.
They also design small modules like slider, drop-down menu, styled input fields etc. Moreover, they offer 10% discount for new clients. Price varies according to the project.
8. CSSChopper
CSSChopper is a recognized & NASSCOM accredited web development company. They offer front-end engineering services (which include PSD to HTML/Ghost, responsive design, email template), custom web development, and theming and integration.
So far, they have completed over 13,000 projects for over 9,000 clients. The development team sticks to the deadline and has transparent workflow. 24/7 customer support is available and there is no hidden cost just like the work process.
7. Webbsy
Webbsy is a plugin that instantly converts PSD to HTML and CSS. It saves you hours of work by doing the repetitive and tedious part of the conversion. Just put a Photoshop image and it will create a web page coded using best practices that work in all major browsers. All code is properly intended and follows best practices for HTML and CSS.
If you work with a CSS preprocessor like SCSS, SASS, LESS, Stylus, Webbsy automatically exports in those formats for you. You can try it for free for 14 days.
6. PSDgator
PSDgator offers free services ranging from PSD to HTML/CSS or WordPress conversion and responsive designs. They do free reviews and consultation of your project before delivering solutions. Also, if you want to redesign or re-code your website, they can do that as well.
You can expect your code to be SEO friendly, pixel perfect and W3C compliant. They also offer some additional services like eCommerce solutions and plugin development. The price starts from $99 per page and up to 25% discount on every next page.
5. Reliable PSD
This is a web development service run by designers, for designers. They claim to pick up the slack where other companies fall short. They were frustrated with the PSD to HTML and WordPress conversion service and in order to make the website creation process smooth and seamless, they came up with their own service, Reliable PSD.
You just need to send PSD, their developers will code it and designers will review it. You don't have to face a long list of changes, you can ask anything you want, they'll give you a quick reply via email or phone call. Everything is indented nicely, commented to help you know how the code works.
4. XChop
XChop offers a full range of PSD to HTML/CSS and CMS service, including PSD to Email/Mobile/Responsive/WordPress, and eCommerce service such as Magneto, Opencart, Prestashop, Shopify development. They assign a dedicated project manager to each of its customers and guarantee the quality of work.
The converted pages will be SEO friendly and cross browser compatible. Moreover, they offer 100% money-back guarantee and 180 free technical support.
3. Pixel2HTML
Pixel2HTML is a front-end development company that can convert your design into HTML, CSS and JavaScript code. All you need is to submit a Photoshop/Sketch/Illustrator design files and sit back while they transform them into beautiful hand-coded website. The team is super-friendly and willing to help you any time.
If you want CMS integration with WordPress, Tumblr or Shopify, they can also take care of that. The base price is $170 for the first responsive page. All inner pages have 50% discount.
Read: Modern jQuery Plugins To Make Your Website Better
2. Chop-Chop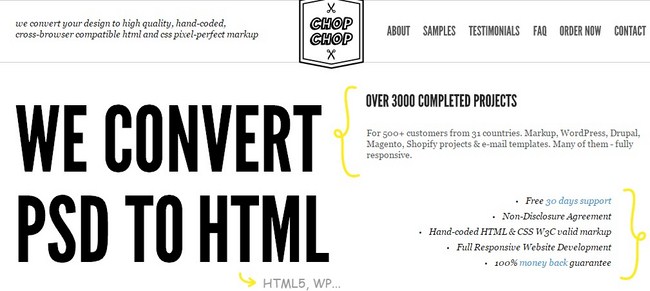 Chop Chop is highly-reputed for converting PSD/EPS/AI to code. You can expect multi-browser compatible, SEO friendly output with pixel perfect design and CMS markup. Just upload any standard format design file and send the payment (via PayPal) and receive the quality code.
They also provide 30 days support (for free) after you have placed an order. You can extend it to 90 days. The base price is $140 for one page and 50% each next. Moreover, if you are not satisfied with the service you can ask them for refund.
1. PSD to Manythings
PSD to Manythings offers a wide range of practical front-end and CMS implementation service, including PSD to Opencart, WordPress, WooCommerce, Email newsletter, responsive HTML and more. They also build e-Commerce applications and provide assistance during any phase of design and development process.
Recommended: 9 Skills Every Graphic and Web Designer Must Have
In addition to satisfy your conversion requirement, they'll maintain and upgrade your website/app at your request. You can count on the company to deliver SEO semantic, clean, well-documented code on time and within budget.