Remember the last time you went to any Beer Fest? Well, it is nearly the time to relive that experience once again. The beer season is coming. For those who never went to any of these, don't worry, we are here to enlighten you. Today, we bought you 20 of the craziest beer fests from all around the world. Enjoy.
20. Cape Town  Festival Of Beer
Where: Cape Town, South Africa
When: Last week of October
Cape Town Festival of Beer is the largest beer fest in the entire African continent. Founded in 2009, this annual celebration features more than 200 beers from over 60 local and international breweries. Unlike many other beer festivals, they have beer experts guiding and explaining tourists about brewing and beer history. Also to keep you entertained there will be Rugby screening.
19. Brewgrass Festival
Where: Asheville, North Carolina
When: Mid-September
The Brewgrass Festival in Asheville, North Carolina is all about promoting delicious local and regional breweries while raising money for a special social services organization in North Carolina. The state of N. Carolina is now home to over 100 breweries, and Asheville has formed into an ever growing beer loving city. Come here to fall in love with the "Beer City USA".
18. Qingdao International Beer Festival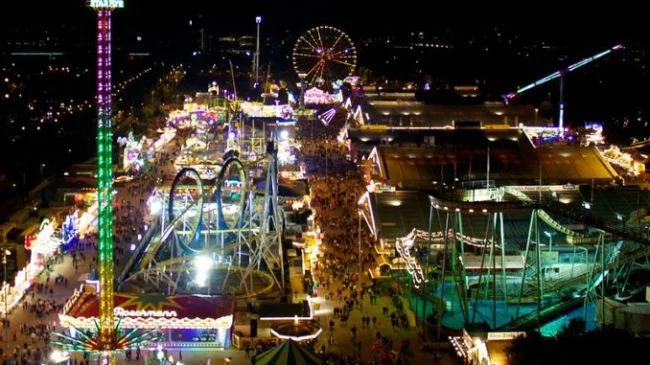 Where: Qingdao, Shandong, China
When: In the month of August
If you believe that only westerners know how to get drunk and crazy, you may find yourself totally wrong. The Chinese Qingdao Beer festival is one of the biggest "Beer Carnival" in Asia, featuring games, drinking contests, music, food, interactive performances, trade exhibitions, gala performances, and lots more. They also organize bikini model contests. The carnival features many well known beer brands around the world.
17. Beerfest Asia
Where: Singapore
When: Last week of August
The Beerfest Asia, held in Singapore features over 500 beers from over 35 well known brands around the world. To complement your beer, they have just the right food, from Western cuisine such as fish & chips and sausage platter to Asian food. You can enjoy it all.
16. Kitchener-Waterloo Oktoberfest
Where:  Ontario, Canada
When: First week of October
The Kitchener-Waterloo Oktoberfest is the largest beer festival in Canada. It is annually celebrated in the twin cities of Kitchener and Waterloo, Ontario. Based on the original German Oktoberfest, it is famous for authentic sit-down German dinner, contests and unforgettable closing ceremonies. And don't miss the amazing farmer' market.
15. Fresh Hop Ale Festival
Where: Yakima, Washington
When: First weekend in October
The Fresh Hop Ale Festival in Yakima is among very few special beer fest around the world. Every year Yakima Valley alone produces nearly 75 percent of the total U.S. Hop crop. For locals, this festival is more than just beer, it's about hops. Want to fell beer in your veins, this is the place to be in. Enjoy over 40 different breweries, also cider, live music, special beers on Beer Bike, and much more.
14. Pilsner Fest
Where: City of Pilsen, Czech Republic
When: Early October
Come and visit this famous beer fest and relive the day when the popular Pilsner Urquell was brewed for the first time. The Pilsner fest has so much to offer. With guided tours of the Pilsner Brewery museum, where you will have a once in a lifetime opportunity of tasting unfiltered and raw Pilsner lager, served directly from their oak barrels.
13. Southern Brewers Festival
Where: Chattanooga, Tennessee
When: Late August
Ahh! A combination of hand full of beer and sight of a river. If you don't know what we are talking about, you should check out the Southern Brewers Festival in Chattanooga. You will feel the completeness with your favorite brews, live music, and a late night party. Just how it should be.
12. American Craft Beer Fest
Where: Boston, Massachusetts
When: Late May
If you like craft beers and want to try something new, there is no place better than the American Craft Beer Fest in Boston. It is undoubtedly one of the biggest beer festivals on the east coast. Every year, more than 650 craft beer from 150 brewers participate in the fest and the number is ever growing. Sure you don't want to miss that.
11. Holiday Ale Festival
Where: Portland, Oregon
When: December, first weekend
It's a jam packed December. And what's better than celebrating the holiday season with a beer carnival? Be here with your craziest Christmas costume and enjoy the most cheerful beer festival around.
10. Belgian Beer Weekend
Where: Brussels, Belgium
When: Early September
Do you like frites and waffles with your beer? Yes, oh! Then you will surely enjoy the Belgian Beer Weekend. The Belgian Beer Weekend takes place in the backdrop of the historic central square of Brussels the Grand Place. With more than 50 local breweries serving up to 350 different Belgian beers, it is one of the largest beer festivals in the country.
9. Great Taste of the Midwest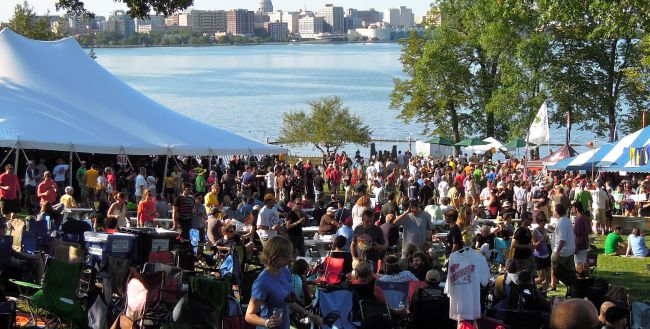 Photo credit: Brian Czech
When: Madison, Wisconsin
Where: Early August
The Midwest is not far behind the rest of the America, when it comes to beer drinking. They are always associated with terms like modest and satisfactory, but after witnessing this you will surely change your mind. The shiny late summer weather and crafty brews will make your day at the Great Taste of the Midwest.
8. Great Alaska Beer & Barleywine Festival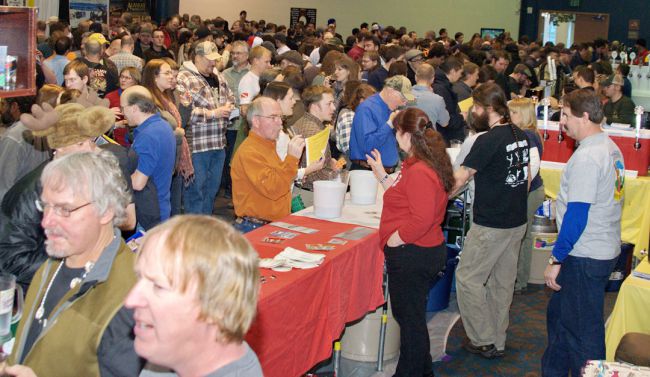 Where: Anchorage, Alaska
When: Last week of January
Whether you favor stout or pale ale, this annual fest has a something special for you. Showcasing Northwestern beers with special recognition to Alaska's brews, the whole weekend at Great Alaska Beer & Barleywine Festival is just a celebration of brewing beer and barley wine. You have more than 200 beers and barley wines from 50 regional brewers to choose from.
7. Where the Wild Beers Are
Where: Brooklyn, New York City
When: Early June
Had you ever tasted a beer somewhere a long time ago, but now you can't find it anymore? Well, then you should visit Brooklyn this June. Every year, Where the Wild Beers Are include many rare and hard to find beer from all over the country. We are sure here you will find what you are looking for. 
6. Great British Beer Festival
Where: London, England, United Kingdom
When: Mid-August
Make sure to work up a thirst before you arrive at the biggest beer fest in Britain. The Great British Beer Festival offers you some mouth watering London street food and fantastic music by live bands while enjoying your glass of beer and cider.
5. Blumenau Oktoberfest
Where: Blumenau, Santa Catarina, Brazil
When: The month of October
Each year, the city of Blumenau in Brazil, organize the biggest Oktoberfest in the entire South America. From the traditional food to the costume, it's all German. The Oktoberfest of Blumenau is simply one of the biggest Oktoberfest celebration, especially in the Americas. If you are planning to be there, this October be sure you witness traditional folk dancing, and voting of the Queen of Oktoberfest.
4. Mondial de la Bière
Where: Montreal, Québec, Canada
When: Early June
Canada surly know a thing or two about beer. Since 1994, the festival of Mondial de la Bière become one of the biggest events in the North America. Mind blowing offers, free admissions, plus tasty beer tastings and crazy competitions make this festival one of the most sought after event each year.
3. Great Australian Beer festival
Where: Sydney, New South Wales, Australia
When: Late May
Looking for a whole new beer fest experience, then the Great Australian Beer festival is your place. Here, with more than 600 different beers and ciders at your disposal, you can also enjoy some delicious and tangy street food at the same time. And when you satisfy your beer belly, move on to enjoy the madness in circus stunts.
2. The Great American Beer Festival
Where: Denver, Colorado, USA
When: The month of October
Beer, fun more beer and more fun. Yes, that's the American style and where do you get more fun then the Great American Beer Festival, the biggest in the whole nation. Here they serve a large collection of beer. You can also participate in educational seminars on beer that take place throughout the fest.
1. Oktoberfest
Where:  Munich, Bavaria, Germany
When: Mid-September to October
Read: 15 Most Expensive Liquids on Earth
The grand fest of all beer fests around the world is here. The Munich Oktoberfest is the Mecca for beer lovers, a place you should visit before you die. German hospitality, traditional Bavarian costumes and some of finest German beers in the world will keep you entertained all day long. One of the other highlights of this fest is a traditional costume parade, which first took place around 1835.