If you want to pay less for the mortgage and personal loans, you need to have a great credit score.
In today's world, banks and finance companies look at your credit score before deciding whether they want to give you a loan or not. About 55% of millennials in the United States get rejected for loans because of poor credit scores.
A good credit score, on the other hand, can make you eligible for higher loan amounts at low-interest rates. It also gives you leverage to negotiate a lower interest rate on a new personal loan or credit card.
While increasing your credit score is not difficult, it has been found that the bureaus that determine these scores often make reporting mistakes. These mistakes could reflect in your credit score, making you less creditworthy than you actually are.
Fortunately, there are plenty of automated tools available in the market to handle these types of errors. They are different from credit repair companies that offer dedicated services to improve your credit. In exchange, these companies charge a hefty fee every month.
Credit repair tools are more economical solutions for people who want to maintain a score above 800. Below, we have listed some of the best credit repair software that fixes reporting errors and protects you from any unpleasant surprises. These automated tools will also help you determine how to handle your debts and build/repair credit.
The list includes tools designed for individuals and small business owners.
11. Credit Versio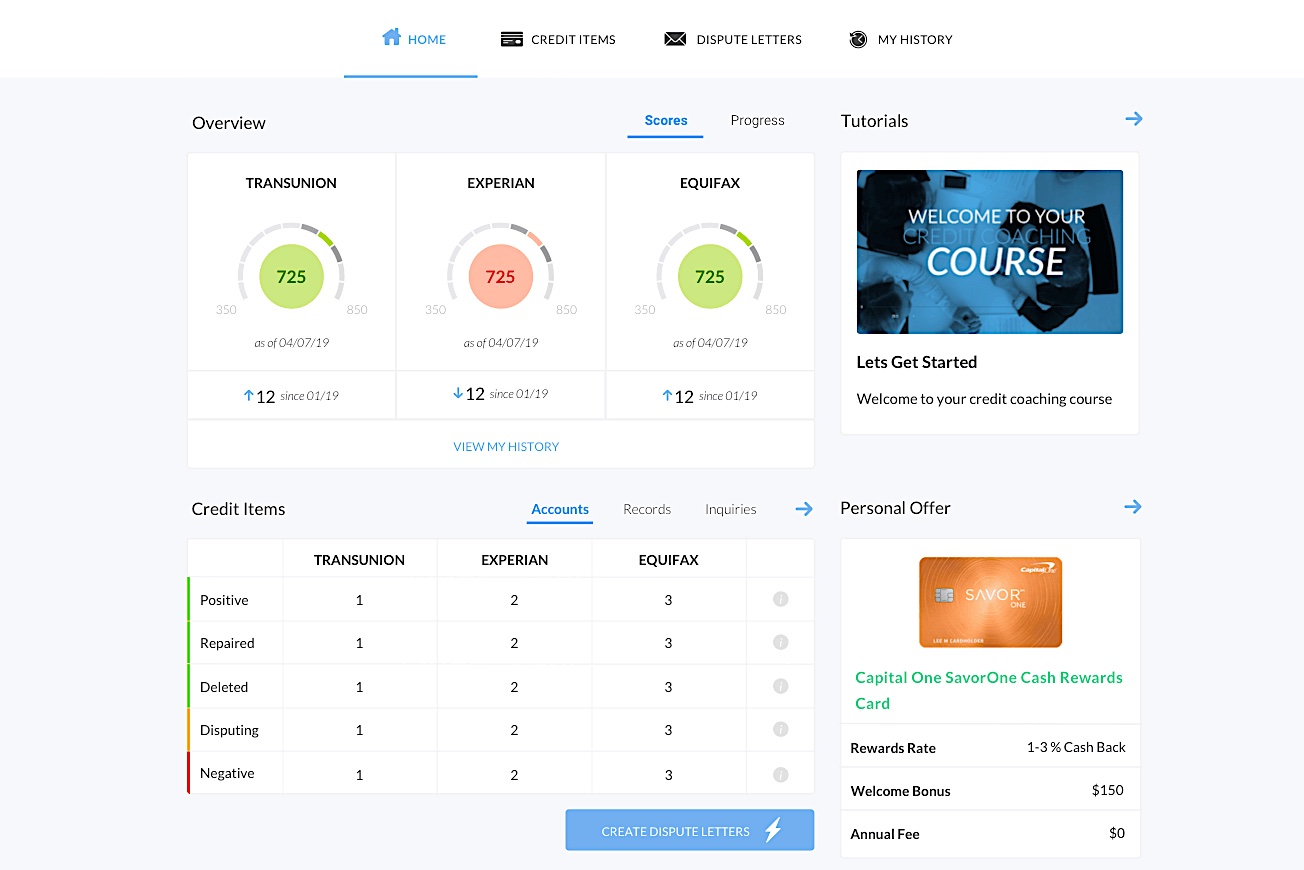 Rating: 4.3/5 from 300+ users
Credit Versio is advanced enough to replace a full-service credit repair company. It automatically imports your reports from all three credit bureaus without creating a hard inquiry.
Once it gets access to all your reports, it uses its proprietary artificial intelligence model to identify which items are hurting your credit scores. It primarily looks for late payments, repossessions, inquiries, foreclosures, and bankruptcy.
The software then helps you generate effective disputes (based on consumer protection laws) to remove those negative items. You can dispute an unlimited number of accounts on all three bureaus simultaneously. It doesn't matter if you have one account or one hundred accounts to dispute; the platform can efficiently manage and track them all.
Key Features
Dispute any account on all three credit bureaus
Uses AI to spot errors
Generates effective disputes based on consumer protection laws
Includes a video coaching course
Credit Versio imports fresh reports every month, showing you the status of your accounts and your new credit score. If the issue is still not resolved after 30 days, it will suggest a new approach for additional disputes.
Many of their customers have reported a 100+ score increase within four months.
Pricing
You can choose from three plans: Basic ($20 per month), Premium ($25 per month), and Identity ($30 per month). We suggest you go with the basic one — With unlimited credit disputes and monthly reports and scores, it provides the best value for money.
10. Credit Detailer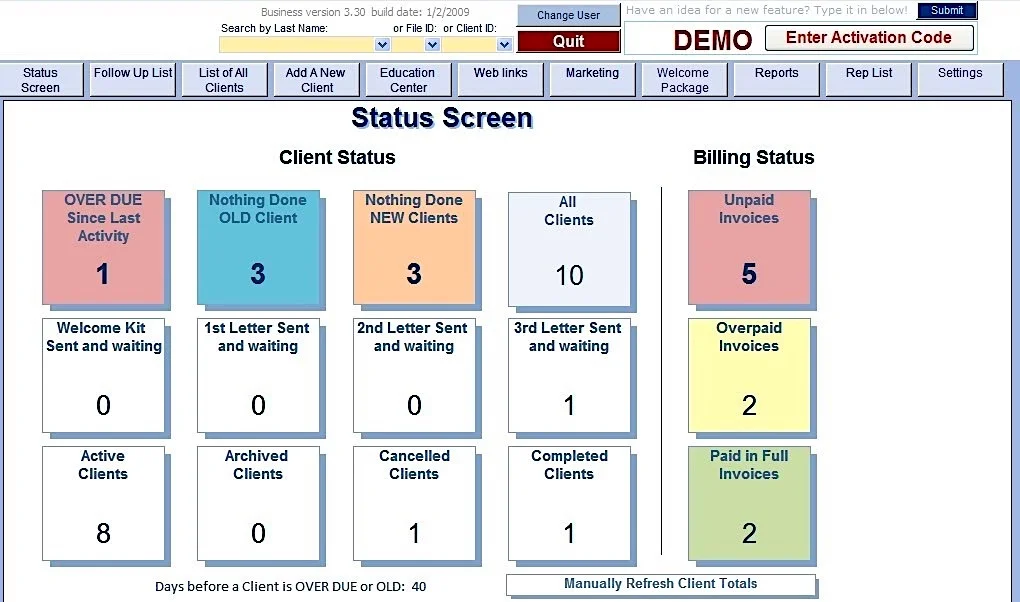 Price: $399 (one-time fee) | 7-day free trial available
With Credit Detailer, you can learn how to correct different types of errors in consumer credit reports. It also allows professionals to manage an unlimited number of customers and prepare the essential paperwork on behalf of their customers.
Unlike other software programs, Credit Detailer saves your data (as well as your clients' data) on your local computer. Plus, there are no long-term contracts — you have complete ownership and control over the desktop software.
How does it work? 
Once you sign up, the software asks you a series of questions such as your basic information, mobile number, social security number, and address. It then asks you about your credit information, including a summary of your history with all creditors.
For every creditor, you will need to enter the name and account number. Then you can select the negative items (late payments, charge-offs, foreclosures, and other credit issues) for each bureau you want to contact to dispute the account.
Since it gives you options to add as many accounts as you like, you don't need to worry if you have multiple credit accounts that need to be fixed.
There are two versions of this software: Personal and Professional. While the personal edition can be used to fix your own credit score, the professional edition enables you to work with unlimited clients and unlimited credit lines.
Pros
Quick and easy set-up
Includes letters, forms, and reports
Automatic progress tracking
Follow-up reminders for tasks
Includes valuable educational materials
Cons
Relatively expensive
You need to pay an additional $60 per hour to get live technical support
9. Personal Credit Repair Software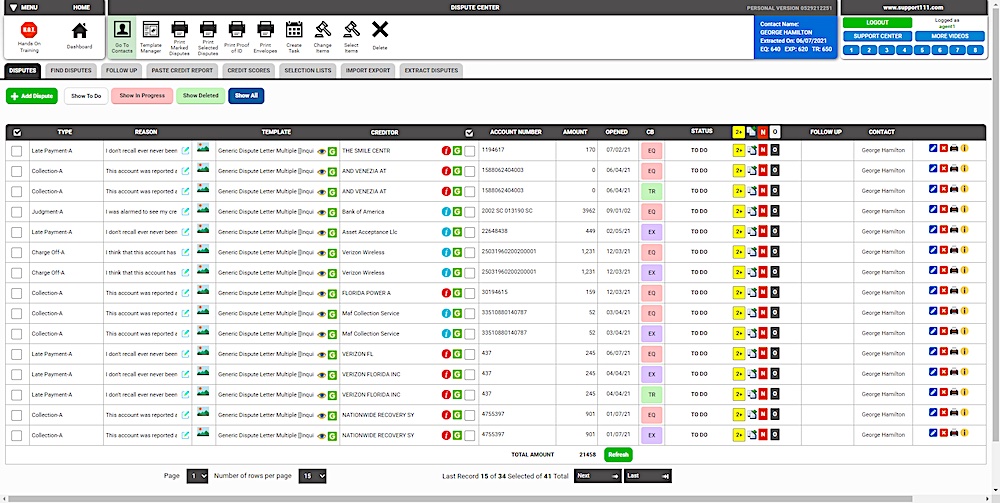 Price: $200 (one-time fee)
This cloud-based credit repair software extracts all derogatory items and generates dispute letters automatically within 10 seconds. It is also called the DIY Personal Credit Repair Software because it lets you customize everything, from the contact area and super calendar to the dispute center and template manager.
It is packed with professionally-designed templates to dispute all types of items and, more importantly, the automation system that takes care of all tedious tasks. If you use the software to its full extent, you can raise your credit score by 100 points. Some users have achieved a 130-point increase within six months.
Items subject to removal 
Late payments
Tax liens
Inquiries
Closed accounts
Negative settlements
Bankruptcies
Once you purchase the software, you will also receive 100+ tips on how to improve your credit scores quickly and how to buy a vehicle with little or no credit. You may find it useful if you are looking for a new home loan or better insurance rates.
8. Client Dispute Manager
Price: Starts at $99 per month | 30-day free trial available
Client Dispute Manager helps you get started with your own credit repair business. It includes client management, credit reporting, and repair automation tools.
It has everything you need to run and grow your credit restoration business. And if you have just started, processing your first client won't take longer than 15 minutes.
The core features will help you dispute multiple account minutes, bulk print hundreds of letters, and automate credit score updates. It also offers educational materials and free training, so you can effectively manage your business with fewer employees and less time.
It has built-in tools to follow up with all your clients and leads without having to leave your dashboard. You can monitor clients' credit reports on a monthly, weekly, or daily basis, and quickly generate dispute letters to resolve issues.
Key Features
Automate client interviews and import credit reports within two clicks
Lead capture and affiliate lead forms
Integrates with Zapier
Get dispute training at no additional cost
While the platform doesn't have any free version, it does offer you a 30-day trial to take advantage of all of the automation. The "Starting" version (which costs you $99 per month) allows you to manage up to 2,500 active clients and 25 employees — more than enough for most business owners.
Overall, it's a great platform designed for real estate agents, loan officers, auto dealerships, and entrepreneurs who want to start their own credit repair business.
7. TurboDispute
Price: Starts at $149 per month | 30-day free trial included
TurboDispute is yet another credit restoration platform designed for entrepreneurs and loan officers. It's a cloud-based platform that offers all the tools necessary to start, run, and grow a credit repair business.
It comes with a private-label client portal, a CRM tool, and automated dispute letters, so you can serve clients faster without compromising the quality of service.
TurboDispute automatically fetches information from credit reports, generating perfect credit dispute letters within seconds. Your clients can log into their portals, sign agreements, and monitor their progress. It color codes every item and status, making it easier to find which items have been deleted, repaired, or are still unresolved.
Key Features 
Import credit report in seconds
Easy to read, color-coded credit report management
Personalize each dispute letter for optimal results
Dispute tracking, progress, and results
You can personalize the dashboard as per your company's branding. Customize the logo, structure, and contact information that match your website. Your clients will have access to their portal 24/7 — they won't need to contact you to know about their credit status and progress.
The starter plan, which costs $149 per month, allows you to manage up to 200 clients. If you are a big company, you can buy the enterprise plan for $499 per month. It lets you add as many employees and clients as you like.
6. ScoreCeo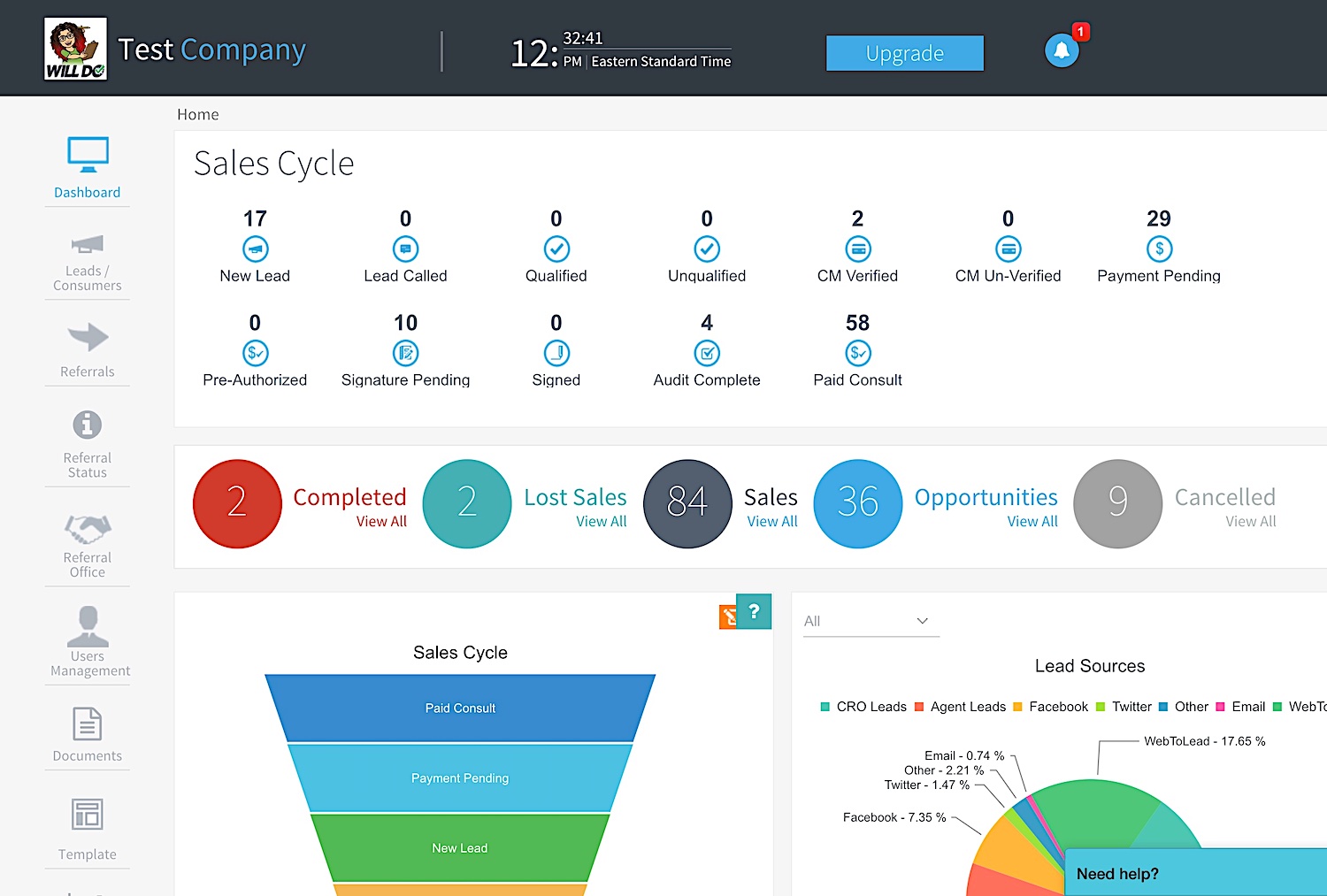 Price: Starts with $129 per month | Free trial and free version are available
ScoreCEO is a full-featured credit repair business software that covers sales, dispute processes, analytics, invoicing, marketing, and coaching services. It is designed to improve the workflow of your credit repair business, so you can focus on your current and future customers instead of worrying about technical details.
It is packed with numerous exclusive features to handle various aspects of your business, including sales pipeline management and customer relationship management, saving you time that is better spent on acquiring new clients.
Key Features 
Credit repair organization set-up wizard
Marketing multi-step campaign manager that supports SMS, email, etc.
Multiple templates for dispute letters and email
Automatic billing engine
Twitter customer referral marketing and Google Analytics integration
Fully scalable, from one user to an unlimited number of users
With a quick set-up, advanced marketing tools, and reasonably priced plans that suit the requirement of companies of all sizes, ScoreCEO could unlock the full potential of your business.
It is incredibly easy to use. You can start with the free version or opt for a 30-day free trial. While the free version allows you to handle one client only, the KickStart version (which costs $129) lets you manage up to 50 active clients. As your business expands, you can upgrade to the higher versions.
5. DisputeFox
Price: Starts at $129 per month | 30-day free trial available
DisputeFox is an all-in-one credit repair software that features customer CRM, email marketing, customizable workflows, affiliate portals, and much more. It allows you to manage hundreds of clients and instantly import their credit reports.
In fact, you can create custom workflows to automate client onboarding, followups, updates, and marketing drips. Once you have imported clients' reports, you have to option to scan and identify potential issues.
The platform then compiles all disputable items into an easy-to-read table where you can additionally make changes before print. There are tons of pre-loaded dispute letter templates to save your time. You can select any one of these, add custom details, and send it to credit bureaus.
DisputeFox tracks the whole dispute progress and provides you with timely updates. It keeps all your clients up to date automatically. They can log in anytime, view their progress, upload documents, and send messages.
Key Features 
Import credit report with one click 

Dashboard shows live updates
Automate client onboarding and followups

A centralized system keeps you on track with client progress

 
DisputeFox has three pricing options: Starting ($129 per month), Growing ($379 per month), and Scaling ($499 per month). You can start with the lowest version to keep your cost down. It has all the essential features you would need to handle up to 100 clients.
4. Dovly
Rating: 4.5/5 from 100+ users
Dovly's automated credit engine fixes and maintains your credit score. With its proprietary algorithms and direct integration with the credit bureaus, the platform can remove errors from credit reports, monitor hidden charges, and get ahead of issues quickly.
How does it work?
Dovly performs a soft credit pull, showing you a list of current issues. You can select the items (issues) you would like to dispute. The platform then works directly with credit bureaus to resolve your issues and remove inaccurate information and errors from your credit report. 
It analyzes and prioritizes errors based on the impact. For example, late payments have the most impact on your credit score, so Dovly tries to solve those errors first.
Their data shows that submitting three disputes to all credit bureaus simultaneously is optimal for getting the best outcomes. So far, they have disputed over 500,000 credit errors, with 91% of users achieving double-digit score increases. Most users have experienced a 50+ points increase in six months or less.
Furthermore, the company also provides personalized financial recommendations and credit education to ensure the success of every user.
Pricing
Dovly offers both free and paid plans. The free version lets you raise one dispute per month, while the premium one allows you to raise three disputes per month with all three bureaus. The premium version, which costs $40 per month, also comes with $1 million ID theft insurance, enhanced credit monitoring, and live US-based support.
3. DisputeBee
Price: $39 per month for individual | $99 per month for business
DisputeBee saves you a lot of time by automating the whole dispute process from beginning to end. It is incredibly easy to use.
First, you need to import your credit report and let the software analyze all the incorrect or negative parameters in your report. It will then generate dispute letters, which you can print and send to credit bureaus via mail.
The platform walks you through the entire process of creating dispute letters, making it easier for you to send letters to credit bureaus, banks, lenders, data collection firms, and other entities on behalf of your clients.
DisputeBee's dashboard tracks every mail sent to different entities. It also continuously generates response letters until the dispute is resolved.
The software is designed to remove inaccurate items from your credit report. These inaccurate items could be anything that can negatively affect your score, such as credit inquiries, medical debt, late payments, or bankruptcies.
You can also integrate it with third-party applications that allow you to send out physical USPS, email via an API, set up notifications for new disputes, and automate custom sequences of dispute letters.
Key Features 
It shows you how to write a dispute letter and where to send it
Includes dozens of letter templates
Supports all three bureaus
Educational materials teach you how credit works
All in all, DisputeBee can effectively remove negative parameters from your credit reports. This will help you or your clients qualify for personal loans, mortgages, and credit at lower interest rates.
2. Credit Repair Cloud
Rating: 4.9/5 from 1,700+ customers
This is the first cloud-based credit repair tool that powers most of America's credit repair businesses. It is used by realtors, attorneys, and mortgage brokers to increase their clients' credit scores. For the past few years, it has also been extensively utilized by entrepreneurs wanting to start a credit repair business.
The company advertises itself as an all-in-one solution for launching, managing, and growing a successful recurring-revenue scalable business.
The platform automates the process of correcting errors on credit reports. It fetches and examines reports, spots negative items, and disputes errors. It can also serve as a full-featured Customer Relationship Management (CRM) to track and manage all aspects of a credit repair business, from sales and billing to referral partners and leads.
Key Features 
Provides step-by-step training and resources so you can increase your clients' scores for home
Import reports and generate audits with one click
Includes hundreds of dispute letter templates to choose from
KPI metrics to scale your business
Integrate thousands of popular web apps into your dashboard
Dedicated support with free live software training
Pricing 
The pricing starts at $179 per month and goes up to $599 per month for the enterprise version. Each plan gives you access to unlimited storage, unlimited affiliates and leads, and a private label client portal. You can start with the 30-day free trial.
Overall, it's a perfect platform for financial counselors, loan officers, and entrepreneurs who are looking for an all-in-one solution to manage the credit reports of multiple clients.
1. Experian Boost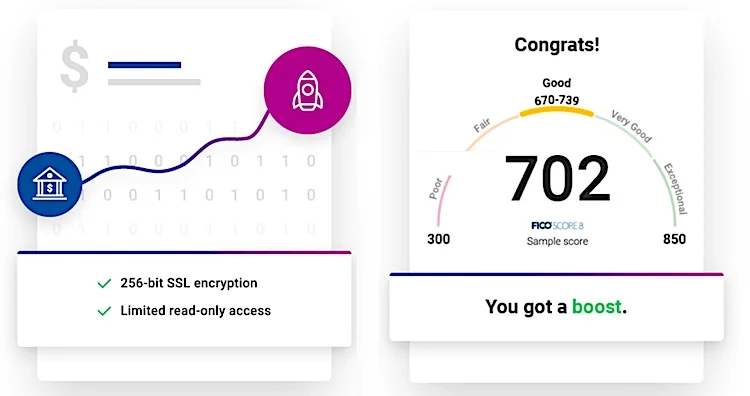 Price: Free
Experian is one of the three major reporting bureaus that determines your credit scores. It provides its own credit repair software (called Experian Boost) for free.
Unlike other tools, Experian Boost can increase your score almost instantly. And it is very easy to use. All you need to do is connect the bank account you use to pay your bills and verify your payment history. That's it. The software will analyze your transactions and update your FICO immediately.
The best thing is it doesn't affect your score negatively, even if you haven't been making payments on time. So there is absolutely no harm in trying this out.
But how much score gain are we talking about? According to the bureau, people have seen a 10-point jump on average — not bad for a free automated tool. It works best for people having low or average credit scores.
However, like any other software, it does have limitations. Experian Boost doesn't recognize or affect reports generated by the other two credit bureaus: Equifax and TransUnion. It only increases Experian credit scores.
Pros  
Easy to use
Free Experian credit file
Raise your FICO Score immediately
Get credit for HBO, Disney+, Hulu, Netflix, phone, and utility bills
Free credit monitoring and alerts
Cons 
Only works for Experian reports
Read: 8 Best Banks For Small Business and Startups
More to know
Automated tools versus credit repair agencies
A credit repair platform gives you tools and resources to build or increase your credit scores. It is designed for individuals or entrepreneurs/business owners. While advanced tools can automate the whole dispute process, you will still need to send the letter and track the progress yourself.
A credit repair agency, on the other hand, does all the work for you. It identifies errors and sends dispute letters to credit bureaus. Some companies offer more personalized services according to your long-term goals. They are suitable for people who don't have time to track their reports and can afford the higher cost of the full service.
What are the most reliable credit repair companies?
Sky Blue Credit
Ovation Credit Services
The Credit People
Credit Saint
Lexington law
How much does a good credit repair tool cost?
Most credit repair tools (designed for both individuals and businesses) cost between $80 and $130 per month. A very few credit repair tools are completely free. Experian Boost, for example, is designed for individuals to increase scores almost instantly.
How to improve your credit score quickly?
If you don't want to rely on any software, you can use the following tips:
Make timely payments
Keep your credit utilization below 30%, or keep it near 0 to increase your score quickly
Use your card for rent and utility payments
Ask banks to increase your credit limit
Limite how often you apply for new accounts
The global credit repair services
According to the ResearchandMarkets report, the global credit repair services industry is estimated to reach $7.1 billion by 2027, growing at a CAGR of 13.7% from 2022 to 2027. The major factor behind this growth is the increasing number of small and mid-size businesses as well as the rising focus on the safety and security related to companies' financial data.
Read More
13 Best Apps Like Possible Finance