Cyber crimes have become too common over the past decade. Data breaches, in particular, have resulted in significant fines and legal fees (not to mention stress) for many repeated healthcare facilities, retail chains, national banks, and the federal government.
It is estimated that over 30,000 websites are hacked every day. Not only are large companies susceptible to being hacked or getting injected with malicious code, but nearly 44 percent of cyber attacks target small businesses.
About 62% of U.S. companies have experienced social engineering attacks, including phishing, vishing, smishing, and impersonation. Despite this, only 5% of a company's data [on average] is appropriately protected from such threats.
And since more and more businesses are shifting to digital devices and web-based applications, cyber attacks pose a greater threat than ever before. These attacks damage not only computer systems but also the company's reputation and put employees' and customers' data at risk.
This is why getting cyber insurance can be a smart precaution for businesses of all sizes.
Cyber insurance is a special policy designed to protect businesses from online attacks and risks associated with information technology infrastructure and activities. It usually covers a company's liability for a data breach, such as account numbers, credit card numbers, social security numbers, and health records.
Insurance firms also help businesses repair damaged computer systems, recover compromised data, and restore sensitive information of affected customers or employees.
The United States alone spends more than $15.5 billion on cybersecurity. A major portion of this spending comes from the Department of Defense and the Cybersecurity and Infrastructure Security Agency. While private companies have substantially increased their spending and activities to minimize vulnerability to cyber attacks, a lot of work still has to be done.
Below, we have listed the top cyber insurance companies that issue policies as per the business requirements and distribute online risks fairly.
9. Zurich Cyber Solution
Founded in 1872
Headquarters: Zürich, Switzerland
S&P rating: AA / Very strong
AM Best rating: A+ / Superior
Zurich Cyber Solution offers a simple and clear policy structure tailored to each business's individual needs. Its insurance policy covers all breach costs, including legal and public relations expenses, forensic investigation expenses, credit and identity monitoring expenses, and costs to restore reputation.
The third-party covers include security and privacy liability, internet media liability, and civil fines and penalties related to the Payment Card Industry.
They offer coverage limits of up to $25 million.
The firm also appoints a cyber risk management team who monitors potential threats to your business and offers detailed insights to keep you protected. The team provides multiple services, such as
Cyber risk gap analysis and effective roadmap
Ransomware threat assessment and pre-breach assessments
Social engineering threat awareness program for employees
Infrastructure penetration testing
Zurich may recommend authentic breach counsel and forensic vendors while helping your business recover from cyber attacks. Once you select the breach counsel, their security experts will immediately evaluate the best course of action to address the hack.
Annual Revenue: $70 billion+
Related Services: Property insurance; Employee protection service; Commercial insurance risk insights
8. Travelers
Founded in 1853
Headquarters: New York, United States
S&P rating: AA / Very strong
AM Best rating: A++ / Superior
Travelers provides businesses with various combinations of coverage options, protecting them from a range of data breaches and cyber threats. It also enables policyholders to access tools and resources to manage and reduce online risk efficiently (both pre-breach and post-breach).
Travelers policies cover lost income due to an unexpected cyber event, costs for recovering sensitive information, costs for repairing the network infrastructure, and costs of notifying affected customers.
They offer customized insurance services based on your business requirements. You can pick individual coverage options such as —
Litigation expenses
Regulatory fines
Cyber extortion
Crisis management expenses
Forensic investigation
Whether you are a small nonprofit organization or a large financial firm, Travelers can customize the policy to fit your needs.
The insurance also provides pre-breach services (through HCL Technologies) to help you achieve the strongest level of cybersecurity. These services, offered at no additional cost, give you access to various risk assessment and training tools and one-to-one consultation with a cyber security expert.
The Travelers Company employs 30,000+ full-time workers and 13,500+ independent brokers and agents across the United States, United Kingdom, Canada, and Ireland to provide seamless service and peace of mind to customers.
Annual Revenue: $31 billion+
Related Services: Premium audit; Risk control; Risk management information services
7. Beazley Insurance
Founded in 1986
Headquarters: London, United Kingdom
S&P rating: A / Strong
AM Best rating: A+ / Superior
Beazley Insurance offers advanced pre-breach and risk management tools, services, and strategies to minimize vulnerabilities from cyber attacks.
Their comprehensive policy covers legal services, call center services, notification services, forensic services, third-party information security and privacy, and regulatory defense and penalties. They also offer options to cover losses that occurred due to cyber extortion, system failure, and data and network liability.
Additional Benefits
Identity monitoring, personal fraud prevention solution
Quick incident investigation and breach response
Covers replacement wages and relocation expenses
When a business is exposed to malicious programs, Beazley assigns security experts and claim specialists to resolve the incident quickly. They coordinate the highly vetted lawyers and forensics team to help determine what has been compromised, assign responsibilities, and notify affected users.
Identity or credit monitoring for users and PR advice is also available to protect the business's reputation.
Overall, the Insurance company provides everything, from pre-breach support services and proactive risk management guidance to quick post-breach responses and system restoration services. So far, it has successfully managed thousands of breaches in organizations of different sizes.
Annual Revenue: $3.4 billion+
Related Services: Reputational risks; Advanced risk management and proactive crisis response services
6. American International Group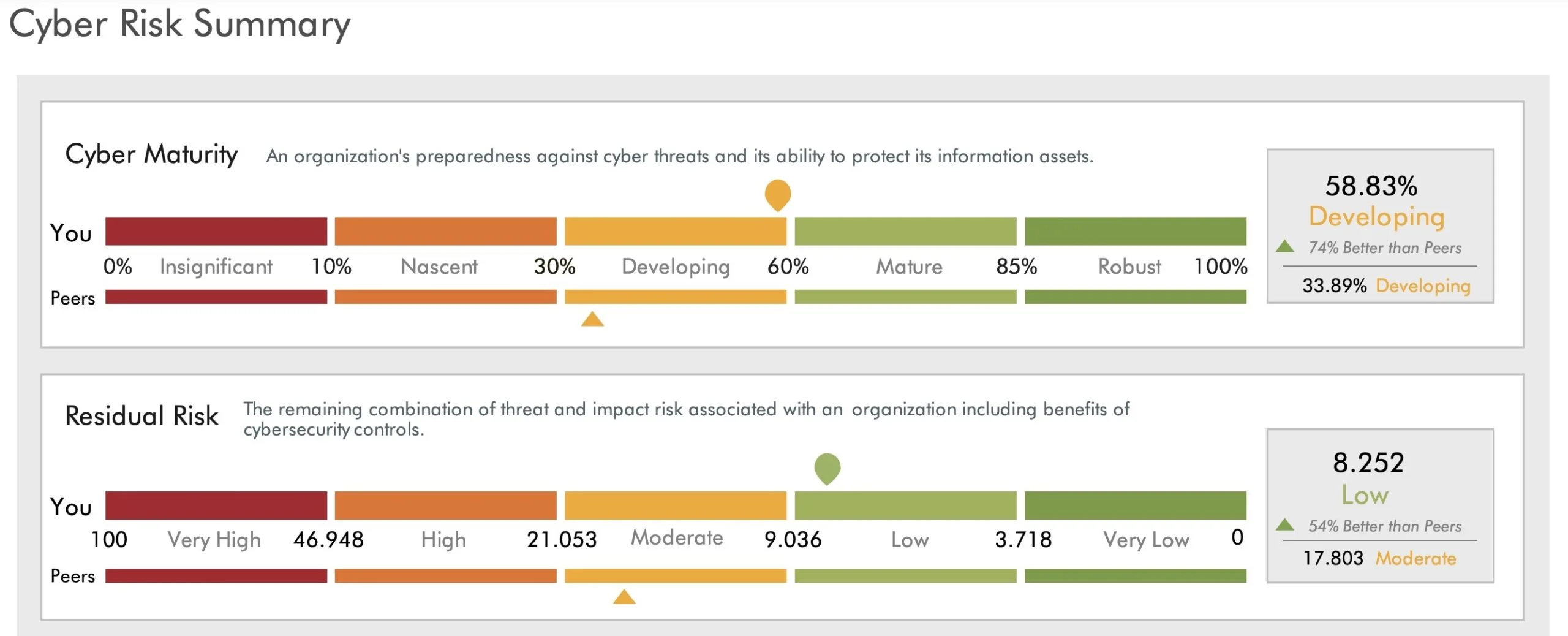 Founded in 1919
Headquarters: New York, United States
S&P rating: A+ / Strong
AM Best rating: A- / Excellent
In 1999, American International Group (AIG) introduced one of the sector's first cyber insurance services. Since then, it has been helping businesses analyze risk to online threats through in-depth scoring and reporting.
Besides offering insurance policies, AIG helps businesses understand the effects of cyber attacks, how such attacks could evolve, and what can be done to reduce the risk of those attacks.
And if an attack occurs, AIG takes appropriate action to protect the business against legal fines, financial loss, and reputation damage. Plus, the companies assign experts to continuously monitor security infrastructure and utilize the latest tools and resources to secure networks and access points.
AIG cyber policies cover both physical and non-physical damages, including costs to restore digital data, notify affected customers, and conduct forensic investigations. They also include reimbursement of ransom payments incurred while dealing with a cyber event.
Benefits
Offers a range of tools valued up to $25,000
CyberEdge claim hotline is available 24/7
Helps businesses continuously verify cyber risk maturity and prioritize improvements
Clients can configure policies and choose any coverage limit between $100,000 and $100,000,000 based on their business requirements.
Once your business is insured, you will receive detailed analysis and benchmark reports. These reports contain crucial information like cyber incident probability and impact, prioritized practices, residual risk, risk index per threat category, and more, which will help you better understand cyber maturity and coverages.
Annual Revenue: $56.4 billion+
Related Services: Reputational risks; Advanced risk management and proactive crisis response services
5. CNA Financial
Founded in 1897
Headquarters: Chicago, Illinois, United States
S&P rating: A+ / Strong
AM Best rating: A / Excellent
CNA provides a range of cyber insurance products and risk control tools built on 20 years of cybersecurity expertise. It offers industry-specific coverage and the latest resources needed to understand risks and address potential losses. All CNA cyber policies cover
Social engineering and e-theft
Network failure
Voluntary shutdown
Reputation harm
Payment Card Industry
If there is ever a cyber attack, the insurance firm works with policyholders to bring everything back to normal. Their certified consultants use tested risk transfer and loss prevention strategies to minimize exposures and expensive claims.
The firm also provides several value-added services like CyberPrep and eRiskHub. CyberPrep is a proactive cyber risk program that helps businesses detect, minimize and respond to emerging threats.
eRiskHub, on the other hand, is an online portal that helps businesses understand the exposures. It is integrated with a learning center, news center, risk manager tools, and incident roadmap. Together they all assist you with everyday cyber situations by offering prevention tips and response recommendations.
However, these services are only designed for companies that generate up to 10 billion in revenues and have two or more years of operating history.
Annual Revenue: $11.9 billion+
Value-added services: Risk control gap analysis; Ransomware consultation
4. Hiscox
Founded in 1901
Headquarters: Hamilton, Bermuda
S&P rating: A / Strong
AM Best rating: A / Excellent
Hiscox cyber insurance policy protects you against the damages caused by data, privacy, and network exposures. It covers data recovery costs, network-based ransom demands, lost business income, breach response resources, privacy lawsuits, and regulatory fines.
It also protects you against unexpected copyright, trademark infringement, unfair practices, and negligence related to your media activities (i.e., content on your website or app, social media posts, or other promotional materials).
However, like most other cyber insurance firms, Hiscox doesn't give you the option to cover infrastructure interruption caused by gas or water utility providers, business interruption caused by an entity that isn't insured, or any losses caused by past data breaches or intentional acts.
What's covered?
Interruptions occurred due to programming errors, tech failures, or malicious programs
Forensic costs to identify the breach
Costs to notify affected customers
Crisis management and public relations costs
As soon as you buy the policy, Hiscox will give you access to a powerful cybersecurity tool named Paladin Shield. It includes resources to protect computer systems, live consultation services, and security training programs — all under one dashboard.
Overall, it is designed to protect all kinds of businesses, from banks and healthcare to information technology infrastructure.
Annual Revenue: $3.2 billion+
Related services: Political risk insurance; Workers compensation insurance
3. Tokio Marine HCC
Founded in 1974
Headquarters: Houston, Texas, United States
S&P rating: A+ / Strong
AM Best rating: A++ / Superior
Tokio Marine HCC can customize the insurance to comprehensive cyber protection, including incident prevention, data breach response, and post-breach expertise. Each policy can provide coverage of up to $25 million.
It includes a cyber risk scan, pre-breach expert consultation, system failure coverage, reward expenses for informants providing data about the cyber event, and post-breach remediation costs. One can extend the coverage to include
Network usage fraud
Preventive consultation and Post-attack advice costs
PCI non-compliance costs
Goodwill gestures
Irrespective of the nature of the attack, HCC responds as soon as they are notified about a possible cyber event. Their representative answers the call, guiding you through the claim process and helping you develop a thorough breach response.
They also offer post-incident expertise so businesses can confidently prepare and protect themselves from future attacks.
The company has over 50 IT experts and PR partners and 20 in-house claim experts who settle 2,400 cyber claims every year.
Furthermore, HCC has years of experience handling cyber and privacy exposures and multimedia-related attacks. So far, they have issued 500,000+ policies and collected over $100 million in cyber premiums.
Annual Revenue: $2.3 billion+
Value-added services: Standalone public liability and employer's liability; Personal protection from emerging threats
2. Axa XL

Founded in 1986
Headquarters: Stamford, Connecticut, United States
S&P rating: AA- / Very strong
AM Best rating: A+ / Superior
Axa XL has the in-house expertise and several cybersecurity partners to help businesses minimize the possibility of an attack. It offers proactive tools and services to detect, reduce, and respond to online threats. Some of these tools are available for free.
Medium and large businesses can customize their insurance policy as per their needs. While most of their policies cover data breach response, crisis management, and system failure, companies can modify the terms to include cyber extortion, ransomware, errors & omission, dependent business interruption, and extra expenses.
Axa XL focuses on continually evolving risks. It offers various risk management solutions and consulting services to accurately quantify the risk your business faces or may face in the near future.
The company has developed a risk management portal — called SiteForward — which allows you to transform raw data into graphical reports and actionable insights within a few clicks.
Additional Benefits
Privacy awareness and incident response training
Social engineering campaigns
Third-party contract review
Expert legal counsel
The insurance firm also gives you options to expand security coverage to include fines, destruction of electronic assets, data breach notifications, call center services, and post-breach audit.
If your business ever gets affected by a cyber event, the firm will assign a dedicated team of skilled lawyers to provide hands-on service through the entire breach and claims process. They will also connect you with cyber security experts and popular vendors to assist you with cyber security incident response.
And once everything is back to normal, you can investigate the complete nature and scope of the cyber event. Remove all weak points and evaluate efficient strategies to keep your network protected against such attacks.
Annual Revenue: $20.5 billion+
Related services: Technology errors and omissions coverage; Risk consultation
1. Chubb Limited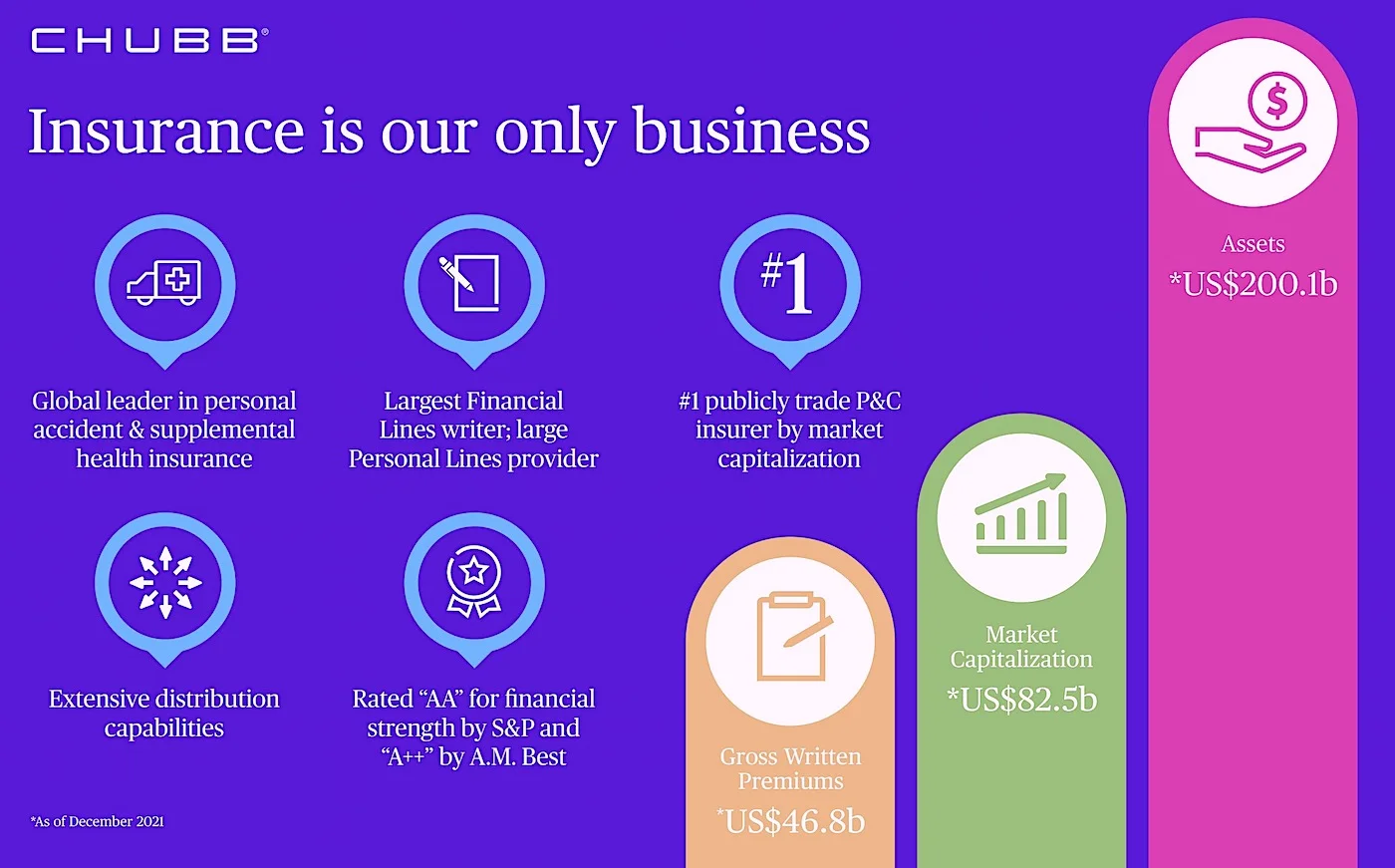 Founded in 1985
Headquarters: Zürich, Switzerland
S&P rating: AA / Very strong
AM Best rating: A++ / Superior
With more than $200 billion worth of assets, Chubb Limited is one of the most valuable and largest insurance companies. It offers a wide range of insurance products tailored to businesses' unique requirements and exposures.
Its industry-leading insurance policies cover denial of service attacks, electronic theft and vandalism, data breaches, as well as copyright infringement. Or you can customize the policy to address specific evolving security and legal standards.
The best part is it doesn't have minimum premiums. Premiums increase as the size of the business and the scope of coverage expands.
Competitive advantages
Highly customizable solution regardless of business size, industry, or type of risk
Easy-to-read policy forms
Consistent with state, federal, or international data protection laws
Extortion Expenses include Bitcoin and other cryptocurrencies
When your business experiences a cyber event, Chubb insurance responds quickly to prepare you for the whole process. It provides pre-event evaluation and online intelligence services to measure the impact and help you effectively manage complex regulatory and legal processes.
So far, Chubb's claims department has helped hundreds of policyholders through a cyber event, making it easier for them to notify over 300 million users of a privacy breach. The years of experience enable the Chubb team to enhance data breach response and claim handling procedures.
While they serve thousands of local businesses, multinational organizations, and individual policyholders, their target clients are technology, advanced manufacturing, life sciences, healthcare information technology, and federal government contractors.
Annual Revenue: $43.1 billion+
Related services: Cyber vulnerability management solutions; Risk insights; Endpoint security solutions
Other Big Cybersecurity Insurance Firms
10. Axis Capital
Founded in 1985
Annual Revenue: $4.85 billion+
S&P rating: A+ / Strong
AM Best rating: A / Excellent
Axis Capital has three approaches to reducing the likelihood and impact of a cyber event: Prepare, Protect, and Respond.
The first approach is all about minimizing the chances of a breach. The company offers a range of services like infrastructure assessment, cyber incident readiness reviews, risk assessment, and security and phishing training.
The second approach is to cover every parameter in the policy that could affect the business during a cyber vent. To do this, Axis Capital provides policy coverages of up to $25 million.
They cover business interruption losses, reputation damage, privacy regulatory and PCI-DSS non-compliance claims, and interim costs to get the business up and running as soon as possible.
The final approach deals with responding to an actual cyber event. Axis Captial assigns a cyber security manager to accelerate recovery and minimize disruption.
The manager coordinates and provides access to ransomware or extortion service, IT forensic services, public relations services, and data subject services.
11. Liberty Specialty Markets
Founded in 1912
Annual Revenue: $48.25 billion+
S&P rating: A / Strong
AM Best rating: A / Excellent
Liberty Specialty Markets is a part of the global Liberty Mutual Group, the sixth-largest property and casualty insurer in the United States. Its cyber policies are designed to cover emerging risks faced by companies in day-to-day operations (which traditional commercial insurance policies may not address).
More specifically, they cover damage to digital assets as well as expenses to restore or recreate those assets. You can customize the policy to include lost income caused by network interruption, reputational expenses, multimedia liability, and confidentiality and security liability.
Liberty meets the cost of cyber extortion monies, especially if the insured network and customer data are at stake. The company also pays for the legal, postage, and advertising expenses if the business is obliged to notify affected users. The maximum coverage is $10 million.
Overall, Liberty brings value and solutions to thousands of business and government organizations worldwide, helping protect what they build, earn, and own.
12. The Hartford
Founded in 1810
Annual Revenue: $22.15 billion+
S&P rating: A+ / Strong
AM Best rating: A+ / Superior
The Hartford, a Fortune 500 company headquartered in Connecticut, provides two types of insurance: data breach insurance and cyber liability insurance. While both policies offer the same response resources, they help protect your company in different ways.
The former covers the cost of notifying affected employees and customers, hiring a public relations agency, and offering credit monitoring services to data breach victims. You can also customize the policy to cover extortion money and lost income.
Cyber liability insurance, on the other hand, is designed for larger companies. It covers all tech-related risks, lawsuits, privacy investigations following a cyber event, as well as regulatory fines from state and federal agencies.
If you have a small business, you can get a quote through a local insurance agent. If your business generates more than $50 million in annual revenue, you can simply fill out the CyberChoice First Response application. They will contact you within 24 hours.
13. W. R. Berkley Corporation
Founded in 1967
Annual Revenue: $11.16 billion+
S&P rating: A+ / Strong
AM Best rating: A+ / Superior
Berkley Corporation provides a wide range of coverage, protecting companies against losses from exposures like distributed denial-of-service attacks (DDoS), malware, ransomware, or any other methods used to compromise computer networks or software.
They protect the company's assets and reputation by covering costs associated with crisis management and reward expenses, notification and monitoring expenses, forensic investigation expenses, data restoration expenses, and loss of business income due to system failure.
While each policy offers coverage of up to $25 million, extended insurance is available on a surplus line basis for businesses of all sizes across all industries.
More To Know
Advantages and Disadvantages of Cyber security insurance companies
To sum it up, getting cyber insurance has both pros and cons. However, the pros far outweigh the cons.
| | |
| --- | --- |
| Pros | Cons |
| Cyber attack payments based on coverage limits | It can be expensive for small businesses |
| Defense against cyber extortion | Limitations in certain types of attacks or data breaches |
| Financial incentives to improve IT security | Some have complex claim process |
| Forensic investigative support | Can lead to a false sense of security |
What does cyber insurance cover?
With proper cyber insurance, businesses can offset legal fees, the cost of recovering sensitive data, the cost of restoring the identities of employees and customers, as well as the cost of repairing damaged computer systems. In addition to this, some insurers also cover
The cost of notifying users about any potential data breaches
Loss of income due to halt operations after cyber attack
The cost of forensic investigation to accurately evaluate the impact of the attack and stop similar attacks in future
What isn't covered?
Most cyber insurers do not cover
Pre-existing breaches or cyber events
Breaches caused by employees or insiders
Infrastructure failure due to external factors other than cyber events
Costs for proactive preventive measures
Who needs such insurance?
Any organization that stores, creates, or manages data online can benefit from cybersecurity insurance. Companies with massive user bases, valuable digital assets, or high revenue — especially financial institutions, e-commerce businesses, healthcare providers, and professional services firms — should go for extensive coverage.
How much does a typical cyber insurance cost?
The premium of a cyber insurance policy depends on several factors, including the company's claim history, customer demographics, potential risks to explore, and policy terms.
However, according to AdvisorSmith.com, the average cost of cyber insurance in the United States is approximately $1,589 per year. According to Kaspersky, small and midsize businesses spend $86,000 on average to recover from a data breach.
Cyber Insurance Market Size
According to Fortune Business Insights, the global cyber insurance market size will reach $63.62 billion by 2029, growing at a CAGR of 25.7% from 2023 to 2029.
As cyberattacks are increasing at phenomenal rates, businesses understand the need for protection from financial and reputational losses caused by such events. In fact, several countries govern terms and conditions and impose heavy fines on businesses for any data breach. This fuels the demand for reasonably-priced cyber insurance services for small and midsize businesses.
Why you can trust us?
We thoroughly analyzed over 30+ cyber insurance firms that offer a broad range of coverage. It took about 20 hours to do the comprehensive research. Finally, we decided to shortlist the 13 best insurance services based on premiums, damages covered, and claim settlement ratios.
We DO NOT earn commission from any of the featured companies. Furthermore, we have two independent editors who have no influence over our listing criteria or recommendations.
Read More
13 Best Contract Analysis Software
10 Best Financial Services Compliance Software