Data science combines the domain expertise of statistics, mathematics, and programming to build insights and make sense of data. It is increasingly becoming important because it helps experts make informed decisions and take businesses in the right direction.
Although data is a precious asset for any company, it is meaningless unless converted into valuable information. That's where Data Science comes in handy. It involves mining complex data and detecting hidden patterns to extract actionable insights. These insights can help businesses analyze their marketing strategies, acquire more customers, increase return on investment, and deliver better products and services.
As per LinkedIn's Emerging Jobs Report, data science is the fastest-growing field that has witnessed a hiring growth of over 700% since 2012. It is revolutionizing almost every sector and gaining popularity month by month.
Below, we have listed the 13 thriving data science companies that have heavily invested in statistics, data analysis, informatics, and related techniques to understand the actual phenomena with 'Data.'
Note: Since our goal is to introduce unpopular, unrecognized companies, we haven't included big names like Oracle, Amazon, Google, and Microsoft. 
9. Narrative Science
Founded in: 2010
Headquarters: Chicago, Illinois, United States
Specialization: Natural Language Generation, Narrative insights, Automated analysis & report writing
Narrative Science specializes in data storytelling. The company has built a product called "Lexio" that helps tens of thousands of business users understand their operational metrics every day.
Lexio transforms business data into interactive plain-English stories. It integrates with numerous data source platforms (including Google Analytics, Marketo, and Salesforce) to deliver more detailed insights to those with limited data analytics abilities.
Lexio features an Authoring Engine that tries to read your intention before answering your question. It runs relevant analytics and utilizes Natural Language Generation to translate outcomes into a story. The platform is smart enough to remove repeated questions and clarify insights.
In 2017, Narrative Science was part of the Fortune 50 companies leading the artificial intelligence revolution. In 2018, it was listed in the World Economic Forum's Technology Pioneers. It also won the title of Crain's Most Innovative Company in the same year.
In 2021, Narrative Science signed a definitive agreement to be acquired by Salesforce.
8. Fractal Analytics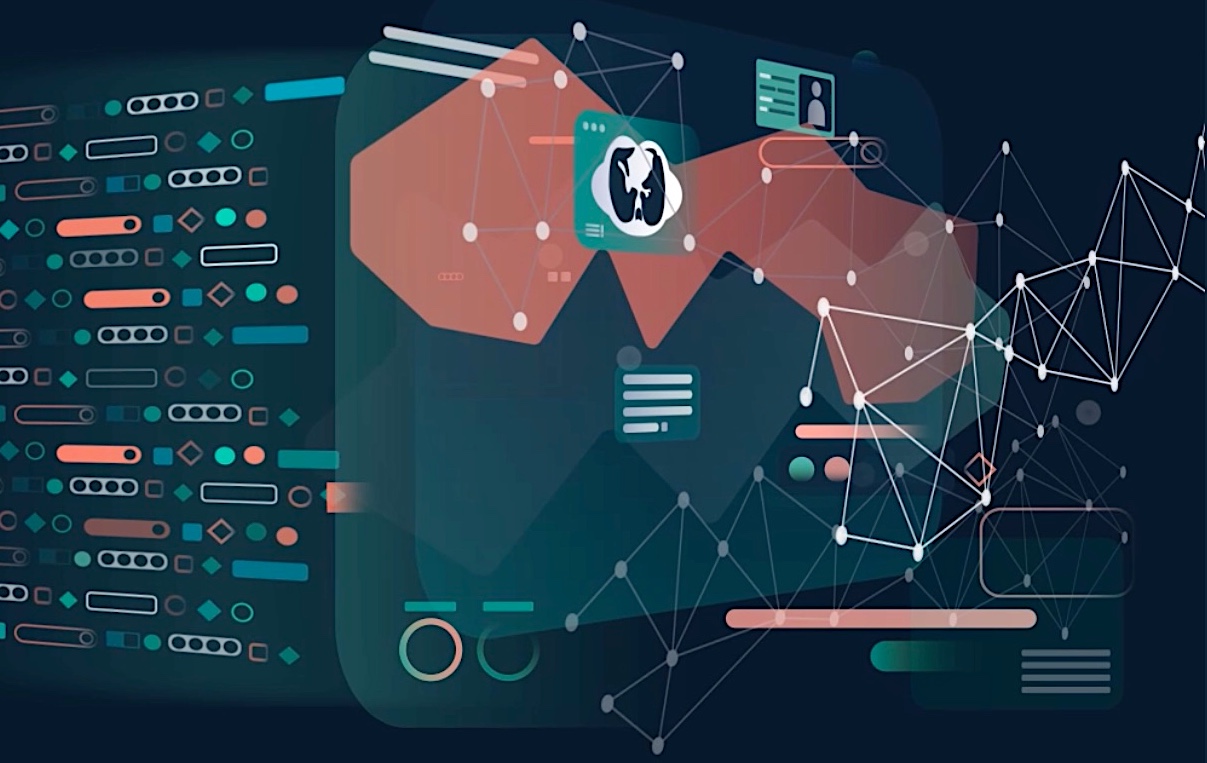 Founded in: 2000
Headquarters: New York, United States
Specialization: AI, Data engineering, Text Analytics, Finance Analytics, Automated insights
Fractal Analytics is an AI company that works with over 100 of the Fortune 500 across various industries, ranging from healthcare and insurance to the technology and financial sector. It has more than 3,500 employees across 17 global locations, including the United Kingdom, United States, Australia, Singapore, and India.
Their most popular products are —
Senseforth.ai

 focuses on acquiring more customers and increasing user engagement

Samaya.ai

 extracts value in volatile and complex businesses

Qure.ai

is the AI platform for medical imaging

Eugenie.ai

increases operational efficiency by minimizing unscheduled downtimes and production wastage

Crux Intelligence

 is the AI-powered data informatics tool to help experts make better business decisions
In the past few years, Fractal has heavily invested in the latest technological capabilities and innovation. They aim to solve some of the world's most complex problems through behavioral science, AI, and engineering.
The company has been working on emerging fields, such as quantum computing and computational neuroscience, and working closely with cloud providers to reduce carbon footprint and shape the future of computing.
Moreover, Fractal Analytics has also acquired a few behavioral science companies to understand users, redefine problems, challenge assumptions, and find alternative plans and solutions.
7. Orbital Insight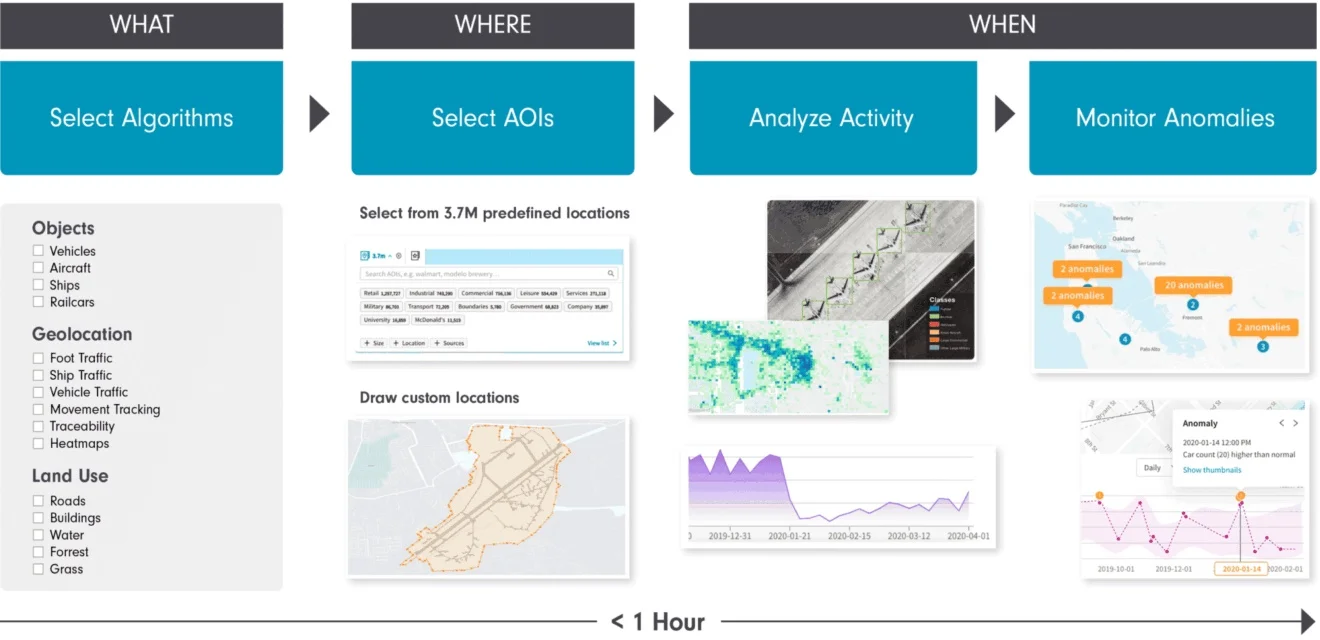 Founded in: 2013
Headquarters: Palo Alto, California, US
Specialization: Satellite and related imagery, Object detection, Analytics, Insights
Orbital Insight is an AI-powered geospatial analytics platform that examines satellites, drones, and unmanned aerial vehicle images to study human activities and provide detailed insights from the data. It is built to simplify the use of location data, allowing users to ask questions with three common parameters:
What type of activity?
Where on earth?
When?
The platform uses machine learning to precisely analyze billions of geospatial data points. It automatically searches for new data sources, assessing their accuracy and effectiveness. Once it extracts the data from suitable sources, it cleans and processes the data to make it instantly available for real-time analysis.
The extracted information can then be used to make better business decisions.
For example, in 2018, the company created a Global Geospatial Crude Index that tracks millions of barrels of oil every day by monitoring 25,000 floating roof tanks across the world. The shadows on the roof can be used to estimate how full a storage facility is. The company also gathers anonymized geolocation data of smart devices to track numerous business activities, such as staffing levels at manufacturing units.
In order to make tracking easier, the platform gives you access to over 3.7 million pre-designed polygons of places. This built-in catalog covers retail, commercial, and industrial areas. You can also navigate through the map or find the area of interest using the search box.
Overall, Orbital Insight offers a great platform to understand your supply chain, as well as peek into the competitors' supply chain vulnerabilities.
6. Teradata
Founded in: 1979
Headquarters: San Diego, United States
Specialization: Data warehouse, Analytics, Consulting
Teradata was started as a collaboration between Citibank's advanced technology group and Caltech researchers. Today, it offers three main services: cloud-based data warehousing, business analytics, and consulting services.
Its flagship product, called Vantage, combines data warehouses, data lakes, analytics, and new data sources and types. It allows users to query against integrated and connected cross-functional data. It can answer even the trickiest questions by leveraging the power of artificial intelligence and machine learning.
Vantage has the capability to train models on over 1 million observations and score them against over 250 million observations numerous times each day. It is also capable of scaling millions of predictive models and scoring them every day (to support hyper-segmentation).
At-a-Glance
4D Analytics integrates Time Series and Geospatial factors
Supports multiple data types and structures
Monitor and manage mixed workload environment in real-time
Throttle system resources for seasonal demands
The platform is scalable in every dimension, whether it is data volume, mixed workload, query freedom, or schema sophistication. This multi-dimensional scalability allows more questions to be answered with better accuracy.
The company also provides a wide range of services, focusing on both data analytics and business capabilities. Overall, it can turn your data into your greatest asset.
Teradata is publicly traded on New York Stock Exchange. The company is financially strong, with annual revenue of $2 billion and a net income of $130 million.
5. Mu Sigma
Founded in: 2004
Headquarters: Illinois, United States
Specialization: Interdependency analysis, Scalable business intelligence, Data visualization
Mu Sigma offers data science solutions to more than 140 of the Fortune 500 companies, including those operating in retail, pharmaceuticals, healthcare, airline, telecom, and technology sector.
The company has developed several utilities like statistical analysis program, data analytics software, big data visualization, and reporting tools. The big data analytics software, in particular, complements (instead of replacing) the third-party tools, enhancing the efficiency of infrastructure investments made by Fortune 500.
While Mu Sigma integrates with various third-party technologies, it has also developed components to fill key gaps in the analytics marketplaces. muFusion, for example, is a unified analytics solution that analyses unstructured data from multiple sources and generates easy-to-understand reports. muRx integrates different aspects of analytical problem solving into a single place. muMiX helps users effectively tackle the marketing mix modeling problems.
The company also offers risk analytics, such as fraud detection, predictive modeling, loss ratio analysis, risk-based pricing, extreme event modeling, what-if analysis, credit scoring, and more. The other key feature is supply chain analytics, which includes inventory management, logistics and distribution analysis, transport/materials optimization, demand forecasting, and trend plotting.
Mu Sigma's aim is to establish and popularize a new approach to decision making — one that can accommodate the changes instantly. The company is trying to combine science and art to deliver this new approach at scale.
4. Cloudera
Founded in: 2008
Headquarters: Santa Clara, California, United States
Specialization: Data engineering, Big data, Hybrid cloud, Machine learning
Cloudera provides a suite of products related to data processing and cloud services. A few of these services are offered via public cloud servers like Amazon Web Services or Microsoft Azure, while some are private cloud services that require a subscription.
Cloudera aims to make data and analytics easy and accessible for all. It empowers users to convert intricate data into simple and actionable insights. To do that, it leverages the power of artificial intelligence and machine learning.
Its hybrid data cloud platform allows businesses to easily integrate their data and run analytics, without compromising security, performance, and scalability. And since it's a hybrid platform, it delivers the benefits of both public and private cloud.
Data scientists get instant access to enterprise data pipelines and scalable compute resources. They can easily collaborate and operationalize machine learning models across the business.
The platform also gives plenty of options to experiment faster. You can use Python, Scala, R, Apache Impala, or Apache Spark with the latest frameworks and libraries in customizable project environments. Manage your own analytics pipelines, including built-in monitoring and email alerting system. Immediately create and prototype machine learning projects and deploy them to production with a few clicks.
Overall, it has everything you need to deploy new machine learning workspaces for teams and get the most out of your business data.
With more than 1,800 customers and 2,700 employees worldwide, Cloudera is valued at over $5.4 billion. It has formed partnerships with tech giants such as IBM, Oracle, and Dell.
3. SPINS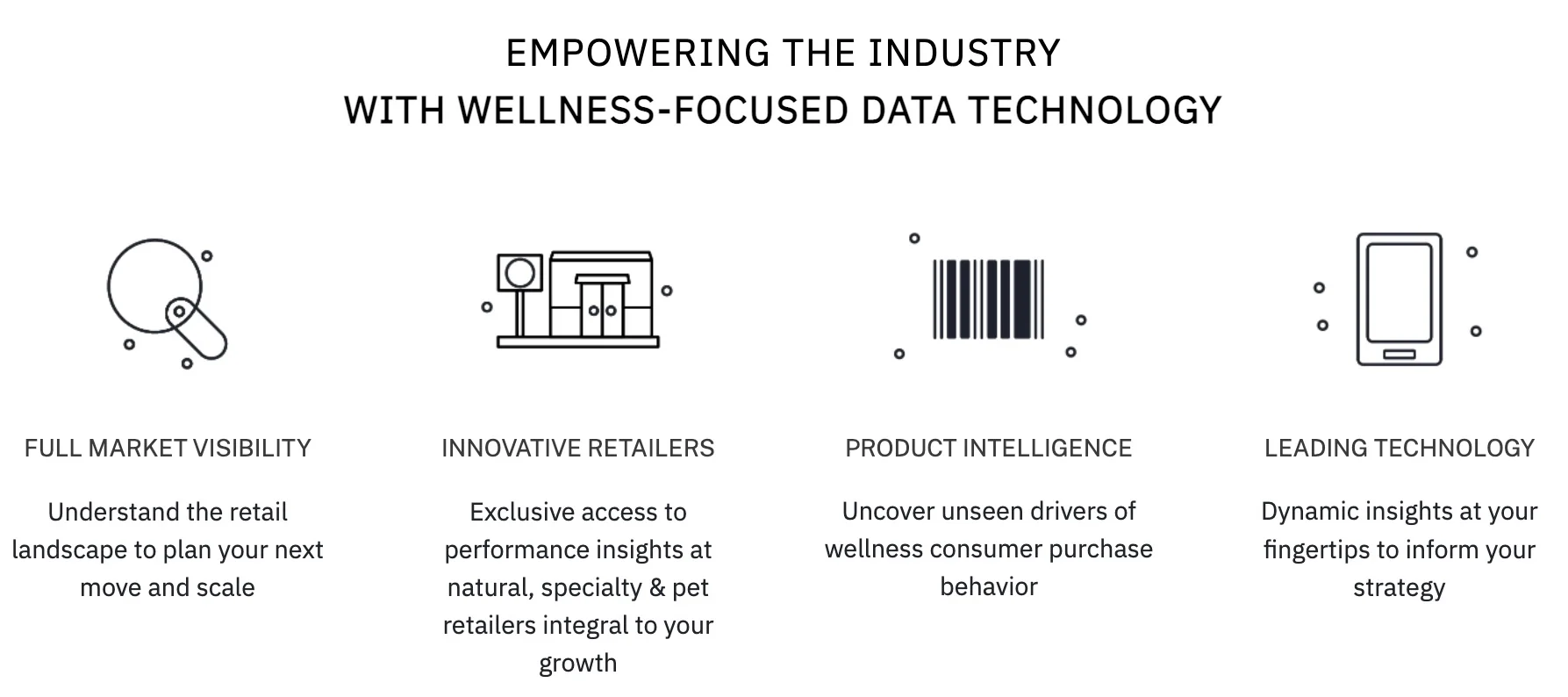 Founded in: 1997
Headquarters: San Francisco Bay Area, United States
Specialization: Data extraction, data harmonization, data visualization
SPINS aims to increase the presence and accessibility of organic products by providing valuable insights to manufacturers, distributors, and retailers. It provides detailed information about the product as well as the complete perspective of the industry.
Retailers can use this platform to
Identify the products essential to customers
Identify unique items that can make stores more attractive
Optimize the performance of the store
Get information about the trending products
Learn about new opportunities
SPINS has a database of more than 6,000 retailers and 400,000 items. The company combines this data with its proprietary attribution and scoring system to keep retailers ahead of their traditional competitors.
Brands, on the other hand, can use this platform to track their performance, optimize sales and marketing strategies, and scan the market for white-space opportunities and emerging trends. The interactive dashboard makes it easy to navigate market dynamics, dig into the performance of retailers in specific locations, and get answers to core business questions.
The company also partners with investors, empowering them to make data-driven decisions. With SPINS' proprietary insights, investors can discover and track long-term investment opportunities. One can lean on SPINS experts to learn more about sales & marketing strategies and gain higher returns on the portfolio.
2. Splunk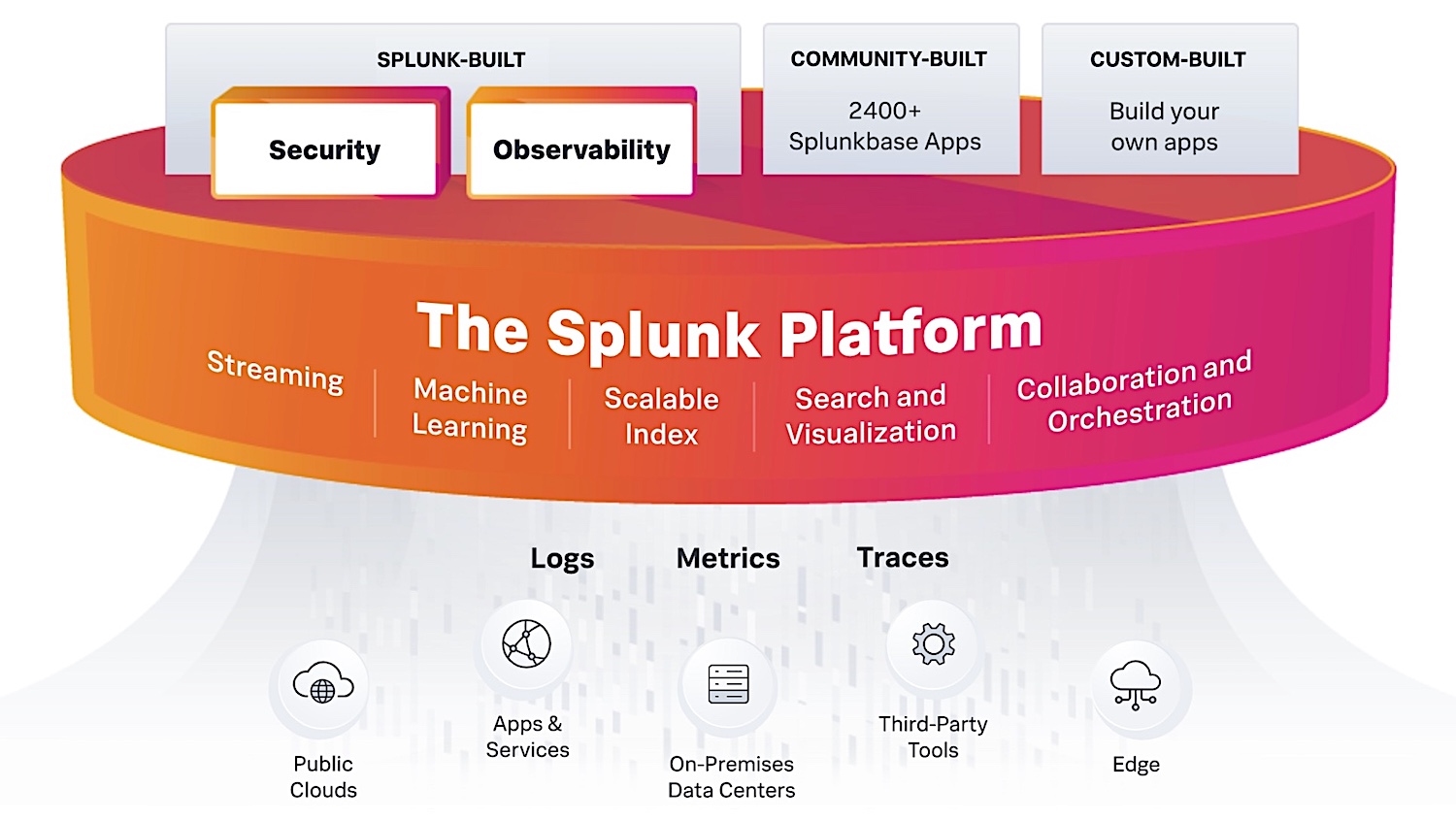 Founded in: 2003
Headquarters: San Francisco, California, United States
Specialization: Big data, Analytics, Business Intelligence, Cybersecurity
Splunk is a comprehensive platform to search, analyze, and visualize machine-generated data. This data is usually produced by systems that make up the IT infrastructure and business, such as sensors, devices, websites, and applications.
Splunk's biggest selling point is it can access and search data from any source across any device and provide real-time analytics. It ingests logs, metrics, and tracks with full fidelity, offering end-to-end contextual visibility.
The platform supports a wide range of use cases. It comes with in-built search and reporting, observability and security solutions, and more than 2,400 applications. Users can even develop custom apps and configure them as per their specific requirements.
At-a-Glance
Integrated observability and security
Powerful dashboard and scalable index
Plenty of add-ons and integrations from partners
1,020 patents to date
Splunk's proprietary schema-on-read technology allows users to add structure to unstructured data and ask questions on the fly. It gives instant access to analytics-driven insights.
Moreover, the platform combines full-fidelity data coverage and pervasive AI, so users can precisely detect signals from noise faster, at scale. The AI and machine learning algorithms translate insight into action, minimizing manual heavy lifting.
All in all, Splunk intelligently processes a vast amount of data in milliseconds and helps you make the most out of the business data while managing privacy and compliance standards.
The company is listed on the New York Stock Exchange under the symbol 'SPLK'. It has more than 7,500 employees and an annual net income of over $1.3 billion.
1. Numerator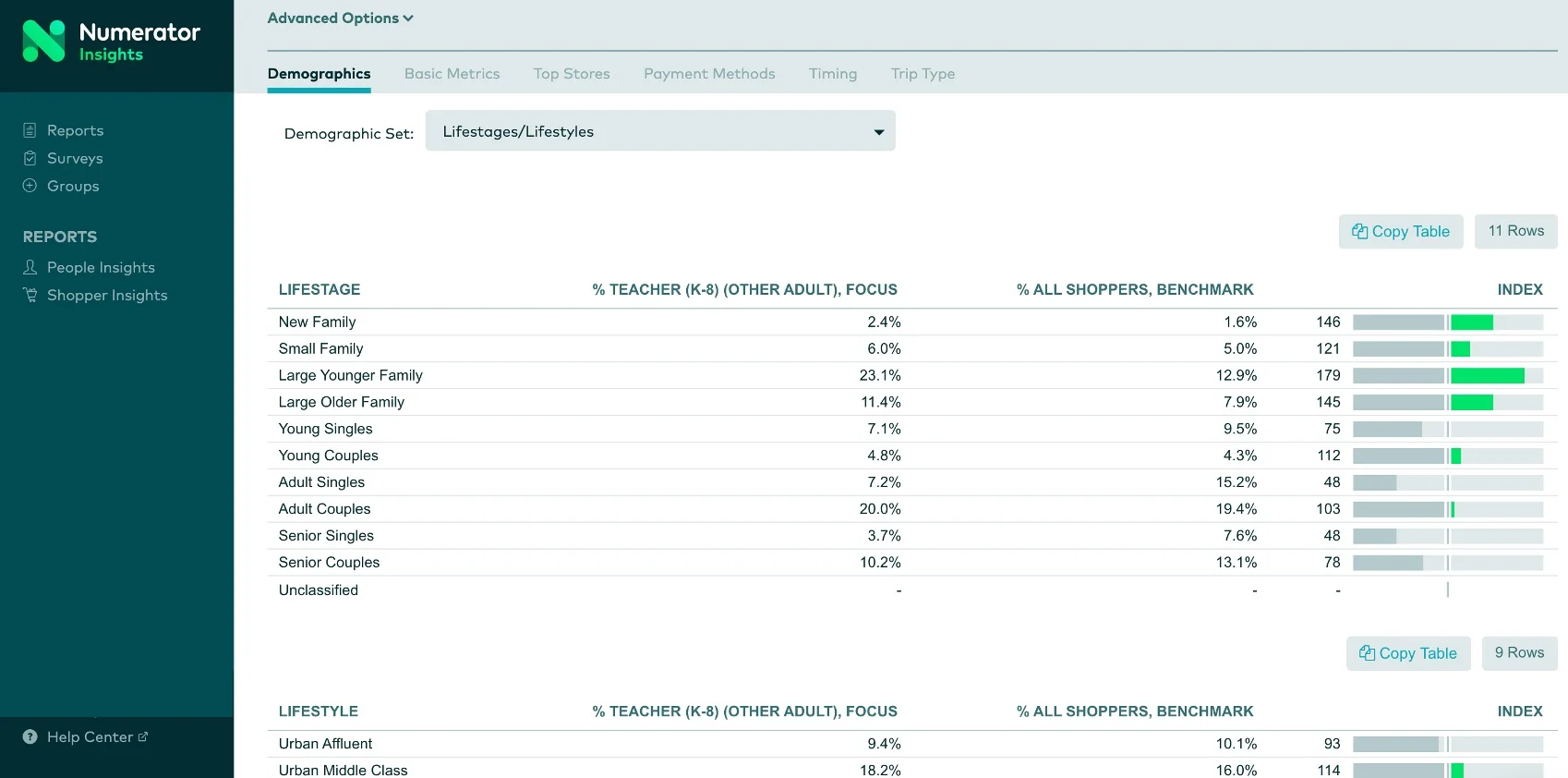 Founded In: 1990
Headquarters: Chicago, Illinois, United States
Specialization: Brand insights, Surveys, Purchased-based audience targeting
Numerator brings speed and scale to market research. It combines first-party data from more than one million US households with proprietary algorithms, providing users with a 360-degree view of the market research industry. It helps large and mid-size enterprises understand their customers and utilize growth opportunities.
In 2014, the company launched a new platform called OmniPanel. It was developed to fulfill the fundamental market needs, such as providing accurate insights into customers' behavior (irrespective of where they shop). It has a Measurement Consumer Panel that shows the purchasing data from more than a million contributors. One can dig deeper into consumer attitudes and interests to understand why customers prefer one brand over others.
More specifically, OmniPanel offers a holistic view of consumer behavior across channels, capturing over one billion trips from 100,000+ static panelists and 1000+ psychographic and demographic attributes.
Its early customers include Colgate-Palmolive, Red Bull, General Mills, and Anheuser-Busch. Today, the company has thousands of big clients, including 54% of Fortune 100 companies.
At-a-Glance
Captures omnichannel purchase data
More than 35 flexible reports to get detailed insights
Analyze threats within specific categories and competition
Overall, Numerator is an easy-to-use platform designed for retailers and manufacturers to look into the shoppers' profiles, get detailed answers about consumer behavior in real-time, increase return on investment, and find growth opportunities. It also enables emerging B2B and B2C brands to be understood for the first time.
Read:  12 Largest Data Centers In The World In 2022 [By Size]
Other Fast-Growing Data Science Companies
10. TigerGraph
Founded In: 2012
Headquarters: Redwood City, California, United States
Specialization: Advanced analytics on connected data
TigerGraph is a graph AI platform built on a native graph database that features a SQL-like query language. It integrates well with enterprise connectors and tools, allowing data scientists to develop and implement analytics solutions in a few days.
Unlike conventional SQL databases that are good for storing and retrieving facts, TigerGraph is perfect for finding multi-dimensional relationships and complex patterns. Its advanced analytical processing software can handle an enormous volume of data (tens of terabytes of data with billions of edges).
TigerGraph's proprietary machine learning algorithms can support data-intensive applications, such as cybersecurity, network analysis, personalized recommendation, product & service marketing, fraud detection, and anti-money laundering.
11. IPM.ai
Founded In: 2017
Headquarters: Florham Park, California, New Jersey, United States
Specialization: Commercialization of precision medicine through AI
IPM.ai helps life sciences companies better understand and improve patients' lives through research, development, and commercialization of innovative therapies. It utilizes granular-level longitudinal analytics, machine learning, and real-world evidence to serve the pharmaceutical and biotechnology industries.
The platform uses its proprietary software along with the real-world data of 300 million patient journeys and 66 billion anonymized social determinants of health signals to discover diagnosed, misdiagnosed, and undiagnosed patients. The outcomes make it easier for professionals to make better decisions during the pre-clinical, clinical, and commercialization phases of rare disease therapy.
IPM.ai markets itself as a Insights as a Service (Iaas) company. This is different than a Software as a Service (SaaS) platform in the way that SaaS only provides insights and analytics, whereas IaaS offers insights as well as the concrete steps required to leverage those insights.
12. InData Labs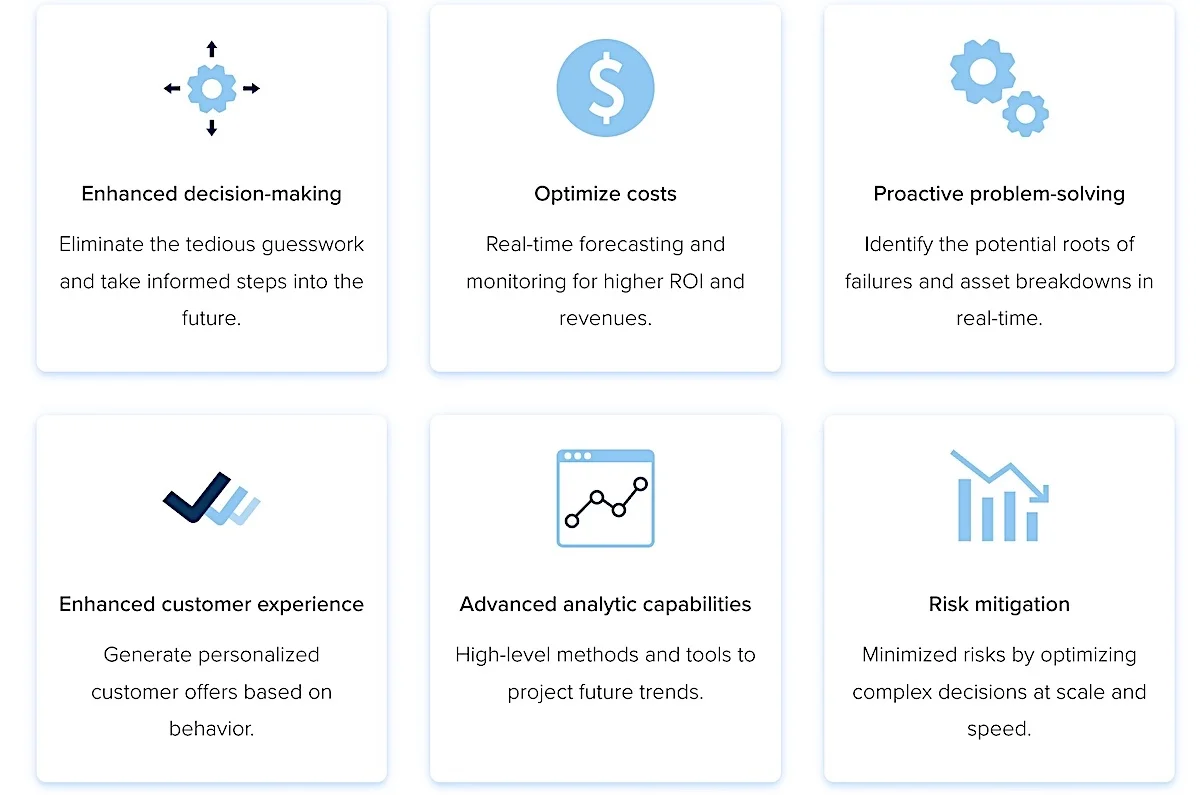 Founded In: 2014
Headquarters: Nicosia, Cyprus
Specialization: Predictive analytics, Cognitive computing
InData Labs delivers AI-powered tools and technical solutions to corporations who want to leverage data and machine learning techniques to grow their businesses. In other words, it helps businesses innovate with artificial intelligence technology, automate processes to be more efficient, and enrich customer insights.
The company has more than eight years of experience in data science and AI consulting and development. They have implemented over 160 projects worldwide with major clients from the USA, Europe, the UK, and Singapore. Most of their clients belong to the banking & finance, automotive manufacturing, healthcare, insurance, and retail industry.
Furthermore, InData Labs has its own data research facility, where data scientists mostly work on visual search, post estimation, logo detection, and object segmentation in 3D point clouds. The tech team also participates in global events to keep up with the latest trends and studies in the field of big data, deep neural networks, computer vision, and natural language processing.
13. UrbanFootprint
Founded In: 2014
Headquarters: San Francisco, United States
Specialization: Geospatial analytics, Mapping, Data visualization
UrbanFootprint is the first Urban Intelligence Platform that serves urban, economic, and environmental data and analytics to businesses, institutions, and governments. It allows them to finance and rebuild the social infrastructure faster and at a lower cost.
It comes with visually rich dashboards and interactive maps that can be opened on any web browser. The platform is quite easy to use. Anyone can map, compare, quantify risk, visualize at-risk infrastructure, and identify communities impacted by health risks, economic stress, and more.
Key Features
Parcel and reference data for all 50 states in the US
Thousands of ready-to-map datasets
Advanced scenario building tools
Built-in analysis modules
The company has a great track record in providing comprehensive, context-rich, and granular data about the urban and natural landscape. It pairs the data with targeted insights that map and determine the potential risks and opportunities. This helps enterprises, governments, and other stakeholders prioritize resources and investments where they are needed most.
Read: 13 Big Data Databases For Your Project
Frequently Asked Questions
Is data science and AI the same?
No. Data Science and Artificial Intelligence are two different fields.
Data science involves a series of steps (data preparation, extraction, manipulation, visualization, and maintenance) to predict the occurrence of future events. Artificial Intelligence, on the other hand, is the intelligence that machines can process. It is developed to mimic natural human intelligence. It involves three main steps: learning, reasoning, and self-correction.
How much do data scientists make?
According to the US Bureau of Labor Statistics, the average salary of a data scientist is $108,660. It can vary based on factors like experience, skill level, employer, and location. The highest paying industry is Computer and Peripheral Equipment Manufacturing, which offers an annual mean wage of $148,290.
Since computer and information employment is estimated to grow by 13% between 2020 and 2030 (faster than the average for all occupations), the demand for computer and data scientists will grow as well.
What's the future of data science platforms?
According to ReportLinker, the market size of the data science platform is estimated to grow at a CAGR of 27.7% from 2021 to 2026. It will exceed $320 billion by 2026.
The major factors behind this growth will be the rising demand for advanced tools and cloud-based solutions that could help businesses extract detailed insights from complex data to gain a competitive advantage.
North America is projected to account for the largest market share (over 30%) during the forecast period. As data-driven transformation is rising, a greater number of American and Canadian firms are adopting the technology to drive growth. The second position is more likely to be held by Europe. 
Read More:
12 Most Common Data Science Applications
5 Different Types Of Data Center [With Examples]