A digital forensic company provides services related to the investigation and analysis of digital evidence in support of cybersecurity incidents and legal proceedings. It uses advanced software tools and skilled professionals to collect, analyze, and preserve digital evidence from various devices and networks.
While specific activities performed by such companies vary based on the nature of the case, their primary goal is to interpret evidence that can be used to mitigate cyberattacks and help in legal cases.
They perform detailed analyses of evidence to reconstruct incidents, spot the origin of data breaches, and identify suspicious activities. This may involve examining complex file systems, logs, metadata, and other key metrics to construct a timeline of events and identify patterns.
In most cases, forensic companies deal with malicious scripts — they inspect code, network traffic, and system changes caused by the malware. This helps them identify the attacker's techniques and develop effective countermeasures.
Once everything is under control, they create in-depth reports documenting their findings, analysis processes, and methodologies. These reports could play a vital role in legal proceedings.
Did you know?
According to Web Arx Security, about 300,000 new pieces of malware are created daily. About 64% of businesses worldwide have experienced at least one form of cyberattack.
As more businesses and government entities fall victim to cyberattacks, the need for digital forensic firms becomes paramount.
Below, we have featured some of the most-reliable digital forensic companies that are known for their expertise and track record in the field. Their methodologies continue to evolve to keep pace with technological advancements and expanding landscape of digital threats.
9. MSAB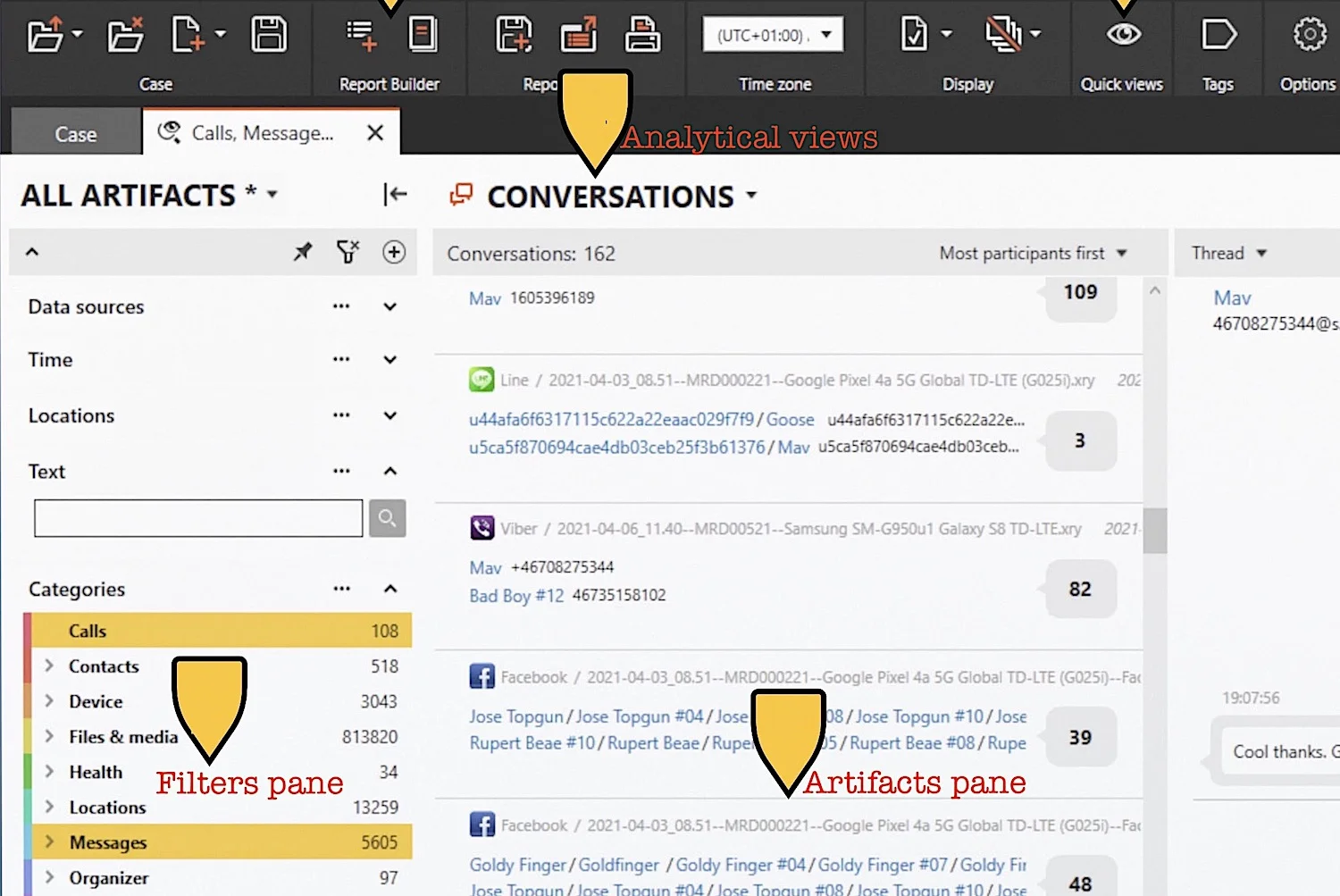 Founded in 1984
MSAB (short for Micro Systemation AB) focuses on mobile device forensic solutions, which involves the extraction and analysis of evidence from smartphones, tablets, and other mobile d
It offers three software platforms to support different stages of the digital forensic process:
XRY

lets you extract high-quality data in less time. It can bypass device locks, recover deleted files, and decode app data, including text messages, call logs, and social media content.

XAMN

allows you to identify key pieces of evidence, establish relationships between devices and users, and create detailed reports for legal proceedings.

XEC

is designed for non-technical users like first responders or patrol officers. It makes it easy to collect data at the scene of an incident without requiring forensic expertise.
Key Benefits
XRY supports more than 44,200 mobile devices
Recover and decode cloud data, iCloud backups, and warrant returns
XAMN's Geographic and Maps views let you navigate data by location
Easily arrange your findings using drag-and-drop
MSAB technology is used exclusively by government agencies, law firms, and forensic labs to gather intelligence, investigate fraud, and fight corruption. They have a large customer base in over 100 countries.
Unlike most other digital forensic companies, MSAB is publicly listed on NASDAQ and has an AAA credit rating.
8. Kroll
Forensic services released in the 1990s
Founded in 1972, Kroll expanded into market intelligence, background screening, forensic accounting, and electronic data recovery in the early 1990s. It has now established itself as a trusted advisor to government agencies, law firms, and private corporations.
The company utilizes advanced data analytics techniques to manage complex challenges related to disputes, cybercrime, fraud, and other critical issues. It identifies patterns, trends, and irregularities in large volumes of data to assess risks, identify suspicious activities, and provide actionable insights.
Their experts can help you review your data systems and figure out the methods sued by attackers. They can reverse engineer suspicious malware and write custom scripts to purge harmful applications.
All assessments are conducted by a professional team that holds 100+ industry certifications, including CREST, QSA, CRISC, CISA, and more. These professionals respond to over 3,000 cyber incidents (of different types) annually.
Services offered
Managed detection and response
Cyber governance and strategy
Assessments and testing
Incident response and litigation support
Managed security services
Kroll also helps you implement compliance programs and perform proactive assessments. In case of a cyber incident, their forensic experts could serve as witnesses in legal proceedings, providing technical evidence and impartial opinions.
According to Kroll's official website, their services save 7+ hours in evidence collection and come with a $1 million complementary incident protection warranty. The warranty covers ransomware-associated costs, business email compromise, compliance and regulatory failure, and business income loss.
7. Group-IB
Founded in 2003
Group-IB provides a comprehensive suite of solutions to detect and respond to security incidents and protect your business from emerging cyber threats. It combines advanced analytics and cutting-edge technologies to understand the cybercriminals' ecosystem.
Its flagship product, Managed XDR, gives you a complete overview of your security systems, including cloud workloads, networks, servers, and endpoints. XDR is designed to precisely analyze network protocols, identify anomalies, discover threats in encrypted traffic, and spot suspicious activities from network logs.
More specifically, it looks for network threats without signatures, attacks involving legitimate software, and complex targeted attacks.
Key Stats
1,300+ Successful investigations of hi-tech crimes
70,000+ hours of incident response
550+ enterprise customers
120+ patents and applications
Over the years, the company has formed strong partnerships with law enforcement firms, including Interpol, Europol, and national cybercrime units. They frequently collaborate to investigate high-profile cases and solve complex cybercrime.
Group-IB also serves telecommunications providers, financial institutions, and large corporations. Their customer base is spread across several sectors and geographies.
6. SecureWorks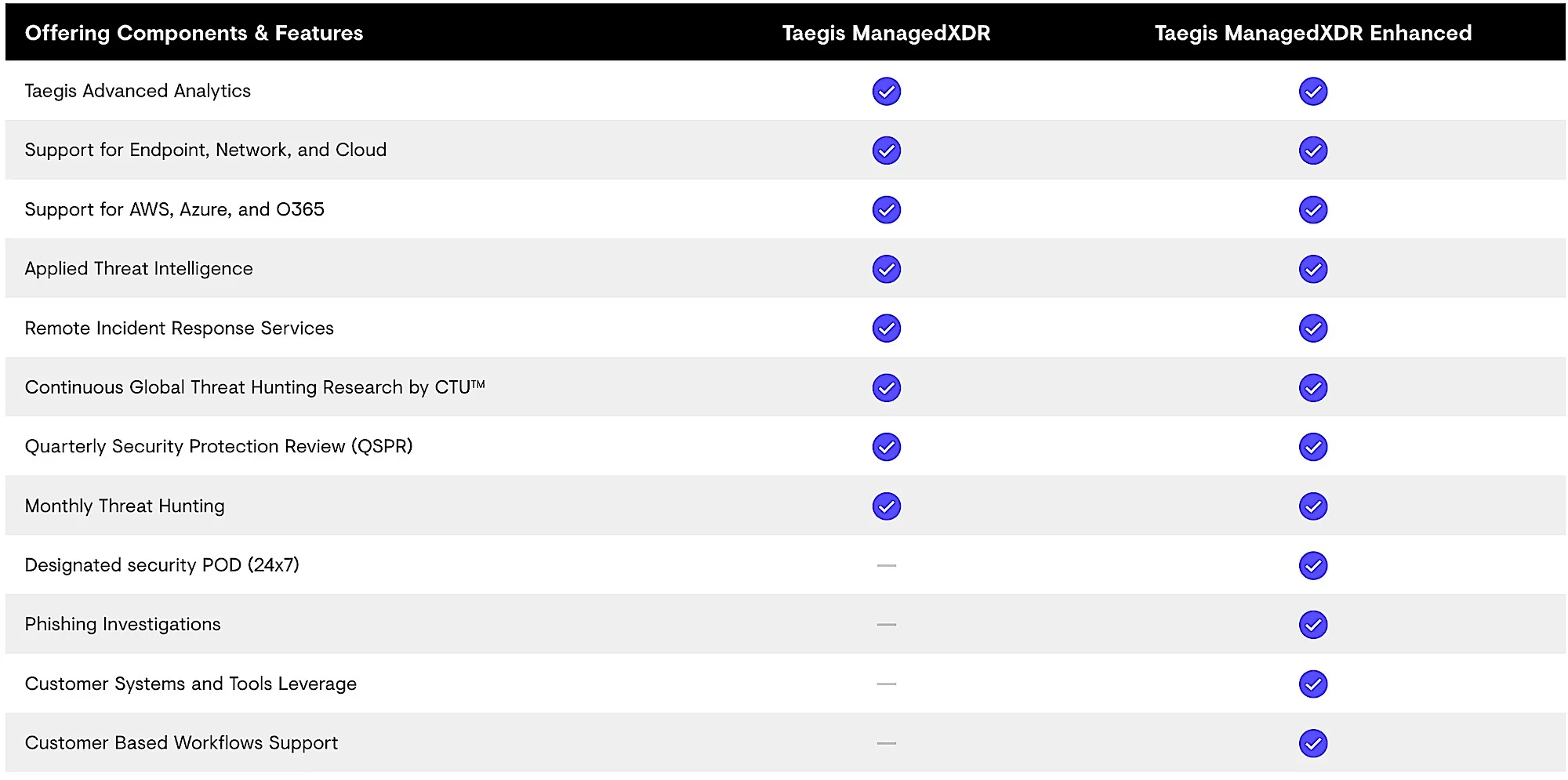 Founded in 1998
Secureworks helps you prevent cyber threats and protect your digital assets by using their managed security solutions, which mainly focus on continuously monitoring and analyzing the business networks, applications, and data.
The company utilizes advanced analytics and threat intelligence systems to detect potential issues and suspicious activities. It leverages artificial intelligence and machine learning models to accurately identify and combat emerging cyber threats.
They have a team of experts who can assist in evaluating the impact of breaches, performing forensic analysis, and recovering critical files and data. They also offer custom solutions to fulfill the needs of various industries, including retail, technology, energy, healthcare, financial sector, and government sectors.
Services offered
Incident Response
Threat intelligence
Vulnerability management
Cloud security and managed security services
Secureworks' platform processes more than 180 billion network events daily and analyzes over 270 billion security events annually. Since the platform is integrated with behavioral analytics and machine learning systems, it can detect and respond to security incidents in real time.
The company operates as a subsidiary of Dell Technologies, employing over 2,100 people. It has 4,000+ customers in 75 countries, ranging from small and medium businesses to Fortune 500 companies and government organizations.
5. NetSecurity
Founded in 2004
NetSecurity offers an all-in-one platform for cyber threat detection, response, and prevention. This platform is integrated with advanced technologies, such as behavior analytics, artificial intelligence, and machine learning. It gives you a complete view of business vulnerabilities and detects threat activities on endpoints regardless of the OS (Linux, Windows, or Mac).
The company also provides quick response services to minimize damage and restore normal operations. Their experts carefully look for the root cause, evaluate the impact, and build an effective response strategy.
They analyze the whole infrastructure to accurately determine the scope of the breach, pinpoint compromised modules, and assist in remediation efforts. Their comprehensive evaluation processes cover areas like application security, network security, access controls, and security policies.
Services Offered
Cyber security consulting
Incident response
Malware analysis
Penetration testing
Data breach remediation
Regulatory compliance
NetSecurity also offers threat intelligence, vulnerability management, and security awareness training to strengthen your business against cybercrime.
Unlike many other digital security firms, NetSecurity is self-funded and profitable. Its platform is currently used by hundreds of large private organizations and government entities.
4. Elcomsoft

Founded in 1990
With over three decades of experience, Elcomsoft is one of the long-standing companies in the field of password recovery and digital forensics. Its expertise lies in encryption, data recovery, and desktop and mobile device security.
The company has pioneered various information security and password recovery techniques. It has obtained numerous patents that help ElcomSoft's products deliver impressive performance.
This includes patents for
Probabilistic cryptographic key identification with deterministic result
Fast cryptographic key recovery technology
Use of graphics processors to speed up password recovery
Key Products
Premium forensic bundle (costs $5,499)
Mobile forensic bundle ($3495)
Desktop forensic bundle ($1,999)
Cloud eXplorer ($1,995)
Distributed password recovery ($599)
Forensic disk decryptor ($599)
Phone breaker ($199)
ElcomSoft's desktop forensic solution, in particular, allows you to access data stored in secure FileVault, BitLocker, PGP Disk, and TrueCrypt successors' containers. Its mobile forensic solution lets you access password-protected and encrypted files in various mobile devices and cloud services.
The premium bundle, which includes both desktop and mobile solutions, makes it easier to unlock data from all devices and cloud services, decrypt archives, break into encrypted containers, and analyze evidence.
It is currently used by several branches of military, foreign governments, large accounting firms, and some of the Fortune 500 corporations.
3. Magnet Forensics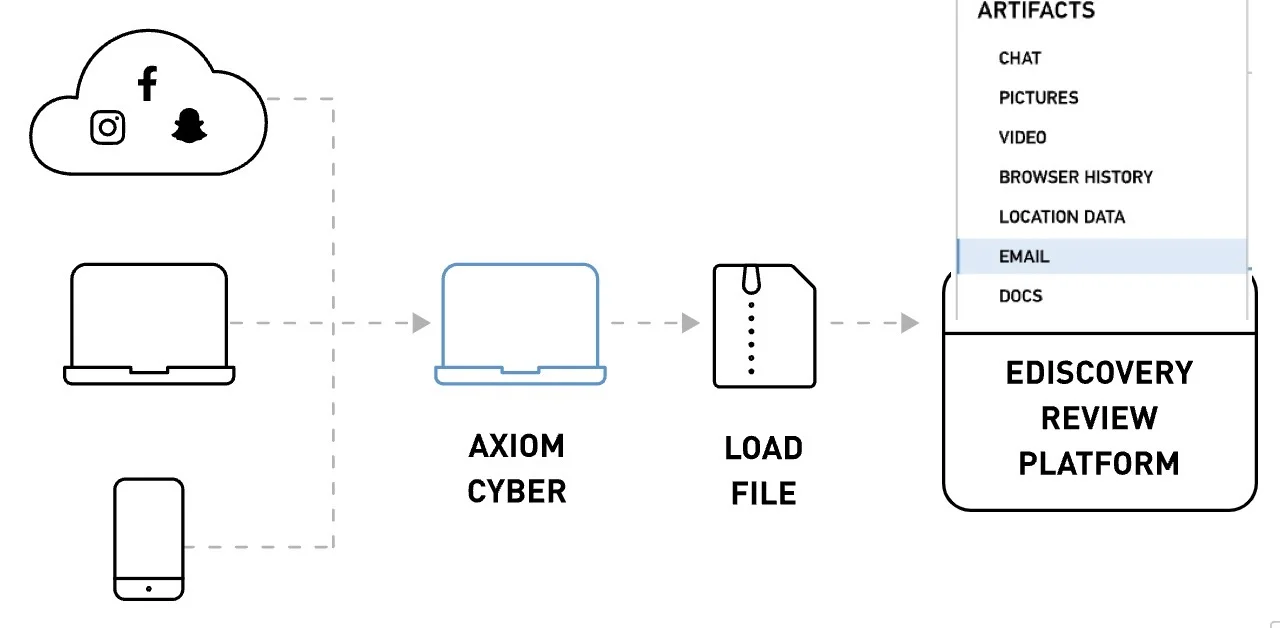 Founded in 2009
Magnet Forensic offers software tools, expertise, and training programs to help you extract valuable information and aid in the investigations of criminal activities.
One of its popular products is AXIOM Cyber, a robust digital forensics platform to collect and analyze evidence from mobile devices, computers, and cloud applications. It can quickly extract unique information from Android, iOS, Windows, Mac, Chromium, and Linux systems.
The platform uses content-based image retrieval and machine learning techniques to surface evidence. Then, it presents data in an easy-to-understand format, so you can quickly interpret, understand, and tell the story of your case.
The dashboard gives you in-depth details of your investigation, sources of evidence, and the overall view of the digital evidence.
Key Products
Magnet Axion

: a comprehensive digital platform to collect, analyze and report evidence

Magnet Acquire

: streamlines the process of gathering data from various sources

Magnet Outrider

: is focused on quickly detecting and reporting explicit material in investigations

Magnet RAM

: allows you to collect volatile memory from live systems.

Magnet Internet Evidence Finder

: recovers and analyses internet-related artifacts
The company has established a strong presence in the global digital forensic markets. Their products are used by thousands of top law enforcement, government, and private companies in over 92 countries.
2. Cellebrite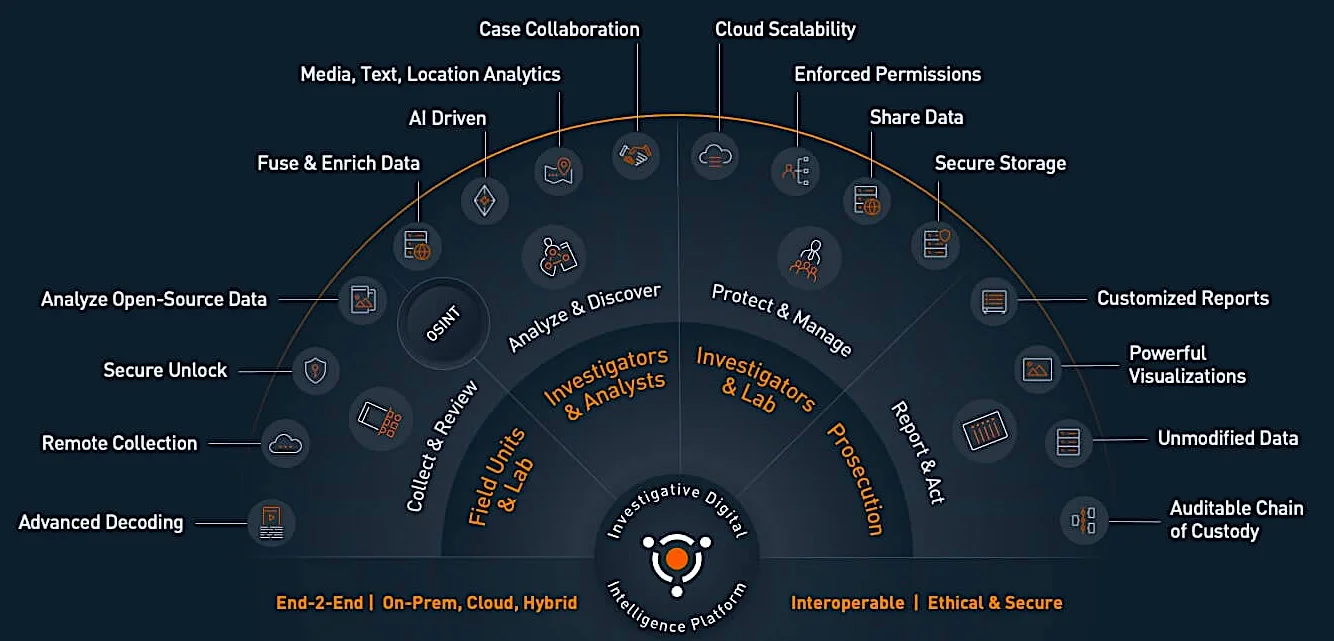 Founded in 1999
Cellebrite offers a suite of tools to perform various activities, such as recovering trashed or encrypted data and extracting information from mobiles and computers. These tools are designed to look for evidence related to fraud, cybercrime, and other illegal activities.
While the company primarily focuses on mobile device forensics, it also offers solutions for desktop and cloud data forensics. Its mobile forensics segment was introduced in 2007 to be used by private sector organizations, law firms, intelligence agencies, and military branches.
Key Features
Smart searching and filtering
AI media categorization
Optical character recognition
Manage and share data within and across agencies
Outline actionable intelligence to move investigations forward
Its flagship product is UFED (short for Universal Forensic Extraction Device), which allows investigators to collect and analyze data from various mobile devices, including cell phones, tablets, and GPS devices,
It utilizes a combination of techniques like physical extraction, logical extraction, file system extraction, and password bypassing to retrieve information from call logs, contacts, messages, and installed apps. It works for Android and iOS phones (as well as for old Windows and Blackberry phones)
The physical extraction technique, for instance, makes it easier to create a bit-by-bit copy of the device's storage, allowing examiners to access system files, deleted files, and other low-level data.
Cellebrite also supports quick analysis of crypto artifacts and automated evaluation. This helps examiners efficiently track activities related to cryptocurrencies and make informed decisions to expedite investigations.
Their customer base primarily consists of corporate security teams, legal professionals, and law enforcement and intelligence agencies. Their platform has been used in several high-profile cases. In 2016, Cellebrite reportedly assisted the FBI in unlocking an iPhone involved in the San Bernardino shooting case.
1. Oxygen Forensics
Founded in 2000
Oxygen Forensics provides government entities and enterprises with a comprehensive digital forensic platform. This platform can efficiently extract data from multiple devices and tag key evidence for analysis.
More specifically, it can extract data from 30,000+ devices and 100+ cloud-supported applications.
It is integrated with smart data carving techniques that can find missing fragments of data and deleted files from the storage device. This can be useful for discovering evidence that has been accidentally or intentionally deleted.
It also features advanced analysis modules for certain types of investigation. These modules include geo-location analysis, multimedia analysis, social graph analysis, and chat analysis — they all enhance the depth and efficiency of investigations.
Key Benefits
Extracts data from locked devices
Decrypts passwords and authentication tokens
Built-in image categorization engine
Built-in maps to visualize people's movements
Optical character recognition
Generates reports in various formats
The platform allows you to build a chronological timeline of events using the extracted data. You can reconstruct activities, communications, user interactions, and other key events to get a comprehensive view of the case.
Oxygen Forensics currently serves nearly 10,000 customers, ranging from defense and homeland security organizations to local and regional law enforcement agencies.
Other Equally Good Digital Forensic Service Providers
10. Paraben Corporation
Founded in 1999
Paraben Corporation specializes in digital forensics, risk assessment, and security. It has developed a comprehensive digital forensic platform, Electronic Evidence Examiner (E3), to handle massive volumes of data efficiently.
E3 can pull data from smartphones, computers, IoT devices, and cloud applications. It provides a unified interface to deal with all these digital data.
The platform is integrated with an advanced processing engine to interpret various digital artifacts, including text messages, emails, call logs, chat conversations, web browsing history, geographic location, social media content, and more.
Key Features
Forensically sound evidence collection
Extraction and interpretation of digital artifacts
Visual representation of findings
Filtering and sorting options for targeted data analysis
Hash value verification to ensure data integrity
E3 also integrates with other forensic tools, improving its overall efficiency and offering a seamless workflow. It allows you to leverage specialized software, such as network forensic tools and other third-party applications, further extending the platform's capabilities.
11. BasisTech Autopsy
Released in 2011
Autopsy is an end-to-end open-source digital forensic tool designed to analyze and extract evidence from storage devices. Its intuitive interface makes it easy to extract data from specific file formats, search keywords, analyze network traffic, and generate in-depth reports.
The tool is maintained by Basis Technology Corporation, a software company that utilizes AI techniques to understand unstructured data written in different languages.
Benefits
Free and open-source
Versatile — can be used to investigate a wide range of incidents
Extendable through the use of plugins and Python scripts
Available for Mac, Windows, and Linux
With Autopsy, you can visualize and correlate events based on timestamps found in the evidence. This helps you determine the chronological order of activities.
You can also generate custom reports (including relevant data like metadata details and analysis summaries) and export them in different formats for legal proceedings.
It is currently used by several national security and law enforcement agencies, with over 6,000 downloads every week.
12. ADF
Founded in 2005
ADF Solutions (short for Advanced Digital Forensic Solutions) leverages artificial intelligence and machine learning to uncover actionable insights within minutes. Its flagship product, Digital Evidence Investigator (DEI), simplifies the extraction and examination of evidence from various digital storage media.
It can efficiently retrieve artifacts and deleted files from unallocated disk space and analyze recovered data. It comes with in-built parsers and interpreters for emails, text messages, browser history, images, videos, and other artifacts.
Plus, it can reconstruct events chronologically, giving you a comprehensive view of the case.
Other products
Triage-Investigator

to quickly scan computers for evidence and suspicious activities

Triage-G2

to conduct site exploration operations

Cloud-based platform

for storing, managing, and analyzing digital evidence
These products are used by some of the most prestigious law enforcement and government agencies, including the US Secret Service, the Department of Homeland Security, and the FBI.
More to Know
What you should look for in a digital forensic company?
Before coming to any decision, you should look for the following qualifications and expertise in a digital forensic firm:
Specialized tools and methodologies: The company must use industry-standard tools and techniques for evidence collection, investigation, and reporting. This includes both software and hardware tools for data extraction and analysis.
Legal knowledge and track record: Ensure the firm has a strong understanding of legal procedures and a decent experience in handling data breaches, cybersecurity incidents, and legal investigations.
Skilled employees: You can ask for certifications such as Certified Computer Examiner (CCE), Forensic Computer Examiner (CFCE), or similar credentials.
How much do digital forensic companies charge for their services?
Most forensic firms charge between $100 and $200 per hour. The services can vary depending on several factors, such as the scope of work required and the nature and complexity of the case. The key factors that influence the cost are
Case complexity

— sophisticated attacks and large-scale data breaches require extensive investigation, which leads to higher costs.

Urgency

— expedited services need to allocate additional resources to meet tight deadlines.

Scope of investigation

— if the case requires multiple hardware and software tools or extensive manual efforts to recover and analyze data, it may increase the overall cost.

Expertise required

— skilled professionals with specific certifications and longer experience command higher rates.

Geographic location

— firms operating in specific regions (especially where the cost of living is high or completion is low) may have higher rates.
Digital Forensics Market Size
The digital forensic market size is expected to exceed $30.78 billion by 2030, growing at a CAGR of 16.3% from 2023 to 2030.
The key factors behind this phenomenal growth include the increasing number of cyberattacks, ransomware, malware, and other malpractices to steal data. As cybercrime increases, the demand for forensic services to analyze and reduce these incidents increases.
Modern forensic tools are now being integrated with machine learning, deep learning, and blockchain technologies to enhance data analysis capabilities and automate certain tasks. These advancements attract businesses to invest in digital forensic solutions, further driving the market growth.
Furthermore, government regulations to comply with data norms standards have fueled the demand for digital forensic solutions.
Why you can trust us?
We thoroughly analyzed over 25 digital forensic companies that offer a broad range of solutions. It took about 20 hours to do the comprehensive research. Finally, we decided to shortlist 12 firms based on the number of cases handled, their track record over the years, and the tools or services they offer.
We DO NOT earn commission from any of the featured companies. Moreover, we have two independent editors who have no influence over our listing criteria or recommendations.
Read More
12 Different Types Of Forensic Science