Digital Signage is one of the most effective ways to convey information to a large group of people. The information could be product ads, wayfinding, promotion, or marketing.
Digital signage uses technologies such as LED, LCD, and projection to display text, images, videos, and web pages. Unlike static signage, it engages with the audience in a much more effective manner. Visually compelling graphics, moving pictures, ability to refresh the screen within a fraction of a second make digital signage look more vibrant and up-to-date.
That's the reason it is now widely used in shopping malls, cinemas, restaurants, hospitality, transport, and education industries.
However, to make the most of this technology, you will need a feature-rich digital signage platform that can accompany your hardware devices, allowing you to operate multiple screens remotely. Modern platforms let you create visually attractive content, create playlists, organize screens into groups, and diagnose playback issues with ease. Most of these platforms are sold via a Software-as-a-Service (SaaS) model.
Below, we have listed some of the best digital signage software programs that allow you to create and broadcast dynamic content to a target audience.
9. Play Digital Signage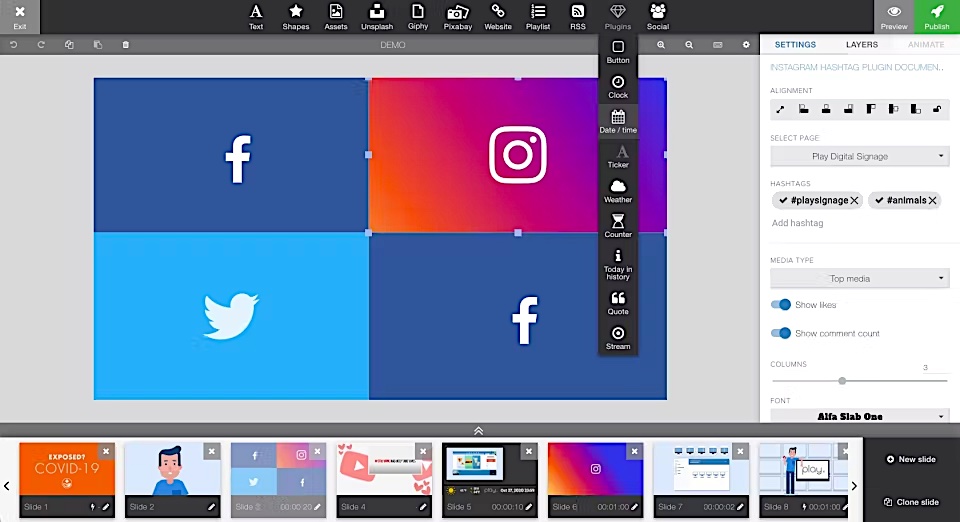 Price: $18 per screen per month | Free trial screen available
Rating: 4.8/5 from 200+ users
Play is a cloud-based editor with all the essential features you need to create content and publish it to your digital screens. It is designed for both professionals and beginners.
The built-in content editor allows you to add or modify texts, images, shapes, emoticons, videos, and much more. It comes with drag-drop capabilities, so you can easily add effects (such as zoom, fade in/out, and rotate) and manage content across multiple screens. More specifically, you can split the screen into different zones. Each zone can show different content and work independently.
There are several plugins to further improve functionality and engagement. HTML 5, for example, is a website plugin to integrate external content. The 'Touch' plugin gives you the option to add clickable buttons, whereas 'Ticker' lets you add moving text to catch the audience's attention. All in all, you will find dozens of plugins to make your content even better.
If you have got a large project, you can create a team and assign roles to specific members.
Key Features 
Supports plugins to improve functionality and engagement
Includes tons of royalty-free libraries and templates
Set up alerts and notifications for all team members
Analytics such as total run time for all your screens
Once you are done creating content, you can schedule it for specific times or dates. Use the Timeline to determine what goes live at what time. It's a live tool that shows you what's going on right now and what's next.
The platform also offers advanced analytics, which you can use to gain insights into content playback duration and screen time. The report is fully customizable and available in different formats.
8. TelemetryTV
Price: Starts at $18 per device per month | 14-day trial available
Rating: 4.7/5 from 250+ users
Telemetry offers an efficient way to transform screens into powerful engagement tools. Its intuitive and secure cloud-based digital signage platform lets you create and broadcast dynamic content, including advertising campaigns, real-time web content, and programmatic content.
It is packed with over 70 turn-key apps and visuals, so you don't have to start everything from scratch. Design different layouts by curating content into different sections of a screen. You have the freedom to create as many sections as you like and drag and drop unique elements into each section.
How does it work? 
Connect your hardware and pair devices
Use built-in apps and integrations to create engaging visual content
Schedule, manage, and monitor your playlist
With TelemetryTV, you can easily deploy and manage thousands of devices. Monitor the health status of each device, restrict or enable content on specific devices, and set scheduling rules to automatically remove expired content from all devices.
It's quite a popular platform and widely used for marketing and internal communications at New York Public Library, Stanford University, Starbucks, and more.
As for pricing, it starts with $18 per device per month and goes up to $35 per device per month. All plans include 70+ built-in apps, video file storage, a playlist scheduling system, and live chat and email support.
The higher-tier subscription plan allows you to display web apps and streaming media on any screen, create customer screen configuration, and set up Common Alerting Protocol (CAP) to trigger overrides on your devices.
7. Raydiant
Price: $59 per month to manage unlimited screens | Free version available
Rating: 4.7/5 from 250+ users
Raydiant's plug-and-play, cloud-based platform helps you create, manage, and scale on-screen experience across hundreds of thousands of locations, saving you time, resources, and logistical headache. It integrates with tons of content and in-location commerce apps that drive your business.
Once you sign up, you can start creating your content from scratch or use 225,000 pre-designed templates to speed up the process. You will find a suitable template for every use case — broadcast special offers, deliver powerful messages, promote a new product or service, display health and safety protocols to keep customers informed, and much more.
It also provides screen engagement analytics on viewers, impressions, and dwell time to help companies deliver optimized content and sales.
Benefits
Easy to install and set up
Designed to scale
225,000+ pre-made content template
Integrate your screen with hundreds of third-party apps
Manage all your screens from anywhere and on any device
Define user roles and permission
Since Raydiant's digital signage is designed to be customized based on customers' objectives, over 3,500 companies use it to broadcast information to the target audience. Most of them use it to display personalized and highly targeted offers, discounts, and promotions directly to in-location customers.
You can start with the free version, which allows you to manage one screen from the cloud and schedule up to one presentation per playlist. It doesn't include pre-designed content templates and shows a 15-second ad every 10 minutes.
6. ScreenCloud
Price: Starts at $20 per screen per month | 14-day trial available
Rating: 4.8/5 from 220+ users
ScreenCloud makes it easier than ever to put valuable content on any screen, in any location. It is designed for small businesses to drive engagement, productivity, and sales.
You don't necessarily have to be on top of your screens to make changes or diagnose issues. With ScreenCloud Studio, you can add new screens, invite collaborators, and manage the workflow from anywhere using your PC, laptop, or smartphone.
Upload new pieces of content or edit existing ones on the Studio, and your screen will reflect changes in seconds. It works with all devices and screens.
The platform also comes with a ScreenCloud Operating System, which gives you the flexibility you need to create and scale your screen network.
Key Features 
Live broadcast to every screen
Multi-zone screen layouts
Built-in design and editing
Connect 70+ applications and thousands of integrations
Use GraphQL API to create custom integrations
The platform gives equal importance to security and privacy, allowing you to invite team members, set custom permissions, and audit logs — while keeping your account and content secure.
Unlike other digital signage tools, it provides you with real-time performance metrics to make instant decisions. These metrics can be shared with specific team members to enhance performance and productivity.
All in all, you can add as many screens as your like, monitor them in real-time, track employee communications, and power data visualization through one central medium.
5. Spectrio
Price: $99 per month for one screen | Additional screens cost $30 each
Rating: 4.7/5 from 350+ users
Spectrio is a customer engagement company specializing in digital signage solutions to directly connect your brand's message with customers. It covers every aspect of digital signage from hardware to content, empowering you to inform, entertain, and upsell your target audience.
It has a huge library that helps you create a broad range of compelling content, from turn-key content to promotional videos. Upload unlimited HD images, videos, and PowerPoint slides; display dynamic webpages, company events, and safety warnings; showcase your customers' recent reviews, and much more.
You can personalize and further enhance the content with versatile applications selected from Spectrio's app market.
Key Features 
Includes a massive content library
Works seamlessly with any combination of landscape or portrait displays
Dynamic playlists and advanced scheduling
Integrates with tools you are already using
Schedule your content with just one click to ensure the right message is served a the right time. Additional features include mass multiple display formats, editing capabilities, and real-time device monitoring.
The platform is suitable for businesses in all industries. It currently serves more than 150,000 franchise and enterprise locations in various industries, ranging from healthcare and financial services to automotive and quick-service restaurants.
4. Yodeck
Price: $8 per screen per month | Free for a single screen
Rating: 4.9/5 from 750+ users
Yodeck helps small and mid-size businesses design, schedule, and display content affordably and professionally from the web.
It allows users to upload images, PDFs, excel, Word files, and live stream videos. Or they can browse the free stock image and video galleries to create amazing content.
Its intuitive dashboard makes it easy to manage thousands of screens and edit and display content remotely from a PC or laptop. There is even an advanced content scheduling option to target the right audience at the right time.
Key Features 
Free Widgets and layouts for catchy content
Supports full-screen media playback
Granular access control with workspaces
Works when offline
The platform has a simple user interface. Any novice user can get screens up and running in less than five minutes. Just create a free account, get your Yodeck player, upload media, edit it, and hit 'apply.' It integrates with all popular third-party applications such as Twitter, Instagram, Trello, Google Calendar, and more.
Currently, Yodeck is used by businesses in different industries, from local diners to global leaders, including Domino's, Adobe, Autodesk, Delta Airlines, and Deloitte.
It could also be a great platform if you are looking to offer cloud-based digital signage solutions to your clients, either as a reseller (with the Yodeck branding) or as a White Label partner (under your own branding). Its Partner Administrative Console allows you to add and manage countless clients. Plus, as a partner, you enjoy more features and annual discounts.
3. Novisign
Price: Starts at $18 per screen per month | 30-day trial
Rating: 4.7/5 from 200+ users
With Novisign, any user (even with limited IT experience) can design, manage, and schedule digital signage screens within minutes. It has a cloud-based Studio to create dynamic content for corporates, restaurants, K12 campuses, hospitals, and more.
The platform is built in layers, from a basic image campaign up to mixtures of scrolling static text, videos, news tickers, slideshows, RSS feeds, and more. It also includes cutting-edge widgets like YouTube, Instagram, Facebook, games, and polls for creating rich and engaging content.
Key Features 
Over 200 templates, each has an eye-catching design and layout
Real-time widgets, such as RSS, weather, YouTube, and websites
Connect XML Feeds and custom APIs
Integrations with ad-exchange networks
The tool also allows you to generate detailed reports on machine health and user activities. It comes with a real-time monitoring dashboard for tracking screens and media players.
So far, NoviSign has helped over 20,500 companies and small business owners across 5 continents successfully set up digital signage. If you are interested, you can start with the free trial, which comes with all widgets and capabilities but limited storage (80 MB).
2. OptiSigns
Price: Starts at $10 per screen per month | 14-day trial
Rating: 4.8/5 from 2,000+ users
Built for businesses of all sizes, OptiSigns allows you to upload content in numerous formats or edit pre-designed templates to instantly create compelling promotional content and ads.
In addition to text, images, and videos, you can use built-in apps (such as traffic maps, world clock, weather, and more) to bring your screens to life. You also get options to promote your business on social platforms and Google reviews.
Key Features 
Create slides right inside the OptiSigns Management Portal
500+ free templates
Schedule content for special events
Invite team members to manage and update screens
Unlike most digital signage software, OptiSigns is packed with several tools like recurring promotions, overlap promotions, and time zone awareness to determine the best time to publish. It also offers Android and iOS apps to remotely manage business activities.
Moreover, the company has integrated an Artificial Intelligence (AI) add-on to help you gain insights into your audience and display real-time relevant content. However, it requires adding a camera to your screen and paying an additional $5 per screen per month.
The AI uses the camera to collect demographic data of people walking by your signs. You can analyze this data in real-time or export it to the analysis software of your choice.
Since OptiSigns uses facial detection (not recognition) model and only collects anonymous data, it doesn't violate the privacy of your audience.
1. Rise Vision
Price: Starts at $11.50 per screen per month | 14-day trial
Rating: 4.6/5 from 450+ users
Founded in 1992, Rise Vision now serves over 9,000 businesses in a range of industries. Its cloud-based digital signage tool provides new templates every week to help customers create attractive displays.
While most of its customers are K-12 schools and higher education facilities, businesses in retail, finance, healthcare, manufacturing, and hospitality also use the platform to broadcast content across screens. It allows customers to quickly change presentations or create custom schedules for playlists running on thousands of displays.
Key Features
Includes 400+ professionally-designed templates
Supports unlimited users and user roles
Unlimited storage for images and videos
Email notification if your display goes offline
Broadcasting screens with Rise Vision is a pretty straightforward process. Just pick your favorite template from the website and sign up for a free trial account. Then you can easily broadcast the content to digital signage, website, and social media. Once your content is up and running, you can update the content easily or pick a fresh template every week to make sure your digital signage is always grabbing attention.
It also allows you to integrate Twitter, Google Sheets, Google Calendar, Canva, weather, and news widgets. It utilizes Common Alert Protocol (CAP) to connect with these third-party providers and instantly share data across multiple displays.
As for pricing, it costs $11.50 per display license per month for up to 2 screens; $10.50 for up to 10 screens; and $9.50 if you have more than 10 screens. All plans give you the ability to add as many team members as you like and assign them specific roles.
Other Equally Good  Digital Signage Tools
10. Pickcel
Price: $15/screen/month for up to 50 screens | 14-day trial available
Pickcel offers an all-in-one solution for your digital signage needs. Its cloud-based dashboard lets you seamlessly create and play dynamic content from anywhere on any device.
It allows you to operate a large network of thousands of screens. You can easily monitor various parameters (such as device status and content sync status) in real-time and utilize remote troubleshooting features like restarting devices, clearing cache, reloading content, capturing screenshots, and more.
You can even assign unique tags to all devices for easy identification and clustering. There is also an option to assign default content to ensure your screens never go blank.
The platform supports a range of signage players and OS versions to suit your specific requirements. It works on Android, Windows, Chromebook, Raspberry Pi, LG WebOS, Fire TV Stick, and Samsung Tizen.
11. Screenly
Price: Starts at $13 per screen per month | 14-day trial available
What started as a small open-source project in 2011 now powers over 10,000 digital signs across the world.
Screenly provides a central dashboard where users can create digital signs and see which screens are running smoothly and which ones need attention. Plus, it makes it easy to create content playlists and schedule every playlist to run on one or more screens at once.
If you need to integrate Screenly with your own custom solution, you can use its robust digital signage API. The platform has a strong security system: it uses a secure Ubuntu Core OS, automatic updates, and two-factor authentication to minimize the chances of third-party attacks.
As for pricing, everything you need is included in the Basic Plan. The Business Plan, however, supports 4K resolution and comes with more administrative tools for your organization. It costs $19 per screen per month.
12. truDigital
Price: $34 per screen per month | Free trial available
truDigital offers easy-to-use, affordable digital signage solution, featuring over 200 template designs and integration with social media feeds and Google suite products.
You can either upload your own content (including images, videos, Powerpoint files, PDFs, and more) or contact truDigital's graphic designers to create the perfect template for your business.
Every paid plan includes live chat and phone support, unlimited training, and a dedicated sales representative. Plus, you can add as many users as you like and assign them specific tasks at no additional cost.
13. Look
Price: $15/screen/month for up to 5 screens | $13 for up to 10 screens | $12 for up to 20 screens
Look Digital Signage service allows you to manage media content (including audio, dynamic videos, and interactive scenarios) remotely using one centralized platform. You don't have to spend a lot of money and time to maintain your own server infrastructure. It's simple to start, fast to deploy, and easy to scale.
The platform is designed for various scales and purposes, ranging from retail and hospitality to banking and education.
You can start creating your digital signage network for free, then move to the premium version and add as many displays as you need. The more number of displays you add, the less it would cost you per display.
If, for some reason, you don't want a cloud-based tool with recurring payments, they will offer their system on-premise under a non-exclusive license.
More To Know
Types of digital signage
Digital signage can be categorized into four groups based on the display technology:
Readerboards

: Simple monitors that display static and dynamic content

Interactive information board

s: Allows users to interact with the content

Interactive wayfinding directories

: displays various content assets such as directories and wayfinding components

Video walls

: Large multimedia displays made up of multiple monitors
What factors to consider before choosing the right digital signage tool?
The digital signage platform must be user-friendly, secure, and scalable. While these are basic requirements, you should also consider additional features like
Content creation tool and pre-designed templates
Should be able to broadcast content on all display devices
Network dashboard that shows what digital signs are offline
Options to add users and assign roles
What's the future digital signage industry?
According to the Grand View Research report, the global digital signage market size will exceed $45 billion by 2030, growing at a CAGR of 7.7% from 2022 to 2030.
Decrease in the cost of displays, the fast-growing educational sector, as well as the development of government bodies are some of the factors driving the digital signage market worldwide. Advances in bright, power-efficient monitors, near-field communication technology, and a rapid decline in demand for conventional billboards are expected to create greater opportunities.
Read More
18 Best Animation Software For Beginners