Discord has become the go-to instant messaging and communication platform for gamers. It allows users to communicate with each other in real-time via text, voice, and video calls. You can share files and broadcast live streams.
While many of these features are similar to other instant messaging platforms, Discord has its own charm and advantages. You can create communities or 'servers,' both public and private, and manage multiple chat channels.
Features like direct messaging, topic-based chat rooms, file-sharing, relatively low-latency, and easy integrations to other popular services make Discord a potent game-focused chat application. As of May 2019, Discord had more than 250 million registered users, who sent about 25 billion messages per month.
However, there is always something lacking. Depending on your needs, if you're a current Discord user, you may feel that it's missing some features. For example, Discord doesn't support an end-to-end encryption system that ensures that no outsider can snoop on your conversations. You cannot create chat groups with more than ten people at a time.
Many former Discord users find the platform unsafe in terms of privacy, while some are concerned by reoccurring hostile takeovers of their servers by members of other communities and online abuses.
Whatever the reason is, if you're looking for Discord alternatives, you're at the right place. Below are different communication platforms that you need to try.
9. Chanty
Price: $3 per user/month (Business plan)
Chanty is an easy-to-use and affordable team collaboration tool that you can use during projects. Although Chanty is not particularly a virtual hangout place (like Discord), it's capable of catering to your almost every collaboration needs.
It allows users to converse with team members via instant messaging, audio, and video calls in groups and one-on-one. Your every conversation on Chanty is stored and easily accessible.
Pros 
Easy-to-use and clean UI
Affordable
Audio and video support
Cons
Lacks extras such as GIFs support
Insufficient integration support
Chanty puts you in complete control of your team space, where you can add/remove and change the team members' roles according to the needs. Moreover, Chanty makes it easier to manage team tasks with Kanban-style workflow management. It can also make your team more productive and goal-oriented with context-based threads.
8. Skype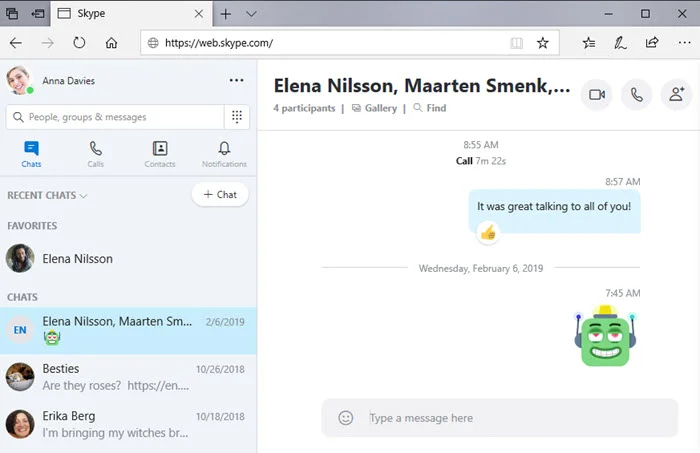 Price: Free
Skype sure doesn't need a formal introduction as it gained a reputation of being one of the most used communication and team collaboration apps in the world. But how effective is it for gamers and casual users? Let's find out.
Unlike Discord, Skype is predominantly a calling platform and is not designed for use by regular gamers. However, Skype is a capable instant messaging tool that you can use.
The platform has certain advantages over Discord. For one, it has a superior video-chatting facility (understandably) and can host up to 25 people at once. Skype allows users to send files up to 300 MB, perfect for sharing a video or an image.
Most importantly, as far as Discord is concerned, Skype has more agreeable privacy policies in place while they both use standard TLS encryption. Privacy-conscious individuals may favor Skype.
Pros 
Audio and video support
Allow more than ten people in a video call
Larger file size limit
Cons
Resource hogging
Require more bandwidth
Lack of chat rooms, channels
Skype is ideal for casual gamers who use the service for their personal and business-related needs.
7. Slack
Price: Free/ paid version from $2/month
Slack is the go-to internal communication and collaboration app for startups, medium-sized and large corporations worldwide. It is also used by a large number of gamers, who rely on its persistent chat rooms (known as channels) to communicate with teammates and friends. It also offers a more organized choice over Discord.
You can create multiple chat channels and manage them either as public or private ones. Private channels can be used when there is a need for fewer people in group chat. Only individuals who are invited to or part of those channels can have access to them.
One of Slack's key features is that every piece of content you share, including files and images, is searchable. However, the number of previous chats that can be viewed on Slack's free version is restricted to 10,000 messages.
Pros 
Audio and video support
Integrations
Channels support
Cons
Slack offers integrations with popular third-party tools, including GitHub, Trello, and Google Drive.
6. Steam Chat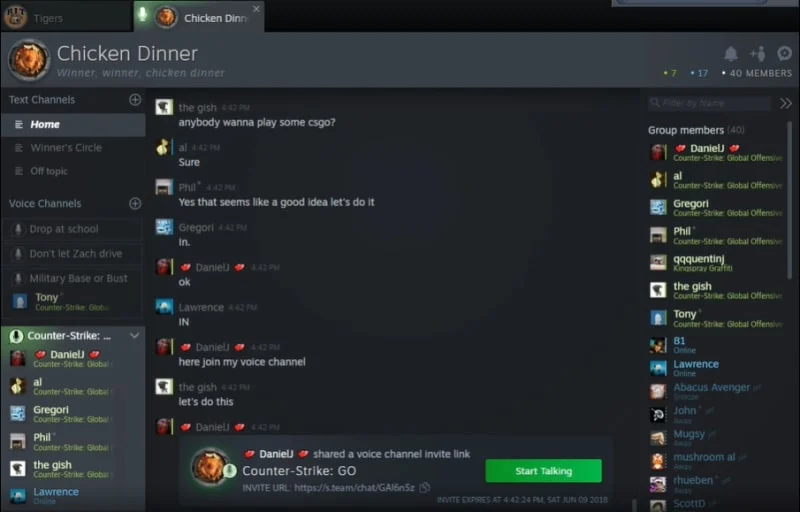 Price: Free
While Value's Steam is mostly known for its content delivery service, where users can buy games and manage them, it also allows them to connect with other gamers through its native voice chat and instant messaging service, called Steam Chat.
It allows users to text and voice chat with each other, both one-on-one and in groups. You can create group chats with multiple text channels to organize your conversations on various topics and games, similar to Discord. You can also invite people and friends directly into your group chats by sending them an invite link.
Not only Steam Chat support multimedia messages, including Gifs and videos, but it also makes sure that they have a modern look rather than those awful-looking list of links. For those who prefer to use emojis/emoticons in their texts, Steam Chat has you covered as well. However, Steam's in-built emoji inventory may not be as extensive as that in Discord.
Pros 
Clean user interface
Easy-to-use
Create multiple groups and channels
Modernized chat experience
Cons
As far as security is concerned, Steam Chat's backend is powered by WebRTC-based technology, ensuring that every voice call made from Steam is encrypted. Moreover, all traffic is sent through Steam servers instead of peers directly (P2P).
5. Ventrilo
Price: Freeware
Ventrilo is a lightweight yet robust voice-over IP application that allows gamers to communicate with their teammates in exceptional sound quality. It also provides features such as positional audio and other special sound effects, which can be effectively implemented across servers.
One of the advantages of Ventrilo is that it requires fewer CPU resources to work effectively, making it ideal for older systems. The user interface is simple, one that allows users to quickly grasp Ventrilo's core functions.
A Ventrilo server can accommodate a maximum of 8 users simultaneously, which can be accessed via Windows and macOS (client-side). You can opt for rented servers if your needs exceed that limit.
Pros 
Freeware
Lightweight
Simple UI and easy-to-use
Cons
No encryption system in place
No video support
Perhaps the biggest drawback of Ventrilo is that it is without any proper encryption system that prevents data leaks or snooping to and from the server.
4. Troop Messenger
Price: Starts from $187 per user/month (Premium version)
Troop Messenger is not your average instant messaging and collaborative tool. Whether it's a fresh startup with a handful of employees, a mid-sized company, or a giant corporation, Troop Messenger has you covered when it comes to internal communication.
It provides both audio and video calling facilities to teams or groups. Moreover, any participant can share their screen during a group chat. This process can also be carried remotely by team managers.
A robust instant messaging facility with chat forwarding, copying, and recalling feature allows users to communicate with teammates one-on-one flawlessly.
Pros 
Cross-platform application
Seamless user interface, easy to use
Private chats (without message history)
Free trial
Cons
Other notable Troop Messenger features include 'Burnout' (allows users to make private conversations with team members), 'Forkout' (a blind carbon copy feature similar to online mail services) that allow text messages to be dispatched to multiple participants simultaneously. Moreover, users can track the whereabouts of their team members with a live location tracking feature.
3. Mumble
Price: Freeware
If you are looking for an open-source voice chat and collaboration tool for your gaming needs, then Mumble is what you're after. Its low-latency audio codec, Opus, usually outperforms those used by more popular communication applications such as Skype.
Mumble boasts a unique 'positional audio' feature that, when activated, alters the audio of in-game characters of every player according to their relative position (in the game) to give a 3D audio effect. This functionality is available in a handful of popular multiplayer games. Also, players can use its in-game overlay mechanism to see which teammate is speaking at that moment.
As for security, Mumble uses 128-bit AES encryption with ECDHE protocol that enables Forward Secrecy (FS). It ensures that your past communication is secure even if the long-term key of the server is somehow compromised.
Pros 
Opensource/ Freeware
Low-latency audio communication
(Not) data-intensive
Positional audio feature
ECDHE key agreement protocol with Forward Secrecy
Cons
No video support
Lacks browser support
Not just gamers, Mumble is popular among podcasters, who need a quality voice recording application with control over-amplification and compression.
Read: 13 Best YouTube Alternatives To Watch Videos
2. TeamSpeak

Price: Freeware, Gamer license at $55/year
TeamSpeak is another popular VoIP application that allows users to communicate with each other. A TeamSpeak server that runs on all major operating systems, including FreeBSD, can have up to 32 simultaneous users (on the free tier). The maximum number of users a server can have at a time is 1024.
A client-side software (which you can access from your Android and iOS devices) enable users to connect with a dedicated TeamSpeak server and join chat channels of their choice.
TeamSpeak uses unique identities, including a nickname and ID name, that are randomly generated during the initial setup. It eliminates the need for manually registering with a server by users.
Pros 
Reliable and low-latency
Best-in-class security
Assess to tons of server add-ons
Comprehensive permissions system
Low THD (lower distortion) hardware
Cons
No video support
Average user interface
Like Discord, TeamSpeak is designed to cater to the needs of gamers. Low-latency communication and adaptive noise reduction algorithm making a case for that.
1. Element

Price: Free/Standard plan at $10/month
Element, previously known as Riot, is an open-source alternative to Discord. Its objective is to provide a fast and secure communication platform to its users.
Element is based on Matrix, an open standard real-time communication protocol that allows users to share data and collaborate across different platforms, including Slack and Twitter.
What makes Element so special is its flexibility. As an open-source platform, it allows users to modify and host the service according to their needs.
Pros 
Open Source
End-to-end encryption
File sharing
Cross-platform application
Self hosting
Cons
Not suitable for average user
Element supports mandatory end-to-end encryption (Matrix's advanced cryptographic ratchet), ensuring that only communicating users have access to their data. More importantly, it allows teams to implement advanced e2ee features such as cross-signing and set up their very own servers for better security.
Read: 7 Best Facebook Alternatives That Keep Your Data Private | 2021 Edition
It allows instant messaging and voice/video calls, which can be held one-on-one or in a group. There are also options to integrate third-party applications like Jira and GitHub into your server.