The popularity of 3D printing is on the rise. What used to be mainly in industrial settings has now reached homes, workshops, and classrooms.
More and more people are searching for enjoyable projects to print at home. Starting is simple once you have a 3D printer. All you need is the material and a 3D blueprint to bring your product to life.
The 3D Blueprint
The 3D blueprint comes in ".STL "format (stands for STereoLithography), which contains data describing the layout of a three-dimensional object.
This format serves as the bridge between digital design and the physical world. It provides the essential instructions for layer-by-layer construction. Therefore, the quality and diversity of STL files significantly impact the outcome of the 3D printing process.
Below, we have compiled a list of reliable websites where you can find ready-to-print 3D models for free. This collection includes top-notch 3D printing sites, marketplaces, content repositories, and search engines offering both paid and free STL files.
In our quest to make an accurate list of the best websites for free STL files, we place a paramount emphasis on quality. Each platform has been carefully examined, ensuring that you can rely on the accuracy, detail, and printability of the digital designs available.
39. Fab365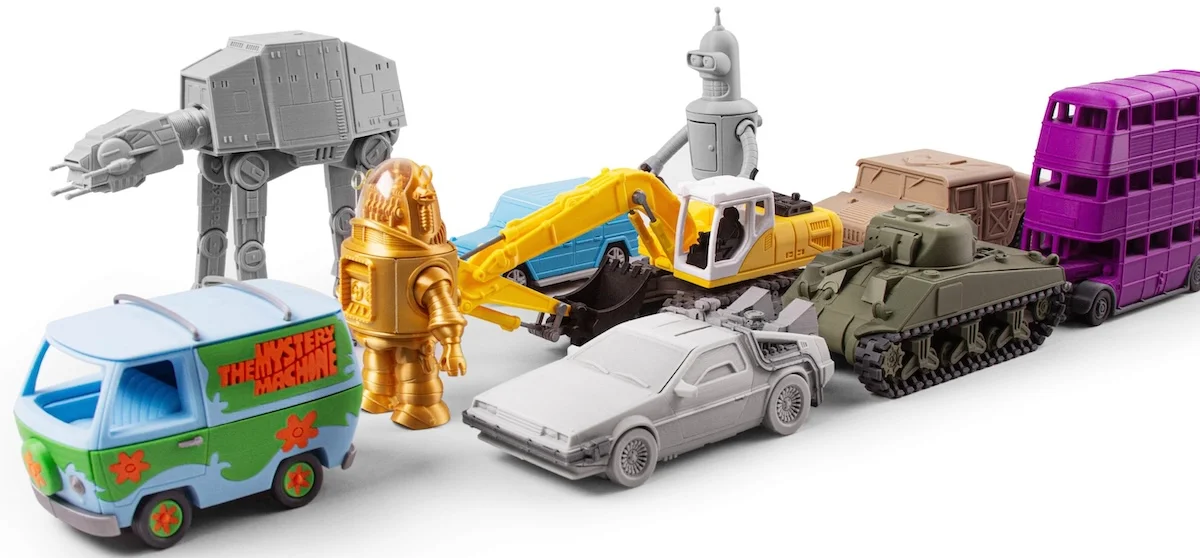 Fab365 specializes in providing innovative and intricate 3D printable models. Its collection spans various categories, including science fiction, robotics, architecture, and more. This diversity caters to a broad audience with different interests in the realm of 3D printing.
38. Thangs
Thangs is a growing 3D community with more than 3 million models available to search. The platform allows you to upload your own model or do a geometric search to find similar models. You can upload as many models as you want and keep them private with free unlimited storage.
37. Free3D
Free3D is a place where you can find a lot of high-quality models, especially if you are searching for anything related to automobiles, aircraft, furniture, characters, animals, plants, electronics, and anatomy. You can even build your own portfolio to show your skills and get freelance work.
36. PARTcloud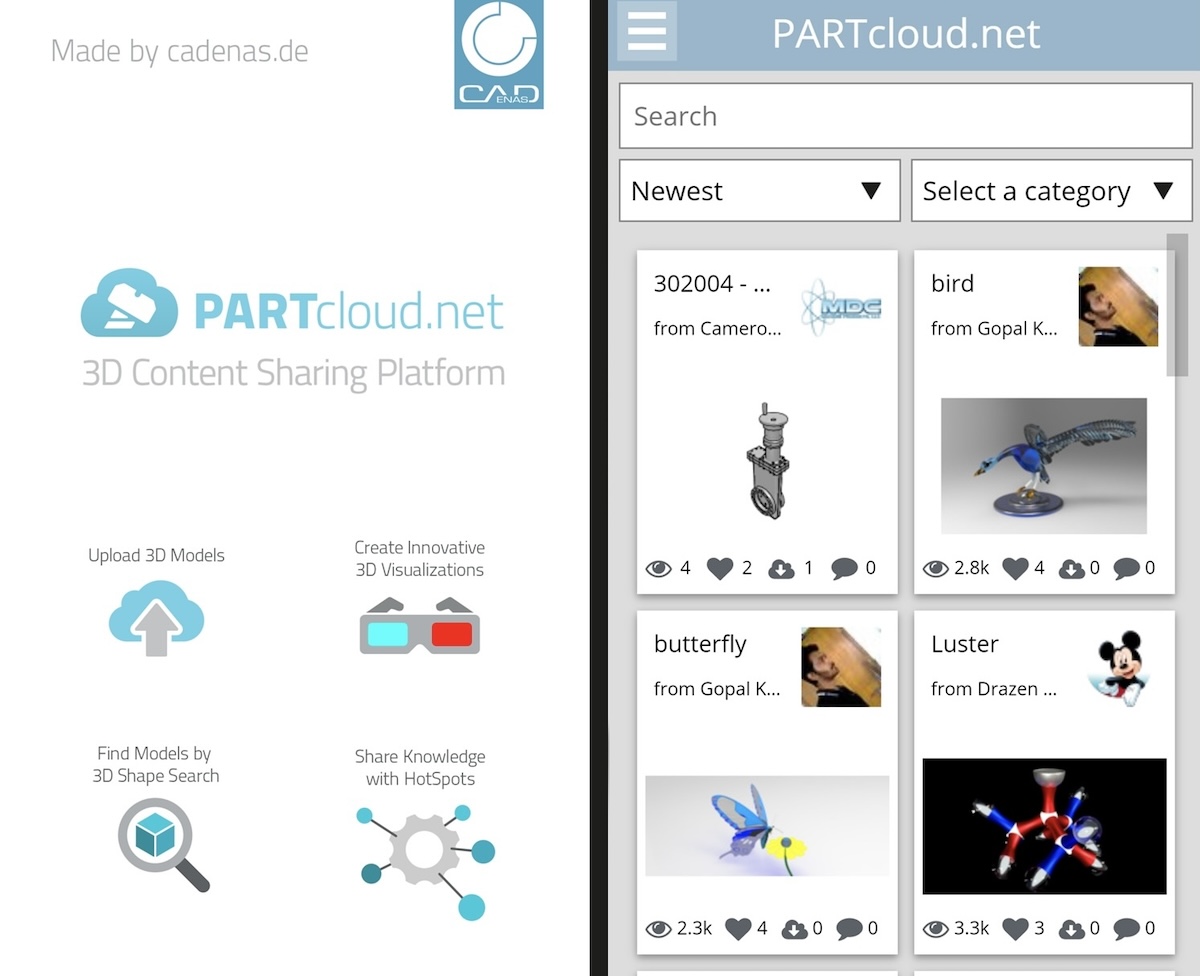 PARTcloud contains more than 12,000 printable items uploaded by hundreds of users. It also has an iOS and Android app, which you can use to easily find 3D designs and other parts from the field of construction and engineering.
35. NIH 3D Print Exchange
The NIH 3D Print Exchange contains hundreds of scientific 3D-printable models and educational materials. It also offers useful tools to create and share 3D models related to biomedical science. One of its featured models, called "3D Pollen Library," includes data files for forensic palynology, palynological research, and science education.
34. NASA
While the site may seem gray and unexciting at first glance, don't be deceived by the interface. It houses a fantastic assortment of free STL files for 3D printing, and it comes from none other than NASA.
Think of it as a comprehensive hub for 3D models, images, textures, and visualizations. You'll discover iconic objects from space exploration, such as the Apollo landing site, Deep Space satellite, Europa Orbiter, and more. It's worth noting that the printable files are intended solely for educational purposes.
Read: 30 Amazing NASA Inventions That We Use In Our Daily Life
33. 3dSystems

3dSystems provides the most advanced and comprehensive 3D digital design and fabrication solutions, including 3D printers, print materials, and cloud-sourced custom parts. The platform encourages you to buy 3D-printed items and files. It also supplies on-demand parts, including prototype and casting patterns.
32. Instructables
Instructables is a platform where you can discover, document, and share your creative projects. Users showcase their do-it-yourself (DIY) projects and 3D-printed models, providing insights into the design process. Moreover, many generous designers actively engage with viewers by answering questions about their creations.
31. Libre 3D
One of the greatest features of the Five-Head Original Prusa XL is its ability to print not only in five colors but also with up to five different types of materials. We recently put this capability to good use while printing the Prusa Tire-Wheel model by the printables… pic.twitter.com/mYy4yYaW0i

— Prusa3D by Josef Prusa (@Prusa3D) November 6, 2023
Libre 3D is an emerging online community of 3D printing enthusiasts, featuring a diverse collection of fascinating 3D models. The platform boasts a variety of cool designs spanning vehicles, art, animals, food, electronics, fashion, robotics, toys, tools, and additional add-ons.
30. 3D Warehouse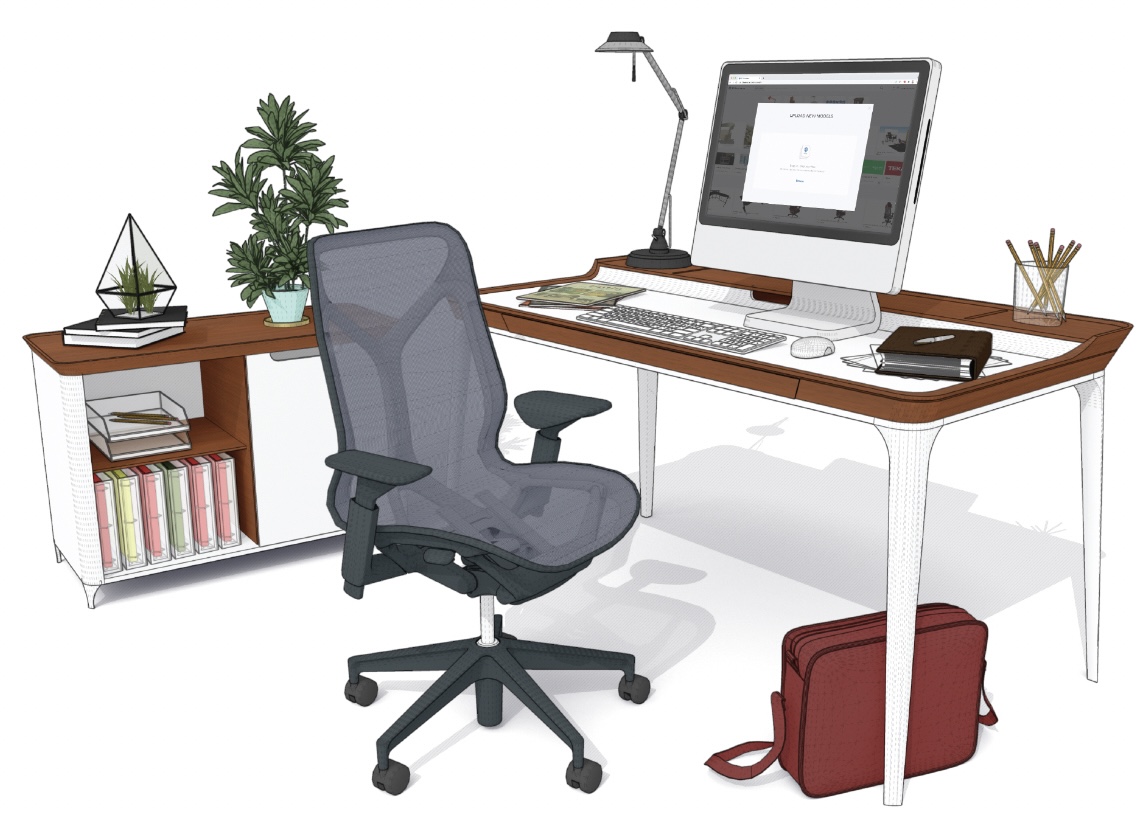 3D Warehouse features millions of models created using the popular 3D modeling software SketchUp. If you are looking for architecture, product design, or scale models, this is the place to visit. The advanced search option lets you filter the database by dynamic and printable model, creation date, author, tag, and model complexity.
29. Redpah
Redpah provides a mix of paid and free 3D models, benefiting both makers and designers. It's like an open-source platform where you can search for free STL files or share your own creations to reach a broader audience.
28. TurboSquid
TurboSquid is a great source of professional 3D models. It focuses on the creativity of artists and helps them build a career as professional 3D modelers. You can find thousands of premium and free models in different formats.
27. FreeDees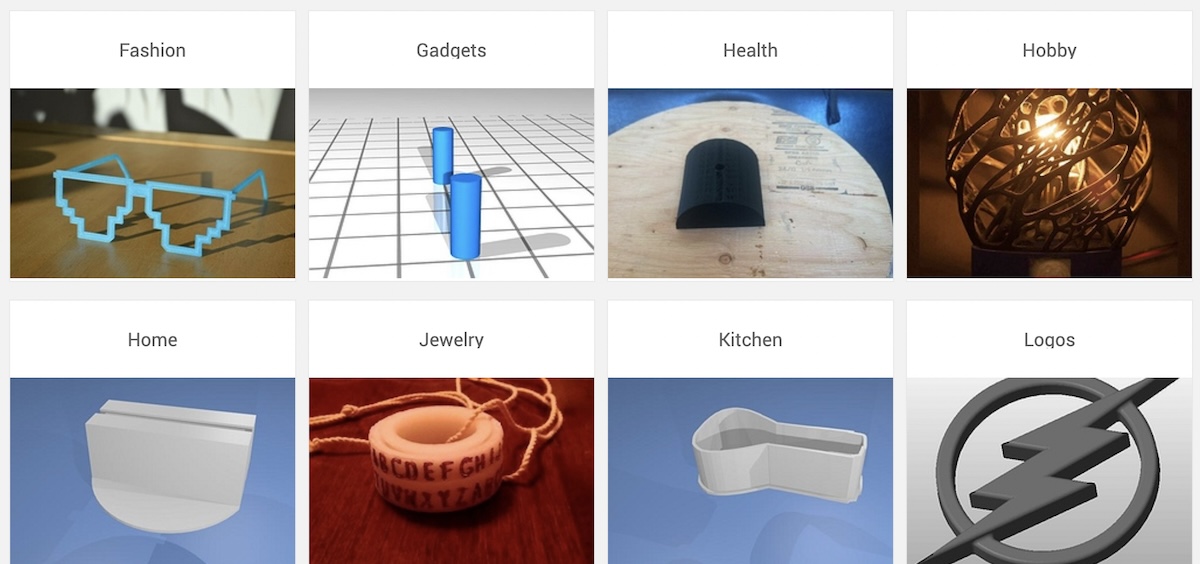 FreeDees is a large collection of simple and free 3D print files. There are more than a dozen categories to select from, including gadgets, jewelry, miniatures, fashion, tools, toys, and games. You can also upload your own model after signing up.
26. STL Finder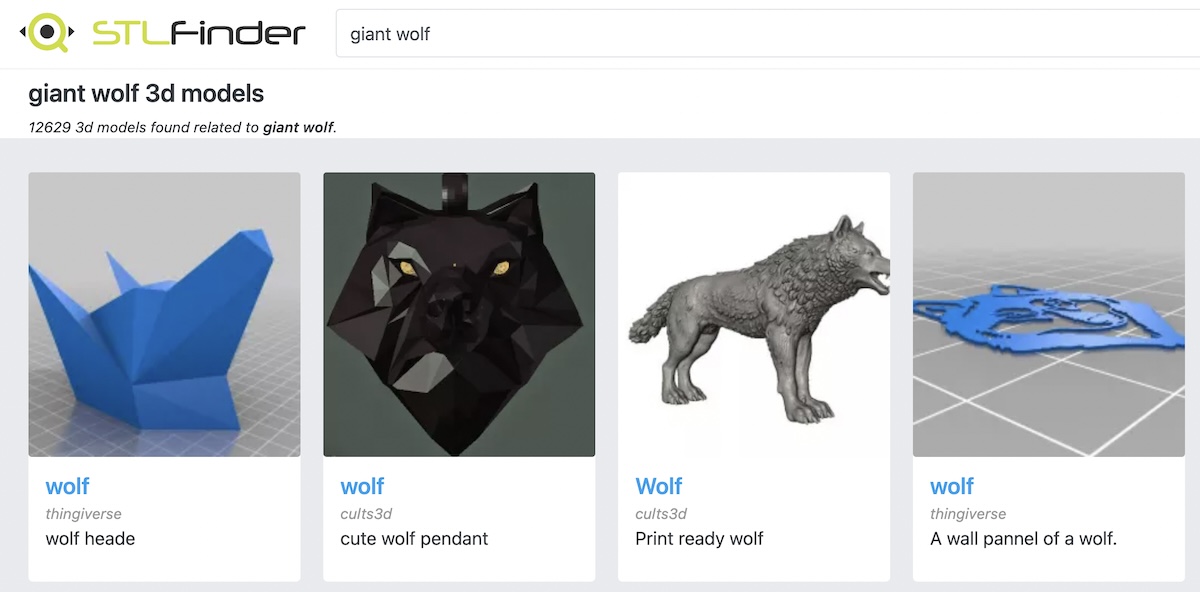 It's a search engine that crawls millions of websites to search for free STL files. The user interface is very simple and clear – it displays the most popular model at the top. You need to make an account to bookmark your favorite models for future reference.
25. YouMagine
YouMagine is run by an open-source 3D printer company, Ultimaker. It's an online community of 3D printing enthusiasts who wish to work together to remix, share, and provide various tools. Here, you will find over 19,000 designs ready to download and print.
24. Cults
Cults is a marketplace that brings all 3D printing fans together. The name of the site is inspired by St. Luc, the patron saint of artists and sculptors. It has a collection of both paid and free models. You can follow your favorite designers to get instant updates when a new creation is posted.
23. Sketchfab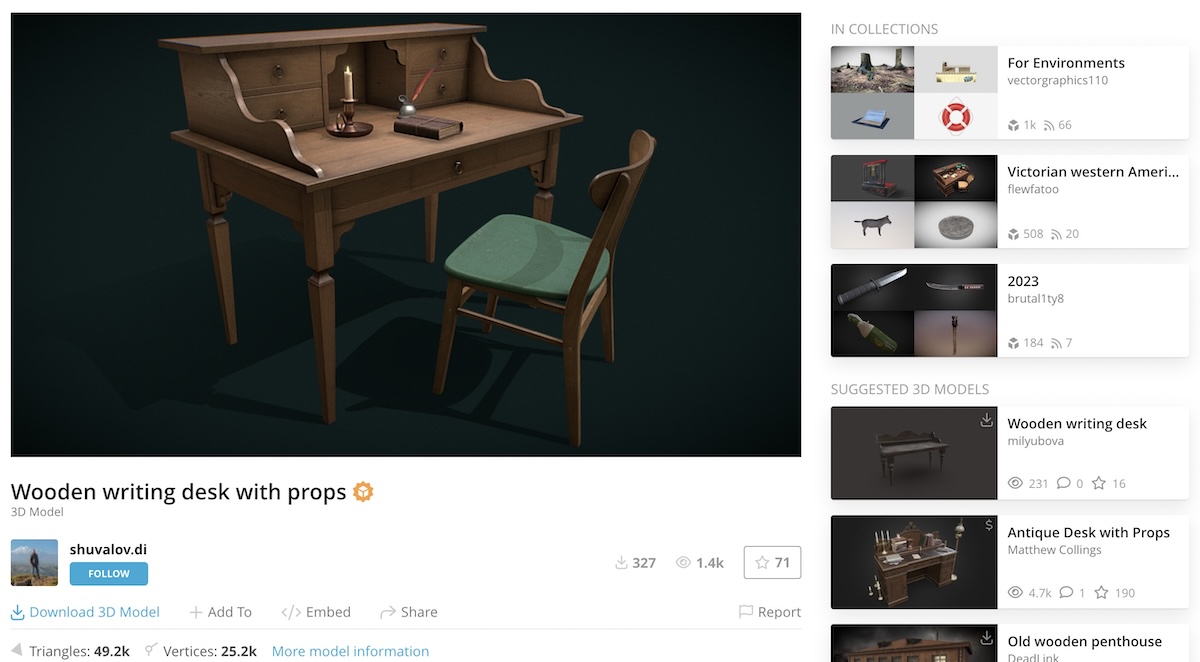 Sketchfab is the fastest-growing 3D and VR repository. It simplifies the process of publishing and discovering 3D content online, offering hundreds of printable models to explore.
Sketchfab's technology seamlessly integrates with nearly all popular 3D creation tools and publishing platforms. It is compatible with every browser, operating system, and a variety of VR/AR devices.
22. Yeggi
Yeggi is a search engine for 3D printable models. It collects data from various 3D communities and marketplaces, providing access to over a million printable files. The interface is straightforward, showcasing the most searched and clicked models on the front page.
21. Repables
Repables is a simple 3D printable file repository. It allows you to explore different models, download free STL files, or upload your own creations to share with others. The site usually contains small and basic 3D models to print. All in all, it's a great place for beginners.
20. Threeding
Threeding is a 3D printing marketplace and file-sharing website where you can buy, sell, or exchange any model suitable for 3D printing. The website contains thousands of premium and free models of unique 3D pieces.
19. Cuberbrush
Cuberbrush is much more than a 3D asset store. It's more of an art hub than a marketplace. The platform provides forums, tutorials, and other related artistic assets in addition to 3D models.
Since it has a broad range of models, you will likely find what you are looking for. It includes models for animals, vehicles, superheroes, you name it. There is an option to search for models compatible with specific game engines, so you will know what fits with your project.
18. Blender Market

Blender Market has everything to take your Blender renders to the next level. There are a variety of items, ranging from textures and scripts to shaders, available at reasonable prices.
17. Hum3D

Hum3D assists artists in saving time and creating stunning works for video games, cinema, and visualization. The platform offers a wide range of 3D models from various epochs, with a focus on cars, electronics, and military equipment. The only downside of this platform is it hardly features any free model.
16. Clara.io
Clara.io hosts more than 100,000 free 3D models in different formats. You can find a wide range of architecture, including houses, trees, cars, ships, planes, robots, and spaceships.
15. 3Dsky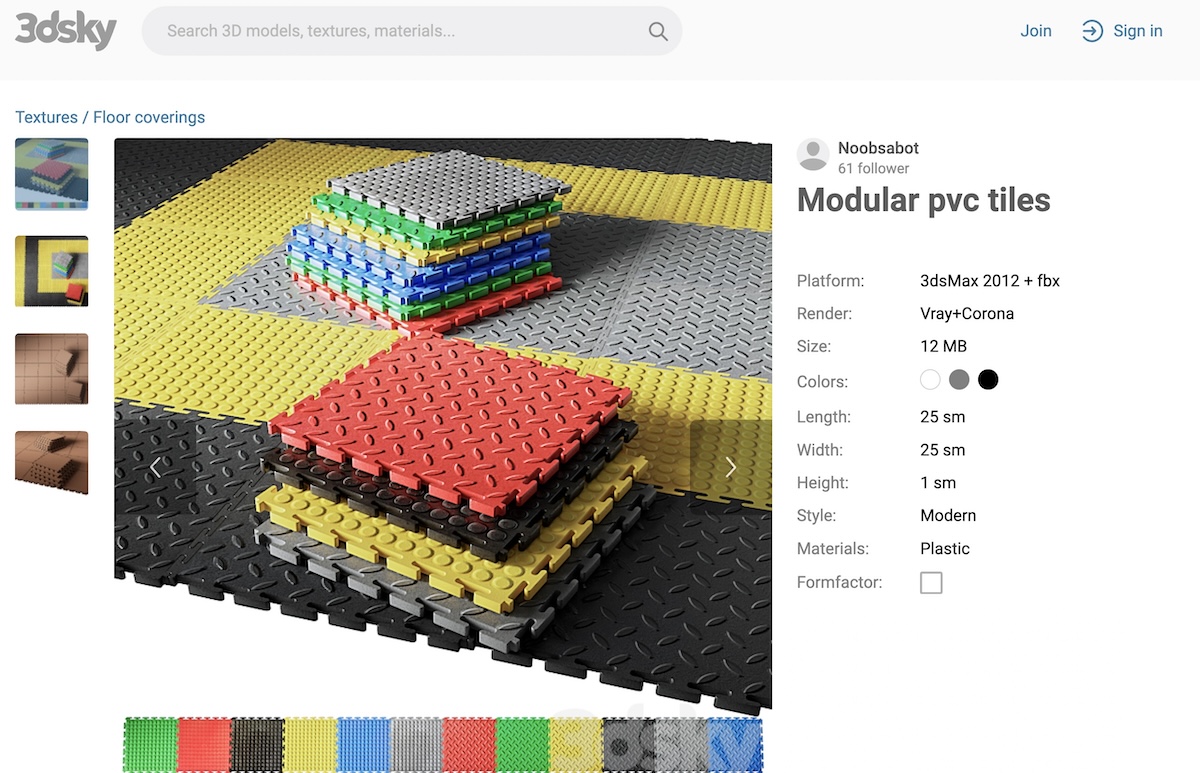 3Dsky contains over 80,000 models arranged in various categories: furniture, plants, decoration, appliances, technology, material, lighting, and architecture.
14. Autodesk Online Gallery
Autodesk's online gallery offers access to over 44,000 free models. The platform, provided by Autodesk, categorizes these models for easy navigation, or you can use the search bar to find specific ones
13. Archive 3D
This is yet another useful online repository that hosts thousands of 3D designs across various categories, such as furnishing, structures, equipment, and appliances.
12. CADnav
CADnav is the online 3D model library for CAD/CAM/CAE engineers and CGI graphic designers. It hosts over 50,000 high-quality polygonal mesh 3D models, Vray materials, CAD drawings, 3D CAD solid objects, textures, and much more.
11. Unity Asset Store
⚡️ Introducing this week's #AssetStore Publisher of the Week! ⚡️
Kevin Iglesias's Basic Motions tools empower your 3D characters with humanoid movement and enable captivating interactions between them. pic.twitter.com/78ZHzINfF0

— Unity Asset Store (@AssetStore) November 6, 2023
Unity Asset Store contains dozens of stunning 3D models, including sci-fi gadgets, zombies, toys, monsters, stones, and many other assets.
10. Design Connected
Design Connected hosts hundreds of free, high-quality 3D models and samples. Given that some of these models were created years ago, it's advisable to download more recent ones to align with current production standards.
9. Artec 3D Model Scanner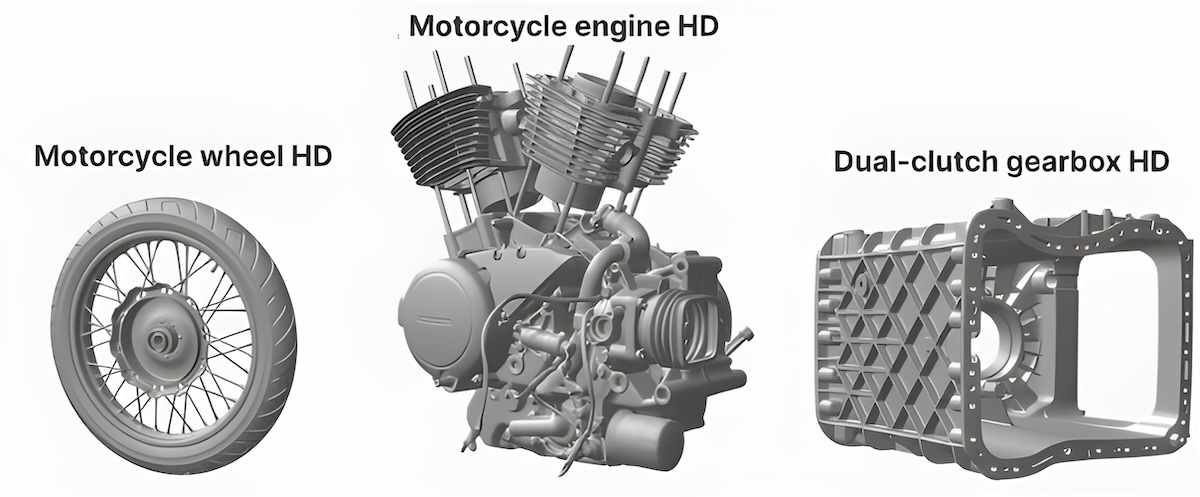 Artec 3D Model Scanner hosts hundreds of high-resolution scans in various formats, including PLY, STL, WRL, and OBJ. The platform mostly focuses on industrial, medical, anatomical, and educational models.
8. MyMiniFactory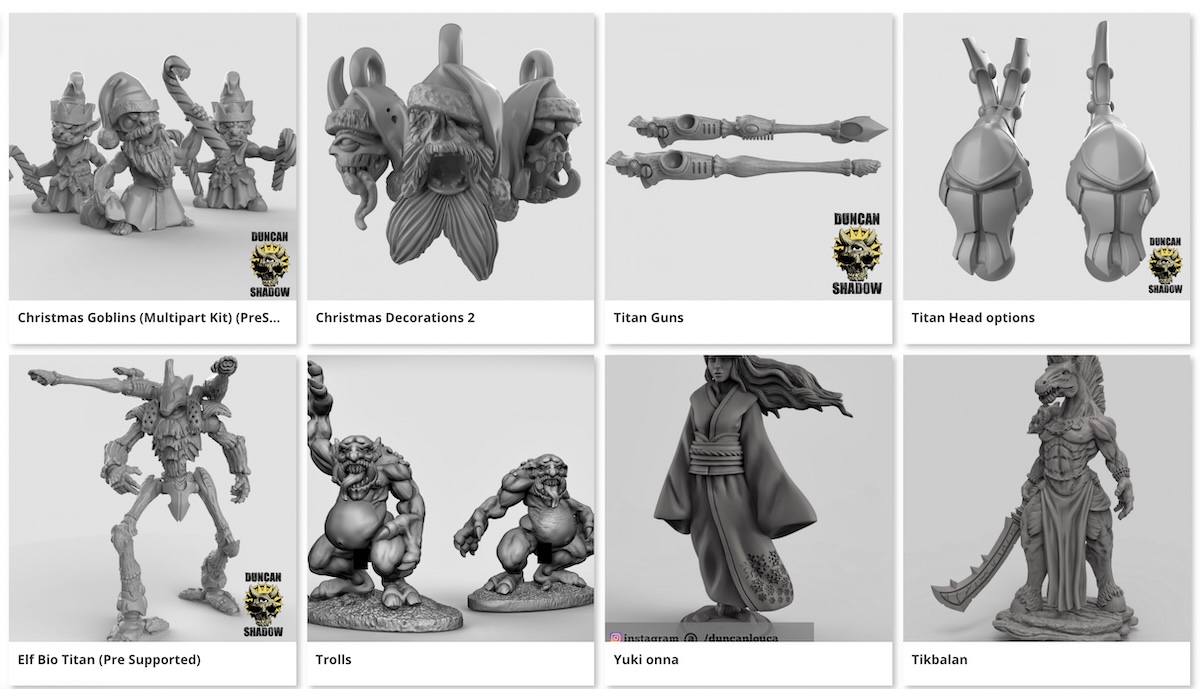 MyMiniFactory is a curated social platform for 3D printable objects managed by iMakr. It connects 3D designers, users, makers, and brands.
Designers can upload their creations, share them, and earn money. Makers can print for others, while users can download thousands of STL files for free, buy printed objects, or follow their favorite designers and makers.
7. Zortrax Library
Looking for a highly durable, resistant #3dprintingmaterial for your #automotive projects? Your #ZortraxM300Dual #3Dprinter and Z-SUITE slicer let you use ready profiles for #petgcf #filaments from @BASF_ForwardAM @Kimya3D @nanovia and @3dxtech #zortrax pic.twitter.com/mpGBwg396C

— Zortrax (@Zortrax_3D) October 5, 2023
Zortrax is an open library, which means anyone can browse and download the free STL files and fabricate them on any FDM machine. Most of these models are optimized for ABS filament. In addition to sharing your models, you're welcome to share your experiences, knowledge, and creative ideas.
6. Gambody
You can even print your own Gunstar with STL files from Gambody: https://t.co/lImreeVkSL

Check out Steven Goldsmith's awesome work – he 3D printed and painted a Gunstar from The Last Starfighter. His attention to detail is amazing, turning it into a real masterpiece. pic.twitter.com/IyCpBFOn7r

— Gambody (@Gambody_com) November 14, 2023
Gambody is a premium marketplace offering detailed and error-free 3D model files in STL format for computer games. These files are optimized for all types of 3D printers.
You can upload your model and get a private shop for your 3D printings with a unique URL. Share this URL with customers or friends to earn money from your creations. The platform is an ideal site for both video game fans and 3D printing enthusiasts.
5. CGTrader
CGTrader is a 3D model marketplace for computer graphics and virtual reality, supported by Intel Capital and Practica Capital. With over half a million models available, including some free options, it offers a wide range of categories—from trendy gadget accessories to eye-catching jewelry designs.
On this website, you can not only browse through diverse categories but also showcase your own work. Engage with the community to receive valuable feedback, interact in a designer-friendly environment, and enhance the value of your brand.
4. 3DExport
3DExport is a marketplace where you can buy and sell 3D models and textures for use in computer graphics projects. The platform offers an abundance of free 3D models in formats such as max, 3ds, fbx, c4d, and obj. You can subscribe to receive fresh tutorials, tips, and free product news.
3. Thingiverse
Thingiverse, operated by MakerBot Industries (the creators of the Replicator series of 3D printers), provides a platform where all designs are licensed under the Creative Commons License. This means that anyone can freely use or modify any design.
The community has contributed over a million 3D models. Feel free to explore and download the amazing objects created by people on Thingiverse, drawing inspiration for your own creations.
2. GrabCAD
GrabCAD helps engineers develop products faster by offering a unique platform. Boasting the largest community of designers, engineers, and manufacturers, GrabCAD provides access to over one million CAD models and tutorials for free download.
Engage in design challenges and stay informed with eBooks, industry blogs, and more to enhance your design capabilities.
1. Pinshape
Pinshape is a place where you can find, share, and sell 3D print files. It's a community of 70,000+ makers, designers, and manufacturers that continues to grow.
In addition to providing access to free, high-quality 3D printable designs, the platform offers a chance to earn money by selling your own 3D models and building your brand. It also assists with the basics of 3D printing to help beginners kickstart their journey.
Frequently Asked Questions
What exactly is an STL file?
STL is a file format developed by a company named 3D Systems. It stands for Standard Tessellation Language or Standard Triangle Language.
This format describes only the surface geometry of a 3D object without any representation of texture, color, or other usual CAD model attributes. More specifically, it describes the surface of an object as a triangular mesh. The file may require thousands of triangles to represent a model with sufficient accuracy.
Due to its ease of use and lightweight properties, it has become a defacto standard data transmission format for the Rapid Prototyping industry.
What are the limitations of the STL format?
Although STL is the most widely used 3D model format, it has several limitations. First of all, it cannot carry color, texture, or material information. This format would be useless if you have a 3D printer with multi-material or multicolor capability.
Additionally, STL doesn't include scaling information, often causing problems in accurately slicing or printing the model. It's important to note that STL may not be the enduring standard for 3D printing; newer, more efficient formats are expected to gradually replace it.
What software do you need to prepare and print STL files?
You can use a combination of 3D modeling tools and slicing software to prepare and print STL files.
3D Modeling Tools
Tinkercad is beginner-friendly, web-based software for basic 3D modeling
Fusion 360 is a professional-grade tool for parametric modeling
Blender is a more advanced, open-source 3D modeling software
Slicing Software
Simplify3D is known for its extensive customization options and support for various 3D printers
Cura is a popular open-source slicing software developed by Ultimaker
Printer Firmware
Repetier-Firmware is an open-source firmware used in numerous well-known 3D printers
Marlin is another open-source firmware commonly used in many 3D printers
File Repair and Analysis
OctoPrint offers a simple web interface for controlling and monitoring 3D printers remotely
MeshMixer is useful for editing and repairing STL files
Netfabb provides advanced STL file repair and optimization functions
It is important to note that the software tools you select depend on your expertise level, the compatibility with your 3D printer model, and the complexity of your project. All tools mentioned above are widely used and have active communities, making it easier to find support and resources online.
Read: 3D Printer Parts: Comprehensive List Of 3D Printing Components
What are the other common file formats for 3D models?
There are numerous 3D file formats out there. The five most common ones are (other than STL):
OBJ uses polygons to encode smoother surfaces with fewer tiles
AMF is an XML-based format designed to be faster and capable of storing attributes like texture and material information
3MF is developed by Microsoft. It is less prone to errors than AMF and can incorporate security and encryption for models that are IP sensitive.
FBX supports detailed geometry and appearance attributes. It works best with skeletal animations and morphs.
X3G is a proprietary file format used by Makerbot. In addition to common 3D model attributes, this binary file also contains printer settings.
Read More
The 14 Best 3D Printing Software