Edge computing is a new and enhanced version of network architecture that surpasses the benefits of conventional cloud computing.
The term "edge" means literal geographic distribution. It is computing that's done at or near the physical location of either the data source or the user. In other words, edge computing processes data locally rather than relying on multiple cloud data centers.
The goal is to shift the computation from data centers to the edge of the network, exploiting smart devices or network gateways to process data on behalf of the cloud. It can improve persistent data storage, content caching, and service delivery, resulting in faster transfer rates and response times.
It doesn't mean the cloud architecture will become obsolete. It simply means the cloud is coming to you. By processing the data at or near its source, users benefit from reduced latency, improved speed, and more reliable and secure services. Meanwhile, companies benefit from the flexibility of hybrid cloud computing.
In recent years, several tech giants have heavily invested in new edge computing technologies and startups seeking to add value to the ecosystem. We have gathered some of the thriving edge computing companies that are working to bring enterprise applications closer to data sources such as local edge servers and IoT devices.
9. ClearBlade

Founded in 2007
Headquartered in: Ontario, Canada
Products: Edge IoT Platform, Intelligent Assets Application
ClearBlade is the Edge computing software firm that makes it easier for organizations to quickly design and execute secure and scalable IoT applications. It offers a full-featured platform for the rapid development of complicated apps.
This platform allows developers to analyze and modify data in real-time and at an extreme scale. Developers can leverage local computing, machine learning, and detailed visualizations to unleash the data at the edge while integrating with the enterprise system.
What sets ClearBlade Apart? 
It focuses on the Edge

: The faster, cost-efficient, and more reliable alternative to IoT based on shared cloud services.

Compatible with several clouds

: The platform can be quickly deployed on any cloud without starting from scratch.

Provides industry-specific solutions

: This gives you a head start and countless paths to refine and customize.

Tight security

: The platform allows you to develop an expansive IoT without worrying about security threats.
Its IoT software platform can deploy a common software stack across the board. Developers can use the code wherever they need it. Build in the cloud, push to the edge, or create independent edge applications and core functions close to users/customers.
8. EdgeConneX
Founded in 2009
Headquartered in: Northern Virginia, Amsterdam, and Singapore
Products: Edge Data Center, Far Edge Data Center
EdgeConneX is the global data center provider that allows its customers to develop and deploy their own unique vision for the Edge at any scale. It delivers proximate data center solutions between 40kW to 40 MW, making it easier for customers to meet the growing demands of their businesses and their end-users.
Since 2013, the company has built more than 40 data centers and several hyperscale solutions across North America, South America, and Europe. These solutions are built for anyone who needs to deploy latency-sensitive and bandwidth-intensive applications. Some use cases include Virtual/Augmented Reality, Artificial Intelligence, Immersive gaming, Commercial IoT, Automated vehicles, Real-Time video analytics, Reimagined retail, and more.
EdgeConneX also provides self-service management so customers can get insights into every aspect of data center operations across all facilities — all from a single dashboard. More specifically, customers can manage all facilities through a single online operating system named EdgeOS, see real-time statistics, adjust security settings, and submit trouble tickets.
7. Vapor IO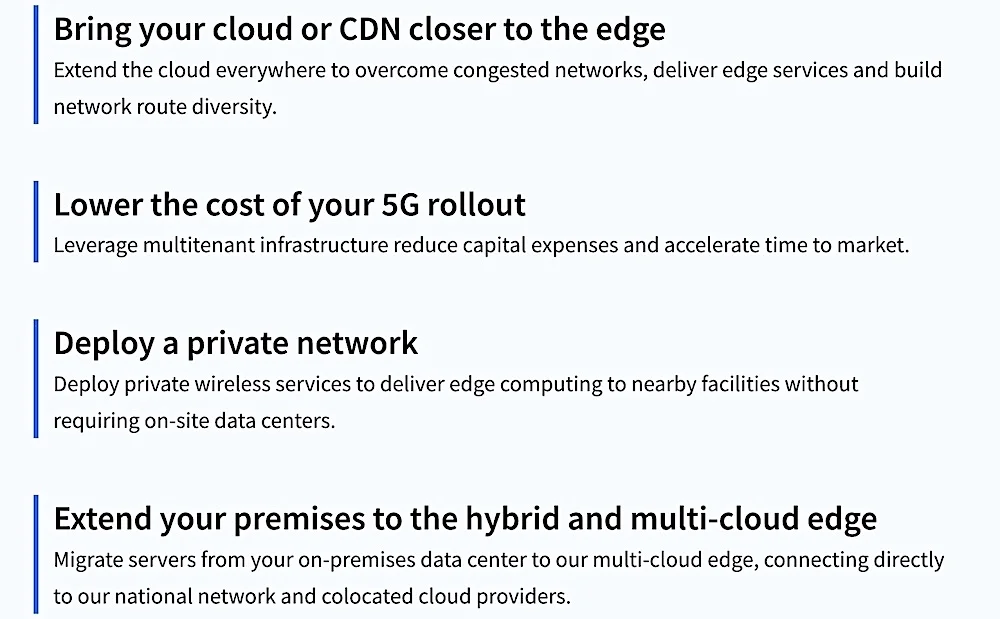 Founded in 2015
Headquartered in: Southern US
Products: Kinetic Grid Platform, Edge-to-Edge Intelligence
Vapor IO offers an intelligent, hyper-modular data center solution. It eliminates complex structures and parking lot data centers, significantly lowering capex and opex costs.
The company has developed a centralized system of intelligent data centers and networking infrastructure. It's called Kinetic Grid. It delivers edge capabilities in particular fields along with backbone connectivity between markets.
How it works?
Vapor IO deploys high-performance data centers at the edge of the last-mile networks. The company then leases these low capabilities devices to their customers, content delivery networks, cloud operators, and communication services providers.
Customers deploy storage systems, servers, and applications within Vapor IO facilities. They utilize the company's propriety networking technologies to edge-enable their services.
The Kinetic Edge architecture and Kinetic Grid platform, for example, are built to deliver critical services consistently and reliably across thousands of edge locations. They provide real-time telemetry for critical systems and have APIs to support remote configuration and autonomic operations.
Furthermore, the edge-to-edge interconnection and edge-to-edge intelligence are engineered to support users across several geographies while minimizing the cost and complexity. 
6. MobiledgeX
Founded in 2017
Headquartered in: California, USA
Products: MobiledgeX Edge-Cloud Platform, Cloudlet Manager Plugin
MobileedgeX develops an enriched software platform (along with telecommunications infrastructure close to the endpoint) that provides managed ultra-low latency. Operators can use this platform, called Edge-Cloud Console, to deploy cloudlets within a specific network edge infrastructure.
For developers, Edge-Cloud Console makes it easy to analyze application metrics and data to improve operational efficiencies. They can configure application capacity to enhance performance, limit the susceptibility of service impacts or losses, and leverage existing IaaS network edge infrastructure.
Benefits
Works with operators and endpoints worldwide
Abstracts developer experience from operators and devices
Self-service provisioning
Data sovereignty and security
Overall, the company offers various options to deploy your applications closest to users, ranging from containers using Kubernetes or Dockers to Virtual Machines. If you need to offload computation from the device to an edge location or your applications require quicker faster response times, MobiledgeX is a perfect platform to achieve these goals.
5. NTT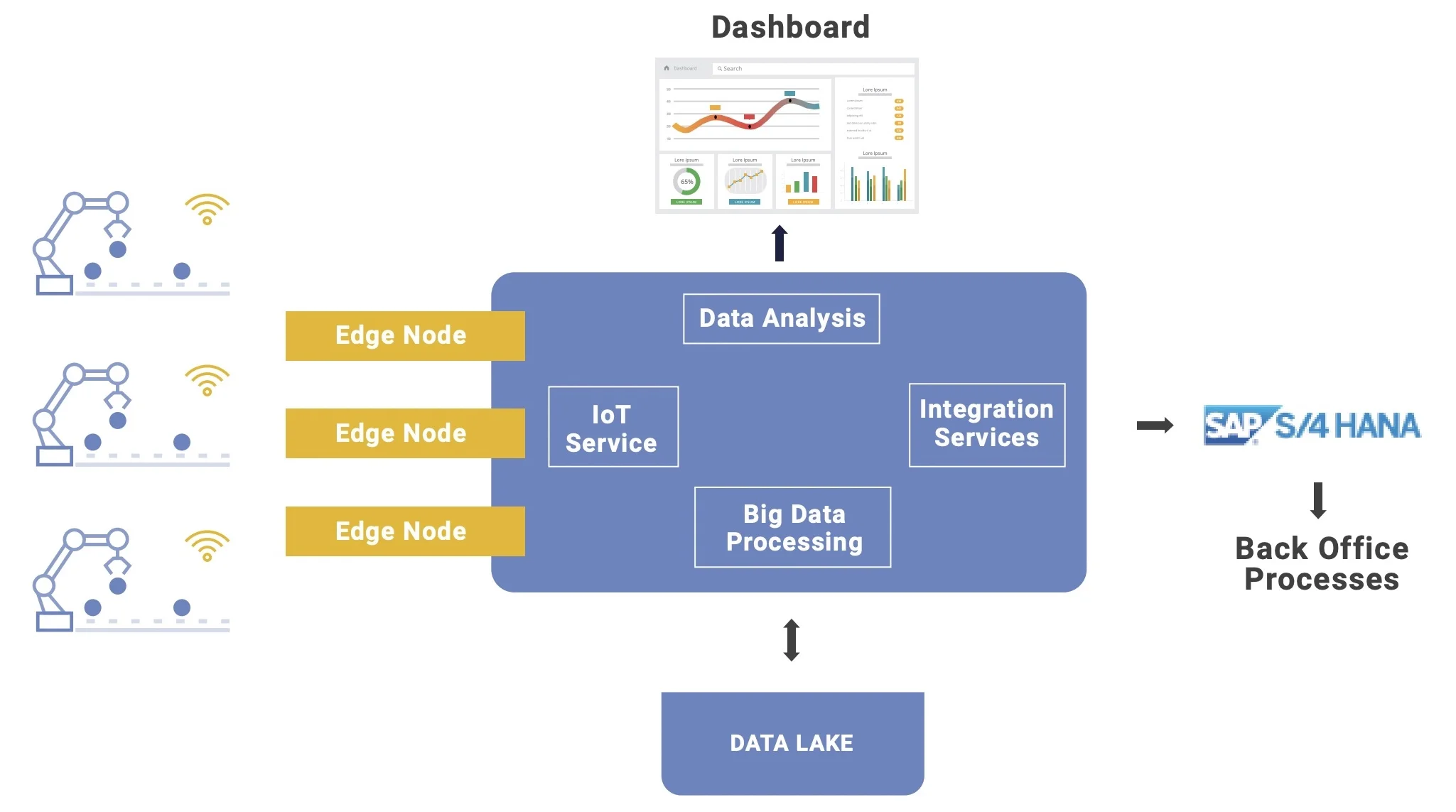 Founded in 1952
Headquartered in: Tokyo, Japan
Products: SDPF Edge, Smart Data Platform
Originally established as a government entity, Nippon Telegraph and Telephone (NTT) Corporation was privatized in 1985. Since then, the corporation has been forming new subsidiaries, building products and services for different markets, and developing efficient edge technologies.
The NTT DATA Edge Computing Solution, for example, allows manufacturers to create a fully automated and more agile production facility by integrating devices and assets at the edge of the network. It combines the advantages of cloud-based resources with the security and responsiveness of edge devices, enabling efficient data storage and better processing of large data sets and machine learning applications.
This Computing Edge Solution supports
Big Data processing
Predictive analysis
Anomaly detection
IoT services
End-to-end cloud integration
Data visualization via an intuitive dashboard
It can also be merged with SAP S/4HANA to extend the capabilities of conventional Enterprise Resource Planning platforms used in various industries. These extended capabilities open new avenues for smartly managing the huge volume of data produced at the network edge.
4. Affirmed Networks
Founded in 2010
Headquartered in: Massachusetts, United States
Products: Virtual Evolved Packet Core, Affirmed Mobile Edge Computing
Affirmed Network provides fully virtualized, cloud-native mobile solutions that allow operators to manage complex traffic and complex operations more efficiently. It also makes it easier to plan and develop new profit-generating services.
The company has developed virtualized Evolved Packed Core (vEPC) for mobile network operators to keep up with traffic demand, scale networks, and deliver services tailored to certain use cases such as fixed wireless, WiFi, VoLTE, edge compute and 5G services.
Their mobile core solutions can be deployed on a wide range of industry off-the-shelf hardware. So far, the company has deployed more than 100 operator networks worldwide, helping them upgrade to NFV-based architectures and realize outstanding returns.
Key Facts
Global presence with 100+ customer deployments in 90+ countries
Mobile service providers achieve a 90% reduction in OpEx and 60% in CapEx savings
Open NFVI architecture eliminates vendor lock-in
In 2020, Microsoft acquired Affirmed Network to offer innovative solutions tailored to the specific requirements of operators. Both companies are now working closely to deploy and maintain 5G networks and services more rapidly and securely.
3. ADLINK Technology
Founded in 1995
Headquartered in: Taiwan
Products: ADLINK Edge IoT, Edge SDK
ADLINK Technology designs and manufactures a wide range of embedded computing products and test and measurements systems. Its products include CompactPCI, AdvancedTCA, computer-on-modules, PCI Express-based data acquisition and I/O for industrial applications. It sells to original equipment manufacturers and system integrators.
Their solutions drive data-to-decision applications across sectors. The company benefits multiple industries, including infrastructure, mining, security, medical, manufacturing, agriculture, defense, telecommunication, and gaming.
Benefits of ADLINK Solutions
Ready for production: Simply deploy applications and see real-time results
A low code approach to support hardware and software infrastructure
Modular architecture for greater flexibility in deployments
Extend applications with additional sensors types and cloud systems
The company is the Premier Member of the Intel IoT Solutions Alliance. It actively participates in many standards organizations and interoperability initiatives, such as Open Compute Project, Standardization Group for Embedded Technologies, and PCI Industrial Computer Manufacturers Group.
2. Akamai

Founded in 1998
Headquartered in: Massachusetts, United States
Products: ADLINK Edge IoT, Edge SDK
Akamai Technologies is cybersecurity, content delivery network, and cloud service company. It manages thousands of servers across the world and rents out resources on these servers to customers who want to improve the performance of their applications by shifting content near the end-user.
So far, Akamai has deployed more than 365,000 servers in over 135 countries. They have also developed an Intelligence Edge Platform to gather real-time data about traffic, such as congestion and defective spots, and process requests from nearby users.
This intelligent edge platform also allows developers to leverage the benefits of serverless computing and build and enhance new digital experiences.
Key Capabilities
Detailed reporting and new code editor within Akamai Control Center
Log Delivery Service for debugging and troubleshooting
Optimizes image and video content at the edge
Recently, the company added new capabilities to its Edge Platform, making it easier to build new microservices and manage image/video delivery at the edge. They also updated the API for managing Cloudlet apps with quicker deployment and response times.
1. Intel

Founded in 1968
Headquartered in: California, United States
Products: Edge Clouds and Servers, Edge Software Hub, Edge-Centric FPGAs
From hyper-converged data centers to base stations, Intel provides a wide range of edge-ready compute, connectivity, and storage technologies across the world. It delivers smart workload optimization with performance hybrid architecture via Intel Thread Director.
The new enhanced IoT processors combine Efficient-cores and Performance-cores to improve single-thread throughput, task management, and multithread throughput. They are designed to support advanced analytics and real-time AI at the edge with plenty of options that balance performance and power.
Intel's Optane Solid State Drives distributes edge data to AI pipelines in real-time, while Optane persistent memory powers low-latency data transfer.
Intel Hardware and Technologies for Edge Devices
Intel Core and Atom processors for low-power edge devices
Intel Movidius Vision Processing Units enhance AI workloads
Intel Xeon processors bring complex data processing and AI capabilities close to the point of data generation.
Intel Security Technologies keep personal and sensitive data safe
The company also provides software packages, including computing vision and machine learning applications, to optimize edge solutions for Intel architecture. This makes it easy for developers to integrate data analytics on edge compute nodes, distribute time-series analytics on CPUs and GPUs, and run multiple workloads simultaneously on containerized analytics pipelines.
Read: 12 Largest Data Centers In The World [By Size]
Tech Giants Working On Edge Computing
10. IBM
Products: Edge Application Manager, Cloud Pak for Data and Network Automation
IBM extends autonomous management capabilities that address scalability, variability, and rate of change in edge environments. It also provides solutions to communications organizations, helping them improve their networks and distribute services at the edge. These edge solutions run on an open hybrid multi-cloud platform called Red Hat OpenShift.
IBM Edge Application Manager allows admin and developers to reduce data transport to central hubs and minimize vulnerabilities, disruption, and cost while deploying applications.
IBM company has also developed tools with specialized network capabilities. The Cloud Pak Network Automation, for example, can deliver 5G and other edge computing services faster and in a more reliable way. It also gives you detailed insights into how processes run and helps you visualize defects and prioritize actions.
11. Hewlett Packard Enterprise
Products: HPE Edgeline, Aruba ESP
Hewlett Packard Enterprise (HPE) is developing a broad range of products and services to help industries explore and unlock the capabilities of edge computing. HPE EdgeLine, for instance, allows companies to enhance their operational agility, add mobility, increase revenue, and minimize risk.
The Edgeline platform embeds open standards-based OT data acquisition and control techniques into the IT system responsible for delivering fast and secure services. This type of integration further decreases the latency between acquiring data, analyzing it, and acting on it.
HPE is working with many telecommunication companies, healthcare networks, and reputed organizations such as Purdue University. Their projects range from helping a chemical manufacturer with data-driven insights to enabling a more seamless healthcare experience. Overall, HPE edge solutions help customers focus on innovations of their own making.
12. Amazon
Product: AWS for the Edge
AWS edge is designed to deliver services with the lowest latency possible. It moves computation and data processing as close to the endpoint as necessary. This includes shifting hardware/software from AWS data centers to customer-owned devices.
A subset of AWS services uses edge locations to deliver fast and snappy response directly to the user.
CloudFront: uses edge locations to create cache copies of the data
Route 53: serves DNS responses from edge locations
AWS Shield: filters traffic in edge locations to remove malicious traffic as soon as possible
AWS has more than 200 integrated device services built for specific edge use cases such as 5G, IoT, hybrid cloud, industrial deep learning, and more. Plus, it offers fully managed services so you can quickly deploy edge applications and scale to billions of devices.
13. Google
Products: Google Distributed Cloud, Edge TPU
Google is increasing its bet on edge computing by installing distributed cloud across multiple locations and modernizing on-premises deployments while meeting regulatory compliance.
The company has introduced a new suite of Edge and on-premise cloud services to compete against Amazon AWS and Microsoft Azure. These services allow organizations to run 5G Core and Radio Access Network functions at the edge (along with business applications) to support time-sensitive use cases.
They are also building hardware to run artificial intelligence and deep learning systems at the edge. Edge TPU, for instance, is designed to deliver high performance in a small footprint at the edge. It complements Google Cloud and Cloud TPU services, providing a cloud-to-edge infrastructure for the deployment of AI-based applications.
Furthermore, Edge TPU can be beneficial for a wide range of use cases, including voice recognition, anomaly detection, robotics, machine vision, and predictive maintenance. It can be efficiently utilized in smart spaces, retail, healthcare, and manufacturing sectors.
14. Microsoft
Products: Azure IoT Edge, Stack Edge, SQL Edge
Microsoft is working to combine the massive computing power of the cloud data centers with ever-growing connected and perceptive edge technologies. They have built a comprehensive edge computing platform, called Azure Edge Zones, that brings cloud servers' power to the last mile.
These zones are nothing but micro data centers owned and managed by Microsoft. They behave as logical extensions of existing networks, supporting virtual machines, containers, and Azure services that run resource-intensive and latency-sensitive apps. The company is planning to extend these zones to regions with a high density of customers.
Moreover, Microsoft has also developed a robust IoT database that merges capabilities (like time series and content streaming) with artificial intelligence and graph features. It allows developers to create apps and deploy them anywhere across the edge.
Overall, Microsoft is heavily investing in the intelligent cloud (enabled by Ai and public cloud technology) for all types of smart applications and systems one can imagine.
Read: 8 Different Types Of Cloud Computing
Frequently Asked Questions
What is the difference between edge and cloud computing?
The key difference between edge computing and cloud computing is the location of the server or device on which data is processed. Cloud servers are placed in well-maintained data centers, while edge devices are located closer to the data source to reduce latency and data transmission costs.
Why is edge computing necessary?
The remarkable growth in IoT devices has resulted in exponential volumes of data. And this data will continue to grow at unprecedented rates. Shifting such huge volumes of device-generated data to a cloud or centralized data center results in latency and bandwidth issues. Processing data near the source, on the other hand, enables faster and more comprehensive data analysis and improved user experiences.
What are some examples of edge computing?
There are thousands of examples of edge computing use cases; we have chosen a few scenarios where it is most useful:
Autonomous vehicles that communicate with each other with ultra-low latency
Real-time monitoring of assets in the oil and gas industry
Analyses and defect detection in the production lines before a failure occurs
Virtualized radio networks and 5G
Smart homes
Read: 5 Different Types Of Data Centers [With Examples]
What is the future of edge computing?
According to the Grand View Research report, the global edge computing market size is expected to grow at a CAGR of 38% from 2021 to 2028. The market size will be valued at $63 billion by the end of 2028. Particular use cases (such as 5G, network function virtualization, and next-generation Cloud Delivery Networks) are expected to play a substantial role in this growth during the forecast period.