The trend of 3d art is not new but it is getting popular day by day. Adding an extra dimension can really do magic. Not only it looks attractive, but it puts life into the picture. The people are very creative, imaginative and talented. Plus hundreds of open source 3d tools are available on the internet. That's icing on the cake! These automated and advance software helps graphic designers create something unbelievable. Some of the designers actually did that. They have created some unique and amazing piece of stuff that will make you go wow. We are presenting a few astonishing examples of 3d art (made on computer software) for your inspiration. See and learn!
All graphics are protected by the Copyright of their owner/company. Click on the link to see full resolution.
44. Glass Apple
Glass apple is designed by the crimson show using 3dsMax and Vray.
43. City
City is created as a personal project, by an innovative freelance graphic designer, Jakub Skop.
42. Bed Monster
The professional artist Aamir is the man behind "You picked up the wrong Bed Monster". The graphic shows amazing work of texturing, modeling and lighting.
41. Transportation
An example of amazing concept car designed by Australian artist, Nick Kaloterakis.
40. Mortain Raid – Cockroach
This is the full 3d graphic that shows what's happening while you are not at home. It is designed by Flavio Calegaro, Luis Ramos, and Hugo Dionisi.
39. Sentinel
Sentinel is new, terrifying, deadly creature designed by a character artist, Rodrigo Soria.
38. Purge: Red Hand
Red hand is terrifying giant robot capable of melting and consuming the whole earth. It is created by Marcin Jakubowski using Photoshop.
37. SCI-Fiction Scene
This is a one of the awesome scenes from science fiction theme gallery created by digital artist and designer Stefan Morrell. His portfolio is full of beautiful and inspiring piece of stuff.
36. Dream High
Dream high is a 3d portrait designed by GabrielFernandez using 3dsMax, Vray, Zbrush and Photoshop.
35. Rise of the Machines
It's a wonderful CGI illustration for publication by Nick Kaloterakis.
34. Focus
This is an awesome focus oriented graphic designed by Jesar.
33. Playstation – Octopus
This octopus graphic is designed by a German artist, Thomas Mangold for Sony PlayStation.
32. Lise
Lise is a pinup of a Danish friend of Andrew Hickinbottom.
31. Big Mistake
Big Mistake scene is designed by 100jak that contains no mistake. It is rendered and modeled in 3dsMax and Vray.
Read: 25+ Fresh Examples of Timeline in Web Design & Infographics
30. Mecha
Mecha is a sci-fi 3d art created by Rudy Lamotte.
29. Selfillumination
A clever picture of self fulfillment created by Kutsche. It is modeled in 3d Max and Rhino 3d.
28. Me last Work
Me last Work is a 3d realistic art by German designer, Artur MKhoyan.
27. Born Child
This is a quite cute 3d work by Andrew Hakim. He produced this graphic using Photoshop, 3ds Max, Vray and Zbrush. Well, a mother's real emotion is not easy to put on the image, but Andrew has done his job amazingly.
26. Somewhere in the Sky
Somewhere in the Sky is created by Andre Surya. The graphic is designed on 3dsMax and Vray.
25. The Battlefield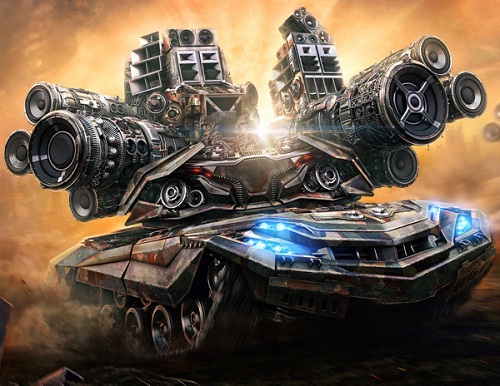 It's an automotive design created by Aleksandr Kuskov.
24. Time Machine
It more looks like a future typewriter. Anyway, full marks for the creativity of Aleksandr Kuskov.
Also Read: 55+ Beautiful Fonts for Modern Design Trends
23. Sell Talent
Yet another great work by Aleksandr Kuskov. It is one of the animation projects for HR campaign.
22. Animistic Head
Michal Zsigmund created this 3d animistic head for IDA pictures.
21. Shifted – 2
Shifted is a brilliant 3d composition by a visual artist, Adam Martinakis.
20. Human Displacement
Human displacement is a series of images about the human form and the effect of nature, created by a digital artist, Mike Campau.
19. Living Sculptures
Living Sculptures is a series that was designed to give human personality and activity to an otherwise nondescript structure. It is created by Mike Campau using modo 801, Adobe Photoshop CC and Luxology Modo 701.
18. Tag Heuer 'Frog'
This is the digital replacement of nature with a robotic look alike creature by Baptiste Masse.
17. Accident
This was created as a personal project of freelance designer, Antoine Magnien.
16. Ark
This is a scene of the short animated movie (ark) created using an unconventional film production technique, by Platige Image.
15. Orange World
Orange World is a series of promotional video produced for Leo Burnett Warsaw, by Platige Image.
14. Sick Sad World
Pierrick Grillet is lead CG artist at Indigènes Productions, a post production studio also likes to some cool part time stuffs too. Sick Sad World is one of them.
13. Hero and the Message
Yet another short film by Platige Image, "Hero and the Message" created for Qatari Al Rayyan Productions. The film was screened on TV, cinemas and on numerous special events in Qatar.
12. Baggit – Synthetic Fur Bags
Baggit contains a set of 3 creative and funny digital designs by Thomas Mangold.
11. Caustic Icebergs
Caustic Icebergs is digital art made by cg artist Chaotic Atmospheres. The graphic is designed on Adobe Photoshop CS. e-on Vue Infinite and Voxelogic Acropora.
Recommended: 100+ Creative and Funny 404 Error Pages
10. Stroll in the Swamp
Stroll in the Swamp is a personal project inspired by movies and videogames such as Guild Wars, LotR, Diablo etc. It is created by a 3d artist, Anthony Guebels with the help of various tools including Zbrush, 3d Max, Vray and hotoshop (final touchup).
9. Wake up
Wake up is a 3d art representing robots attached to the wall. It is created by Canis Lupus, modeled and rendered in Cinema 4D R9.5.
8. Morning Fog
Morning fog was a two week project for demoreel class. Concept art done by Brittney Lee and 3d aspects by Leticia Reinaldo.
7. Battle of England
Battle of England is dark and abstract image combining photography and CG, created by Philip Haynes, FutureDeluxe, Victoria Nugent, Jack Attridge, Chris Roberts and Lee Philips.
6. Montenegro
Montenegro is an amazing 3d car graphic created by Benderlog (a Russian username on render.ru).
5. Exobotany
Exobotany is fantastic 3d art created by Martin Bassler. Most of the scene is designed in Blender, StructureSynth, Meshlab and rendered with Blender's Cycle engine.
4. The Heart
Heart is a result of the personal untitled project by Jesar.
3. Rolls Royce
This is a new look of Rolls Royce designed by Taalba Abdel Wahab. He used Blender, 3dsMax (for modeling) and Zbrush (for sculpting & textures). Wahab named the graphic "Out of my way".
2. Space Girl
Carl Gonzalez is a well respected 3D artist who has worked for many gaming companies as well as in cinematic productions. He created this 3D art of Space Girl in his leisure time, taking up-to several months of time. The technology used in this is Zbrush, 3D Max and Vray sss2.
1. Prom Night
Also Read: 15 Best 3d Modeling Software for PC | Frees
Prom Night is the result of one of the personal projects of creative artist, Mickael Riciotti. It is created on Photoshop, Vray and 3ds Max. The graphic tells the story of a teenage girl who is sad on her prom night. You are free to put any reason behind her sadness.