Three decades ago, mobile face recognition technology seemed more like something out of sci-fi movie. Since then, we've come too far. Today, people not only use facial recognition tech for enhancing security of their device, but also for entertainment purpose (like Animoji).
Only time can tell how this technology will be implemented in the future. For now, we are presenting some of the best face recognition apps for both iOS and Android that will surely impress you.
12. FaceLock
Platform: Android
The app does only one thing it is made for – Lock device/application by using your face as a key. The task manager, settings and market are protected so no one can force-stop and uninstall FaceLock out of the box.
It is advisable to train the FaceLock on more images to get recognized in difficult lighting conditions. Also, there is an option to increase security by raising the security level.
11. LogMe
Platform: iOS | Android
This is a facial driven search engine based on similarity and distance. Just upload your picture from your mobile camera or gallery and the LogMe will detect and extract faces from the photos.
The apps allows you to browse similar faces based on level of resemblance or distance of the upload. Also, it is possible to send private messages to the members who uploaded the photos including faces you found. Since the app is new, it isn't perfect, especially the Android version returns few errors.
10. IObit Applock
Platform: Android
iObit Applock protects your privacy and data security by locking system setting and private apps. It has a face look and fingerprint lock system to easily unlock apps without password. The app uses AI to recognize your face and unlock the app quickly.
If your apps are locked, you don't have to worry about people seeing your private content from notifications, as it hides the data from notification center too. Also, it captures snooper's picture and notify you through email.
9. Luxand FaceSDK
Platform: Android | iOS | Windows | Mac | Linux
Luxand is built for developers. It provides face recognition SDK and face detection APIs, which offer all types of features for apps, including predicting what children will look like in future, transforming faces into 3D avatars, augmented reality facial filters, and more.
More specifically, facial feature recognition lets you automate post-processing like skin tone adjustment and red-eye removal. With FaceCrop SDK, you can perform automated detection, resizing, cropping and exporting human face images from photos of arbitrary resolution size and format. Moreover, a Mirror Reality SDK library allows you to build augmented reality application based on real-time face transforms.
8. FaceBot Facial Expression
Platform: Android
This a face analyzer app that can measure attractiveness and discover best selfie from a bunch of pictures using anonymous questions. It identifies countenance in your pictures using face recognition.
Once your facial expression is detected, you can create anonymous question and find what pictures makes you professional, attractive or intelligent. This is a fun app and to improve face analyzer, use photos in which your countenance are clearly visible.
7. AppLock Face/Voice Recognition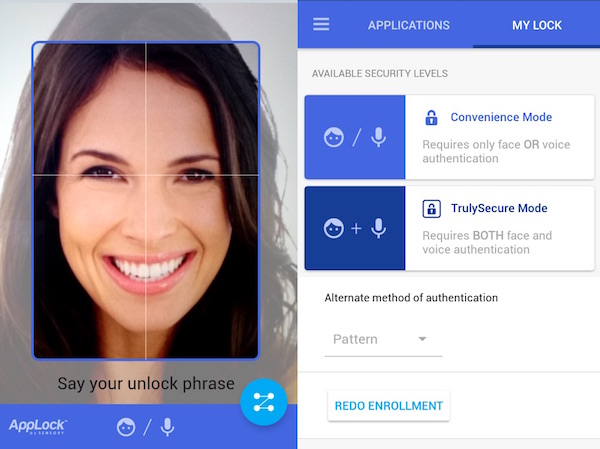 Platform: Android
Applock by Sensory merges facial recognition with voice recognition to completely secure the private content. You can set your own unlock phrase to access the locked apps.
It works by first registering your face and voice in a process called enrollment. As soon as AppLock's advanced voice and face biometrics verify your voice or face (or both), your application will open instantly. It uses deep learning algorithms for facial recognition and even learns your face over time in order to perform better. That means, the more you use this app, the more reliable it gets.
6. BioID Facial Recognition
BioID is a cloud biometrics company with their own unique anonymous multimodal biometric authentication. The company claims they make strong, privacy-assured face and voice recognition and voice, available on all devices, to everyone, anytime and anywhere.
End users can use this app as a mobile authenticator to log in to any application or website. Developers can easily add convenient face recognition to their projects, without any deeper understating of biometrics. For now, the application supports liveness detection against image attacks, and challenge response to block video replay attacks.
5. Face2Gene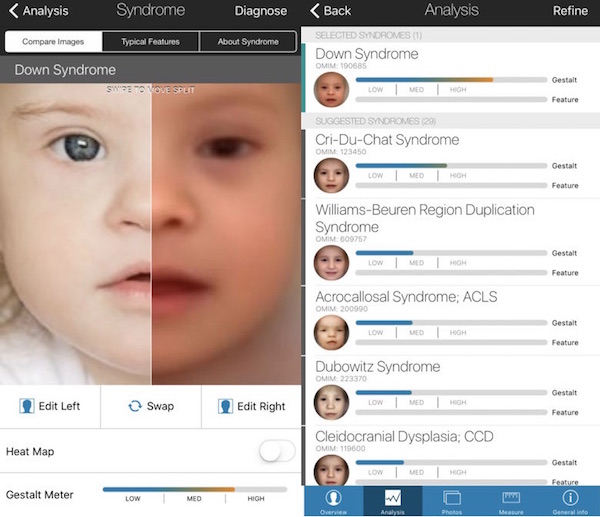 Face2Gene is a healthcare app that uses facial recognition to help bioinformatics and clinicians to detect specific disorders in patients. It uses a proprietary algorithm for comparing individual faces to those with syndromes that present a similar morphology.
The app detects phenotypes and reveal relevant facial and non-facial features, and review relevant syndrome matches. Furthermore, it gives you access to the London Medical Database to search for syndromes and review photos and features.
4. EmoticonAR for Messenger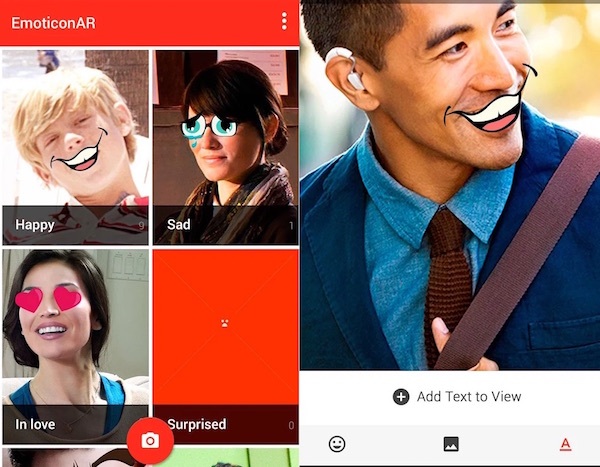 Platform: Android
This app recognizes your emotion in an image and automatically puts Emoticons at the right spot of your face, by using Qualcomm Snapdragon processor facial recognition feature.
EmoticonAR can recognize people's mood and place emoticon by recognizing the perfect spot for the mouth and eyes. It has built-in 10 different moods, including happy, wonderful, sad, tired, blessed and troubled. If you want, you can apply photo filters too.
3. Moments by Facebook
Platform: iOS | Android
Moments allows you to create shared photo albums and instantly send photos to your family and friends – and get photos back. It automatically organizes the pictures and videos on mobile by location, time and people in photos. The face detection feature can guess who is in the image.
You can organize your pictures and videos in one private place, gather all the of them taken on a trip, or event, and search to find photos of yourself, friends, places and more.
2. True Key
Platform: iOS | Android | Mac | Windows
True Key (developed by Intel Security) helps you instantly log into your favorite sites using your face. It synchronizes your smartphone, tablet and desktop to provide more control over digital identity.
The app protects your password by scrambling them with one of the strongest encryption algorithms, AES-256. It also offers Multi-factor authentication, which will always verify you twice before letting you in. You can select one of these methods or unlock things with your unique face mathematical model using Face log in.
1. Animoji for Android
Platform: Android
Since the Apple launched their iPhone X, Face recognition has really changed. They've added dedicated hardware to make their FaceID better than other conventional apps. It uses face-scanning features to build 3D model based on your facial expression.
Read: 15 Efficient Face Recognition Algorithms And Techniques
However, if you don't have an iPhone, there are a few good alternatives to do the same. One of them is Live Emoji that features more than 50 emoji faces and 4 types of face morphing. The other one is Emoji maker that lets you create live emoji and share it in different apps. All of your emojis will be built in high quality graphics from the scratch and will be fully customizable and resizable/movable.