Neither the iconic company nor its equally charismatic founder needs any kind of an introduction. Lamborghini is undoubtedly the darling to millions of sports car lovers all over the world. As a fellow fan of its cars, the entire team of Rankred proudly presents 20 Fascinating Facts About Lamborghini. Enjoy.
20. It All Started With Tractors
Well, as a devoted Lamborghini fan, we all know that the company was initially into heavy motor industry producing tractors and other electronics. The inclusion of this fact is more out of necessity. Its founder, Ferruccio Lamborghini was a gifted engineer, already proving his worth during the World War 2 working for the Italian Air Forces.
Trattori Lamborghini along with its Production Cars
After the end of the War, Lamborghini was quick to realize that the post war crisis will lead to increased demand in agricultural and industrial products. Using his mechanical abilities, he started to build the first of the "Carioca" tractors. Then in 1948, Lamborghini founded the Lamborghini Trattori, building upon the initial success of the Carioca tractors.
19. We Should Really Thank Ferrari
It was perhaps one of the biggest mistakes Enzo Ferrari made as a businessman, the owner of another iconic Italian car brand Ferrari. In the 1950s, Lamborghini's increased wealth allowed him to buy several top quality cars and one of them was the Ferrari 250GT. But he was not satisfied with it as he founded that the Ferrari uses below par clutches.
When he ran straight to Enzo Ferrari to discuss about this matter, Lamborghini suffered a humiliation at the hands of Enzo as he told him to stick to producing tractors and leave the car making business for those who knows how to make one. This event embarked the arrival of another sports car giant, a company who would challenge Ferrari in years to come.
18. Lamborghini Super Trofeo
Image Courtesy: Flickr
The Super Trofeo is an annual International motor racing competition organized by Lamborghini. The competition is held in different locations over three major continents of the world, including Europe, North America and Asia with its own world final. This is not only a platform for young and unproven talents to show their capabilities but also the perfect stage to launch company's new arrivals.
17. You can drive a Lamborghini at their Winter Academy
Image Courtesy: squadracorse.lamborghini.com
For less than $10,000, you can be a part of the Lamborghini Winter Academy, where you can drive some its finest cars including Aventador, Huracán and Huracán Performante on Ice day and night. The academy is all about fun while teaching you how to ride Lambos in cold and icy surfaces.
16. Their Youngsters Program
Image Courtesy: Lamborghini.com
Like any other sports, youngsters play a vital part in the racing world. Every year, Lamborghini officially launches a special program for the youngsters from all over the world, where they learn driving skills and other important aspects of this sport. The motive of Lamborghini's Young Drivers Program is not only to train young drivers to become professional inside the cockpit but outside the race track too.
15. Company's Darkest Years
Lamborghini Museum Image Courtesy: Leonard J. DeFrancisci
By the 1970s, Lamborghini started experiencing a series of internal problems, mainly caused due to the world's oil crisis at that time. Being a producer of thirsty engines, Lamborghini was among the many companies who saw a steep fall in their sales. After struggling for a couple of years, Ferruccio finally decided to sell the company to the Chrysler Corporation in the late 1980s.
The following decade, the world witnessed the demise of the once iconic company. Although, they were able to keep the firm from going completely bankrupt, the company lost all of its charm. It changed ownership again in 1994, when Chrysler sold it to an Asia based investment firm. But only after 4 years, they sold Lamborghini to the German multinational car company Volkswagen.
14. The Revolutionary Lamborghini Miura
I won't be a big surprise if most of Americans and even Europeans today don't recognize the Lamborghini Miura, but once it dominated the world of sports car. In 1966, Lamborghini launched perhaps their most elegant and exquisite car of the 20th century, Miura. According the company officials, their rival Ferrari only took Lamborghini seriously when they unveil the Miura. She was a complete package.
13. Lamborghini's Formula One Connection
Lamborghini hired Gian Dallara as their chief designer after he left the Ferrari ranks in 1960. Here, he co-designed the iconic Miura and Lamborghini Espada, quickly becoming one of the popular faces in the company. But after 9 years or so, he founded his own design manufacturing company Dallara Automobili. Since 2014, his company has been engaged in producing chassis of F1 cars for the Formula one team Haas.
12. Innovator of The Viper Engine
Dodge Viper Engine
In 1992, Chrysler launched their one of the most popular sports car Dodge Viper SR-1. The car was powered by a high performance modified V10 engine. The modified engine was based on Chrysler's own LA engine family, but with two extra cylinders and a longer stroke.
The engine was actually re-mastered by one of the Chrysler's subsidiaries at the time, Lamborghini. Its engineers, instead of using the engines original iron-cast block, they changed with lighter aluminium alloy heads, these changes gave rise to the class of engines what we know today as the viper engines.
11. Bull Fighting Tradition
Companies are famous not only for their products, but for their logos as well. As the proud owner of your company, you would want your company's trademark logo to be both unique and powerful at the same time.
Ferrari has a black prancing horse and the legendary Alfa Romeo have the historic half city crest and half 'snake-eating man' logo representing its cars. The Lamborghini has a raging bull.
It's not just the logo, almost every product seems to have a direct connection with bulls or bull fighting. Just try to memorize all the iconic cars that they have produced, all the names if you research it, are somehow related to bull fighting sports and even named after bulls.
Some believe that in 1962, Lamborghini visited a ranch situated in the city of Sevilla, Spain. Here he witnessed fighting bulls breed and decided to take the inspiration.
10. An Alien Name
Lamborghini Countach LP500S
Although, nearly all the Lamborghini products are influenced by the Spanish ranch and bulls and named after them, there is actually one Lamborghini which quite doesn't fit among the bulls. The Countach, built between 1974 to 1990 is one of the most popular and unique Lamborghinis among its other models.
Industry experts believe that the name actually came after when one of the company's engineers shouted "Countach" an Italian word expressing a high level of awe after seeing the car for the very first time.
9. The Rise of Pagani
Pagani huayra
In 1980s, a talented and ambitious engineer named Horacio Pagani was employed in the Lamborghini ranks, who always looked forward to bring radical changes in his designs. One such change was carbon fiber material which he thought would be a great material to produce lighter cars which will contribute to even faster speeds.
After a series of demonstrations and requests, Horacio ultimately failed to convince his bosses at Lamborghini headquarters that carbon fiber could be a major success in the sports car industry. During the same time, their rivals Ferrari launched the F40 supercar, which for the first time used carbon fiber.
This was a decisive moment for Horacio Pagani, after which he left Lamborghini and founded his own automobile company. His actions marked the beginning of a new player in the sports car industry Pagani Automobili S.p.A or simply Pagani.
8. They Are Here to Inspire Us, But Who Inspire Them?
Lamborghini Aventador
To a layman, who is not familiar with 'behind the door' workings in the automotive industry, there is a greater possibility that he/she might not be able to spot differences in today's modern Lamborghinis. Each and every new model of this showstopper car brand comes with a distinct design.
Without a doubt, Lamborghini is one of the reasons why young and energetic people want to become a millionaire, just to own a bunch of these. But do you ever wonder from where its talented designers get these distinct ideas and inspirations?
In an interview, Filippo Perini, who is the main mind behind the killer design of Aventador said that they drew inspiration from the American F-22 Raptor and B-2 bomber to forge key design aspects of the car. To give its design a finishing touch, he and his team took inspiration from those shiny little green beetles, which you can see hurtling here and there.
7. The Company's long love for SUV's
Image Courtesy: dubicars.com 
Utility vehicle or SUV's became much popular in the late-1990s, with many auto companies jumping in to gain an upper hand in the new sector of the car market. While most of the big names were doodling around, Lamborghini actually tried his luck in this new untested sector of the business.
Although, the company failed in their attempt to supply its first SUV prototype Lamborghini Cheetah to the US military, it led to the development of LM002 and now Urus, which they launched back in 2012.
6. The Very First of them All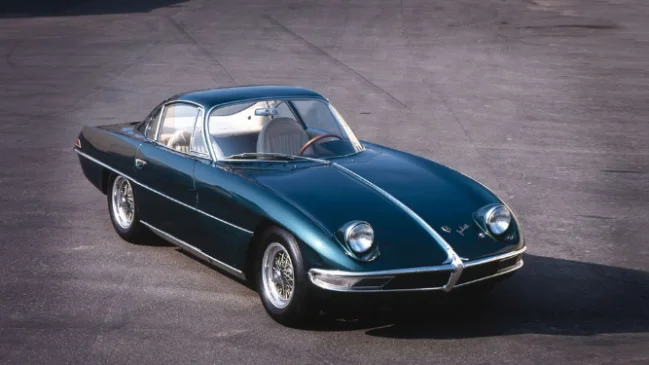 Image Courtesy: Lamborghini.com
After the Ferrari incident, Ferruccio Lamborghini launched his first ever sports car, the 350GTV prototype at the Turin Auto Show, in 1963. It was a memorable moment for the company after it receives positive reviews from the public, but there was another thing that makes this launch almost unforgettable. Ferruccio was so desperate to unveil his first car that he launched the 350GTV without several important parts.
Before the launch, Lamborghini lacked the necessary space and tools to produce a car, so he transferred the entire production to his tractor factory. Its initial engine was also a blunder, which didn't fit. To solve this, Ferruccio simply ordered workers to fill the void in the engine area with bricks. It also completely lacked important features like brakes.
Fortunately, the newly assigned chief designers of the company realized that this model is not suitable to enter the mass production phase and dropped it, and as a result they launched new and improved 350 GT as their first production vehicle.
5. Lamborghini Portofino
Image Courtesy: lambocars.com
Lamborghini's ownership changed hands three times during its entire history. In 1978, when the company was sold to Chrysler Corporation, they unveiled their plans for a four door sedan, which they named Portofino. The car would feature a 3.5L engine located in the car's rear.
Unfortunately, it never entered into the production. Well, there is a little doubt over what the success of this prototype car could have done to change the course of this iconic auto company.
4. A Statement of Status
It's like a social norm in the celebrity society, that as a superstar you must have at least a small fleet of these expensive cars at your disposal. This trend is not new though, as singers and pop stars in the late 1960s and 70s opted for Lamborghinis to complement their fame.
Famous musicians like Miles Davis owned a Lamborghini Miura. Legendary singer Frank Sinatra also owned and admired his Miura. To show his admiration, Sinatra once famously quoted, 'You buy a Ferrari when you want to be famous, but you buy a Lamborghini when you're famous.'
3. On the Road, In the Water
Ferruccio inventions not only graced the roads, but in 1960's he gave birth to the iconic Riva Aquarama Lamborghini, Hull No. 278, after customizing a luxurious factory tuned wooden runabout made by an another iconic Italian company Riva.
Unsatisfied with the standard V-8 engine, he decided to install a twin V-12 Lamborghini engines with some added features like modified open exhaust which was added as per Ferruccio's orders. Ferruccio kept his dearest Riva for 20 years until he sold it to his close friend in 1988.
Read: Cars That Brought the Revolution in Automobile Industry
2. Extra Special Lamborghinis
Image Source: Wikipedia
We all are aware of the fact that several countries throughout the world deploy different types of Lamborghinis for their police business. One of them is the Dubai police, having a fleet of some of the coolest super cars, they are always misinterpreted to be used for hot pursuit when in fact they are a means to attract tourists, at least according to their high officials.
One of the most unusual police Lamborghinis can actually be seen patrolling the streets in St. Peter's Square in the Vatican. Here, one can witness police driving around in small golf carts like Lamborghinis. They might not be as fast as traditional Lambos., but one thing is for sure that their small stature makes patrolling easier in the narrow and tiny areas of the streets.
1. Ferruccio Lamborghini was a POW During the World War 2
Read: 20 Intriguing Facts About Tesla Motors
Before building first of his "Carioca" tractors and then founding Lamborghini Trattori, Ferruccio was enlisted in the Italian Royal Air Forces during the World War 2 and was garrisoned in the island of Rhodes. There he served as a mechanical supervisor of Vehicle maintenance unit.
After the British conquest of the island in 1945, he was taken as a prisoner of war. During his time in the island of Rhodes, he gained the reputation as one of the finest mechanic in the war, due to his sheer engineering skills under pressure.