Although automotive excellence can be measured in many different ways, top speed is the parameter people care about the most.
There are about 1 billion cars in use worldwide, and the number of growing rapidly, especially in India and China. However, in terms of speed, only a few brands have managed to deliver extraordinary performance.
At present, the automotive industry is focusing on implementing new technologies or finding ways to coexist with old ones. For example, the Mercedes-AMG Project One aims to combine incredible racetrack performance and practical Formula 1 hybrid power systems with exemplary efficiency.
Below is the list of street-legal production cars that have achieved record-breaking top speeds. We haven't included any modified or concept cars. We also tried to limit our selection to those with manufacturer-claimed speed figures.
Prices are mentioned in US dollars. 
8. Rimac C Two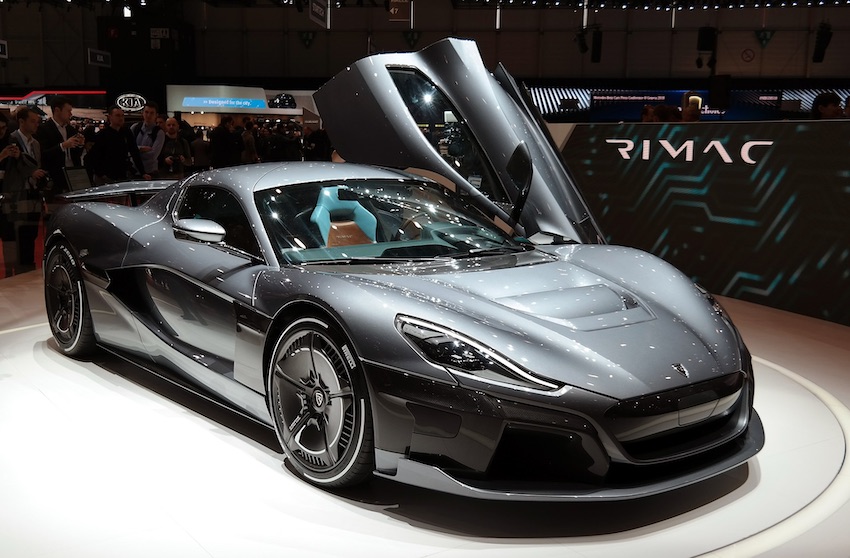 Rimac C Two at the Geneva Motor Show 2018
Top Speed: 258 mph (415 km/h)
Base Price: $2.1 million
Units: 150
The Rimac C Two is an all-electric sports car built by the Croatian automotive manufacturer Rimac Automobili. Currently, it is in the process of homologation for the worldwide market, and the first deliveries will start in 2020.
The car is powered by 4 liquid-cooled permanent magnet synchronous electric motors (placed at each wheel). It has a 120 kWh lithium nickel manganese cobalt oxide battery that can be charged to 80% in less than 30 minutes.
With an alleged power output of 1,914 HP and a torque of 1,696 pound-feet, the Rimac C Two can go from 0-60 mph in just 1.85 seconds and 0-300 km/h in 11.8 seconds. The company also advertises a maximum range of 341 miles (550 km) on the WLTP cycle.
Moreover, the car is equipped with Level 4 of autonomous driving, advanced driver-assistance systems, and face recognition unlocking technology. It could be an absolute game-changer in both electric and sports vehicle segments.
7. Bugatti Veyron 16.4 Super Sport
Top Speed: 267.85 mph (431.07 km/h)
Base Price: $2 million
Units: 30
The Bugatti Veyron 16.4 Super Sport is a more powerful, faster version of the Bugatti Veyron 16.4, with increased engine output and improved aerodynamic package.
Its quad-turbocharged engine delivers the power of 1,184 HP at 6400 rpm and a maximum torque of 1,106 pound-feet at 5000 rpm, taking the vehicle from 0-100 km/h in just 2.5 seconds.
With the electronic speed limiter turned off, the car can achieve a top speed of 267.8 mph. This made the Super Sport the world's fastest production road car at the time of its launch (2010). By default, its speed is electronically limited to 258 mph (415 km/h) to protect the tires from disintegrating.
The company produced a total of 30 units in 2010 and 2011. However, the Super Sport World Record Edition is limited to 5 units. Those 5 versions have a unique black exposed carbon body, orange wheels, orange body detailing, and no electronic speed limiter.
6. Hennessey Venom GT
Top Speed: 270.49 mph (435.31 km/h)
Base Price: $1.25 million
Units: 13
Texas-based Hennessey Performance Engineering manufactured all units of Hennessey Venom GT (7 Coupes and 6 Spyders) between 2011 and 2017.
In February 2014, the Hennessey team recorded a top speed of 270.49 mph in a limited distance of 2.3 miles, on NASA's space shuttle landing runway in Florida.
The car is powered by a 7-liter twin-turbocharged GM LS7 V8 engine, which delivers a power of 1,244 HP at 6600 rpm and a torque of 1,155 pound-feet at 4400 rpm. It has a curb weight of 2,743 pounds aided by carbon fiber wheels and bodywork.
The fastest edition of the vehicle, Venom GT couple, is limited to 3 units. They were all sold to customers shortly after the manufacturer announced their production.
5. Koenigsegg Agera RS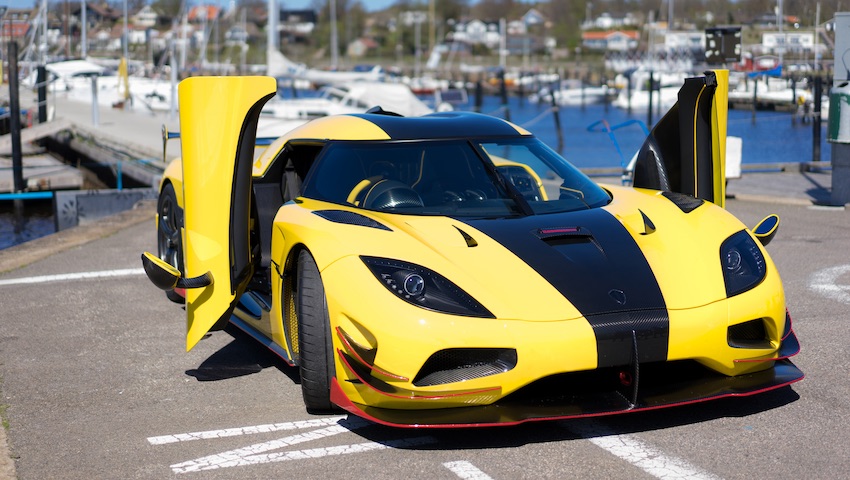 Top Speed: 277.87 mph (447.19 km/h)
Base Price: $2.1 million
Units: 25
The Koenigsegg Agera RS was introduced at the 2015 Geneva Motor Show. It combines the features of the Agera R and the Agera S.
New enhancements include advanced lightweight sound insulation, front splitter optimized for the track, advanced dynamic underbody flap system, and a dynamically active rear spoiler for added downforce (992 lbs at 155 mph).
The 5-liter, twin-turbocharged V8 engine provides 1,160 HP on conventional pump gasoline, while the optional 1-megawatt package (included in 11 cars) elevates the engine's power to 1,341 HP.
In 2017, the Agera RS became the world's fastest production car, setting a record for the fastest straight-line speed of 285 mph (458 km/h) and a two-way average top speed of 278 mph (447 km/h).
4. Koenigsegg Jesko
Pre-production model at the 2019 Geneva International Motor Show
Top Speed: 300 mph (482.8 km/h)
Base Price: $2.8 million
Units: 125
Unveiled at the 2019 Geneva Motor Show, the Koenigsegg Jesko can hit 1,600 HP on E85 biofuel or 1,280 HP with regular gasoline. It is named after the company founder's father, Jesko von Koenigsegg.
At the core of its newly designed engine is the world's lightest V8 crankshaft. The flat-plane 180-degree crankshaft weighs only 12.5 kilograms: it allows Jesko to produce more power with greater efficiency while achieving a higher 8500 rpm.
The engine is mated to an all-new 9-speed multi-clutch transmission named 'Light Speed Transmission'. It has 21 gear combinations and 7 clutches, which allows the driver to jump to any gear without disturbing the ratio. The shift time ranges from 20 to 30 milliseconds.
Its aerodynamic design features active, top-mounted twin-step rear wing, and enlarged front splitter with active and independent front underbody aero inlets.
The company will produce only 125 units of the Jesko. Despite its mind-melting price tag, 90 units had already been pre-sold before the Jesko's official launch.
3. SSC Tuatara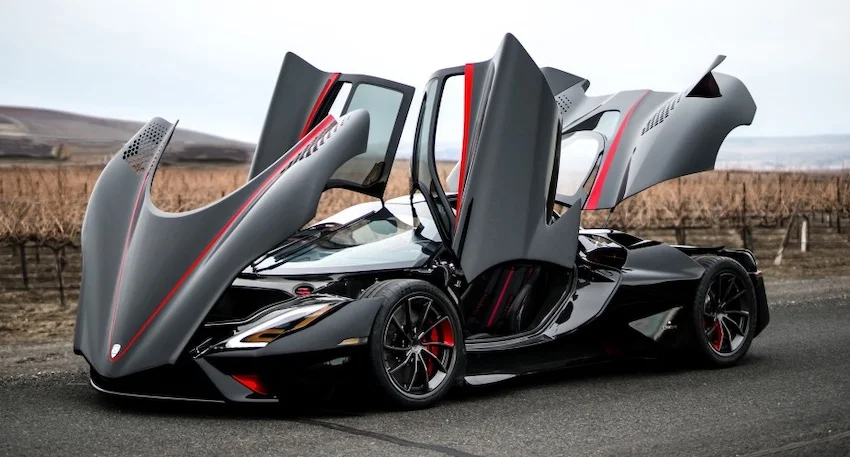 The SSC Tuatara in party mode | Credit: SSC North America
Top Speed: 300 mph (482.8 km/h)
Base Price: $1.7 million
Units: 100
The SSC Tuatara is an upcoming high-performance sports car to be manufactured by SSC North America. Influenced by fighter jet performance and aerodynamics, the presence of the Tuatara inspires a sense of both intensity and simplistic design.
The car is named after reptiles endemic to New Zealand, known for having the fastest evolving DNA of any living animal.
The Tuatara was planned to be powered by a 6.9-liter twin-turbocharged V8 engine, but later the engine was decreased to 5.9-liters to achieve a higher redline of 8800 rpm. The power output would be 1,750 HP on E85 fuel and 1,350 on 91 Octane fuel.
With a carbon-fiber body, the lowest coefficient of drag (0.279), and the 7-speed robotized transmission configured for aggressive 50-millisecond shifts, SSC aims to set new benchmarks in the production car speed records.
2. Bugatti Chiron Super Sport 300+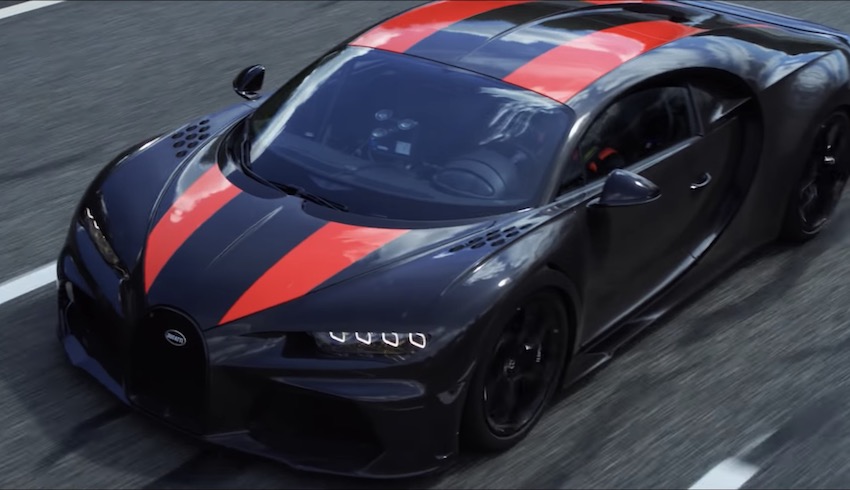 Image credit: Bugatti | YouTube 
Top Speed: 304.77 mph (490.48 km/h)
Base Price: $3.9 million
Units: 30
In August 2019, Andy Wallace, a professional racing car driver, achieved the maximum speed in the pre-production prototype of the Chiron Super Sport 300+.
The car is powered by a 1,578 HP quad-turbocharged W16 engine. Unlike the standard Bugatti Chiron, it has increased top speed, an enhanced gearbox with longer ratios, and a specialized paint scheme featuring raw carbon fiber body.
Both front and rear bumpers have been optimized for aerodynamics at high speed, increasing the overall length of the car by 9.8 inches.
For safety reasons, the top speed of the car is electronically limited to 261 mph (420 km/h). However, the company will also customize the car for owners who want to test it at its full potential at the Ehra-Lessien track.
The company will produce 30 units, and delivery will most likely start in mid-2021.
Read: 17 Different Car Engine Types
1. Hennessey Venom F5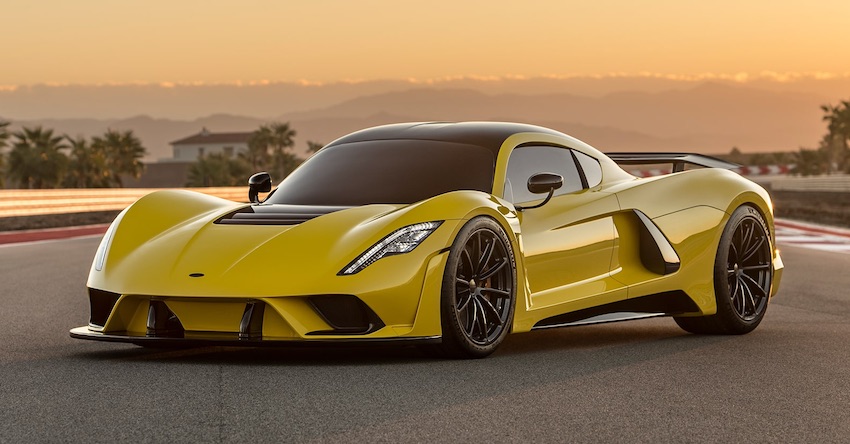 Top Speed: 310.7+ mph (500+ km/h)
Base Price: $1.8 million
Units: 24
The newly founded American vehicle-manufacturing company, Hennessey Special Vehicles, is set to release a high-performance sports car named Hennessey Venom F5. The F5 name is a reference to the F5 tornado, the strongest tornado on the Fujita Scale.
Based on V8 architecture, the engine will deliver 1,817 horsepower and 1,193 pound-feet of torque at 8000 rpm. It will be equipped with a pair of Precision ball bearing twin turbochargers and lightweight components like crankshaft, piston, connecting rods, and custom engine block.
The engine places the intercooler between the plenum and cylinder heads, which results in higher air density and power efficiency. It also features a multi-stage dry-sump oiling system that keeps synthetic motor oil flowing through the heart of the engine at all times, even at its 8000 rpm redline.
According to the company's founder and CEO, John Hennessey, the Venom F5's entire body (made of carbon fiber) has been designed to propel the car to a speed of over 310.7 mph (500+ km/h).
Read: The Evolution of Cars: 1769 to Present
Venom F5 will be launched at The Quail during Monterey car week in August 2020.  The company plans to build 12 units for the American market and 12 for international markets.