A box that changed the whole world. A box that worth more than $100 billion. No need to describe what it does. We all know the power of Google Search box. And since its inception, it is getting smarter day by day.
The main aim of search engines is to provide the accurate and helpful information of what user is asking for. And Google is the master of this job. It can fill you with all precise information without landing on any webpage. Yes, it understands the query as human does and responds a way faster than we do. Google has entirely changed the definition of search engine. To minimize your searching time and help you find the results we are going to introduce some amazing features of Google search box. Let's see how many of those you are familiar with…
Update: 
Locate Your Android Device
Find out: How Smart is Google Answer Box (including wrong results). 
1. Get the day and date, just by entering the festival name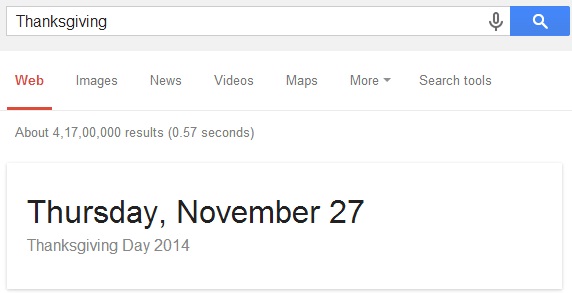 2. "Songs by" will show you the list of songs by an artist
3. "Books by" will display the list of popular books by an author
4. "Movies by" will display the list of popular movies associated with the person
5. Get the meaning/synonym of any word
6. Translate the word to another language
7. "Graph for math function" will show you the function plot
8. "Solve any shape" triangle/rectangle/square/circle etc.
9. Get the exact current "time" date and your location
10. Convert any currency
More to read: 12 Most Interesting Facts about Google
11. Do the math
12. Access the "cache:websitename.com"
13. Set the timer
14. Get the flight Schedule, just by entering flight number
15. Convert the distance/temperature/mass/speed/area/volume/time etc.
16. Sunset and Sunrise time
17. Get the weather details on your location
18. Live sports score
19. List the film showing
20. Founder of the Company
21. Informs you about Distance from location
Search
Recommended: 200 Google Ranking Factors
22. Search for word in exact order by putting quotation mark
23. Search within a site
24. Search for a word in title
25. Search for all words in title
26. Search for words in URL
27. Find similar content to URL
28. Exclude the word from search results by adding "-" minus sign.
29. Find specific file type
30. Search within a range of price. "Lowest price..Highest price limit"
31. Results from particular location
32. Find the article containing exact text
33. Find the article where one term appears in text and other term appear elsewhere (eg in title/image name)
34. Convert Numbers to Words
Additional Cool Tricks
I am not gonna spoil the fun by adding screen shots here. Enter the below texts in Google search box and see what happens.
Askew/Tilt
Do a barrel roll
Blink html
Marquee html
Webdriver torso
Zerg rush
Google Pacman
Google in 1998
Festivus
Recommended: 125+ Google Now Voice Commands + Infographics