Telegram is a free instant-app service founded by people behind VK, which is Russia's biggest social networking site, primarily focused on speed and user privacy. Initially released in August 2013, the app has managed to get over 400 million monthly active users.
In spite of this whooping figure, Telegram is way behind the world's most popular messaging service, Whatsapp. However, it has all the potential to get over a billion active users.
There are many astonishing features that set Telegram messenger apart from other messaging services. For instance, you can coordinate groups of up to 200,000 members, send documents of any type, destruct your messages with a timer, or even build your own tools on their API.
If you've already downloaded the app, here are some cool tricks that will help you use Telegram more efficiently. We've described the features and how to use them. While instructions are specific to Android devices, you can follow them on iOS devices too.
25. Edit Photos/Videos Before Sending Them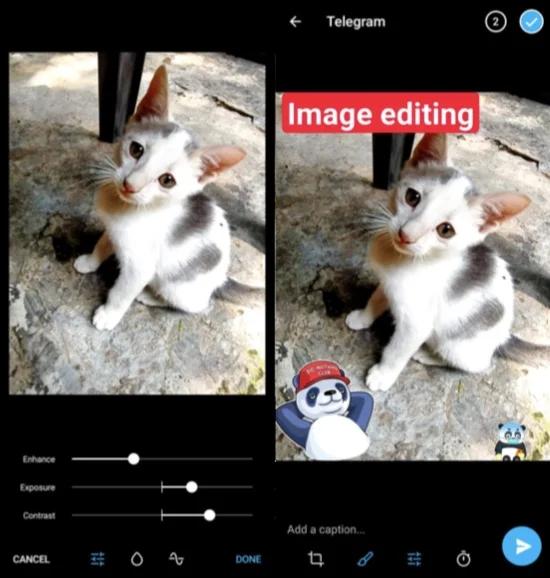 You don't need a separate image/video editor to make your photos/videos more compelling. You can do it right in the telegram app using its intuitive interface.
To edit photos/videos, click on the "attach file" and select a file from the gallery, or capture a new one from the camera. Once you do that, you will see various options to edit the file before sending it. You can crop the picture, adjust colors, exposure, contrast, and add emojis and text to videos.
24. Self Destruct Messages on Secret Chats
Sometimes you don't want to leave any evidence of what nonsense you are about to say. Instead of deleting chats manually, you can use self destruct messages on secret chats by setting a timer.
To set self-destruction timer, swipe right on the homepage, tap "New Secret Chat", and add recipients. Now simply tap the clock icon and set Self-Destruct Timer to the desired time limit (from 1 second to 1 week). The clock starts ticking the moment messages are displayed on the recipient's screen.
23. Terminate Active Sessions
If your device is stolen or someone took it, and you don't want him/her to see the messages in your chat window, then you can simply terminate all the active sessions with just one click using your Mac, Desktop, Linux or Web client.
To terminate all active seasons, go to "Settings", select "Privacy and Security", and then click on "Active seasons". It will show you all active sessions along with your device info. Select the one you want to terminate or terminate all of them in one go.
22. Clear Telegram Cache and Local Database
Telegram allows you to manage the device storage: you can choose to delete media (photos, videos, and other files) shared on the app. All files will be deleted from your device after the specified duration, but they will stay in the Telegram cloud forever, so you can re-download them when you need them again. There is also an option to delete the cache and local database.
This is a handy feature for users who want to save disk space. To access it, go to the "Settings", "Data and Storage", and then tap "Storage Usage". You will find four options: keep media on your device for three days, one week, one month, or forever.
21. Auto-download and Auto-play Media
While you can receive/send files irrespective of their type and size, you can disable automatic media download and auto-play media to save mobile data. This way, you can also avoid downloading unnecessarily large files.
To enable it, go to "Settings", "Data and Storage", and turn off automatic download "when using mobile data" and "when roaming". You will also see options to turn off autoplay "GIFs" and Videos".
Furthermore, you can view how much Mobile or WiFi data you have consumed so far. Just tapping on "Data Usage", and it will show you "Bytes sent" and "Bytes received" of individual file types.
20. Hide Your 'Last Seen' From Certain Users
Telegram gives you an option where you can select who can see your last seen time. To configure this, go to "Settings", "Privacy and Security" and then tap on "Last Seen & Online". You can share it with everybody, or people in your contact list, or nobody, or add exceptions like "never share with" XYZ.
Similar options are available for sharing your phone number and profile photo. You can also select who can add a link to your account when forwarding messages, who can call you, and who can add you in groups.
19. Drafts
Sometimes people interrupt you halfway through typing an important message, and you forget all about it—this where drafts come in handy. Your unfinished messages (drafts) are automatically saved and synced across all devices.
This means you can start typing a message on your mobile and continue on your desktop. The draft will remain in the editing area on all sync devices until it is sent or deleted.
18. Custom Folders
This feature allows you to filter out and put personal chats, channels, groups, contacts in different and customized folders. You can customize folders the way you want, plus there are some additional features. For example, you can have all chats with unread messages automatically added to a folder.
On desktop applications, chat folders are displays in the sidebar. In the mobile app, these folders are arranged in tabs that can be easily swiped between.
17. Customize Theme and Message Corners
Telegram offers plenty of options for customization to make the app feel like a truly personal experience. Here is the list of interface element you can change:
Chat background
Color-theme of the app
Message corners
Turn off/on the auto-night mode
Display large emojis
In addition to these functions, you can enable in-app browsing that lets you open external links within the app. All these options are available under the "Chat Settings" section.
16. Share Live Locations
This is useful when you are on your way to a meeting or trying to coordinate with friends at a large event. Rather than sending static locations every minute, you can share your live location with your friend circle for 15 minutes, 1 hour, or 8 hours. Of course, you can stop sharing at any time.
When multiple users share their live location within a group, they're displayed on an interactive map. To use this feature, choose "location" from the attachment menu and tap on "Share my location for…"
15. Lock Your Conversations
Most people use third-party apps to make sure that no one gets a hand on their private conversations. Telegram, however, has its own lock function to hide privates messages behind a passcode.
To lock your messages, go to "Settings", "Privacy and Security" and tap on "Passcode Lock". You will be asked to set a four-digit passcode and confirm it. Once you do that, you will find additional options to "unlock the app with fingerprint" and "auto-lock" it after a specific duration.
14. High-Quality Stickers
Digital Stickers allow you to express yourself better and in a more fun way. Since they are bigger, more detailed, and frequency animated, they make up for the expressiveness and gesture that can get lost in text conversations.
With Telegram, you can send thousands of high-quality stickers right from the chatbox. Just tap the "sticker icon" on the left bottom, and it will show you dozens of trending stickers and masks. You can search for specific stickers and add them to your virtual keypad.
13. Keep-Alive Service
"Keep-Alive Service" ensures that you don't miss any important notifications. It keeps the messaging app running in the background for reliable and up-to-date notifications. This is useful for people who use 'Cleaner' apps and frequently delete system cache and junk files.
To enable or disable this service, go to "Settings", "Notification and Sounds", and swipe down to the "Other" section. You will also find a "Repeat Notifications" option, which you can select as per your convenience.
12. Telegram Bots
Telegram bots are nothing but regular telegram accounts, which can be coded and used to add more features to enhance user experience. You can find these bots from the top search bar on the homepage. For example,
@ImageBot – sends pictures related to your keywords.
@RateStickerBot – allows you to rate random stickers and discover new sticker sets.
11. Free Unlimited Online Storage
There are many cloud services to select from; each has its own features and costs. Telegram has embraced this functionality in a unique way.
Telegram Cloud is just like a chat, where you can save almost all common file types (such as text messages, images, links, audio and video notes, locations, contacts, and links) as long as they are not bigger than 1.5 GB.
To access this feature, swipe right on the homepage and tap on "Saved Messages". This is your personal space, where you can send as many files as you want to store on Telegram Cloud and then access them from any device, including Mac, PC, and Linux computer.
10. Create Channel
Telegram has a unique feature called Channels that allow you to broadcast messages to large audiences. Unlike Groups, Telegram Channels can have an unlimited amount of subscribers, and only admins have the right to post content.
They offer a great opportunity to reach people directly, sending notifications to their devices with every post. Users can join and leave channels at any time. And once they join a channel, they can see its entire message history.
The platform supports two types of channels: public and private. The former can be found in search, and anyone can join them, whereas the latter can be joined only via invitation links.
To create a channel, right swipe on the homepage, and tap on "New Channel". Provide your channel name, description, select channel type, and create a unique URL. That's it.
9. Polls
Polls are a feature of Telegram that work with channels and groups. They are used for a variety of things, from organizing leaderless protests to deciding where to have lunch.
The platform offers three kinds of polls:
Visible Votes: Creator can allow everyone in the group to see who voted for what.
Multiple Answers: It is the best way to settle the score by allowing members to select multiple answers.
Quiz Mode: They have one correct answer and can power anything from public service exams to trivia games.
To create a poll in a channel or group, simply select the "Poll" option in the attachment menu. Type in your question, add answer options and choose the configurations that fit your purpose best.
8. Send Scheduled and Silent Messages
Telegram has a feature that not only lets you send messages at a particular time but also on a particular date. Just hold the "send" button in any chat and choose "Schedule Message" to automatically send content at a specified time in the future. This feature also works in your "Saved Messages" chat, turning your planned messages into reminders.
Another useful feature is "send without sound". It is rather self-explanatory: you can message friends freely when you know they are attending an important meeting, studying, or sleeping. Recipients will get a notification as usual, but their device won't make sound, even if it is in general mode.
7. Edit Sent Messages
How often have you sent a message to a colleague or friend and then realized it is filled with typos? With Telegram, you can quickly make it right with its edit feature.
Just press and hold on the message you want to change and then tap the "edit" button. From there, you can modify the message and resend it. Telegram will put an "edited" label on the message to let recipients know of the update.
6. Send Uncompressed Media
While you can send uncompressed media in other messaging apps, you have to convert it in another format like EXE or PDF. Telegram, however, allows you to send uncompressed video and images directly (without converting them into another format). It saves you a lot of trouble.
To do this, choose the items you want to send and tap on the three-dot menu. Now select "send without compression", and you are good to go.
5. Slow Mode
If you are a group admin and it's getting hard for you to manage the group due to the sheer amount of messages, you can use utilize the slow mode feature.
Let's say you have enabled the "Slow Mode" and set an interval of 1 minute. Now members in the group can only send one message per minute. A timer will show them how long they have to wait before sending the next message.
This kind of feature can make conversations more orderly while increasing the value of each individual message. You can enable this option from the "Group Permission" section. Keep it on forever, or toggle as necessary to throttle rush hour traffic.
4. Search Friends by Username
This security-focused messaging app allows you to register a unique username so that people can message or add you to groups without necessarily knowing your phone number. This way, you can keep your number private.
To create a username, go to "Settings" and tap "Username" under the account section. There is also a "Bio" option, where you can add a few lines about yourself. Anyone who opens your profile will see this text.
3. Add People Based On Your Location
Telegram now allows you to add people who are near you. If the person on the other side has made his/her profile visible, you can see his/her name in the search. Just tap on the name to exchange contact info.
The app also lets you make location-based groups, a local group that works in a small region for co-worders, students, or neighbors. Once you have created the group, users in the vicinity will be able to view it on their device and join.
To make such a group or find people near you, swipe right on the homepage, tap on "Contacts", and then tap on "Find People Nearby". You will see a list of nearby people and groups sorted by distance.
2. Create APIs
Telegram offers two types of APIs for developers. Both are free of charge.
Bot API: lets you build programs that use Telegram messages for an interface. You don't need to have knowledge of MTProto encryption protocol. The intermediary server will handle all communication and encryption with Telegram API for you.
Telegram API: lets you create your own customized Telegram clients. You can read Telegram's open-source code to know how the platform works.
You don't have to start from scratch to make Telegram apps. TDLib (Telegram Database Library) makes it easy to develop feature-rich and secure apps. It takes care of local data storage, network implementation details, and encryption so that you can focus on design and interfaces.
Read: 7 Best Facebook Alternatives That Keep Your Data Private | 2020 Edition
1. Security
Perhaps the most important and the best feature of the Telegram app is its security. It is based on the MTProto protocol that is built upon time-tested algorithms. It enables high-speed, reliable message delivery on weak connections.
Telegram supports two layers of secure encryption. Cloud Chats use server-client encryption while Secret Chats use an additional layer of client-client encryption. All content is encrypted in the same way — be it media, text, or files.
The encryption is based on 2048-bit RSA encryption, 256-bit symmetric AES encryption, and Diffie–Hellman secure key exchange.
Read: 8 Most Common Encryption Techniques To Save Private Data
Should You Trust Telegram? 
Unlike mass-market messengers like WhatsApp and Line, Telegram is an open-source app. This means anyone can check the app's source code, protocol, API, and see how it works and make an informed decision.
In fact, Telegram supports verifiable builds that allow outside developers to check whether the code published on GitHub is the exact same code that is used to create the app, which you have downloaded from Google Play or App Store.