Everyone wants to be fit. I mean, who doesn't want toned muscles and carved abs for themselves, or at least a good lean look? But becoming fit is not so easy. You have tones of things that you need to keep in mind, spend a lot of time in the gym and be patient to achieve your desired results.
That's why some people have personal trainers and nutritionists, who take care of everything regarding their physique. Well, I know you don't want to have a personal trainer, but what if I tell you, your own smartphone could be your personal nutritionist or trainer. All you need to do is download a good personalized fitness app.
While most of them can be downloaded freely, you have to pay in order to use their advanced features. Anyway, below are 20 best fitness app for Android and iOS that you should try this year.
20. Fitness Buddy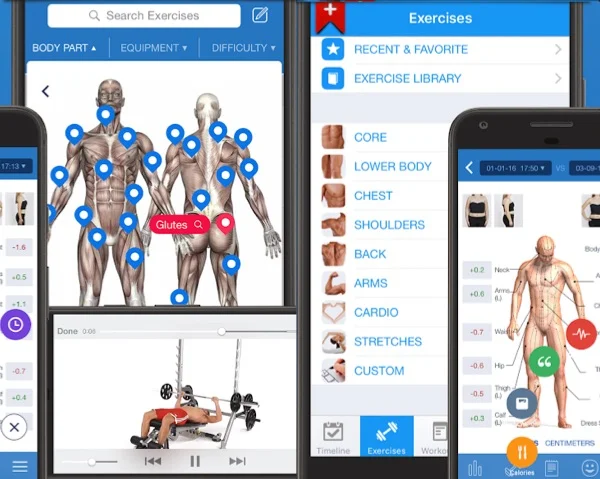 Platform: Android/iOS
Price: Free, $29.99/year
Fitness Buddy helps you to achieve your fitness goals, whether it's muscle-building, belly fat reduction carved abs or powerlifting. It features a comprehensive workout routine and tons of effective exercises both with and without weight. You can also track your progress of your individual muscle group.
19. CARROT Fit
Platform: iOS
Price: $3.99
CARROT, a cold-blooded AI, has only one goal; to transform your fat, chubby body into an attractive human specimen and she is willing to do whatever it takes. She will try to inspire you, bribe you to get fit and if that's not sufficient, then get it done by threatening and intimidating. Her tagline is "You will get fit – or else!"
CARROT tracks your progress and constantly evaluates your performance and where you stand on your weight loss goal. If CARROT is satisfied with your results, then you are in for rewards, including app upgrades and cat facts. However, if she is unimpressed, things might get a little scary for you.
18. Couch to 5K
Platform: Android/ iOS
Price: Free, $2.99/month
Couch to 5k is a great app for runners. The app is specifically designed to make running 5k (3.1 mile) achievable for almost anyone. All you have to do is dedicate half-a-hour, three days a week for 9 straight weeks, and you should do it for you.
The app features a virtual coach, from whom you will get audio guidance on your routine. After you are done with this, you can carry on with 5k to 10k app.
17. Google Fit
Platform: Android
Price: Free
Google Fit is an absolutely free fitness app which you can use to enhance your training experience. With the app you can track your outdoor physical activities without any hassle. Set your own fitness goals and reach them while constantly monitoring your performance.
The app provides seamless integration with other popular fitness apps like MyFitnessPal, Strava and Runkeeper from where it can pool all your fitness information into one place. Since it's a Google product, you can check your progress from multiple devices including Wear OS.
16. Trifecta
Platform: Android/ iOS
Price: Free, $49.99
Trifecta is an all around fitness tracking app. With more than 750 different workouts and a gigantic database of 6 million food items, it can take care all of your fitness needs. No matter whether you are a gym freak or likes to sweat it out inside the home, Trifecta can track all your workout.
You can also keep an eye on your daily calorie intake, water consumption and physical workout. All you have to do is feed the information. Track your progress with the help of interactive charts and graphs.
15. Calm
Platform: Android/ iOS
Price: Free
Calm is one of the best fitness apps out there that's focused solely on full body recovery. Not only it can take the edge off after an intense workout session, it can help you manage anxiety and stress with the help of meditation. While Calm is intended for beginners, many moderate and advanced programs are also included in this app.
14. Aaptive
Platform: Android/ iOS
Price: Free, $14.99/month, $99.99/year
Aaptive is a unique way to train and achieve your fitness goals. Unlike other apps, it's an audio driven trainer, which feeds workout schedule straight to your ears. Aaptive features over 2,500 different audio lessons, with about four dozen new lessons added each week.
All the instructions are given in simple language and are easy to follow. You can also download instructions to listen it anywhere anytime. You can use the app for free, but in order to access their entire library you have to pay.
13. Lose It!
Platform: Android/iOS
Price: Free, $29.99
Are you struggling to cut loose the last few pounds of weight? If yes, then you should try Lose It!. It employs a simple technique to help you lose weight effectively, that is calorie monitoring. Just download the app, feed what you want to achieve and then you are good to go.
12. Lifesum
Platform: Android/iOS
Price: Free, $44.99/year
LIfesum is a great way to maintain your daily nutrition in order to reach your fitness goals. To use Lifesum, you have to take a questionnaire, where you fill your goals and preferred foods among other options. The app will generate a diet recommendation based on your preferences and weight loss goals.
Moreover, the app comes with a food diary and several diet tips. With its paid subscription you get more in-depth analysis of your progress. Lifesum can also make sure that you never skip a meal or a water break ever.
11. Charity Miles
Platform: Android/ iOS
Price: Free
Charity Miles is not just a free app for tracking outdoor physical activities. Each time you use this app either while walking, running or cycling you help raise money for charities. Charity Miles is working with multiple sponsors, who agreed to pay a small amount of money to a charity of your choice for each mile you complete.
10. Sleep Time
Platform: Android/ iOS
Price: Free, $9.99/month, $29.99/year
A good sleep is just as important as any physical activity, since your mind and muscles need adequate rest to recover from tiring workouts. Of course, there are few fitness apps that monitor your sleep cycles, but since they are focused on other aspects of fitness, you are missing out on many things.
Sleep Time is a smart tracker app that employs precise logic to enhance your sleep quality. It can monitor movements while you are asleep to analyze REM and non-REM sleep cycles in order to learn the best time to wake you up.
You can always opt for the paid version in order to gain access to advanced features including motivational audio pack and priority support.
9. Sworkit
Platform: Android/iOS
Price: Free, $4.99/month, $39.99/year
Sworkit is a smart choice for people who don't want to go the gym or lift weights, but are serious about muscle building and getting stronger. After downloading the app, you have to define your goals and provide your fitness level in order to get a tailored one and a half month fitness schedule.
8. Strava
Platform: Android/ iOS
Price: Free, $6/month, $59/year
Strava can turn your phone into a smart fitness tracker. The app can help you maintain an efficient record of your fitness activities, favorite running and cycling routes. You can also monitor the total distance you have covered, calories burned and top speed.
It is not limited to just cycling and running, as Strava can monitor activities like swimming, gym workouts, rock climbing, etc. The app also features social media capability which allows you to post your progress and share them with friends and family.
7. Home Workout
Platform: Android/ iOS
Price: Free, $2.99
Home Workout is a perfect app for those who don't want to spend money on gym memberships or buy weight equipment in order to build some lean muscles. The app provides you with various comprehensive body weight exercises for your chest, arms, abs and legs along with other necessary tools.
Each exercise comes with visual guidance, so you can make sure that you are doing it the right way. Apart from exercises, the app also stores your training progress automatically and also record your weight over the time.
6. Endomondo
Platform: Android/ iOS
Price: Free, $5.99/month, $29.99/year
Endomondo is a perfect candidate for a smart companion in your quest to be fit. With this app you can easily track all your outdoor activities including walking, running and cycling. You can later analyze your daily performance, calories burned and total distance covered, etc.
Endomondo can easily integrate with a number of apps and hardware, including Pebble and Android Wear. The app allows you to connect with your friends by sharing progress and exchanging real-time pep talks, and you can enjoy all this for free.
Users who want advanced features like a personalized training plan, heart rate monitor and an ad-free experience have to opt for paid subscription.
5. Nike+ Run Club
Platform: Android/ iOS
Price: Free
Nike+ is a highly popular fitness app, especially among those who loves running. The app provides you with all the tools necessary to enhance your track performance. It also keeps you motivated when you are low on fuel.
The app offers customized workout plans that suit your lifestyle. It also tracks all your records and performances and reward you with badges and trophies when you reach certain milestones or on a streak.
A cool distance leaderboard allows you to compete with friends and peers. Also, you can go social by posting your stats, photos and controlling who can see those.
4. 8fit
Platform: Android/ iOS
Price: $59.99/year
8fit is one of the best fitness apps that you can get right now. The app provides custom exercise and meal plans specifically according to your needs. It doesn't matter if you are just a beginner or a fitness freak, 8fit have you covered.
With over 350 exercises and 400 healthy recipes, 8fit can be your workout trainer when you want it to be one and it can also be your personal nutritionist when you need one.
Read: 18 Best News Apps For iPhone and Android To Stay Updated
3. JEFIT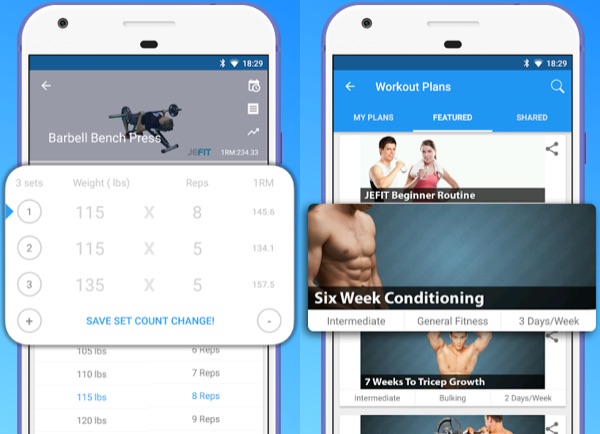 Platform: Android/ iOS
Price: Free, $6.99/month
JEFIT is the app all fitness buffs should look out, who likes to spend more time in the gym. The app can be your personal trainer and help you achieve fitness goals while keeping you motivated. JEFIT offers you tailored training programs focusing on fat loss, power-lifting, strength building or Greyskull LP.
If you are not happy with predefined workout routine, you can always make your own custom schedule. It can effectively track all your workout for a thorough analysis.
Additional tools such as rest timers, notes, scheduler and interval timers can further enhance your body building experience. You can also access your JEFIT account from a desktop. Users can also opt for paid subscription to unlock its advanced features.
2. Runkeeper
Platform: Android/ iOS
Price: Free, $9.99/month
Regular running can help you maintain your weight, substantially improve your cardiovascular and respiratory system along with loads of other benefits. However, in today's busy life, it takes something more than inspiration to keep you engaged in outdoor activities. RunKeeper can be that 'something' you are looking for.
With Runkeeper, you can not only track all your outdoor workouts, but you can also create personalized goals that fit your busy schedule and share them with your friends. It helps you to stay motivated all time with audio cues. RunKeeper can easily be integrated with other fitness apps like MyFitnessPal and Fitbit.
1. MyFitnessPal
Platform: Android/ iOS
Price: Free, $5.99/month, $49.99/year
MyFitnessPal is an extremely popular fitness app among enthusiasts around the world. With this app you can monitor your eating habits and track your daily calorie intake. All you have to do is feed everything you have eaten and it will calculate their nutrition value with the help of its vast food database.
Read: 16 Best Smart Notification Apps for Android Users
You can also use the app to track your water intake throughout the day and weight loss goals plus few healthy recipes that you can try at home. App's interface is clean and easy to use. In 2015, the app was acquired by American fitness apparel giant Under Armour for $475 million.