Electronic Commerce is a multi-billion dollar industry which is constantly evolving with new technologies. Even small and medium size retailers can now enjoy the leverage of the Internet and expand their business to a global level.
To set up your own eCommerce platform, you don't require any coding or technical skills. You can build an entire online shop by yourself without spending much money (except for servers).
There are plenty of CMS (Content Management System) that help you create physical stores, using configurable and customizable interface. They contain all utilities and features such as templates, SEO friendliness, stock control, catalog management, shopping cart, shipping gateways, tax rates, discounts and more.
Figuring out which platform to use can be quite confusing, especially if you are not from a technical background. This article intends to make your research work easier by helping you select the CMS best suited for your needs. Choose wisely.
16. nopCommerce
nopCommerce is an open-source eCommerce solution, built on Microsoft technology, ASP.NET with MS-SQL database. From download to documentation, it offers a comprehensive base of information, resources and support. The platform has everything you need to get started to sell your online products, whether you are selling physical or digital goods.
Read: 20+ Perfect Places to Sell Your Design Work Online
15. simpleCart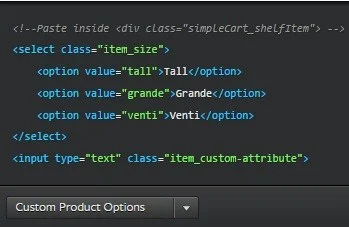 simpleCart is an open-source JavaScript shopping cart that easily integrates with your website, with no database, no programming headache. All you need to know is basic HTML and you have control over the order, content and styling of cart items. This tiny platform (around 8KB in size) has the ability to operate independent of database. It also supports a wide range currencies and payment gateways.
14. Shoppe
Shoppe is an open-source eCommerce platform for Ruby on Rails. It's a complete solution for anyone who wants to develop an online shop and doesn't fancy over complication or excessive transaction costs and monthly subscriptions. Shoppe provides back-end and all the model need to keep everything together. A beautiful interface allows you to manage product catalogs, orders and array of other setting of your store like delivery service, tax rates etc.
13. VirtueMart
VirtueMart is Joomla MVC based CMS that allows you to create whooping product catalogs. There are tons of free templates available for this framework alongside with plenty of Joomla plugins for enhanced management of cost calculation, discount, shipping and more. It also supports Ajax reload of product variants and related products to enhance the browsing experience significantly.
12. TomatoCart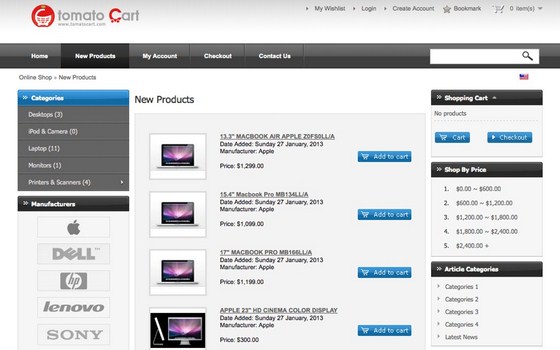 TomatoCart is open source shopping cart, based on Codeigniter. With easy-to-use GUI, you can add and override new features and functionalities without ever touching the source code. It is implemented with ExtJS RIA framework, and has support for multiple payment gateways, shipping options, promotion tools, email system, SEO, statistics and reporting system.
11. UberCart
A Drupal eCommerce extension that can be used for building a community around a product, offer paid file downloads, sell access to premium content and much more, while managing a seamless connection to your visitors. The best thing is you can fully integrate your store with the rest of your website. Developers can add or tweak UberCart features to accommodate virtually any online store needs.
10. OpenCart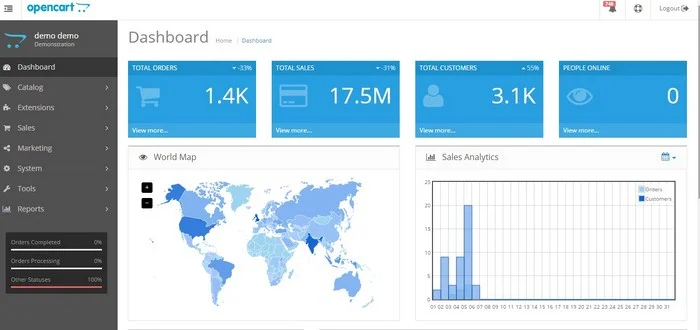 OpenCart is an open source CMS for eCommerce. It comes with an intuitive admin interface that allows you to have complete control over your store. Thousands of search engine friendly themes are available and you can even customize them according to your convenience. Moreover, there are 20+ payment gateways and 8+ shipping method.
9. SpreeCommerce

SpreeCommerce is a modular platform that allows easy customization and upgrades so store owners can configure it for their specific needs. It has built-in subscription functionality, which lets users sign up to your store to continuously receive your service or product, without re-purchasing it. In 2013, they launched an integration platform, Wombat, which automates backend operations for storefronts using any platform.
8. ZeusCart
ZeusCart is well stable and rich interface shopping cart that allows a non-technical person to open an online shop, with minimal effort. Along with essentials like shopping cost calculator and payment gateways, it also includes a number of marketing tailored features that can help you increase sales, promote re-purchases and boost customer satisfaction.
ZeusCart's default theme is built on the bootstrap which is equipped with advanced search functionalities, SEO, comparison shopping, and you can use your creativity to add powerful features to let it work for your business.
7. osCommerce
osCommerce allows small and mid-sized businesses to securely sell products and services worldwide. The platform has more than 7,000 add-ons to customize your store, and growing community of over 260,000 developers, retailers and service providers can help you at any stage of running your online business.
It's a complete self-hosted online store where you'll have full access and total control over your store and data. It also supports multi-language and multi-currency feature that help you create scattered selling model with different stores for different location.
6. LiteCommerce
You can use LiteCommerce as Drupal module as well as standard eCommerce platform. It is built on modern object-oriented MVC architecture, using ORM technique. For better shopping experience, it is included with fast Ajax store front interface, fast one-page checkout, product quick look, full drag-drop support and more.
After installing a pre-built CMS package, you instantly get a running eCommerce site with a neat design, shopping cart and a set of sample products. It is fully customizable and there are tons of extensions and add-on modules to extend its functionality.
5. Drupal Commerce
Drupal eCommerce is an open-source framework used to create engaging web-experience that brings e-retailers more traffic to drive more results. It is the only eCommerce platform built upon an enterprise CMS that provides optimized merchandising tools, and proven SEO tools.
The platform is highly extensible and can adapt to meet the changing needs of sites of any size through integration of 3rd party system. Furthermore, you have complete control over the front-end design, which you can tweak through Drupal's theme layer.
4. CubeCart
CubeCart is a feature rich eCommerce script with all functionalities required to sell your products and services. The platform can handle thousands of products, category logs and orders. You get access to 100% source code and technical support.
The admin panel displays plenty of information about your site including sales and stock reports. You can export these reports as spreadsheets. Moreover, the platform supports caching, server request logging, spam control, development and debugging tools.
3. Zen Cart
Zen Cart is open-source shopping cart software with easy-to-install and easy-to-understand web store setup. With ample product management features and a fair degree of customization, Zen Cart is hassle free foray into the realms of eCommerce for most users. You can implement all sorts of delivery prices, from shipping cost to charging a flat rate.
Just install the CMS on your server and add any Zen Cart template with a presentable web store design and you are ready to go. There are additional widgets like Google maps, Facebook integration, event calendars that can help you sell well.
2. WooCommerce
WooCommerce is used for creating online shopping website on the WordPress platform. Whether it's product in various forms or software, or even affiliated items, you can sell anything. It works with almost all WordPress themes, including the default one.
The plugin is included with smart dashboard widgets and reporting system to give you exact information about sales, reviews, stock levels and general store performance and statistics. WooCommerce takes care of all back-end process, including payment gateways and additional shipping methods. It's up to you how you customize front end.
1. PrestaShop
PrestaShop is one stop solution for small, medium as well as large sized retailers. There are not many CMS that matches the feature richness of PrestaShop. It includes a powerful catalog management system with differentiated displays, marketing tools and security, tons of premium templates, inbuilt SEO features, quick checkout mechanism, integrated payment system and much more.
Recommended: 20+ Effective E-Commerce Tools to Increase Your Sales
The platform gives you 2 options to get started – either use cloud integration to start selling online in minutes or download it and host on your own server to get full control of your online store. If you face any problem at any phase of development, you can ask for expert advice in community or you can take help from partner web agencies.