Over the last couple of years, we have seen a huge rise in popularity of vector icon sets. They are vital for any web related project. Creating custom icons for each project is not practical and it's time consuming also.
This time we've come up with the huge collection of free icon sets (in almost all modern formats) that will help web designers develop beautiful things in less time. All these sets come with fresh and pixel perfect icons which can be used in personal as well as commercial projects.
Simple Line Icons
This pack contains over 100 simple line icons for UI design. They all are available in EPS, SVG, PDF, PSD and PNG format.
Viro
Viro is a set of 20 modern icons specially designed for phone applications. It is available in layered AI and PSD format.
Tiny Vector Icons
The amazing collection of 80 tiny icons in vector AI and PSD file. You can use them in app, web or any other type of design. Because they are in vector format, they can be scaled easily.
Read: 28 Amazing CSS3 Effects To Give Your Website a Modern Look
Free icons
This is a bunch of beautiful icons available in AI format, designed by Claire Paoletti.
Kitchen Tools
A collection of 40 kitchen tool icons made in Adobe Illustrator by Vitaly Rubtsov. Available in PSD and AI format.
Night of Horror
A set of 100 unique flat icons available in all vector formats.
New York Buildings
This set includes random building of New York City, including WTC, Empire States and more. You can use this if your web/app project is related to some kind of construction work.
Flat Social Media Icons
This includes all necessary social media icons designed in a unique way to impress your audience.
Equalizer
If you are developing a music app, have a look at this. Equalizer contains over 15 icons in PNG, PSD, EPS and SVG format.
Gamification icons
A bunch of elegant icons from gamification project, designed by Yaroslav Zubko.
Vehicle Vector icons
This set contains almost all kinds of vehicle icons that you may need for your upcoming auto-project.
Dashel
A set of 45 icons available in PSD, PNG and SVG format. You are allowed to modify the color, size and shape of the icons.
Hand-Drawn Social Media Icons
This is a set of 56 hand drawn social media icons created by Agata Kuczminska. Each icon is saved separately as transparent PNG in two sizes: 64px and 128px.
Startup
This is a collection of 100 startup icons, available in PNG, PSD, SVG and EPS format.
Icon-Works
A set of big, retina ready and scalable icons which can be easily edited or styled.
Sketched Arrows
The sketched arrow icons pack by Freepik. There are 50 icons available in EPS, PNG, PSD and AI format.
440 Free Icons
This is a solid collection of 440 Free Icons designed by Catalin Fertu for BigMug. All icons are available in EPS, Sketch and PSD format and you are free to modify them.
Helium Icon Set
This is packed with over 100 useful app icons designed by Taras Shypka. It comes with EPS, AI & SVG files and a ready-to-use icon font.
eCommerce Icon
It is packed with 54 eCommerce icons, designed by Virgil Pana.
Unigrid
Unigrid is a set of 100 outline vector icon available in AI format. However, they are available for non-commercial use only.
Star Wars
This set of long shadow flat design icons made by a huge Star Wars fan Filipe Carvalho.
Weather Icons
This contains 24 simple, unique and modern forecast weather icons, perfect for weather applications. They are available in AI and PSD format, fully layered and grouped.
Photography plus Camera Function Icons
This free pack includes 28 photography, image editing and camera function icons. They utilize semitransparent fills for subtle shading.
Halloween Vector Icons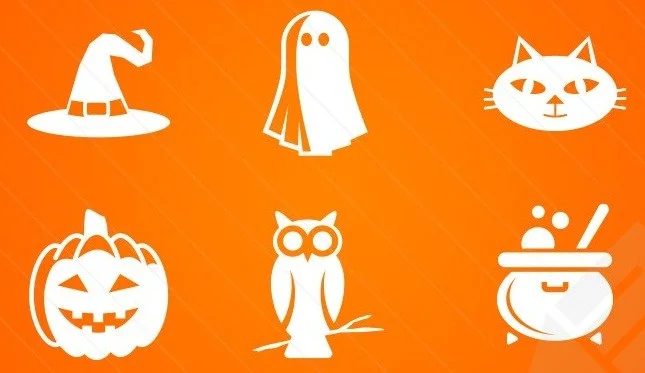 Put some Halloween spirit into your design with these 16 creepy Halloween inspired graphics.
Health and Fitness
The health and fitness outline vector icons, which can be edited and styled freely to match your requirements.
Tab Bar Icons
A set of 300 tab bar icons for iPad and iPhone, but you are not limited to this. You can use them wherever you want.
Camping Outdoor Icons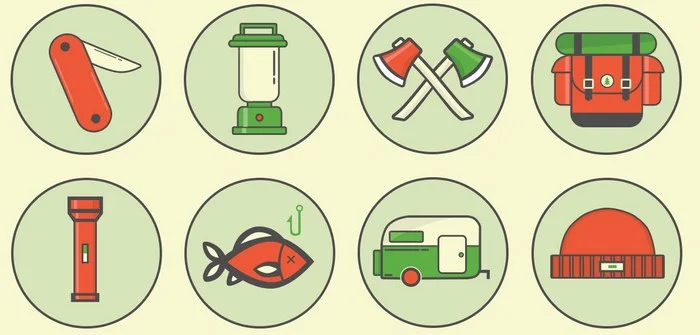 The collection of very detailed flat icons showcasing outdoor camping activities. They all are available in PSD format.
Lumina
This is a set of pixel perfect hexagon icons which comes in vector AI and PSD format. Fully grouped and layered.
Lynny
Lynny is a collection of 450 tab bar and iOS7 icons. Matthew Skiles is distributing this at a special price – Free.
Bertie
Bertie is a set of 56 colorful outline icons, with a minimalist look. It is available in .EPS, PNG and .AI format.
Dropicons
It is made of 176 unique icons, three styles for each. They all are based on geometric shapes for a modern unison look.
Vector Outlined SEO Icons
The set of icons for software related to search engine optimization. They are handcrafted in a wireframe style with a range of different colors to choose from. You can download them in 4 vector formats: EPS, AI, SVG and PSD.
Mintie Flat Icons
The 40 cute Mintie icons provided by Oliver Stoian. You just need to enter the email before downloading.
Also Read: 25+ Flat UI Design and Kits for Developers
60 Free Icons
The big orange icons, designed by Yegor Shustov. You can download them in PSD, AI and EPS format (minimum size – 32px).
Nasty Icons
Recommended: 30+ Fresh PSD / UX / UI kits to Enhance your Design
If you think you have all icons, think again. This is a quite unique collection of 45 nasty icons to spice up your design.