If you have landed on this page, it's most likely because you're thinking of getting a new network monitoring tool. Fortunately, there are several quality tools, both commercial and open source, available in the online market. We know how much administrator love free tools, that's why we've complied a list of free Network Monitoring and Analysis Software that will prove their worth day in and day out in networks of any size.
What are the Benefits Network Monitoring Tool?
Reduce time and cost

Detect malicious traffic

Collect valuable historical data

Optimize both process and resources
From server monitoring to trending, graphing, and even switch and router configuration backups, these tools will handle all.
29. The Dude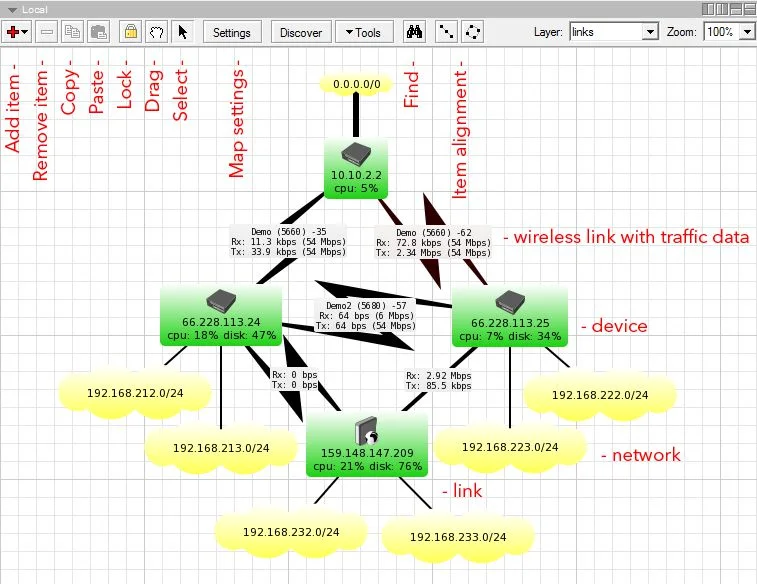 The Dude automatically scans all devices within specified subnets, draws and layout a map of your network, monitors services of your devices and alerts you when a problem occurs. It includes SVG icons for devices and supports custom icons and backgrounds.
This easy-to-use tool allows you to monitor individual links and direct access to remote control tools for device management. Currently, it supports ICMP, SNMP, DNS and TCP protocols.
Read: 35+ Tools to Minify Code (JavaScript, CSS & HTML)
28. Xirrus Wi-Fi Inspector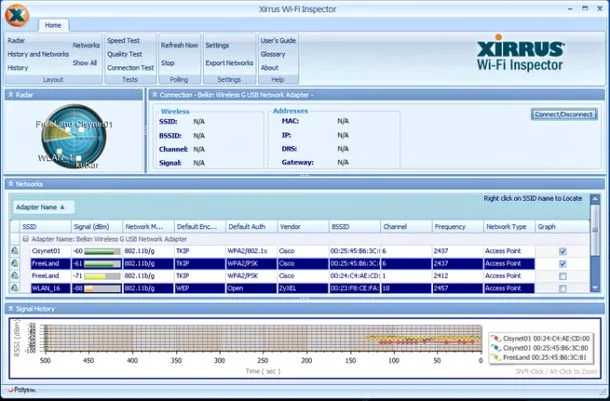 As the name suggests, the tool can be used to search WiFi networks around you, manage and troubleshoot connections, verify WiFi coverage, locate devices and detect rogue access points. It is designed to provide real time monitoring of wireless network status, and ensure you are getting the highest performance available from wireless networks.
Xirrus WiFi Inspector comes with built-in connection, quality and speed tests. It operates on Mac OS X and Windows platform and supports the latest WiFi standards, including 802.11ac Wave 1 and Wave 2 technology.
27. Ntop
Ntop (or Ntopng) shows network usage, similar to what Unix command does. It is based on libpcap and has been written in a portable way in order to virtually run on every platform. It even incorporates a lightweight Lua API framework that can be used to support extensions via scripting languages.
Ntop stores host data in RRD files for persistent data collection. Users can use a web browser to navigate ntop traffic information and get a dump of the network status. There is an impressive array of network utilization graphs, trends, and live map, along with usable add-ons like Netflow and sFlow monitors.
26. Op5 Monitor
Op5 monitors multiple platform, including cloud systems and virtual environment. It makes easy to create business views and measure all parts of crucial services. The interface and reports are understandable across departments and functions, bridging the gap between IT operations and other departments.
Op5 Monitor has its root in the open source world, and has capabilities to provide detailed and instant insight into your IT infrastructure with alerting and notifications on applications, servers and networks.
25. Angry IP Scanner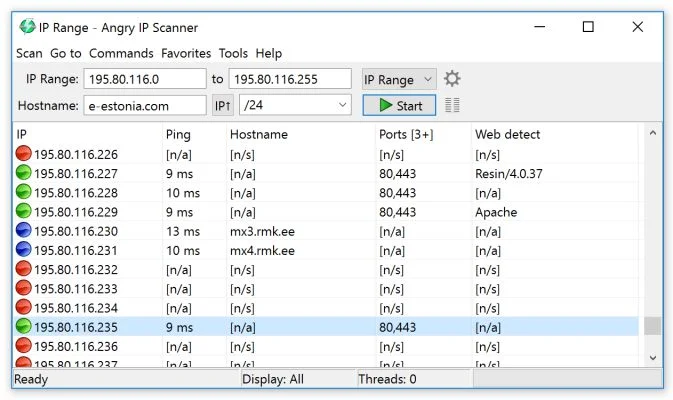 It's a cross platform and lightweight tool that scans IP addresses in any range as well as any their ports. It tool pings each IP address to check it is alive, then optionally it is resolving the hostname, MAC address and ports. The amount of collected data about each host can be extended with plugins.
In order to increase the scanning speed, it uses multithreaded approach – a separate scanning thread is created for each scanned IP address. You can save the scanned results to TXT, CSV, XML or IP-Port list files.
24. PRTG Network Monitor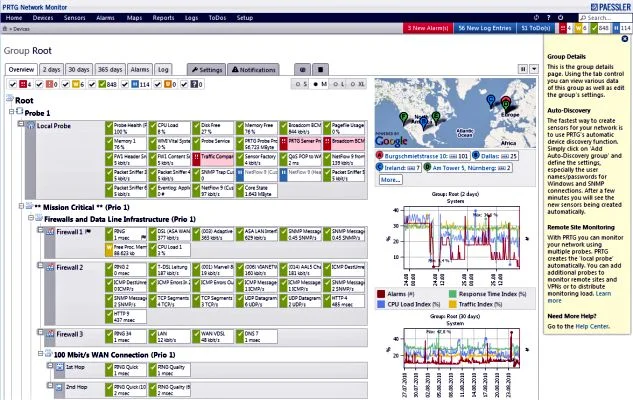 PRTG monitors all systems, applications and devices using SNMP, WMI, SSH, flows and packet sniffing. It offers more than 170 sensors types for application monitoring, virtual server monitoring, SLA and QoS monitoring. However, the freeware version is limited to 10 sensors.
The flexible alerting feature includes 9 different notification methods, status alerts, threshold alerts, limit alert and conditional alerts, while in-depth reporting feature has the ability to generate reports in HTML or PDF formats on specific/pre-defined schedule, for example top 200 ping times.
23. NeDi
NeDi helps you stay ahead of increasing traffic, drops, errors replaced modules or failed links. It's a LAMP application that tells the MAC address and ARP tables on network switches, cataloging every device it discovers in a local database.
NeDi gathers as much information as possible from every network device it encounters, pulling serial numbers, softwares and firmware versions, module configurations, and so forth. You can also flag MAC addresses of devices that are stolen or missing. Net will let you know if they appear on the network again.
22. WirelessNetView
WirelessNetView runs in the background and monitors wireless network activity around you. For each detected network, it will display SSID, average signal quality, last signal quality, authentication algorithm, MAC address, detection counter, channel number, channel frequency, RSSI and more.
21. NetSpot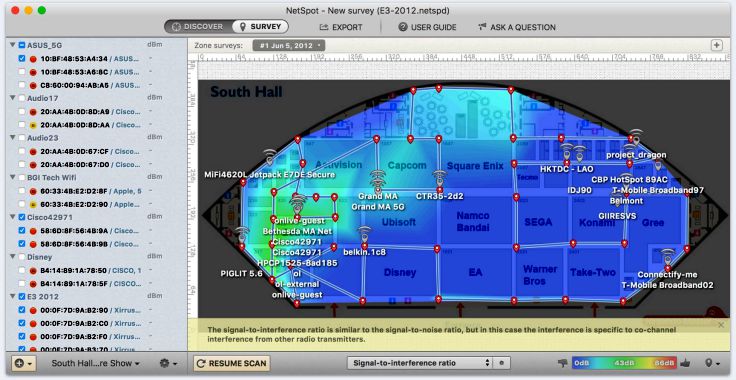 NetSpot is a WiFi analyzer which works over any 802.11 network. It's a perfect tool to visualize, manage, troubleshoot, audit, plan and deploy your wireless networks.
NetSpot helps network security specialists in locating and eliminating rogue access points, avoiding cross channel interference, detecting unauthorized workstations and getting rid of false-positive intrusion alerts. You can also check the security settings, Wifi signal strength and non-broadcasting SSIDs.
20. Icinga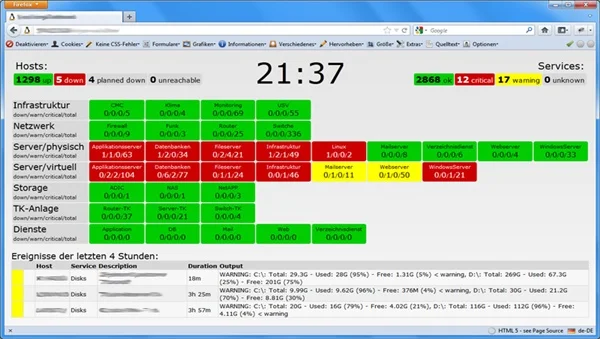 Icing is Linux based open source monitoring application that checks availability of network resources and notifies you when something goes out of service. It provides business intelligence data for in-depth analysis and a powerful command line interface that offers 3 distinct command types – check, notification and event commands.
Icinga is built with multithreaded design, so it can run thousands of checks every second without putting any strain on CPU. To ensure this, developers have embedded health checks to generate performance data for your cluster.
19. Zabbix
Zabbix is open source performance monitoring tool that combines several functions into a single web-based console. It can monitor up to 100,000 devices and can display reports on 1 million metrics using graphs, slideshows and network maps.
Hosts can be added manually or through an auto-discovery process. Zabbix can be configured to monitor and gather information from a wide variety of servers and network gear, offering performance and service monitoring of each object.
18. NetXMS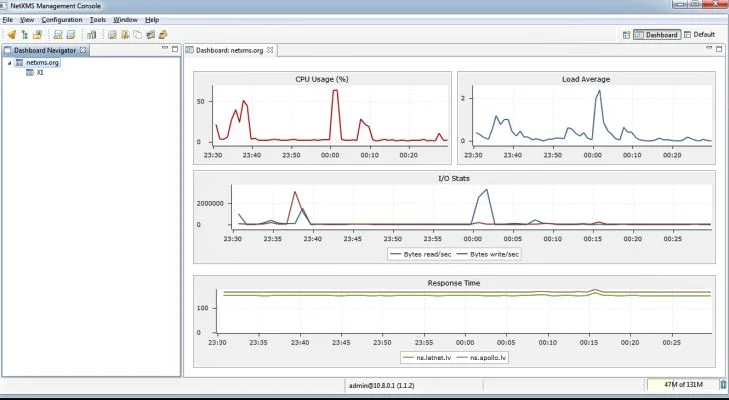 NetXMS is multi-platform open source network management and monitoring tool, which provides comprehensive event management, performance monitoring, alerting and reporting for all layers of IT infrastructure – from business application layer to network device.
The overall system has 3-tier architecture – the data are gathered by monitoring agents (SNMP agents) and delivered to monitoring servers for processing and storing. The administrator can access stored data using rich client application or web interface.
17. Cacti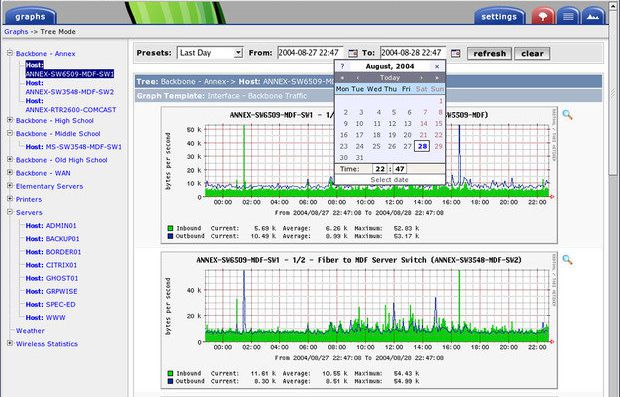 Cacti is an open source network graphing solution that provides different templates to monitor a wide variety of devices, from Windows to Linux servers to Cisco routers and switches. The frontend is completely PHP driven. Along with being able to maintain data sources, graphs, round robin archives in database, cacti handles the data gathering.
The framework separates data collection and graphing into two discrete instances, so it's quite easy to reorganize the existing data into different displays. Moreover, PHP Network Weathermap plug-in for Cacti allows you to create live network maps showing link utilization between network devices.
16. Zenoss Core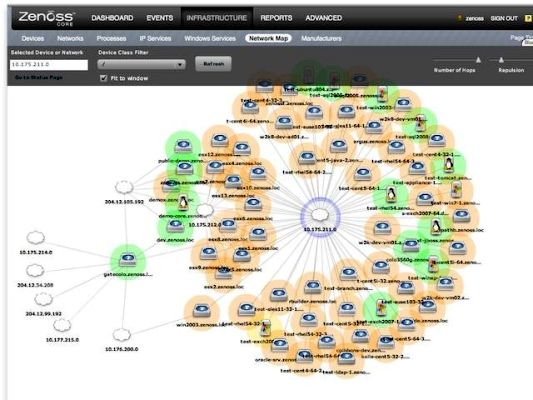 Zenoss Core is a powerful open source IT monitoring solution that offers visibility over the entire IT stack, from network devices to applications. It comes with a customizable web-based console and dashboard for performance monitoring of device, events and networks.
The tool is packed with several useful features like event classification, automatic discovery, inventory via CMDB, sophisticated alerting, de-duplication, auto-clearing, mapping, transformation, lifecycle management, and much more. It is also capable of generating custom device reports and performance multi-graphs.
15. GFI LanGuard
GFI LanGuard scans and detects network vulnerabilities before they are exposed. Around 60,000 vulnerability assessments are carried out across networks, including virtual environments, mobile and network devices.
The tool scans your operation system, virtual environments and installed apps through vulnerability check databases like OVAL. It enables you to analyze the state of your network security, identify risks and address how to take action before it is compromised.
14. Observium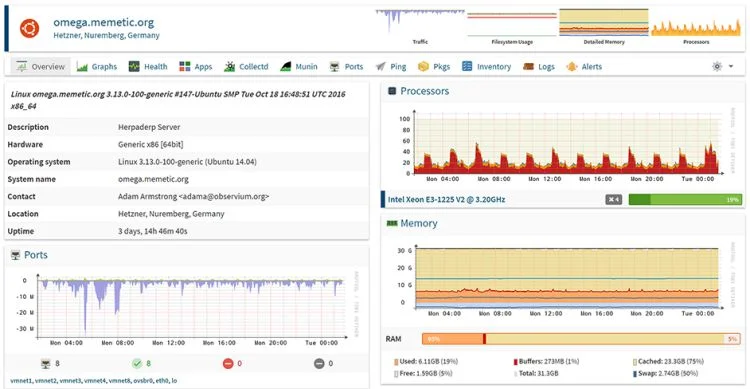 Observium is powerful yet simple and intuitive interface for monitoring health and status of your network. It's a low-maintenance tool that supports a wide range of device types, platforms and operating system including Windows, Cisco, Juniper, HP, Linux, FreeBSD, Brocade, Netscaler, and more.
All the data is presented in an easily navigated user interface, which provides a multitude of statistics, graphs and charts. This includes everything from ping and SNMP response times to graphs of packet counts, fragmentation and IP throughput. For servers, it will display CPU, storage, RAM, temperature, swap and event log status.
13. WireShark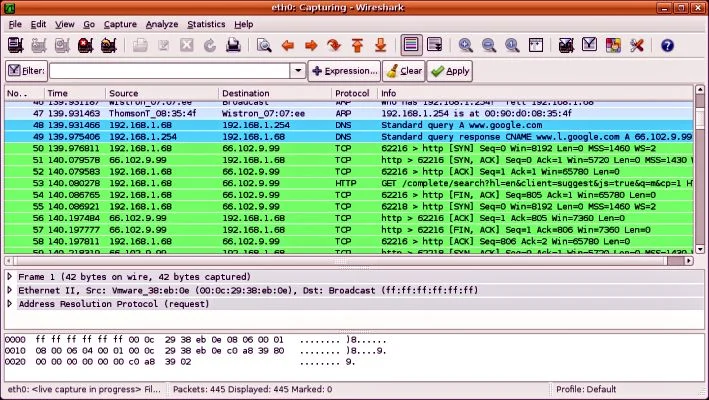 Wireshark is widely used network protocol analyzer that lets you see what is happening on your network at a microscopic level. It provides in-depth inspection of hundreds of protocols and runs on multiple platforms.
Wireshark captures live data from Ethernet, ATM, Bluetooth, token ring, USB, FDDI, frame relay, PPP/HDLC and IEEE 802.11. Captured files compressed with gzip can be decompressed on the fly. Moreover, output can be exported to PostScript, plain text, XML or CSV.
12. SpiceWorks
SpiceWorks is powerful yet easy-to-use network monitoring tool that shows real time status and alerts for your critical services and devices. It catches problem before users even notice.
The tool comes with a customizable dashboard that presents useful information like server resources (CPU, disk, memory usage), network performance (bandwidth usage, packet loss), and alert notifications. When things go awry, you can dig deep and troubleshoot individual OS processes and services. Moreover, you can review historical data – 5 minutes, 30 minutes, 24 hours, 7 days or 30 days, according to your needs.
11. Pandora FMS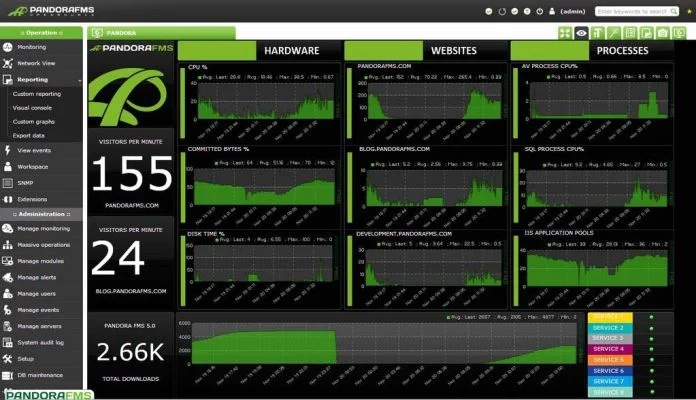 Pandora FMS is Network monitoring and application performance management tool that keeps an eye on servers and communications. It lets you create alerts based on events from different sources and notify administrators before an issue escalates.
Pandora FMS comes with a WYSIWYG visual console screen and dashboard from where you can configure monitoring agents and services. The graphical reporting is based on its own SQL backend. Moreover, it supports SLA and KPI metrics for reporting, and GIS tracking and viewing.
10. Total Network Monitor
Total Network Monitor is developed to continuously monitor local network, individual computers and services, and alerts you about the problem and generate a detailed report of the circumstances of the failure.
Monitor is a special type of object which keeps track of any specific aspects of service operation, server heath, or file system. You can create monitors, fine tune them according to your demands and run them. They will display the status of your network in real time.
9. Network Packet Analyzer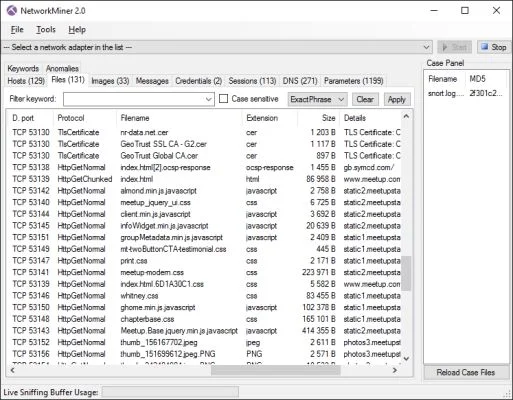 It's a Network Forensic Analysis Tool (NFAT), which can open ports of network hosts through packet sniffing or by parsing a PCAP file. It can extract transmitted files from network traffic and the extracted artifacts are displayed via an intuitive user interface. Supported protocols for file extraction are FTP, TFTP, SMPT, HTTP, SMB and SMB2. User credentials for these protocols show information that can be used to identify a particular person, such as user accounts for online services like Facebook or Gmail.
NetworkMiner enables the user to insert arbitrary string or byte-patterns with the keyword search functionality. The free version parse data at speed of 0.83 Mb per second.
8. Splunk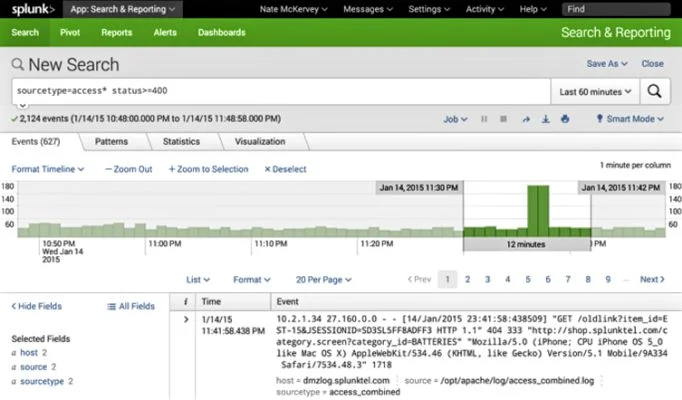 Splunk is a data collection and analysis tool that allows you to monitor, gather and examine data from several different sources on your network, for example services, event logs, TCP/UDP traffic. The indexing of data is done regardless of format or location and it automatically normalizes the varying data formats and provides more than 140 commands so you can perform statistical searches, calculate metrics, and even look for a particular condition within a rolling time window.
Splunk uses the power of machine learning to automatically identify anomalies and incidents. You can visualize trends and characteristics in custom dashboard and reports suited to any business, operational or security need. Furthermore, you can install add-ons to extend functionality.
7. Fiddler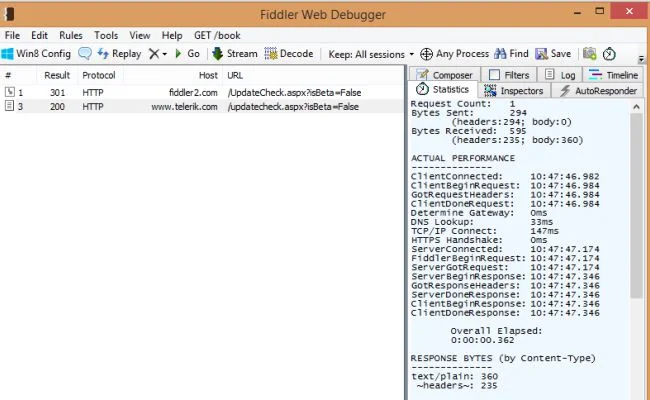 Fiddler is free web debugging proxy which logs all HTTP traffic between a selected PC and the internet. It stores the traffic details into a compressed file format, which contains the full request and response, flags, times and other metadata. It supports a wide range of filters, including "highlight interesting traffic", "block traffic from sending", "hide a session", "breakpoint for manipulation on a session" and more.
Fiddler can also be used for security testing your web application – decrypt HTTP traffic and alter requests using man-in-the-middle technique. It also detects common web vulnerabilities like OS command injection, file inclusion, cross-site scripting, SQL injection and buffer overflows.
6. Advanced IP Scanner
As the name suggests, the program scans all network devices connected to LAN, and gives you access to shared folders and provides remote control of other PCs via Radmin and RDP. You can even wake up and shut down remote computers. The latest version supports MAC address detection.
No installation is required – just download and launch the tool. There is an option to export scan results to CSV. Once the scan is complete, you can see which resources you're able to connect to for each discovered device.
5. Capsa Free Network Analyzer
The freeware network analyzer is a perfect choice for students, teachers and computer geeks to learn how to monitor network activities, analyze packets, pinpoint network issues and enhance network security. It monitors network traffic and shows bandwidth details in graphs and numbers. The packet decoding information is displayed in Hex, ASCII and EBCDIC format.
As far as security is concerned, it accurately detects DDoS attack, ARP attack, worm activity and suspicious conversation and locates the source and target in real time. Moreover, it supports more than 300 protocols, including the ability to create and customize protocols.
4. OpManager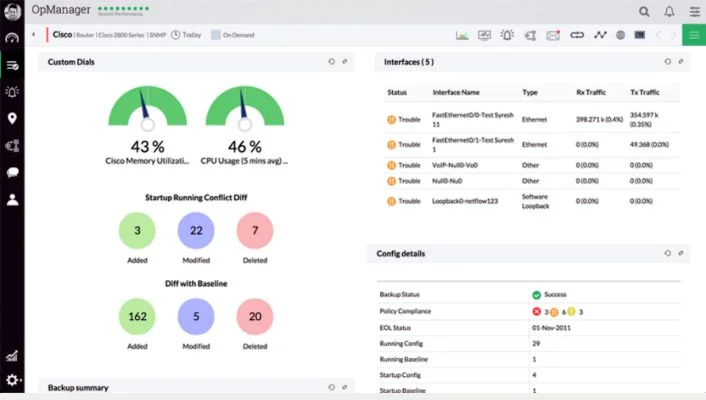 OpManager is a integrated network management software that offers network monitoring, physical and virtual server monitoring, firewall log analysis and archiving, flow-based bandwidth analysis, IP address and switch port management, configuration and change management.
With OpManager, you can identify network faults and start resolving them before it creates a serious issue. It alerts you about the problem over an Email or SMS. Alerts are also viewed though Android, iPhone or iPad app.
3. OpenNMS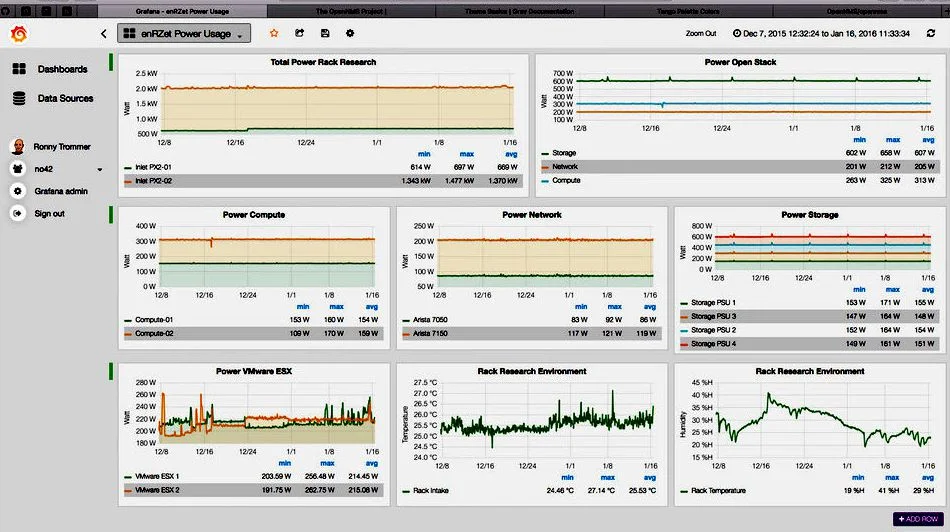 OpenNMS is an open source platform developed for building network monitoring solutions. It is distributed in two forms: Horizon and Meridian. Horizon is ideal for monitoring new technologies where innovation happens quickly, and Meridian is advisable for businesses looking for stability and long term support.
OpenNMS is built on event-driven architecture, which means events are created if services, nodes or interface go down or exceed threshold. You can remotely monitor applications and services from the user's perspective. Moreover, it supports layer 3 routing topology discovery based on OSPF and IS-IS.
Read: 25+ Free Data Mining Tools for Better Analysis
2. Nagios
Nagios is a powerful monitoring software suite that enables organizations to identify and resolve IT infrastructure problems before they affect sensitive business processes. It provides features like enterprise-class log monitoring and management and commercial-grade network flow data analysis.
The Nagios Core is the heart of the application, which contains the core monitoring engine and a basic web UI. On the top of this core engine, you can implement plugins to monitor services and visualize information in different formats. The free version is suitable for smaller environment and will monitor up to seven nodes.
1. Microsoft Message Analyzer
Message analyzer allows you to capture, display and examine protocol message traffic, and to trace or assess system events and other messages from Windows components. You can capture data live or load archived message collections from multiple data sources simultaneously.
Read: The MegaCollection of Best Hacking Tutorials, Tools and Resources
With Message analyzer, you can display, log, or trace other message data in various data viewer formats, including charts, graphs, tree grid view and timeline visualizer. Along with troubleshooting, it can also be used for testing and verifying protocol implementations.