In the early 1970s, computer scientists developed algorithms to reduce file size. Since then, there has been an ever-growing demand, fueled by the development of the Internet, for efficient compression methods that can reduce the size of any given file as much as possible.
Today, compressing files has become a very common practice. It reduces the need for new storage devices and improves database performance. Not only does compression of files saves space on the server, but it also makes it easy to transfer files quickly using less bandwidth.
However, there is one downside of compression: data has to be decompressed before it becomes usable. Fortunately, there are a lot of tools available in the market that can effectively decompress/extract thousands of files within seconds.
We have gathered some of the best free RAR extractor tools for Mac, Windows, Linux, iOS, and Android. They are easy-to-install programs (also called unpacker or decompressor) that support various compression formats, including ZIP and 7Z.
12. Ashampoo Zip Free
Platform: Windows
Plus Point: Optimized for touchscreens.
The tool is packed with all the essential features you need to read, extract, and create an archive. It supports extracting from over 30 different formats, including all the latest versions of RAR format.
Compared to other tools that hide their useful functions behind a complex system of menus, Ashampoo features a clear interface with large, tap-friendly icons. It can split ZIP files into multiple volumes and repair broken ones.
Since the program offers only basic options (such as Preview before extracting), it could be a perfect choice for average users who don't prefer the more fine-grained customization.
11. CAM UnZip
Platform: Windows
Plus Point: View files in ZIP archives before extracting.
CAM UnZip allows you to open, create, and modify ZIP archives. Unlike other conventional compression tools, CAM does not offer shell integration. Instead, it relies on a multi-panel graphical user interface to interact with users.
The main window of the tool shows the file name, size, compressed size, and modified date of each file in the archive. You can extract either individual items or all files at once in the archives.
It offers multiple options to perform various actions, such as recreate folders, overwrite existing files, and run setup after extraction. And yes, it does support encrypted password-protected zip files.
10. File Roller
Platform: Unix-like
Plus Point: Supports more than 50 file formats.
File Roller (also called Archive Manager) is developed for the GNOME desktop environment. It's a simple graphical interface program that can help you view, modify, extract, and create archives in various formats.
It doesn't have advanced options to compress, but you can use gconf-editor or dconf-editor on GNOME to set different levels of compression (high, normal, low/fast) via GUI. Also, you need external libraries to back-end programs to support different archive formats.
9. Bandizip
Platform: Windows | macOS
Plus Point: Bypass files that don't compress well using 'high-speed archiving' function.
Bandizip is an all-in-one tool that utilizes a fast Zip algorithm for compression and extraction. It features quick drag-drop function, high speed archiving, and multi-core compression.
It allows you to view individual files in an archive and extract selected files only. You will be able to extract over 30 formats, including the most common ones, such as RAR5, 7Z, and Zip.
The program supports AES-258 encryption and ZipCrypto for better security. It also has a split compression feature for certain sizes, ranging from 10MB to 700MB. The standard version is available free of cost, whereas the professional and enterprise version costs over $20.
8. Archive Extractor Online

Platform: Browser-based
Plus Point: No need to install any software.
Archive Extractor is a small and easy-to-use online tool that can decompress more than 70 types of file extensions, including RAR, 7z, Zipx, Exe, Dmg, Tar, and many more. It is ideal for offices and schools where archive extraction utilities aren't available.
You can upload files either from your computer or directly from Dropbox, Google Drive, and URL. The tool supports password-protected archives and can unpack multi-pack archives.
Unlike other online extractors, it doesn't have file size restrictions. The tool runs locally as a browser application and ensures your privacy is protected as no file data leaves your browser.
7. Zipware
Platform: Windows
Plus Point: Comes with a virus scanner.
Zipware looks as impressive as any premium extractor and is incredibly simple to use. It can efficiently handle both small and large archives with millions of files. It supports all major archiving extensions, including the new RAR5 formats, as well as several Linux archive formats such as gzip and tar.
With Zipware, you can create self-extracting Exe archives, add files to an existing archive, change archive format, encrypt and password protect files, and view detailed information about an archive.
It also has a Windows Explorer context menu, which you can use to scan archives (smaller than 32 GB in size) and check whether it contains malware or harmful content.
6. jZip
Platform: Windows
Plus Point: Supports numerous languages, including German, Spanish, Japanese, and Russian.
jZip can extract files out of dozens of popular archive extensions. Not only it can unpack files but also split an archive into smaller parts for easier storage and transfers.
The interface is straightforward, making it easy to create, open, and extract several types of compressed files. To unpack a file, just drag-drop it straight into the tool. That's it. You can enable shell extension, which would allow you to right-click an archive file and extract it instantly without even opening the jZip tool.
The program can also check archive files for errors and encrypt them with 256-bit AES encryption. And the best thing is it has no adware, spyware or pop-ups, which makes the user experience even better. 
5. iZip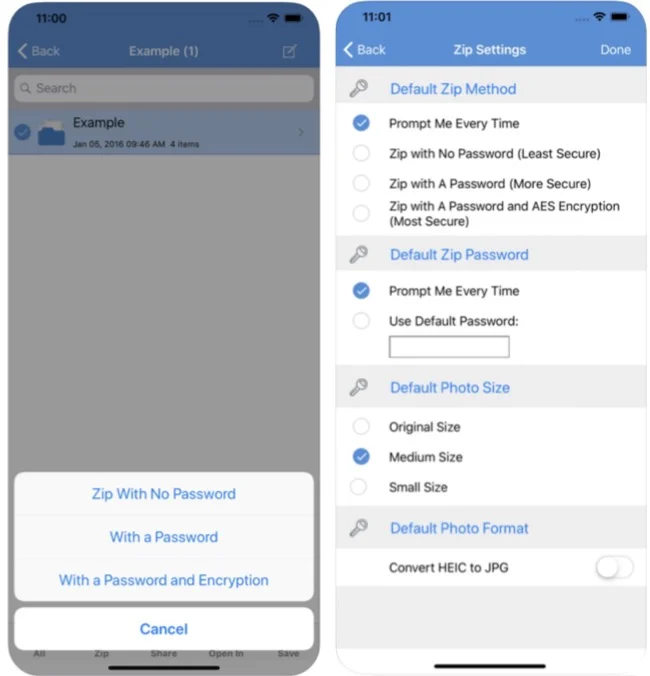 Platform:  iOS
Plus Point: Directly save files to iCloud drives and third-party apps.
iZip is the easiest way to manage compressed files on iPhones and iPads. It allows you to extract files from many compressed formats, including password protected and AES encryption zip files.
With this app, you can compress videos and images from Album, append files to a zip file, and open and view various types of documents. Files can be directly opened from Dropbox, Google Drive, One Drive, Box, and iCloud.
The premium version of the app (costs $4.99) provides more advanced options, such as compress files with a password or AES encryption, and supports Face ID and Touch ID.
4. The Unarchiver
Platform: Windows | macOS | Linux
Plus Point: Supports many old, obscure formats.
The Unarchiver is designed to handle Archive Utility and many other formats and filenames in various character encodings. It's a built-in archive unpacked program in macOS.
The program is as simple as it can be. Just double-click the file you want to extract, and it will start doing its job instantly. You will see a progress bar (with file names) displaying the progress of the extraction.
Perhaps its best feature is its ability to handle several old, obscure formats such as AmigaOS disk images and StuffIt. And did I mention you don't require any license to use this tool commercially?
Read: 13 Best Productivity Apps That You Can Use This Year
3. B1 Free Archiver
Platform: Windows | macOS | Linux | Android
Plus Point: Works very fast, even with large archives with many files.
B1 Free Archiver is a multi-platform file archiver that extracts more than 30 popular archive formats. It can be used through both the command-line interface and the graphical user interface.
The program is extremely simple to use; you don't require any guide or comprehensive manual. You can browse without extraction and perform various actions such as copy, paste, delete, rename, and view file properties.
It can also create split archives containing several segments of specified sizes and password-protected archives encrypted with 256-bit AES encryption.
2. PeaZip
Platform: Windows | Linux | BSD
Plus Point: Extracts from more than 185 archive formats.
PeaZip is an open-source file manager and archiver with cutting edge compression technology, which provides impressive compression ratios for most data structures. Its native archive format is Pack Encrypt Authenticate (PEA).
The interface allows you to easily navigate through the archive's content, using search and history features. The tool can also generate new archives in more than 10 extensions; each can be encrypted with 256-bit encryption, secured with a keyfile, and protected with a password for extra security.
PeaZip also has advanced functionality, such as archive scheduling and support for creating self-extracting files and securely erasing files using the Random Data sanitization method.
Read: 14 Best Android Cleaner Apps
1. 7-Zip

Platform: Windows | macOS | Linux
Plus Point: Better compression ratio than other tools.
7-Zip is one of the oldest and most popular file archivers, published by the Free Software Foundation. It supports many common and lesser-known file extensions.
By default, the program creates 7z-format archives with a .7z file extension. It uses a stacked combination of filters to achieve a high compression ratio.
While the compression ratio varies based on the data, their official website claims that the tool compresses to 7z format about 50% better than to zip format, and it compresses to zip format about 6% better than most other zip-compatible tools.
Read: 15 Best Android File Manager And File Browser Apps
7-Zip features a powerful file manager, strong AES-256 encryption, and self-extracting capability in 7z format. It also supports multiple-core CPU threading and extracting of archives that have corrupted filenames.