As an SEO expert you need to understand on/off page optimization, link building, marketing, public relations and technology. Doing all these jobs seems quite difficult and overwhelming for a single person.
So, how can SEO work smarter and faster? It starts with having the right combination of tools. We have compiled a list of helpful tools, covering a number of common needs. You can save a lot of time and efforts by using these simple SEO tools. And yes, they all are free, so it's no harm to give a try. We hope you find more than what you're searching for.
The aim is to introduce new and unknown (or less popular) tools, that is the reason we have not included some most common tools like Google Webmaster/Analytics/Adword.
34. NoFollow and NoDoFollow
They are Chrome and Firefox extensions that highlight "dofollow" and "nofollow" links on the page. The Chrome extension also identifies "noindex meta tags".
33. Browsec
Browsec is a multipurpose Chrome and Firefox extension. It encrypts all your browsing traffic, allows you to visit sites blocked by your ISP, and doesn't let other websites see your identity. The free version has limited options, but good enough for handling SEO related tasks.
32. Varvy
Varvy is quick online tool to figure out which rule(s) of Google webmaster guideline you are breaking. It scans title, tags, blocked resources, robot.txt file, auto generated pages, link schemes, sneaky redirect, doorway pages, keywords, broken links and more.
31. Copyscape
Copyscape is popular online plagiarism detection tool that lets you search for copies of your page on the web. Just enter the URL, and it will tell you where else the same content exists online.
Read: 14 Free Plagiarism Checker Tools To Identify Duplicacy

30. ShareMetric
Sometimes you need to know how a specific page has performed on social media sites. The quick solution is ShareMetric extension – it shows you social shares, incoming link metrics as well as organic search visibility.
29. FAQ Fox
FAQ fox is a useful tool for finding popular question that people ask in your industry. Just enter keywords and sites to scrape and it will give you all popular long-tail keyword or suggestions that people are looking for.
28. Link Grabber
As the name suggests, it helps you extract links (in Chrome browser) from the HTML page and display them in another tab. All links are clickable and you can copy/paste them into a spreadsheet. There is also an option to block links from a configurable list of domains.
27. Check My Links
If you do broken link building, you need this extension. Just click on the extension button and it'll show you all the links that are not working (in red).
26. BuzzSumo
BuzzSumo helps you analyze the performance of the content on social media, and the backlinks each article attracts. You can filter the results by date, language, country and content type.
25. MozCast
MozCast shows you the shifts in SERPs (for Google search engine only). It shows the data in terms of weather report – a graph of the temperatures of last 30 days. Hotter or stormier the weather, the more Google's rankings changed.
24. Algoroo
Algoroo is a Google algorithm tracking tool that measures fluctuations in SERPs. The system monitors around 17,000 keywords to 100 search position deep. There are many detected events (major changes) that go onto orange or red throughout the timeline.
23. Domain Hunter Plus
Domain Hunter Plus is a Chrome extension that can be used to find broken links. It is specially used to discover expired domains that already have decent authority and backlinks. Try this, if you are looking for an old cheap domain having a number of quality backlinks.
22. User Agent Switcher
Your site visitors use different browsers, devices and software. In some cases, a few visitors face trouble while seeing your website. It is also true that you can't have all devices to test your site. The quick solution is user agent switcher. It sets your Chrome browser to open a website on specific browser, device and operating system.
21. SpyFu
SpyFu provides competitive intelligence, both organic and PPC visibility data, inbound links, competitor shared keywords, as well as ranking history along with Google update clues over the timeline.
20. Redirect Path
When some pages and sites transfer ownership, redirects ensure that backlinks authority is passed properly. Redirect path plugin is designed to display redirects, errors, HTTP headers, server IP address at the click of a button. You can use this to find all the backlinks pointing to each URL along the way.
19. SimilarWeb
SimilarWeb can be used to view stats of any website. Here you will find traffic overview, engagement stats, global/local rank, traffic source, referrals, and you can compare traffic of any two sites.
18. Evernote Web Clipper
Web clipper is a note taking and quick image editing extension. You can create bookmarks, take screenshots, add notes and customize all of them. It works great when clipping from YouTube, Amazon, Gmail, and LinkedIn. Just select what you want and save it as a clean and clutter-free note.
Read: 20+ Useful Online Tools to Create Charts and Graphs
17. Jellyfish
Jellyfish is a Google penalty checker – it looks at site data, plotting Google algorithm updates on a timeline. The tool is really helpful in case you are not sure which specific algorithm hit your site.
16. QuickSprout Website Analyzer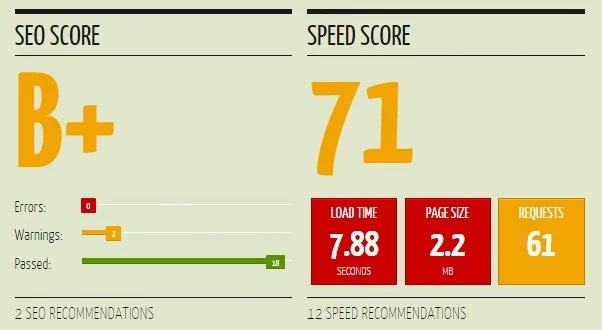 Just enter your domain URL and QuickSprout tool will give you a comprehensive report of everything – SEO analysis, speed recommendation, tags, social engagement, keywords, competitor comparison and more.
15. WooRank
WooRank provides a very deep SEO and web analytic report. The metrics include traffic estimation, Adword traffic, visitor's geolocation, page load time, page size, mobile rendering, in-page links, keywords, backlinks, server IP, related websites and more.
14. Ghostery
Ghostery tracks all scripts on a page and displays them in pretty little pop-out panel. You can block any of these scripts. It's up to you whether you want to block tracker-by-tracker, site-by-site or a combination of two.
13. Structured Data Testing Tool
Structured data testing tool (by Google) verifies schema.org or any other structured data type markup like corporate contacts, social profile links, movie critic reviews, breadcrumbs and more.
12. Wappalyzer
Wappalyzer is a Chrome and Firefox extension that uncovers the technologies used on a webpage. It detects eCommerce platform, content management system, frameworks, web servers, analytics tools, widgets, special fonts and much more.
11. Google PageSpeed Insights
PageSpeed Insights is a popular tool where you enter a URL and it tests loading time and performance for desktop and mobile. The testing result comes with a score and suggestion summary which gives you an opportunity to improve.
10. Pingdom
Pingdom is a website speed test tool that shows details of every single request made while loading a page, along with their size. Moreover, it shows server response code, in-depth load time analysis, request analysis, and page speed performance with recommendations and grades.
9. Mozbar
Mozbar lets you access important SEO metrics, create custom searches and see how difficult is to rank for a given keyword. When you search for a keyword in Google, it shows you page authority and domain authority below every link.
8. Searchmetrics Website Analyzer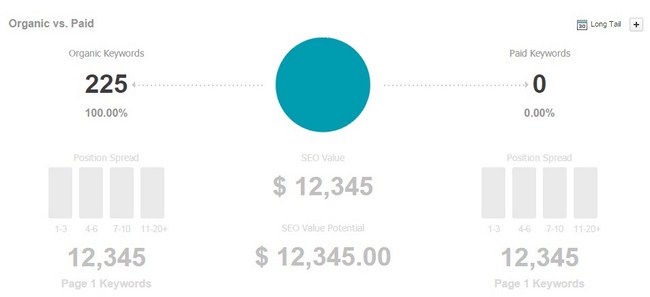 This is a performance dashboard for search and social ranking. Searchmetrics shows you overall search engine visibility of a website, along with preview of top ten keywords. The free version also includes social engagement data, organic competitor chart, worldwide ranking and number of backlinks.
7. Open Site Explorer
Open Site Explorer is a comprehensive link analysis tool by Moz. It shows you domain/page authority, page link metrics, top pages, linking domains, spam score and more.
6. Screaming Frog SEO Spider
This is a small desktop program that allows you to crawl, analyze and audit a website. Screaming frog is particularly good for analyzing big sites, where manually checking every page is impossible, or where you can easily miss errors, redirects, or duplicate page issues.
5. Ahrefs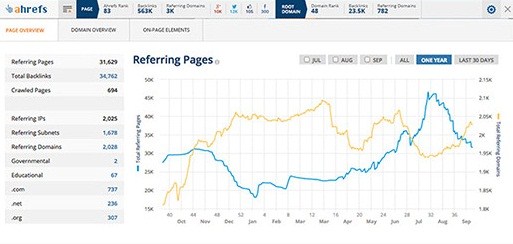 Ahrefs SEO toolbar lets you access number of backlinks, number of referring domains, URL rating, domain rating, social metrics and detail information with graphs for pages and domains. Also, you can activate the plugin for Google search that will show you small information bar under each URL.
4. Firebug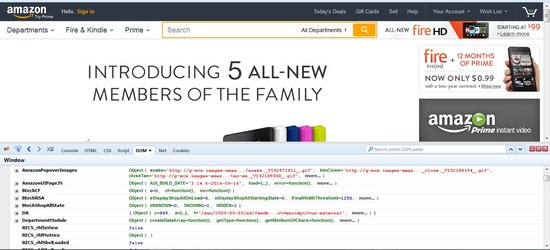 Firebug helps you find out what lies beneath the surface of a web page. You can edit HTML/CSS to see how page would look like with different parameters. It reflects all changes in real time, so you don't have to refresh the page every time you change a line of code.
Read: 30 Useful Bug Tracking Tools For Developers
3. SEMrush
SEMrush provides organic and paid search visibility data, total backlinks, top organic keywords and their position distribution, anchor text and more. The search performance and trend of mobile platform is displayed under a separate section.
2. KeywordTool
KeywordTool provides you a huge handful (up to 750 suggestions) of long-tail keyword opportunities, organized alphabetically. You can filter out the results according to geolocation and language. To get in-depth metrics like search volume, CPC and competition, you need to subscribe for pro version.
Use Yandex and Baidu keyword tool if you are targeting Russian and Chinese traffic.
1. Majestic
Recommended: 18 Best Content Curation Tools for Marketers and Bloggers
The Majestic extension shows you the number of links to the webpage, number of links to the domain (+subdomain), citation flow and trust flow. Citation flow is a score from 0 to 100 that shows how strong the links are. Higher means better. There is also a timeline chart showing how the page acquired links over time.