A VPN (Virtual Private Network) secures your computer's internet connection to make sure that all of the data you are receiving and sending is encrypted and secured from malicious attacks. It creates an extra layer of security when you browse the internet, and also helps you bypass the restrictions imposed by authorities/government.
A good VPN offers a solid balance of connectivity protocols, server location, features and price. This is a big market and VPN providers will fight dirty to be on the top. As of today, there are thousands of VPN service providers and it's quite difficult to choose the best. To help you with this, we have made a list of good VPN services that will allow you to safely browse the internet and make secure transactions.
Things you should know as a reader:
We are not affiliated with any of these services. They all are listed according to their protocols, corporate and exit locations, and anti-malware/spyware features.
Most of these tools have free (ad-supported) as well as paid version.
27. GetPrivate
GetPrivate creates a VPN between your computer and their servers. This untraceable tunnel prevents hackers, snoopers, ISPs from viewing your messages, downloads, passwords, credit card information and browsing history. There is no restriction on data usage.
Platform: Windows
26. GoVPN
GoVPN allows you to browse the websites the way you like it and get a secure connection between your device and the internet. You can hide your online activities and protect your online identity while browsing; no one can identify your real IP address. Also, you can encrypt your chat using VoIP services. The free version comes with 500MB data per month.
Read: MegaCollection of Best Hacking Tools and Resources
Platform: Mac OS, Windows, Android and iOS.
Paid Version: $60 per year
25. ProXPN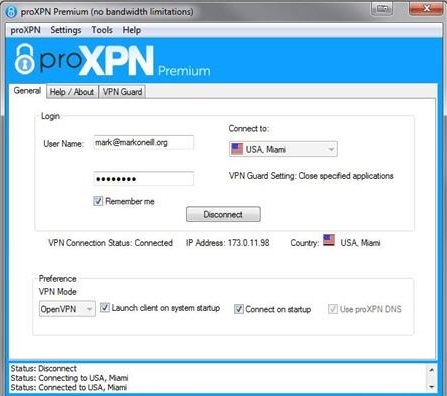 ProXPN is an easy-to-use service that lets you surf web the way it was intended – without logging and tracking your activity. It creates a secure, encrypted tunnel through which all your data passes back and forth. Your IP is hidden behind ProXPN global server network, hiding your true location. It uses 2048-bit of encryption key and 512-bit of encryption tunnel.
Platform: Mac OS, Windows, Android and iOS.
Paid Version: $6.25 per month
24. VPN Defender
VPN Defender is an app to secure your smartphone by keeping your data safe from hackers. It directs mobile data traffic through secure servers, encrypting all your data. Your personal IP address is hidden so you are free to browse internet without revealing your location to anyone without permission. All these features with no bandwidth limitation and no ads.
Platform: Android and iOS.
23. VPN Master
VPN Master is the best app for unblocking restricted sites, WiFi security and privacy protection. It is based on OpenVPN and you don't need to create your own server. While it does boasts fast internet speeds, it does strictly prohibit torrent downloads. And yes, there is no bandwidth limitation.
Platform: Android
Paid Version: $20 per year
22. VPN Direct
VPN Direct is a personal VPN service that allows you to hide your activity from eavesdroppers, and spoof your IP address to view contents that are restricted in your area. All your data are hidden from third party even on an open wireless network. Unlike other services, it doesn't have any bandwidth limitations.
Platform: Windows.
Paid Version: $75 per year
21. SecurityKISS
SecurityKISS tunnel ensures anonymity and allows you to bypass internet restrictions. It serves via OpenVPN and L2TP/IPsec protocols and has a long server list to select from. The free version (without ads) gives you unlimited switching options between servers, but has a daily traffic limit (300 MB/day). Online data compression guarantees high speed while session key renegotiation and built-in exclusive tunneling ensures security.
Platform: Mac OS, Windows, Linux, Android and iOS.
Paid Version: $30 per year
20. FlashVPN
A free VPN proxy service with premium bandwidth and no connection time limitation. There is one button to connect and it requires no configuration and you can select between US, Japan and England servers. You won't get too many features, but if you need something simple and quick, grab this one.
Platform: Android
19. ZPN
ZPN secures your online data such as account details, credit card, and other sensitive information with 256-bit encryption. It also takes care of public network connection when you are connected to open WiFi by encrypting all your personal details. You can surf anonymously, access restricted contents, hide your IP address and encrypt your connection which provides better anonymity than proxy servers. The free version includes 10GB of data transfer.
Platform: Windows, Android and iOS.
Paid Version: $24 per year
18. OkayFreedom VPN
OkayFreedom VPN lets you browse freely and securely. The installation part is quite tricky, but the service makes it easy to switch back and forth across regions. Unlike other programs, it does not only protect your IP address in browser, but even guards you when you are using torrents and downloaders. The free version gives you 1 GB of monthly data usage.
Platform: Windows
Paid Version: $30 per month
17. SpeedVPN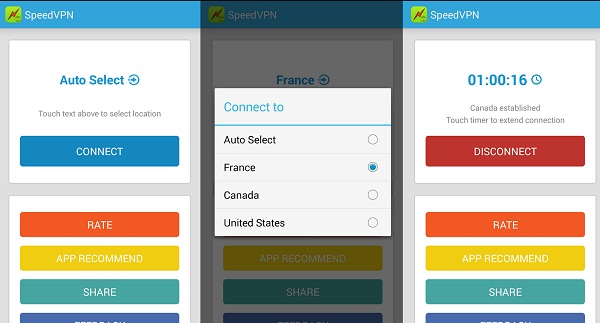 With simple and easy-to-use interface, SpeedVPN allows you use VPN without signing up for anything. However, each connection lasts for 60 minutes and then you are kicked off, but you can extend and reconnect whenever you want. It does the basic tasks that include unblocking restricted sites, increasing your browsing speed, and protecting your privacy.
Platform: Android
16. Betternet
Betternet provides an internet without hackers and blocked websites defending your privacy. You can surf the websites anonymously, preventing online agencies to target you with future irritating ads. It provides you a bank-grade security while you are using an unsecure WiFi hotspot. Best of all, it's totally free: no registrations, no credit card, no ads.
Platform: Windows, Android, iOS, Chrome and Firefox.
15. TorVPN
TorVPN is a simple and quick solution for accessing the internet without content filters. It's a great source for bypassing strict content filters, securing VoIP communication, and browsing the web anonymously. It has OpenVPN, PPTP, and SSH server, SOCKS and TOR proxy, and a control panel with advanced features. The free version offers you 1 GB of traffic data usage per month.
Platform: Mac OS and Windows.
Paid Version: $3.90 per month
14. Hideninja
Hideninja offers you easy access to locally blocked websites and applications as well as privacy protection and WiFi hotspot security.  The interface is based on Holo so it's nice and easy to use. It encrypts all incoming and outgoing traffic, prevents any kind of online tracking activity from hackers and advertisers, and unblocks VoIP apps like Viber and Skype.
Platform: Android
Paid Version: $20 per month
13. ZenVPN
ZenVPN provides uncensored and secure internet access. They use strong industry encryption techniques to ensure that your traffic cannot be intercepted at ISP level or access point. You can access regionally restricted services, bypass government mandated filtering and use BitTorrent without any restrictions. The free version gives you 250 MB per day data usage.
Platform: Mac OS, Windows, Android and iOS.
Paid Version: $50 per year
12. OpenVPN Shield Exchange
Shield Exchange VPN (or Private Tunnel) allows to establish a secure connection to the internet, creating a private tunnel between your device and OpenVPN's servers. It privatizes and protects your data traffic with SSL and encryption, preventing anyone from viewing and snooping on your connection across the internet. The service also blocks malicious sites and prevents anyone from seeing your public IP address.
Platform: Mac OS, Windows, Android and iOS.
Paid Version: $50 per year
11. Fast Secure VPN
A Simple VPN without any bandwidth limit. It helps you protect your online privacy from targeted hacks and password data theft. There is an option to secure your mobile connection and communication on public WiFi networks. It's good for basic stuff like getting around regional restrictions for a bit, but for those who are looking for full-featured VPN service should look somewhere else.
Platform: Android
10. VPNBook
VPNBook is developed with the latest technologies and advanced cryptographic techniques to keep your data safe from prying eyes. It routes all your internet traffic through an encrypted tunnel to bypass authorities' censorship. There is no limit on bandwidth. However, the level of security is not revealed by providers: the site states that they use AES-256 and AES-128 encryption.
Platform: Mac OS, Windows and Linux.
9. FinchVPN
FinchVPN unblocks restricted sites, encrypts all your data you receive and send, prevents hackers and data sniffers tap into your connection on public WiFi spot, and masks your IP address. You can also prevent your ISP from inspecting, prioritizing and throttling the data. They won't keep your browsing data and logs.
Platform: Mac OS, Windows, Android and iOS.
Paid Version: $30 per year.
8. ZenMate
ZenMate encrypts and protects your browser traffic while hiding your locations and activity. It's like wearing a cloak of invisibility – you can go anywhere undetected. ZenMate leaves no chance of compromising your data via tracking or wiretapping. It also allows you to select which country you would like to connect from to throw off bad guys.
Platform: Mac OS, Windows, Android, iOS, Chrome, Firefox and Opera.
Paid Version: $78 per year
7. TunnelBear
TunnelBear provides simple, private and unrestricted internet. The free version offers 500 MB data per month, which is enough for light browsing requirement. If you exceed that, you need to upgrade to the premium one. It allows you to block nasty trackers such as analytics, ads, scripts and more. Also, you can turn VPN on/off with a single click and auto re-connect your connection after hibernation.
Platform: Mac OS, Windows, Android and iOS.
Paid Version: $50 per year
6. VYPR VPN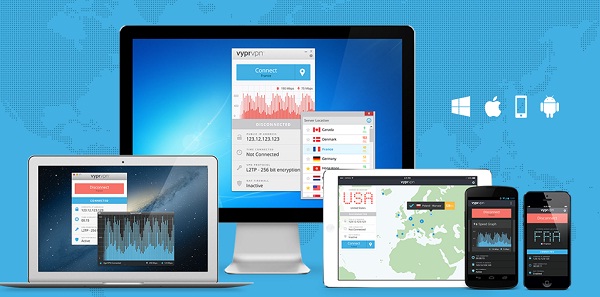 VYPR is one of the most robust VPNs in the market. They have more than 700 servers worldwide, 200,000+ IP addresses and secure access via OpenVPN and 256-bit encryption. They also offer cloud storage to keep your files secure. The free version includes 500 MB data usage per month and 2 simultaneous VPN connections.
Platform: Mac OS, Windows, Linux, Android and iOS.
Paid Version: $10 per month
5. Hola
Hola gives you freedom to browse the web without censorship and instantly play media files without waiting for them to download. It's a peer-to-peer VPN much like other P2P networks. Hola is disrupting the $5B a year video CDN market to increase the quality of video served while reducing the cost of delivery. It's completely free for non-commercial use.
Platform: Mac OS, Windows, Android, iOS, Firefox and Chrome.
Paid Version: $70 per year
4. Hide.me
Hide.me makes you truly anonymous on the web by hiding your identity, location or IP. It encrypts all your data (like passwords, credit card details), especially when you are using public WiFi. The network circumvents censorship and gives you back the right to speak independently, and lets you access restricted websites in your area. You will be able to tune into global TV (BBC, HBO, Netflix) at maximum possible speed, no matter where you are.
Platform: Windows and Android.
Paid Version: $12 per month
3. CyberGhost VPN
CyberGhost VPN is a simple, fast and efficient way to protect your private data, surf anonymously and access restricted websites. It offers top-notch security without slowing down your internet connection. It can hide your IP or replace with one of your choices, encrypt your connection and it doesn't keep logs. The free version includes unlimited bandwidth, AES 256-bit encryption and anti-fingerprinting system.
Platform: Mac OS, Windows, Android and iOS.
Paid Version: $70 per year
Read: 25 Small Business Collaboration Tools
2. Spotflux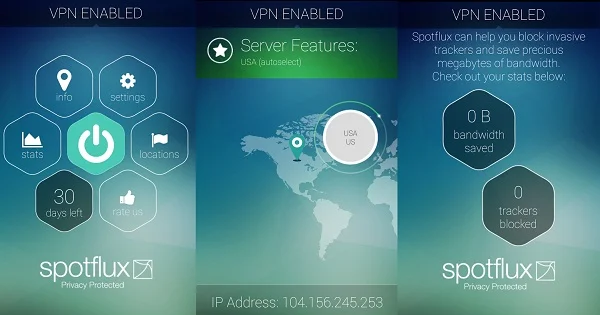 Spotflux eliminates things that pose a threat to your identity or your data. It performs millions of cloud-based real-time calculations (to remove ads, track cookies etc.), encrypts and compresses your internet traffic in order to save bandwidth. It protects your privacy by not only concealing your location, but allowing you to select your location from numerous servers worldwide.
Platform: Mac OS, Windows, Android and iOS.
Paid Version: $38 per year
1. Hotspot Shield
Hotspot Shield protects your online privacy by hiding your IP address and securing your information online with HTTPS encryption. It allows you to surf websites anonymously and bypass internet restrictions and censorship. The malware protection feature keeps you safe from phishing, spam sites and malicious attacks. Also, there is an option for Wi-Fi security to prevent hackers from stealing your personal information.
Read: 50 Incredibly Useful Windows Tools
Platform: Mac OS, Windows, Android and iOS.
Paid Version: $30 per year