We all are well aware of iOS, Android, Windows and Blackberry Smartphones. Among all of them, Android has largest share of users and it is based on the Linux platform (Linux Distro). Also, Linux is the basis of almost all modern operating systems. Do you know that more than 80% of smartphones are powered by Linux?
Today, we will be highlighting less common and future Linux Smartphone OS that you will see in the market in the next couple of years. Note: All of them are in developing stages. 
7. Nokia X
This is the brand new platform Microsoft is working on. It is mostly based on Google's Android but the interface is far different. It's an Android open source project where Google play store and service has been replaced by Microsoft's app store and services. The Nokia X GUI has a flat design which is very much similar to Windows OS.
6. WebOS
We have already seen WebOS devices in the market. It was designed by Palm which was acquired by HP in 2010. HP has a long and clear vision of WebOS. They wanted it to use in Smartphones, tablets and even PCs. Unfortunately, things didn't go as smooth as they expected. They launched HP TouchPad tablet running on WebOS in order to compete with Apple's iPad. Their product didn't do well in the market and they reduced the price from $500 to $99 to sell all the units.
Because of this failure, HP made the WebOS source code open which is now called WebOS Community Edition. In 2013, the WebOS is used by LG Inc. in one of their products, LG Smart TVs. This led them to produce amazing slick design TV with easy and interactive interface. LG hasn't announced to release any Smartphone running on WebOS but they are going to continue WebOS on TVs.
WebOS runs different web apps and many of its features are innovatory. A lot of features have been integrated into other popular operating systems. For example, WebOS's multitasking card is used in the iOS 7 multitasking interface. At present, LG is promoting open-source WebOS project.
5. Jolla Sailfish
Sailfish is a Linux based smartphone, quite compatible with Ubuntu. Its source code is based on MeeGo.
History of MeeGo
Nokia was working on a Linux Smartphone project named Maemo (2010) before collaborating with Microsoft. Later, the Maemo project got involved with Intel Corporation where they named it MeeGo OS. Nokia released this OS in one of their devices i.e Nokia N9 which is liked by many people specially developers. It was the first and last smartphone running on MeeGo. After that, they closed this project to entirely focus on Windows phones.
As a result, many key developers of MeeGo left the company. They started a company called Jolla where they created Sailfish OS. Most of the source code was taken from MeeGo only. Basically, Sailfish is a continuation of MeeGo but not owned by Nokia. Sailfish can run all apps created with Qt and a few android apps too.
The current version of Sailfish still requires a lot of work in GUI components and connectivity functions. According to the company in upcoming years it will be highly customizable (open source) and adaptable to tablets, phones, and even TVs.
4. Samsung Tizen
Tizen is an open-source mobile operating system based on the Linux foundation for tablets, smartphones, and notebooks. Tizen project is primarily controlled by Samsung and Intel, plus there are few other companies involved i.e. Sprint, Huawei, NTT Docomo, and Fujitsu. Tizen includes  Bada elements, very less amount of MeeGo source code, LiMo UI stack and few components from the jQuery mobile app framework.  Samsung's TouchWiz (custom GUI for the android product) is inspired by Tizen's UI.
One major disadvantage is Tizen has no store for apps. Therefore, Samsung needs to develop its own app store if they ever decide to end its partnership with Google. But, this is really not gonna happen, at least for 4 years. Tizen is primarily designed to run Android apps.
Samsung's Gear 2 Smartwatch has Tizen OS. Recently, they have revealed the first Tizen Smartphone, Samsung Z which is available in Russia. It is running on a 2.3 GHz quad-core processor which shows that apps are responsive and snappy. Overall, Tizen is ready to give tough competition to other new Linux based OS.
3. Amazon Fire
Image credit: Amazon
If you remember, a few days back, Amazon marketed its touchscreen Kindle eBook reader as "Based on Android tablet". And now they are marketing it as "Compatible with Android". It seems like Amazon is promoting its own Operating System i.e. Amazon Fire. It builds on the Android Open Source Project (AOSP). Obviously, the Amazon app store has replaced Google's play store and services in Kindle fire. Around 75% of Android apps are working on Amazon Fire (without any modification).
The Amazon OS also has special and unique features like Mayday that allows you video chat with a support representative within 15 Sec. Also, there is an app that quickly scans products so you can purchase stuff on amazon easily. A few other key features are text to speech conversion, web apps support, Dolby audio API and more. At present, this operating system is available on 3rd generation Kindle Fire and Amazon Fire TV.
2. Ubuntu Smartphone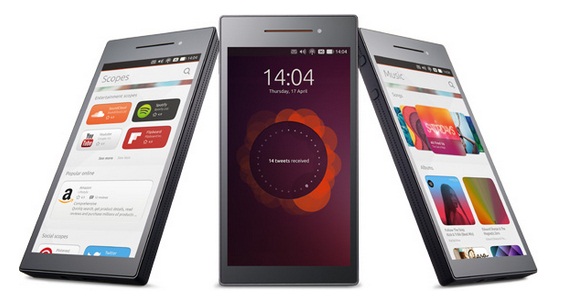 Ubuntu is a Linux based OS developed by a British company. The aim is to create a single OS for all devices like smartphones, tablets, desktops, and TVs. Just like Microsoft is trying to do the same Windows OS on smartphones and desktop. But they have not reached there yet.
Undoubtedly, Ubuntu is aimed at entry-level smartphone users. There will be no separate OS for different devices. The interface will be automatically adjusted according to the screen size and type of device. That means, install it on a PC, you will see an interface optimized for keyboard and mouse, plus for mobile and tabs, you will see a touch interface. Isn't it cool!! Just like responsive web design, Ubuntu is trying to make a Responsive Operating system.
Why Ubuntu will succeed in the future?
One Software for all devices
Supports both ARM and x86 processor
No Struggle with app support
Well suited for Gaming
1. Firefox OS
According to Mozilla, web is a future platform. All PC users mostly spend their time on web browsers and apps only. We all are familiar with Mozilla's Firefox browser and now they are coming up with HTML5 based mobile operating system. It is based on the Gecko rendering and Firefox web browser.
There are 3 parts of Firefox OS: Gonk, Gecko, and Gaia. Gonk is the hardware abstraction layer (Kernel) which is adapted for different chipsets. Gecko is the application interface that sets up the network, defines support for codecs and handles all application tasks. Gaia is a user interface that handles screen input/output.
Firefox OS devices are already available in the market. Alcatel one touch, ZTE open, Huawei Y300II, Intel cloud FX are few of them. The benefit of these handsets is everything is open source. If you are a developer, you can use the Firefox OS simulator. This is great platform if you want to write your own apps.
Mozilla wants to replace the native smartphone apps with web applications. To accomplish this project, they need to develop an ecosystem that makes both operator and user happy.