Electric vehicles now play an important role in maintaining the eco-friendly environment. Automakers have been developing this technology since last couple of decades. Recently, some researchers from the US Department of Energy develop a concept of next generation electric cars that may not need a battery swapping. It means, your car's battery will last 10 to 15 years. Every year, hundreds of electric concept vehicles are designed and manufacturers always try their best to produce them. In the following list, we have compiled 13 futuristic and innovative electric vehicles that may produce in the future. Have a look.
13. Dodge Deora
Image Via: autoblog
The Dodge Deora is a 1965 truck manufactured by Dodge. In 1967, Mike and Larry Alexander highly customized it and won many awards. They chopped and sectioned it to make a fully functional and futuristic looking vehicle. They extend the engine size and increase its power to 101 horsepower. They sold the prototype at auction in 2009 for $230,000. This car is also popular as one of the Hot Wheels toy cars.
12. Honda Native
Image Via: flickr
The Honda Native is not only a concept, it is more than a dream. Such vehicles could only be imagined that can fly and powered by pure water. The water is used to produce electric current that recharges the batteries. Honda Native is also known by the name of Chameleon because it has a unique feature of changing its color according to the environment.
11. P-Eco
Image Via: designbuzz
The P-Eco is designed by Jung Hoon Kim of South Korea. This concept vehicle is powered by piezoelectricity. It is designed to make life easier in the city. It works on a simple mechanism. As it starts, numerous chords begin to vibrate that creates electric current and charge the battery.
10. Volkswagen Viseo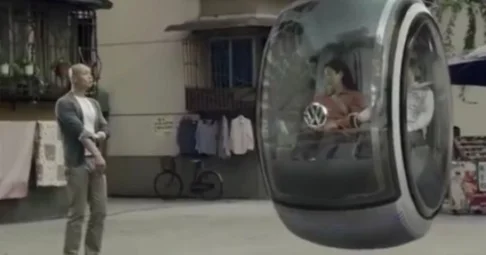 Image Via: mashable
In 2012, a Chinese girl created a design of a Hover Car. This car is powered by minerals that generate thrust on the ground to move it forward. It uses the electromagnetic suspension technique to create hover effects. Moreover, the girl was offered to test drive in a simulated video. Many people consider this fake but still bottom of the story is: it has a cool design.
9. Toyota Ex III
Image Via: gopixpic
The Toyota Ex III was, the futuristic view of EX-I, created in 1969 for Tokyo Motor Show. It has a larger body with more aerodynamic and a pointed front. It has no bumpers and features sharply slopped slides. Powered by a gas turbine engine and an electric motor but their full details were never out.
8. Renault Kidma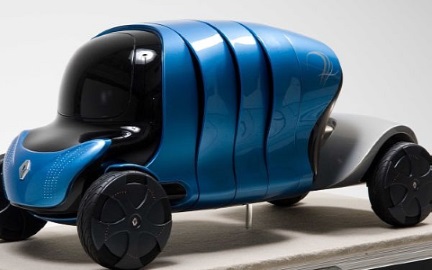 Image Via: pinterest
Renault Kidma is a concept vehicle designed by Thomas Felix. It is an attempt to create a mobility system that protects the environment. It runs on renewable energy. It automatically gets charged at parking lot using the solar energy and also smart enough to store the extra energy. The car can be customized at extreme level: you can change the seat position, color of the car, transparency of the windshield and the sound proof features of its walls.
7. Hyperion Concept Car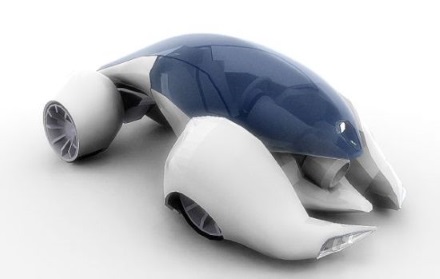 Image Via: greendiary
Marco Aurelio Gala designed an eco-friendly car, a Hyperion concept for a design contest in 2008. Hyperion word was taken from Greek mythology which means "titan". It is a completely emission free vehicle and powered by lithium-ion batteries. All its body parts are made up of carbon fiber to maximize its efficiency. Its powerful electric engine provides the maximum speed of 200 km/h.
6. Aurora Safety Car
Image Via: forgottenfiberglass
The Aurora Safety Car was designed by Alfredo Juliano with the primary aim of safety of passengers. It was designed in 1957 and features most of the currently available specifications of safety. It also has a rounded windscreen that eliminates the need of windscreen wipers. For its strange body design, this vehicle is also considered the ugliest car of all time.
Read: 10 Future Car Technologies Expected By 2020
5. Peugeot Egochine Concept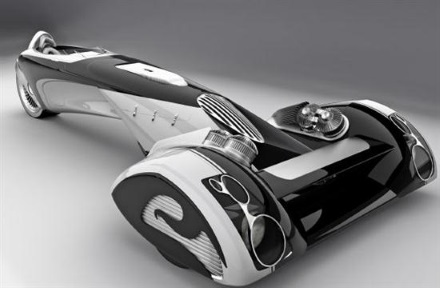 Image Via: carsshow
Paulo de Giusti designed this razor looking vehicle for the Peugeot design contest. Its designer is highly inspired from the design of the Gillette Fusion power razor. It has space for only one person. It is fitted with a hydrogen fuel cell and powered by a pair of electric motors.
4. A360 Concept Car
Image Via: psipunk
Designer, Huynh Ngoc Lan designed the A360 concept car that looks like a mixture of UFO and stealth fighter jet. It moves on three spheres rather than wheels, which allow it to move in any direction. Its name is based on the capability of rotating 360 degrees on a spot. It features a camera that lets you interact with the exterior environment and the driver.
Read: 15 Best American Classic Muscle Cars of All Time
3. BMW Lovos
Image Via: carbodydesign
BMW Lovos looks like a complete transformer. Its unique design draws attention toward it and covered with something that looks like fish scales. It consists of hundreds of identical scales that act as everything from solar panels to air brakes. These scales can open and close depending upon various factors. Furthermore, these scales appear as turbines while the wheels are in motion.
2. Peugeot Moovie Concept
Image Via: madle
A Portuguese designer, Andre Costa won the Peugeot Design contest for designing a futuristic vehicle. It was also shown at the Frankfurt Motor Show but it is completely non-operational. It has two wheels that are independently powered by electric motors. To provide stability, both the wheels are tilted inward at certain angle.
1. Mazda Nagare Concept Car
Image Via: carbodydesign
The Nagare concept car was created by Mazda ad first time introduced at the 2006 Los Angeles Auto Show. Nagare means flow and the designers try to make it more aerodynamic. The multiple bodyline gives it a smooth seamless design. It also features a large windshield and its wheels are enclosed inside the body that seems like a tomorrow's vehicle. This concept is considered as the future of Mazda automobiles.