There is no doubt that Internet has changed the way we learn, communicate, shop, in fact it has changed the whole living style. In a last few couple of years, the online marketing has grown at a tremendous rate. The great thing about online store is, it takes care of all types of audience. There are millions of products and you can buy almost any gadget you can think of.
If you are looking for something cool and inexpensive, we are here to fill your bags with the awesome stuffs. Geek, nerd, techie, weirdo, guru, specialist or whatever you call yourself, below, you will find bunch of unique stuffs worthy for all gadget lovers. Have a look…
37. Newtons Cradle – $10
There is something weird hypnotic about watching these steel balls collide each other, simultaneously providing a calming relaxing clicking. No batteries required.
36. Gyrobot – $45
Gyroscopes are used in countless devices. With this gyrobot you can build a robot that can balance on 2 linear wheels and move along a tightrope. The kit contains gyroscopic robot, gyro horizon, gyrocompass, flight simulator and over 100 pieces with easy to read parts description. Overall, this is a great kit to learn physical science principles.
35. Wall Clock mathematics teacher – $18
The wall clock is 10 inches in diameter and it has a black plastic frame with a clear cover. It has precision quartz movement, operates on 1 AA battery and built with rich and vibrant graphics.
34. Cosmos Light Lamp – $19
This is an amazing star project lamp that can put the entire universe in your room.
33. Camera Lens Cup – $15
A small product for photographers, styled to look and feel like your favorite lens. It comes with a lens cover lid to keep your beverage hot.
32. Ultraviolet Spy Pen – $10
This is an ultimate tool for fun and secret communication. Scrawl a message with the special ink, and the only way to see or read it is with the high intensity ultraviolet light.
31. Pizza Box Oven – $72
A small and cute pizza box for cooking up to 12 inch pizza. It has a rotating cooking surface (both bottom and top), adjustable thermostat and a cool touch stainless steel handle.
30. Levitron Anti-Gravity Globe – $110
This levitating globe is much more than an optical illusion. It floats in mid-air using two opposing magnets. The base includes a low voltage AC adapter.
29. Solar Power Energy Cockroach – $4
A solar power energy cockroach that jumps around in the sunlight. When the sun shines on the cockroach's solar paneled back he starts to do funny jumping dance that will bring a smile on every face.  You can use this funky gadget to demonstrate the working of solar panel and green solar energy.
28. YJ Wheel Puzzle Cube – $6
This is a smooth turning wheel puzzle, a fun concept which is very different than a typical 3*3 cube puzzle. It's a square cube when solved and a wheel when mixed up.
27. Target Alarm Clock – $9
This alarm clock requires a shot to hit the bullseye to shut it up. The aim is to force you get of bed and accomplish your daily task early.
26. Scorpion Computer Mouse – $30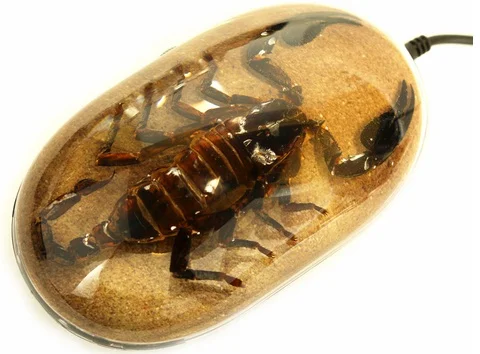 This is a sand background black scorpion computer mouse with a real scorpion in it. The right and left buttons are located at the front-bottom of the mouse. The device lights up with numerous different colors.
Read: Super Stylish PC Keyboards with Amazing Design
25. Magnetic Accelerator – $35
This is a linear chain reaction magnetic accelerator, built in a series of stage, each containing a spacer, a magnet and a projectile. You need to release the steel ball to start the chain reaction. What would be the result if you connected the start-point and end-point together? Find out yourself.
24. Spider Mouse – $10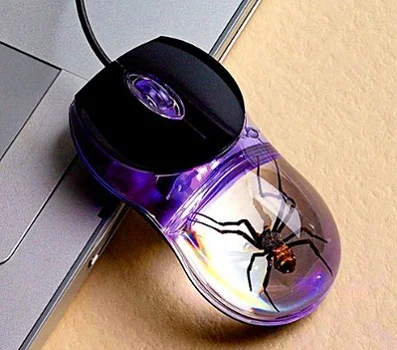 This is an optical mouse with a real spider embedded in clear acrylic. A visual prod to surf the net for naturalist's delights.
23. USB LED Fan Clock – $20
This is an interesting device that displays a clock as it spins, especially made for intense gaming movements when you can't see the desktop clock. The blades of the fans are made of soft, damage-free plastic.
22. Mad Catz R.A.T. 9 Professional Mouse – $140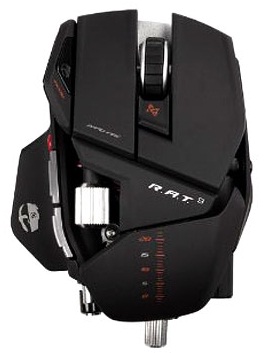 An extreme gaming mouse that can be quickly and easily adapted by adjusting the length to suit your grip style. The thumbs panel moves forwards, backwards, and pivot outwards to provide a comfortable platform through which all buttons are easily accessible.
21. Swinging Sticks – $289
You might have seen this on Pepper Pott's desk in Iron Man 2. Never ceasing, always swinging and defying gravity. Sticks swing in a smooth and noiseless perpetual motion. You'll need 4 AA batteries to run it.
20. Solar Mason Jar – $20
Light up your room or garden with rechargeable solar mason jar. Select between yellow or color changing to set the mood. No batteries required, just a bit of direct sunlight.
19. Smartphone Controlled Light Bulb – $38
This is wireless, high performance and long lasting LED bulb that can be controlled with your phone. The setup involves launching a free application and set up a bulb. The bulb can be secured to a specific device. No WiFi needed.
18. Magic Wand Remote Control – $57
A unique design of remote (especially for Harry Potter fans) that can learn 13 infrared remote control codes and replay them at your commands with 13 different gestures.
17. Phone Controlled Tracked Vehicle – $149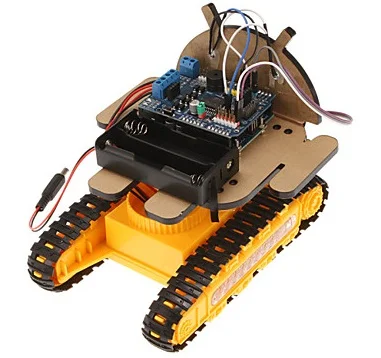 This is a Bluetooth Android cell phone controlled tracked vehicle for Arduino. It includes ARDUINO 298 expansion board, crawler car board, control board, battery box, charger, 7 color LED light, lithium battery, USB line and a 18650 charger.
16. Ultraportable Record Player – $71
Take your entertainment to the next level with ultraportable record player. Crosley's Revolution is the first record player with a platter smaller than a teacup saucer and the first with a wireless transmitter for cord-free fun. This battery powered device can be easily paired with FM radio.
15. LED Dice Kit – $17
Build your own green or red die that lights up with a number 1 to 6. Just tap the kit on the table to light up the LEDs. It automatically goes into sleeper mode until the next time it is tapped.
14. MintyBoost USB Charger Kit – $25
This USB charger kit allows you to charge on the go. You can build your own small yet powerful USB charger for handheld devices like MP3 player, camera, iPod, smartphones, tablets and latest wearable devices. It provides 500mA @ 5V power.
13. Star Wars Darth Vader USB HUB – $136
Star Wars fans will love this device. It contains 4 USB ports and features spinning head, light-up eyes and Darth Vader breathing sound.
12. Defusable Alarm Clock Kit – $33
This electronic kit allows you to build the scary looking clock that you can actually diffuse. Press the big red button to start a scary countdown exactly like in action films. There are four wires across the top of the digital clock and you have 10 seconds (customizable) to cut the right wire.
11. Solder: Time Watch Kit -$35
This is easy to use solder watch kit packed with laser cut acrylic casing and a velcro wristband. It features board Dallas DS1337, RTC (real time clock), programming and I2C pads labeled on bottom.
10. SuperNova Light Cube – $80
This is a unique gadget for explosion of light and sound. It combines a powerful Bluetooth speaker with amazing light show. Moreover, you'll have full control over the color pallet and pattern of the light.
9. Micro Gyro Quadcopter – $60
The palm sized micro gyro quadcopter is great for those who are new to flying. The protective cage keeps the propeller safe in case of crash. Unlike many RC controllers, you can control the copter with one hand. Moreover, it supports auto hover and 360 degree flips.
8. Speaker System – $230
The 2.1 Speaker system with integrated Bluetooth technology for high performance and wireless connectivity. It includes a 6 inch down firing subwoofer for deep high bass, 8 full range transducers for crystal clear sound and smooth touch control for mute and volume.
7. Hexy the Hexapod – $250
It's a fully articulated, arduino powered hexapod robot kit. It has 6 legs, 19 servo motors, build with completely open source software and hardware. The pre-build demo can walk, play and dance. You can easily discover the parts and extend the gadget's functionality. This is the best way to learn robotics concepts.
6. Star Theatre Planetarium – $110
Star Theatre Planetarium uses the same lens as a full blown commercial planetarium to display real constellations in ultra-high detail. It is equipped with ultra-bright white LED technology that allows the projector to beam 60,000 stars skywards.
5. Robotist Advanced Kit – $396
With Robotist Advanced Kit, you can build unlimited range of robots and learn to program them to do amazing stuff (like running, dancing, carry objects and more). It comes with over 190 parts including DC motor, LED, buzzer, studuino board, accelerometer, light/infrared/sound/touch sensor.
Read: 10 Coolest Robot Designs in the World
4. MiP Robot – $100
This WowWee MiP robot dances, drives, balances, battles, responds to motions, play games and more. The best thing is, it can be controlled by a compatible Android or iOS smartphone for ease of use. The dual wheels enable simple and smooth mobility.
3. Star Trek Tri-Dimensional Chess – $600
This is official Star Trek Tri-Dimensional Chess set by the Franklin Mint. It is crafted of 3 larger 4.25 inch playing boards plus 4 smaller 2.3 inch movable attack boards. Chess Pieces are 24kt Gold and Sterling Silver Plated.
Read: 30+ Cool, Creative and Luxuary Chess Sets
2. Cyclone ARF Quadcopter Kit – $471
The quadcopter is strong and is good for filming applications. The cyclone frame gives you the complete flexibility to build quadcopter, hexacopter or octacopter. The kit provides you almost everything you need to build a cyclone based aeroquad, except battery and RC receiver/transmitter. Just zip high above everyone and capture the eagle eye view.
1. EZ-Robot Revolution JD – $500
Recommended: 12 Most Advanced Humanoid Robots
This is walking and talking humanoid robot built with EZ bits. It has arms with gripping hands (two-fingered grippers), nods and shakes his head. The head is equipped with a camera for vision tracking mode, including motion, color, QR codes, glyphs and faces. Each eye has 9 RGB LED which can be programmed to give different expressions. The EZ builder software helps you to create animation and make custom movements.