Google Mail is one of the top email services that is getting better and better with time. It already comes with tons of great features, but there are dozens of awesome tools out there, that will completely change the way you use Gmail. Once you start using them, it's hard to live without them. From enhancing and tidying your contacts list to implementing a productivity system, anything is possible. You just need to know how.
The article will introduce you to the new ways to make your email service even more useful. Let's take a look at some of the most useful plugins and apps that will turn your Gmail into the ultimate emailing powerhouse.
All listed tools are free unless specified. 
20. Mailburn
Mailburn turns your Gmail threads into chats. It automatically shows the conversations with real people only. The app is currently available for iOS users only and specially designed for heavy email users like bloggers, executives and others.
19. Find Big Mail
If you are using Gmail service for a while, you could find yourself reaching full capacity. If you want a fast and easy way to rid of big emails hogging space, FindBigMail couldn't make it any easier. The price starts at $9 per month for single account.
18. Gmail Offline
Gmail Offline is a Chrome extension that allows you to read, respond, search and archive mail without an internet connection. It automatically synchronizes messages and queued actions when connection is available.
17. Google Takeout
This is a Google in-house tool to extract all your emails, calendars, contacts, files and other information. You can select what product data you want to include in your backup like drive, blogger, groups, hangouts, maps etc.
16. FollowupCC
FollowupCC gives you the choice to set a follow-up date when you are sending or replying to an email. In case, you haven't heard back from your recipient, the plugin will remind you to follow up. Also, you can track who read your emails and when.
15. Sortd
Sortd organizes all your emails into beautiful list. It's a smart skin that lives inside of your Gmail. You can create numerous flexible lists, name whatever you want and drag-drop emails from inbox to list. Moreover, it is not limited just to email, you can add regular tasks manually.
14. Discoverly
Discoverly shows you social profile (Facebook, Twitter, LinkedIn) of recipients as well as their information about connections (friends) and some recent activities, on the sidebar widget.
13. eAngel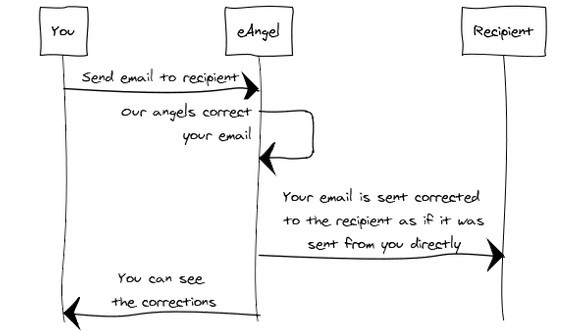 eAngel can correct spelling and grammars in different languages, including English, French, German, Spanish and Hebrew. Each email is corrected personally by their language experts. The first 5 emails are free, after that you need to pay $5 per month for 830 corrected characters.
12. Scrubly
Scrubly removes duplicate entries, junk contacts, merges matching contacts and generates a report of how many changes it made to your address book. It also adds contact information from social networking sites like Twitter. If you don't like the changes, you can always restore your data in backup section. The free version will scan up to 250 contacts.
11. Unroll.me
Unroll.me combines all of your subscriptions into one email. The Rollup appears in your inbox everyday at the time you choose. You can unsubscribe instantly from whatever you don't want.
10. Giphy
With Giphy, you can insert GIF(s) without ever leaving your email. The Chrome extension adds a Giphy icon to your compose window so you can search and discover best GIFs quickly.
9. KeyRocket
Gmail has numerous handy shortcuts but only few people know about it. Well, no one wants to spend a day memorizing keystrokes and that's what KeyRocket designed for. It provides a keyboard shortcut notification at lower right corner when you click on any tab.
8. Boomerang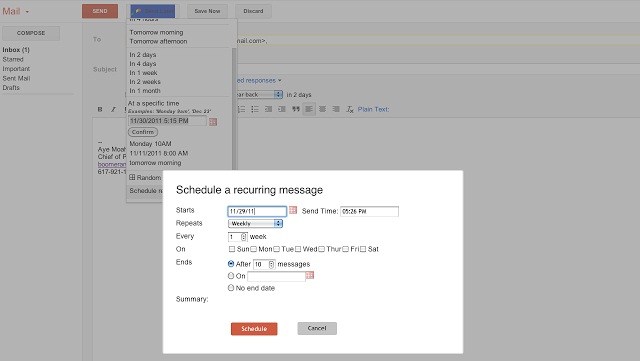 Boomerang lets you schedule emails to be sent at a later time. It gives you the option to only be reminded if nobody replies, or regardless. Also, you can take messages out of the inbox until you actually need them. You can schedule 10 emails per month for free.
7. Snapmail
Snapmail is a Chrome extension that lets you send self-destructing emails. You can send confidential data via an encrypted service that connects to Gmail. After it is open, the message will be automatically deleted after 60 seconds.
6. Unsubscriber
Unsubscriber for Gmail is an app designed for iPhone and iPad that allows you to easily subscribe from newsletter and mailing list, just by swiping. All you need to do is swipe left to unsubscribe and swipe right to keep your subscription.
5. Ugly Email
Ugly Email is a free Chrome extension that checks if the email is being tracked. Every tracked email is marked with the "evil eye" so you can easily identify them, even before opening it.
4. Mailpilot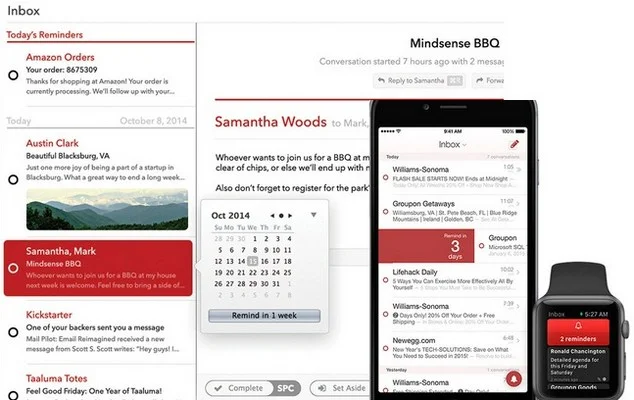 Mailpilot is a desktop Gmail client that treats email like tasks. Instead of marking a message as "unread", you can email reminders. It focuses on "completeness" of an email. When you've responded to a thread, you can change its status from incomplete to complete. Also, you can gather related messages in groups.
3. CloudMagic
CloudMagic gives you seamless integration between your Gmail account and cloud-based services like Salesforce, Mailchimp, Pocket, Evernote and more, which you can access and update without leaving Gmail Inbox. It is designed for both iOS and Android.
2. ToutApp
ToutApp helps you create and track series of templates for repetitive emails. It comes with analytic features that provide pretty interesting statistics on how often your emails are opened, replied to and how many times links are clicked. The app is for sales and PR professionals as it helps them close more deals and spend less time copying, pasting or wondering what happened to that mail. The price starts at $30 per month.
1. Checker Plus
Checker Plus is a Chrome extension that sends you desktop notifications and allows you to read or delete emails without opening Gmail inbox, and easily manage multiple accounts.