Grubhub is one of the biggest players in the food delivery market today. It's a part of a Dutch company Just Eat Takeaway, featuring 320,000+ restaurant partners in over 4,000 US cities.
What started as an alternative to paper menus now serves 32 million diners and processes over 715,000 orders every day. Plus, the platform has distributed more than 5 billion in tips to drivers.
Together with restaurant and driver partners, Grubhub gives you more options to take out, whether you are craving to discover something new or looking for your favorite meal from a nearby restaurant. 
However, the company has been criticized multiple times for allegedly misclassifying employees, listing restaurants without permission, and antitrust price manipulation. It has faced several lawsuits in the past five years.
Fortunately, Grubhub is not the only online food ordering and delivery platform out there. There are plenty of equally good and better options available in the market.
In this overview article, we have highlighted top Grubhub competitors (or alternatives) that guarantee on-time delivery and the best prices for diners. They all use innovative ordering technology and efficient delivery system to provide a top-notch user experience.
9. EatStreet
Area served: United States
Founded in: 2010
Rating: 4.5/5 from 46,000+ users
EatStreet delivers a variety of meals directly to your door, including breakfast, brunch, lunch, dinner, snacks, and late-night snacks and desserts. Whether you are looking for your favorite dish or just want to explore meals, the platform has you covered.
You can choose from plenty of options, ranging from Mexican and Chinese to Italian and Mediterranean. Vegan, keto, pescatarian, and gluten-free options are also available.
The company operates in more than 250 cities throughout the United States, connecting customers with over 15,000 restaurants.
Key Features 
Use food images to explore and select your ideal dishes
Place orders in advance
Group order and split the bill
Diverse payment options
Besides the online ordering platform, EatStreet also provides restaurants with customized mobile applications, websites, FB ordering, and digital marketing services.
For diners, EatStreet offers exciting offers and rewards. It hooks customers up with exclusive restaurant specials. The more they order, the better deals they get.
8. Beyondmenu Food Delivery
Area served: United States
Founded in: 2009
Rating: 4.7/5 from 226,000+ users
Beyondmenu allows you to choose from thousands of restaurants and over 35 different cuisines. Its user-friendly interface makes it easy to browse restaurant delivery menus, read reviews, checkout local coupons, and order takeout with a few taps.
You can use the platform to connect with other foodies, share ideas, and seek advice about nearby restaurants. Try something new or explore the community around you to see what you have been missing out on so far.
Key Features 
Filter results by cuisine, distance, and order type
Re-order with a click of a button
Filter results by cuisine, order type, distance, and more
Connect with a community of foodies
The company follows a robust business model that promotes fast food delivery and convenience. Their platform includes all the essential tools vendors need to manage orders and make timely deliveries. They regularly update their Android and iOS apps, making optimum use of tech.
In addition to serving vendors, BeyondMenu also offers loyalty programs and rewards to consumers. Plus, both vendors and consumers get access to a large network of support representatives.
7. Caviar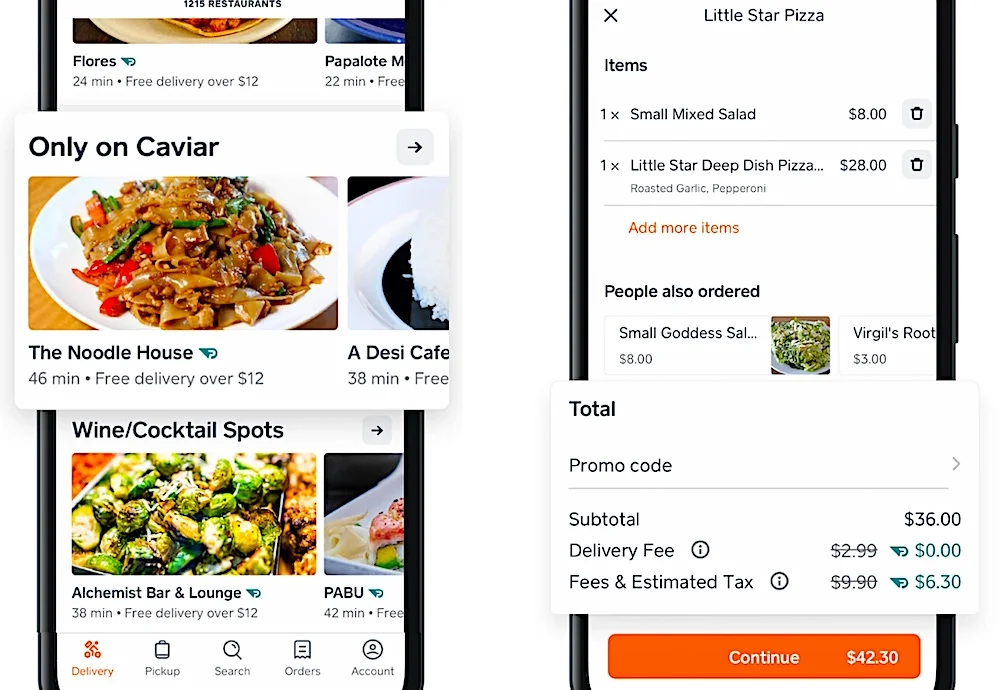 Area served: United States
Founded in: 2013
Rating: 4.8/5 from 172,000+ users
Like Grubhub, Caviar provides the convenience of ordering meals online without ever having to leave the comfort of your home or workplace. However, it features a more curated selection of restaurants and no fast-food joints.
The company allows vendors across the United States to reach more diners, increase revenues, and expand reach. It utilizes advanced technology to help deliver or allow customers to pick up from thousands of restaurants, from local mom-and-pop to Michelin-rated and The Infatuation picks!
Key Features 
Real-time order tracking
Schedule deliveries
No minimum order
Continuously adds new restaurants, exciting deals, and exclusive benefits
You may notice that some restaurants list menu items with a little higher prices on the app. For instance, a cheese pizza that costs $10 at your favorite cafe might be $11 on the Caviar. Some vendors use this tactic to offset their bag fees, staffing fees, and other related expenses.
Besides these inflated prices, you need to pay service fees, delivery fees, taxes, and tips on every order. In other words, you are being charged for the convenience of getting the meal delivered to you.
Your first delivery is free. Plus, you receive $10 off your first order of $35 or more.
6. SkipTheDishes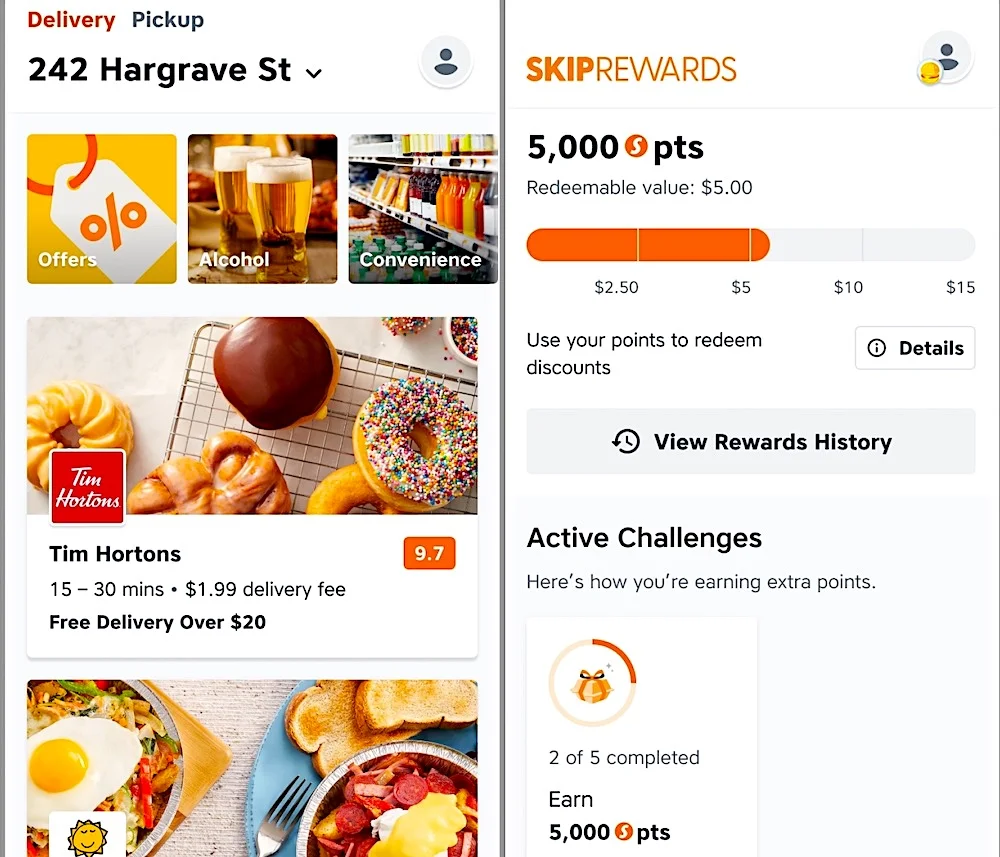 Area served: Canada
Founded in: 2012
Rating: 4.6/5 from 400,000+ users
Owned by Dutch-based Just Eat Takeaway.com, SkipTheDishes connects over a million users with 30,000+ restaurant partners in Canada.
The platform is very simple to use. Anyone can sign up and order and pay for dishes from listed restaurants online using an iOS/Android app or through a web browser. You can order from nearby restaurants starting as early as 6 am and as late as 3 am to satisfy your late-night cravings.
It delivers everything, from sushi to burritos, pizza to fish, chips to salad, and ice cream to sandwiches. Order your favorite meals or browse tons of restaurants to discover your new go-to. The app will show you thousands of items suitable for every mood and occasion.
Key Features 
Zero delivery fee with a minimum order
Instantly re-order your most loved dishes
Order groceries
No hidden fees
SkipTheDishes has a unique rewards program for all users. Everyone starts out with an Orange status, earning 5 points for every dollar spent. If users order twice in a month, they level up to Gold status and begin earning 10 points for every dollar spent. These points can then be redeemed for discounts on future orders.
The company operates in all ten provinces, with new regions added every month.
5. Deliveroo
Area served: UK, Australia, Netherlands, Italy, France, Ireland, Belgium, UAE, Kuwait, Hong Kong
Founded in: 2013
Rating: 4.5/5 from 945,000+ users
Deliveroo has more than 50,000 restaurant partners, major grocery partners, and 50,000+ self-employed riders working in more than 200 locations. Headquartered in London, the company has about 2,300 employees in offices around the world. 
Its special operation, Deliveroo Editions, focuses on a large network of virtual kitchens — cooking facilities set up for the preparation of delivery-only meals. They try to deliver every order within 30 minutes.
Key Features 
Filter results by dietary needs, such as gluten-free or vegan or anything else
Sort by fastest delivery time or top-rated restaurants
Order groceries from local stores
Schedule your order for later
As for pricing, the platform charges three types of fees for every order: a delivery fee based on your location, a service fee based on the order amount, and a small order fee if your total is less than the restaurant's minimum.
Deliveroo also gives you two options to subscribe to their monthly membership.
Silver

(£3.49/month): Offers free delivery when your order is above £25 on restaurants or groceries

Gold

(£7.99/month): Offers free delivery on every order
No matter which version you choose, you will get exclusive restaurant offers that aren't available to other users.
4. Postmates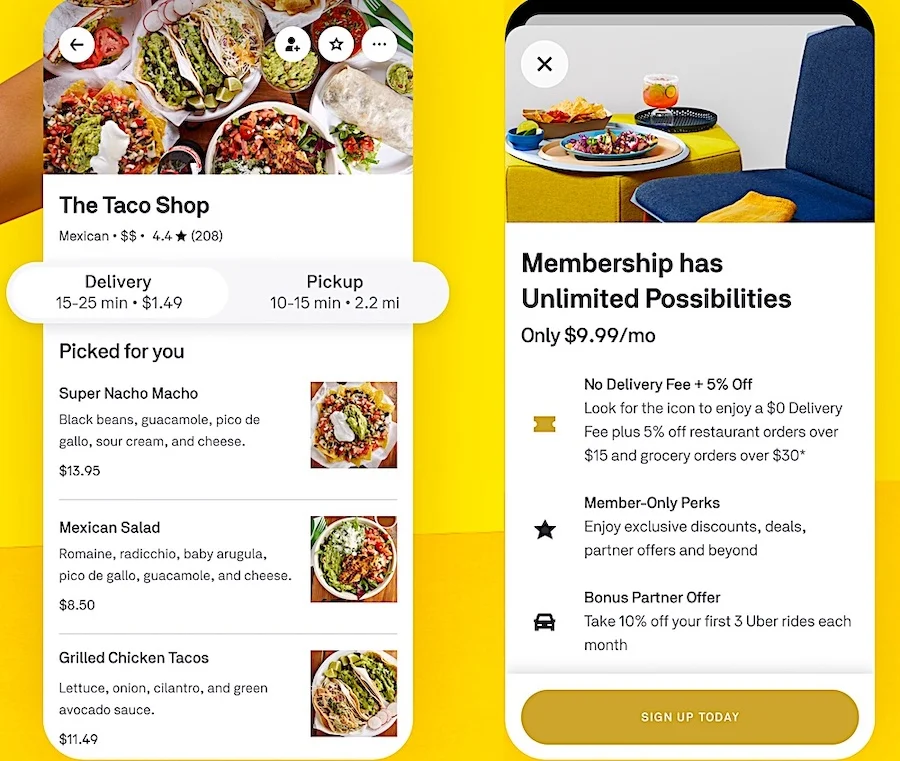 Area served: United States
Founded in: 2011
Rating: 4.8/5 from 2,100,000+ users
Postmates offers local delivery of restaurant-prepared meals and other goods in over 2,940 cities in the United States. It has s a great user interface to browse nearby restaurants and choose from thousands of food items.
The app also lists grocery stores, liquor shops, and big beauty brands. Add items from any menu and orders them within a few taps. Postmates will deliver them in about an hour.  
For $9.99 per month, you get unlimited free delivery and 5% off restaurant orders above $15 and grocery orders above $30. You also receive exclusive deals, discounts, and partner offers every month.
Key Features 
Fast delivery
Schedule your orders
Real-time order tracking
New users save up to $10 on their first order
Founded in 2011, the company raised nearly $800,000 through an initial round of funding. In 2019, it raised $100 million (from Spark Capital, BlackRock, Slow Ventures, Uncork Capital, and Founders Fund) at a valuation of $1.85 billion.
In 2020, Uber acquired the entire company for $2.65 billion.
3. Instacart
Area served: United States and Canada
Founded in: 2012
Rating: 4.7/5 from 2,750,000+ users
Instacart lets you order groceries via a smartphone app or website. It offers pick-up service and contactless delivery to ensure you and your shopper stay safe.
You can order a wide range of products from fresh and local markets near you. It delivers healthy food to late-night snacks and alcohol. Essentials like prescriptions, toilet paper, and other household items are delivered on the same day.
The platform lists 40,000+ stores, including all popular supermarkets and stores across North America.
Key Features 
500 million products
85,000+ retail locations across 5,500+ cities
See real-time updates
Delivers items on the same day
The delivery fee is $7.99 for orders below $35 and $3.99 for orders above that amount. Regardless of the order amount, there is a 5% service fee, which is subject to change based on factors like location and number and types of products in your cart. You can pay via credit cards, EBT cards, Google Pay, or Apple Pay.
Instacart also has a membership program that costs $9.99 a month or $99 a year. It waives delivery fees on orders above $35 and lower service fees too.
2. Uber Eats
Area served: All developed countries
Founded in: 2014
Rating: 4.7/5 from 10,700,000+ users
Uber Eats allows you to read menus and reviews and order food from thousands of popular restaurants using a smartphone app or through a web browser. Your orders are delivered by couriers using scooters, bikes, or on foot.
The company has over 900,000 restaurant partners in over 6,000 cities across 45 countries. And with more than 81 million diners, it is one of the most popular online delivering services. Over 1 billion food orders have been delivered to date through this platform.
In 2021, Uber Eats surpassed $50 billion in gross bookings. 
Benefits 
Discover new restaurants and dishes
No-contact delivery
Easy payment options
Available Internationally
The platform charges three types of fees: a delivery fee based on your location, a 10% service fee, and a marketplace fee, which is a fixed percentage of the order with a cap amount.
If you order food frequently, you can subscribe to the 'Eats Pass' for $9.99 per month. It gives you free delivery and 5% off orders above $15 at eligible restaurants.
Uber Eats is also experimenting with delivery services. In May 2022, they launched two autonomous delivery pilots in Los Angeles.
1. DoorDash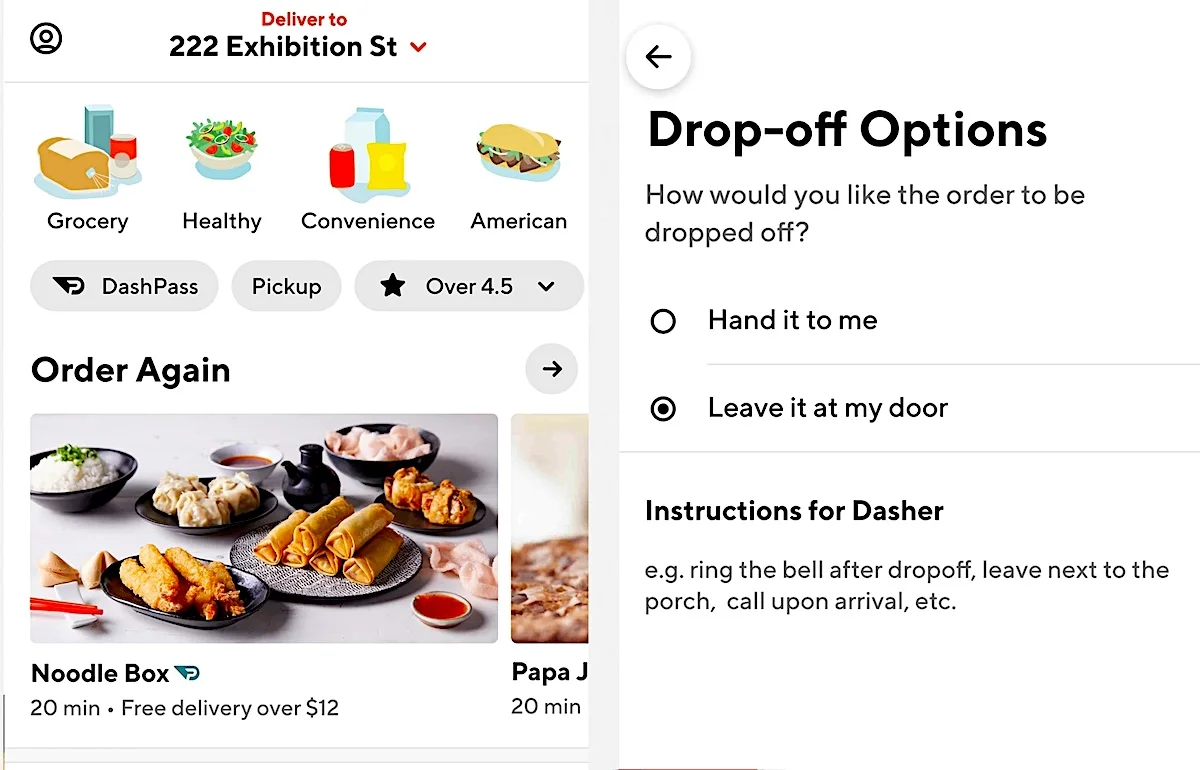 Area served: United States, Canada, Australia, New Zealand, Germany, Japan
Founded in: 2013
Rating: 4.8/5 from 17,200,000+ users
DoorDash started with door-to-door delivery, and now it is the world's most popular food delivery platform. It gives you the option to choose from more than 300,000 local and national favorites across the United States, Canada, and Australia.
It puts thousands of restaurants, grocery stores, pet stores, convenience stores, and more at your fingertips, delivering the best of your neighborhood on-demand.
Benefits
Schedule deliveries
New users get zero delivery fee and 25% off on their first order
$1 delivery fees on all orders during the first month
Conveniently pay via credit card, Apple Pay, or PayPal
DoorDash accounts for 56% of the total online food delivery business and 60% of the total convenience delivery business in the United States. It has more than 25 million active users, of which 5 million have subscribed to its premium service DashPass.
Anyone can subscribe to DashPass for $9.99 a month to enjoy zero delivery fees and reduced service charges on orders above $12 (or $25 for grocery store orders). Subscribers save an average of $5 per eligible order.
In the past few years, DoorDash has made several acquisitions. The most notable one happened in 2021 when it acquired a Finnish food delivery platform, Wolt, for over $8.1 billion.
Other Equally Good Grubhub Alternatives
10. ChowNow
Area served: United States
Founded in: 2011
Rating: 4.7/5 from 17,000+ users
ChowNow is designed for restaurant vendors. It allows each vendor to take orders directly through their Instagram profile and Facebook page.
Ordering food or listing restaurants is incredibly easy. And unlike most other platforms, ChowNow doesn't charge any commission from vendors and hidden fees from diners.
The company partners with unique independent restaurants, offering diners a diverse menu of local takeout in their neighborhood. Every restaurant gives convenient takeout options, and most of them offer home delivery and curbside pick-up.
Curbside pick-up is becoming a more popular choice due to its low prices compared to delivery. When enabled, the app shows you a third online ordering option, Curbside Pickup, next to Pickup and Delivery. You may enter your vehicle type or color and call the restaurant on arrival.
11. Gopuff
Area served: United States
Founded in: 2013
Rating: 4.7/5 from 130,000+ users
Gopuff delivers food and consumer goods in 650 cities through 500+ micro-fulfillment centers. It lists thousands of items from snacks and drinks to frozen and freshly-cooked hot food.
The platform also delivers alcohol (wine, beer, spirits, and seltzer) and essential items like medicine, baby food, cleaning supplies, toilet paper, paper towels, and much more. You tap it; they will bring it.
The more you order, the better deal you get. New customers earn 6,000 Puff Points on their first order. These points can be redeemed to unlock various rewards and daily or weekly discounts.
Moreover, Gopuff delivers 24/7 in several locations, which is convenient if you are binging sitcoms or working late at night.
12. Chowbus
Area served: North America, Australia
Founded in: 2016
Rating: 4.7/5 from 17,100+ users
Chowbus connects Asian restaurants to its customers in the United States, Canada, and Australia. It serves cuisines like Chinese, Indian, Japanese, Vietnamese, and Korean. Every dish is handpicked to ensure it truly reflects the culture of the country from which that dish is taken form.
The app lists local independent restaurants along with real food pictures. Unlike most platforms, Chowbus allows you to order from multiple restaurants in a single delivery with no extra fees, letting you sample a wider variety of dishes in one meal.
The company also offers a subscription service called Chowbus Plus. For $9.99 a month, subscribers in the US and Canada receive free delivery on all orders above $15. However, if you are living in New York City, there is no such order limit for you.
If you sign up for the membership for the first time, you will get a free 30-day trial.
13. Freshly
Area served: United States
Founded in: 2012
Rating: 4.8/5 from 150,000+ users
Started in 2012 as a prepared meal delivery company, Freshly now ships more than four million meals every month across the contiguous US.
The platform focuses on meals that are less processed and contain less sugar and more nutrients. Most of the listed items are plant-based, dairy-free, and gluten-free. You can also find calorie-conscious and carb-smart meal options.
Overall, it's a great platform for those who don't get time to plan and prepare healthy meals. You can subscribe to Freshly's weekly plan (ranging from 4 to 12 meals per week), and they will deliver fresh to your door.
The price depends on what and how much you are ordering. Each meal starts at $9.58. The bigger your box, the more you will save. Plus, you will always have the option to pause or change your plan. It also supports flexible delivery on your terms.
In 2020, it was acquired by Nestle for $1.5 billion.
Read: 20 Fitness Apps For Both Android and iOS
More to Know
Grubhub business model
Grubhub is a three-sided marketplace, providing value to its diners, restaurant partners, and company drivers.
It connects more than 32 million people with the food they love from their favorite nearby restaurants. It offers plenty of tools for restaurant owners to build their own digital storefronts, find new customers, and increase revenues. For drivers, Grubhub makes it easy to work flexible hours, earn competitive pay, and keep 100% of all tips earned.
How does the company make money? 
Grubhub charges restaurants a percentage-based commission. Restaurant owners can set the commission rate level at or above the base rate. The higher rate gives restaurants more exposure to users on the platform.
The company also generates revenue from its users. For example, it charges prepaid order fees, order processing fees, and delivery fees from all diners.
Plus, there is a premium version of the platform (called Grubhub+), which costs $9.99 per month. It gives users unlimited free delivery and exclusive rewards on eligible orders.
Notable subsidiaries of Grubhub
Grubhub has acquired several companies over the past few years. The most notable ones are
Seamless

: an online food ordering service available in 600+ US cities

OrderUp

: a platform that merges an online ordering system, table ordering, and in-room dining

Tapingo

: a pickup and food delivery platform that merged into Grubhub

LevelUp

: a mobile ordering and mobile payments platform acquired for $390 million in 2018

Eat24

: yet another food ordering company acquired by Grubhub
Uber Eats and DoorDash charge less in fees compared to most other food delivery apps out there, especially during your first month. If you order at least once a week, you would really benefit from subscribing to their premium plan, which costs $9.99 per month.
Read More
US Schools Waste 530,000 Tons Of Food Every Year [Excluding Milk]