YouTube is worth $75 billion, and now it has become the actual launchpad for the next generation of internet celebrities. Over the past few years, some of the biggest YouTubers have even snagged big shows from services like Netflix, YouTube Red, etc.
It's no secret that YouTubers with large number of subscriptions use sponsored videos, affiliates and advertisement to make a living on the platform while making a name for themselves.
The reach of Internet is increasing every year, and so is the money earned from advertising. Between 1st June 2016 and 1st June, 2017 (before management fees and taxes), the 10 highest paid YouTubers made around $127 million. We are listing those YouTubers and their individual earnings.
For the first time, almost half of those on the list are gamers. There are 6 newcomers who entertain with videos of stunts, comedy and children unwrapping toys. The cumulative earnings of 2017 is up 80% from the $70.5 million that top 10 YouTubers made last year.
10. Lilly Singh – $10.5 million
Channel: IISuperwomanII
Subscribers: 12 million
Number of Views: 2.3 billion
Lilly Singh posts comedy sketches, music videos and other entertaining content on her one-women YouTube channel named "Superwomen". She has released a feature film "Trip to Island Unicorn" for YouTube Red.
She was ranked 3rd on Forbes in the list of world's highest paid YouTuber of 2016, making $7.5 million. Also, she ranked 1st on Forbes Top Influencers List (2017) in the entertainment category. Since 2014, Lilly Singh has featured in all annual YouTube Rewind.
9. Smosh – $11 million
Hecox (on left) and Padilla (on right)
Channel: Smosh
Subscribers: 22 million
Number of Views: 6.8 billion
Smosh is a sketch comedy channel created by Ian Andrew Hecox and Daniel Anthony Padilla. It's known for the duo's slapstick comedy video that parodied pop culture and video games.
Smosh is the 15th most subscribed channel on YouTube. The team has expanded to make content in multiple language, handle video gaming content and the sketches include more artists. In 2017, Padilla left Smosh to pursue his solo channel on YouTube. Hecox is now the only cofounder who is currently an active member of the Smosh team.
8. Ryan ToysReview – $11 million
Channel: Ryan ToysReview
Subscribers: 10 million
Number of Views: 16.8 billion
For kids these days, the biggest stars are not actors at all but YouTube stars. And one of the biggest of them is 6-year-old Ryan who plays with toys and reviews them, mesmerizing millions of children all across the world. For some of his youngest fans, Ryan is not just some internet stranger. He's their friend.
Since Ryan was 3, his parent's have been taking videos of him opening toys, playing with them and reviewing them for YouTube videos. Ryan's last name and his residence are closely guarded secret for a reason.
7. Jake Paul – $11.5 million
Channel: Jake Paul
Subscribers: 12 million
Number of Views: 3.1 billion
Jake Paul is known for playing the role of Dirk in "Bizaardvark", a Disney Channel series. He began his career by upland videos on Vine, a short-form video hosting service. By the time service shut down, Paul had more than 5.3 million followers and 2 billion plays on the app.
In May 2017, he released a music video titled "It's Everyday Bro", which received more than 70 million views in the first month and has become the fourth most disliked video on YouTube of all time. Paul has also become something of a villain for YouTube generation.
6. Felix Kjellberg – $12 million
Channel: PewDiePie
Subscribers: 58 million
Number of Views: 16.6 billion
28-year-old Felix Kjellberg, otherwise known as PieDiePie, is a Swedish video game commentator and vlogger. Since December 2017, PewDiePie has been the most subscribed user on YouTube. He came into a negative spotlight in early 2017, after a Wall Street Journal reported Disney and YouTube to cut direct business ties with him.
PewDiePie was the highest earning YouTuber in 2016, with his annual income reaching $15 million. This was 20% more of what he earned in 2015, largely due to his book "This Book Loves You" (sold over 112,000 copies) and his YouTube Red series "Scare PewDiePie".
5. Logan Paul – $12.5 million
Channel: Logan Paul Vlogs
Subscribers: 14 million
Number of Views: 2.7 billion
22 year old YouTuber Logan Paul first gained fame through videos shared on Vine. Later, he made his career in acting. His film work includes the adult comedy "Airplane Mode" and the dystopian science fiction YouTube Red movie "The Thinning". He also played a role in comedy film "Wired Loners" and made a guest appearance in "Law & Order: Special Victims Unit".
He usually posts vlogs and comedic reaction videos on YouTube. A YouTube compilation video of his Vine work attracted more than 4 million views in the first week. In 2015, his 6-second videos earning him hundreds of thousands of dollars. By October 2015, his Facebook videos alone had over 300 million views.
4. Mark Fischbach – $12.5 million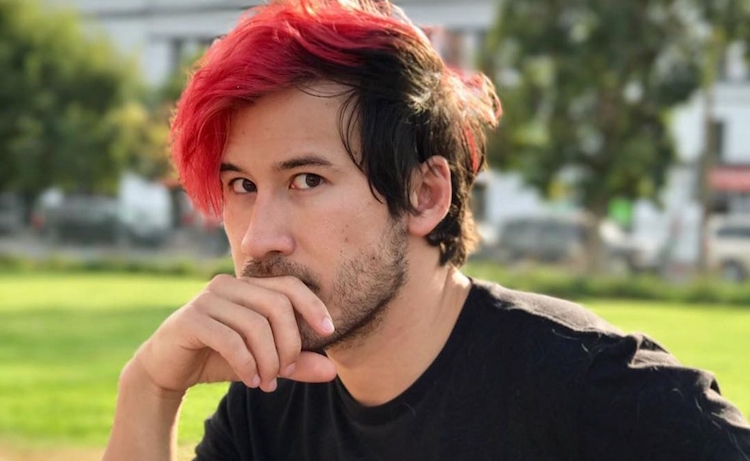 Channel: Markiplier
Subscribers: 18 million
Number of Views: 8.5 billion
Mark Fischbach posts gaming videos, animated parodies, comedy sketches and other entertaining things. His channel is currently the 26th most subscribed channel on YouTube.
Fischbach is known for his sensational video game commentary, which involves screaming, yelling, cursing and even crying during his play. Also, he frequently makes vlogs to talk one-on-one with the community about different topics. Moreover, Fischbach has been involved in Make-A-Wish Foundation to meet fans.
3. Dude Perfect – $14 million
Channel: Dude Perfect
Subscribers: 24 million
Number of Views: 4.2 billion
Dude Perfect is a channel of five friends – Garrett Hilbert, Tyler Toney, Cody Jones and twins Coby and Cory Cotton. They all are former high school basketball players and college roommates. In addition to making videos, they have broken many Guinness World Records.
Their sports entertainment channel is the 13th most subscribed channel and 2nd most subscribed sports channel on YouTube. They upload trick shot videos, battles and a series named Stereotypes, along with some random videos.
Read: 7 Perfect Video Editing Software For YouTube Creators
2. Evan Fong – $15.5 million
Channel: VanossGaming
Subscribers: 21 million
Number of Views: 8.5 billion
Evan Fong posts comedy videos that show him playing several video games and collaborating with other YouTube channels. His quality of editing is what makes VanossGaming different from other channels. He frequently uploads montages that compress his long gaming into one short video of funny moments.
Created in 2011, VanossGaming is now the 20th most subscribed channel on YouTube. The name "Vanoss" comes from VANOS, a variable valve timing system developed by BMW, German automobile company. Evan's father used the alias "Vanoss62" on the PS3, which he adopted for his own.
1. Daniel Middleton – $16.5 million
Channel: DanTDM
Subscribers: 17 million
Number of Views: 11.5 billion
Read: 15 Highest Google Adsense Earners in the World
26-year-old Danial Middleton, better known through his online pseudonym DanTDM (The Diamond Minecart), is a popular YouTuber focused on computer games. He posts reviews and gameplay videos describing what's happening. He also passes on suggestions and tricks to his viewers regarding how players can reach higher levels in the game.
In July 2015, DanTDM was listed as one of the most popular YouTube channels in the world by viewership. Middleton earned numerous Kid's Choice Awards, and also set Guinness World Records for his gaming and presentation.