Discord is where users can communicate with each other through text messages, voice and video calls, and file sharing. It is available on almost every popular operating system, including Windows, Linux, macOS, Android, iOS. While it is extremely popular in the gaming community, Discord can be used for almost any type of communication.
Discord has a freemium revenue model and makes money from its Nitro subscription packages, direct game sales, and server boosting.
Below, we will explore how Discord works and how does it make money.
What is Discord? And How Does It Work?
Discord is a platform where users can communicate and hang out with their friends and different communities. It allows you to interact with each other through voice and video calls, direct messages, and persistent chat rooms. With over 300 million registered users, Discord is a popular means to communicate online, especially for gamers.
What makes Discord a successful and liberating communication tool for online gamers is the fact that it is not tied to any specific gaming platform or console. Discord provides easy integration to Xbox Live accounts and is expected to do the same with PlayStation Network by 2022.
You can either use Discord through its standalone app on your Windows, macOS, Linux, iOS, and Android operating system or simply access it from any browser.
Initial server setup in Discord | Image Courtesy: Discord.com
To use Discord services, you first need to either join an existing server by searching/responding to (link) invites or creating a new one. Discord servers, often referred to as "guilds," are where chat communities are organized. Servers are made up of channels through which users interact with each other via text, voice and video chat, and file sharing.
A server owner can create multiple channels, each for a specific purpose. It can be dedicated either to streaming, voice chat, or instant messaging and file sharing. Channels can also be categorized based on topic. Moreover, there are several options to customize a channel. For instance, Discord supports Markdown to add flavor to text chats. You can wrap your text in block quotes, code blocks and use syntax highlighting to make them stand apart.
A registered user can join/participate in no more than a hundred servers. You can pick a different nickname for each server you join and can choose from which servers you want notification alerts from. Keep in mind that you don't need to be on the same server with your friends to communicate directly.
By default, a single server can host up to 100k (100,000) members simultaneously. To increase server space for accomodating more members (above 100k and above 250k), owners must submit a request on Discord support. The total number of channels per server is capped at 500.
Discord features
Discord is a cross-platform application that you can use on any platform. But it can also be accessed from a browser without any installation, making it more feasible than most instant chat and VoIP applications.
Discord offers both public and private server options. By setting up a private server, the owner can restrict access to its channels only to authorized members and prevent outsiders from being able to see channels/chats within the server.
Private servers are an excellent choice when there is a need for secrecy in any communication. On the other hand, public servers allow like-minded people to seamlessly chat, share emojis and develop a community, much like Reddit.
It allows developers, artists, and esports teams to verify their servers. Like most social media and video sharing platforms, verified Discord servers have a badge of authentication to distinguish them as official communities.
Verified Minecraft server
Discord added video chat and screen sharing capability to the platform in October 2017. You can either start a video call in a direct message (DM) or join a server video chat with multiple members on the same server. At present, a maximum of 25 people can join a server video chat simultaneously.
Although it allows users to stream live videos and share screens on channels, Discord is not a competitor to live game streaming applications such as Twitch. Instead, Discord is best used as an additional tool to communicate with friends while streaming on Twitch. You can seamlessly integrate your Twitch account with Discord to interact with other followers of your favorite streamer, and share Twitch emotes.
Discord Isn't Just For Gamers
During its initial years, Discord services were more focused towards the gaming community. But recently, the platform has made necessary improvements/updates to serve the general users as well.
Rather than just for gamers, Discord is now more of a community-driven platform, where you can connect with your study group mates or interact with your hiking club members.
Discord can also be used by small/medium businesses to organize the team's communication and coordinate with freelancers. With separate channels and role allocations, the platform gives startup owners more flexibility to manage their day-to-day operations better, making it a feasible alternative to Slack and other collaboration tools.
How Does Discord Make Money?
One of the reasons behind Discord's soaring popularity is that its key/basic features are free-to-use. However, the platform does make money in a number of other ways. Discord's biggest source of revenue is the Nitro subscription package. Other sources include direct game sales and server boosting fees.
Nitro Subscription Package
Nitro is a premium subscription package by Discord that allows its users to enjoy additional features that are not available to standard users. It includes —
A custom tag and animated avatar for your personal profile. Support badges.
Create custom and animated emojis.
Ability to upload bigger file size up to 50 MB and 100 MB
Hi-resolution video quality for screen share and Go Live Streaming (1080p at 60fps)
Two server boosts and a 30 percent discount on additional boosts
The Nitro subscription package is available in two variations, Discord Nitro Classic and Discord Nitro. The Nitro Classic offers all of those above-mentioned perks except for server boosts and a file upload size limit of 50 MB. It comes in at $49.99/year or $4.99/month.
The more expensive version, Discord Nitro, allows users to enjoy all those features (file upload size limit of 100 MB), which costs $99.99/year or $9.99/month. Discord Nitro also increases the number of servers you can join at a time from 100 to 200.
Discord first introduced "Discord Nitro" as the only method of monetization on the platform in January 2017. But in October 2018, Discord Nitro was renamed Discord Nitro Classic and a new Discord Nitro was introduced with additional features.
Direct Game Sales
Until March 2019, Discord allowed users to purchase exclusively curated games, such as Dead Cells and The Banner Saga 3, from its digital marketplace or storefront. Discord Nitro subscribers were given free access to a set of games that would alternate after every 90 days.
However, a few months after reducing its revenue cut for selling games on its marketplace to 10 percent, Discord announced that it would discontinue its digital store in favor of managing and payment processing of game sales exclusively from the developer's server.
In this new revenue model, game developers pay a fee to unlock an online store channel in their Discord server. Every time a sale is made, Discord gets to keep 10 percent of the total amount. Developers can also run private alpha and beta tests of their new games for a few handpicked followers.
Server Boosting
Discord server boost page
Server boosting is another way how Discord makes money. Server boosts allow users to unlock bonus features and upgrades on a monthly subscription basis. You can boost any server on three different levels —
Level 1
More than 50 slots of custom emojis
128 kbps Audio quality
Live streaming with 720p at 60 fps video quality
Custom server background and animated server icon
Level 2
256 kbps Audio quality
Live streaming with 1080p at 60fps video quality
Server banner
File upload limit of up to 50 MB for all members
Access previous activity on threaded conversations of up to one week
Level 3
+100 emoji slots
384 kbps Audio quality
100 MB file upload limit for all server members
Vanity (custom) invite URL
The first level is unlocked after paying a subscription fee. Level 2 requires 15 servers to unlock, and Level 3 requires 30 server boosts. Each server boost costs $4.99/month.
Read:  How Does Venmo Make Money? [Complete Business Model]
History of Discord
The Discord platform was established by Hammer & Chisel, a San Francisco-based indie game development studio founded by Jason Citron and Stanislav Vishnevskiy. Discord was publicly released on May 13, 2015.
Discord Co-founder and CEO, Jason Citron at TechCrunch Disrupt 2018 | Image Courtesy: TechCrunch/Flickr
Before his venture into Hammer & Chisel, Jason Citron created OpenFeint, a social platform for mobile gamers that he later sold for $104 million. While Citron achieved success as an entrepreneur, Vishnevskiy is a bigger video game fanatic.
From a young age, Vishnevskiy was obsessed with Final Fantasy XI (a popular MMORPG), so much so that he was once the world's No.2 player in the game. If that's not impressive, Vishnevskiy managed to assemble a team of 40 players to quickly become the highest-ranking team.
One of the reasons behind his team's success was the online tools that he developed to help players to organize and communicate with each other. Eyeing an opportunity, Vishnevskiy turned it into a business. He joined Hammer & Chisel in 2013, a year after the company was established by Citron.
The idea of a user-friendly chat service for gamers was first entertained by Citron and Vishnevskiy during the development of their first game, 'Fates Forever.' While the game was not a commercial success, it helped the team at Hammer & Chisel to realize how difficult it is for players in MMO games to communicate with their teammates over the existing VoIP platforms.
Around this time, the industry was dominated by in-game chat platforms, including TeamSpeak, Ventrilo, and their open-source alternative Mumble. But these tools are quite confusing and complicated to use and have an unattractive interface. It led to the development of a user-friendly chat and communication service without compromising on performance.
Hammer & Chisel launched Discord in May 2015 as discordapp.com. Its modern design and ease of use quickly attracted gamers from around the world. Some popular gaming-related subreddits, such as that of World of Warcraft and Diablo, and Twitch steamers switched to Discord for instant communication.
Acquisitions
Discord has made three acquisitions to date. In 2018, the company acquired Blitz Esports, a virtual gaming assistant popular with League of Legends fans. Most recently, discord acquired Ubiquity6, a startup engaging in persistent AR experiences, and Sentropy, developer of an AI-powered tool to better censor online harassment and abuse.
Statistics
In January 2016, within eight months of discord's release, the company announced that the platform has about 2.9 million users and is adding 1 million new customers every month. By that time, Discord was already handling 300 million messages a month. It took Slack at least one year to reach those numbers.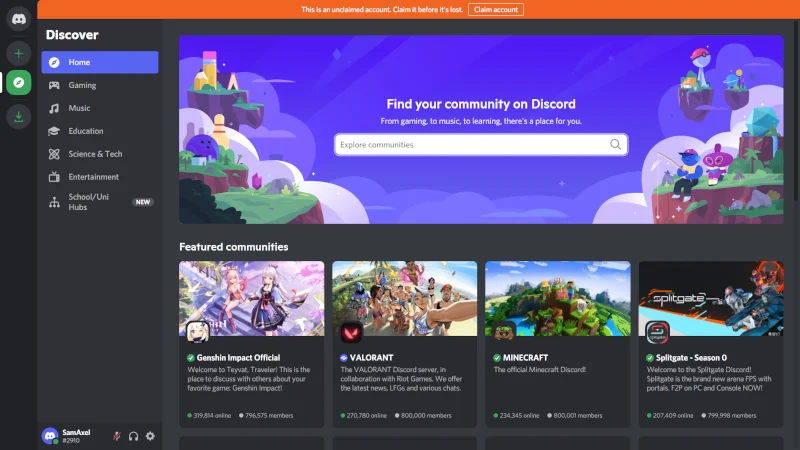 Thereafter, the platform witnessed an exponential increase in the number of its registered users. Discord's user base grew by 260 percent from 25 million in December 2016 to 90 million in December 2017, adding close to 1.5 million new users each week. On its fourth anniversary, in May 2019, discord announced that it had 250 million users.
While the company is yet to publicly disclose its earnings, estimates have been made by various sources. According to the Wall Street Journal, discord nearly tripled its revenue to $130 million in 2020, up from $45 million in 2019. Its revenue in 2017 and 2018 is estimated to be around $10 million and $30 million, respectively.
The total Discord app installs on smartphones (Android and iPhone) crossed 45 million for the first time in the last quarter of 2020 based on the data provided by Sensor Tower, a mobile app intelligence firm.
At present, the platform boasts anywhere between 140-150 million active users, a significant increase from 56 million at the end of 2019. The number of Discord servers active each week is about 19 million, with an average of 6-10 users on them.
Fundings and valuation
Discord has secured more than $482 million from 12 rounds of fundings since its inception in 2015. Some of its early investors include Benchmark Capital, Tencent, and YouWeb's startup incubator 9+ Program.
The startup raised its largest yet funding of $150 million in 2018, led by San Francisco-based venture firm Greenoaks Capital. Other well-known venture funds such as Greylock, Index Ventures, and Spark Capital have invested in Discord in the past.
Recently, Sony announced a partnership deal with Discord that would allow the app to integrate with Sony Playstation. As part of the deal, Sony made an investment of an undisclosed amount into the chat and communication company. The investment amount could be slightly more than $3 million, according to CrunchBase.
On December 17, 2020, Discord confirmed raising a $100 million fund at a $7 billion valuation. Previously, the company reached a $2 billion valuation in 2018 with the finalization of a $150 million Series F funding round.
Read: 31 Biggest and Most Expensive Tech Acquisitions Of All Time
Frequently Asked Questions
Who Owns Discord?
Discord started out as Hammer & Chisel Inc. in 2015. As a private company, Discord is not required to disclose its financial and ownership details to the public. However, it's likely that co-founders Jason Citron (CEO) and Stanislav Vishnevsky (CTO) remain the majority owners of the company.
Venture Capital and investment firms such as Index Ventures and Greenoaks Capital, which led multiple funding rounds in previous years, are most likely to be Discord's largest institutional stakeholders.
Is Discord Profitable?
While there is no publicly available data that can tell us whether Discord is currently profitable or not, it has shown tremendous growth in recent years. In 2020, Discord reportedly had annual revenue of $130 million, up from $45 million the year before. The estimated valuation of the platform also reached a record-high $7 billion that year.
According to the Wall Street Journal, the platform is not yet profitable and requires more advertising or promotion to reach that goal.
Read: How Much Money Is There In The World?
What Programming Languages Does Discord Use?
Discord's desktop client is built on Electron framework using JavaScript, HTML, and CSS. It uses React Native iOS and Android. The backend is written in Python, Rust, Go, C++, and Elixir.