In 2008, American entrepreneur Gabriel Weinberg created DuckDuckGo to improve the search engine experience. Within a year, it became popular among the Hacker News and Reddit communities.
In order to differentiate it from competitors, Weinberg took a bold step — he stopped tracking users' data and search history. But how would you sustain a business if you are not tracking anything and charging zero fees for service?
Below, we have explained how exactly does DuckDuckGo make money, what's the business model, and how it differs from other search engines.
Short Answer: DuckDuckGo makes money in three different ways —
By displaying keyword-based ads on search results
Via non-tracking affiliate partnership with eBay and other partners
By licensing Tracker Radar data set for commercial use
What Is DuckDuckGo?
Unlike most other internet search engines, DuckDuckGo focuses on protecting users' privacy. It doesn't collect user data like location, past click behavior, or search history.
And since DuckDuckGo has no information about its users, it cannot show personalized results. This means if you search for a product or sensitive political term, you get an unbiased view of the Internet (irrespective of your previous searches and clicks).
It also seems to omit results from content farms. Sometimes, it extracts content from other search engines like Bing and Yahoo to provide more specific results.
The company has developed privacy protection apps, including a Chrome extension and a private browser for Android, iOS, Windows, and Mac. These apps automatically block cookies and email trackers and enforce encryption (HTTPS) to shield your data from advertisers and attackers.
How is it different than Google?
While Google has developed the most advanced search engine technology, most of its revenues (over 80%) come from advertisements. It has been a market leader in online advertising for more than a decade.
Over the years, Google has developed and acquired numerous ad tech tools that allow advertisers to seek out audiences they would like to get in front of on the Internet. In simple terms, Google helps advertisers connect with their target audience.
That's why Google tracks every user's data and makes a profile for advertisers to follow around the Internet. The more data they collect, the more they know about you. Your data is then kept and shared with advertisers for an indefinite time.
How does DuckDuckGo make money?
DuckDuckGo makes money through keyword advertising, affiliate commissions, and licensing fees for its proprietary hidden tracking tool.
Keyword Advertising 
DuckDuckGo generates the majority of its revenue through advertising. However, unlike other search engines, ads on DuckDuckGo are solely based on keywords (the words you type in the search bar).
For instance, if you type 'health insurance' and hit enter, it will simply display ads for health insurance. These ads are not based on your browsing history or previous clicks. You get unbiased ads and results based purely on what you've searched for.
In simple terms, DuckDuckGo shows you ads based on the on-page content, while Google and other search engines track your previously visited websites to show you targeted ads.
Advertisers bid through the Microsoft Advertising platform to show their ads on the DuckDuckGo results. The winning auctions get the right to post ads on search queries.
In most cases, DuckDuckGo displays two or three ads per search result. These keyword-based ads are placed on the top of the search results and are well-labeled so users can easily distinguish between paid and organic links.
Affiliate Commissions 
In order to decrease the dependence on advertisements, DuckDuckGo has been looking for new ways to generate revenue. The only effective way they have found so far is an affiliate partnership with eBay.
Although it accounts for a very small portion of the revenue, it is still worth it because the whole thing operates anonymously, and there is no user information exchanged between eBay and DuckDuckGo. This kind of deal is possible with eBay, not with other retail platforms, because eBay has its own large affiliate network.
For certain searches, especially product and service-related, DuckDuckGo displays items listed on eBay and other retail platforms. Some products may include affiliate links, but it does not affect the ranking of regular organic results in any way.
When a user visits eBay through DuckDuckGo and subsequently buys something, DuckDuckGo receives a small commission. The percentage of the commission depends on the product category. For example, electronic gadgets and computers pay out more than baby products and toys.
To earn commissions, the item has to be purchased within a specific duration (usually between 24 hours and 72 hours). Moreover, if a user clicks on an affiliate link and ends up buying something else, DuckDuckGo still receives a commission fee for the order volume.
Tracker Radar
Tech giants like Google and Facebook use hidden trackers to pick up users' search history, location, and other useful data that can infer age, gender, habits, and interests. These trackers are deployed on hundreds of millions of websites and apps. This is why when you search for something on the Internet, you start seeing ads for it everywhere.
To protect users' privacy, DuckDuckGo has developed its own data set of trackers called Tracker Radar. It contains common cross-site trackers and includes data about their tracking behavior, such as privacy policy, ownership, cookie behavior, performance data, and rules for certain resources.
Tracker Radar is automatically created, regularly tested, and updated. The data set and its code are publicly available for research purposes. However, for commercial use, DuckDuckGo charges a small licensing fee.
The Business Model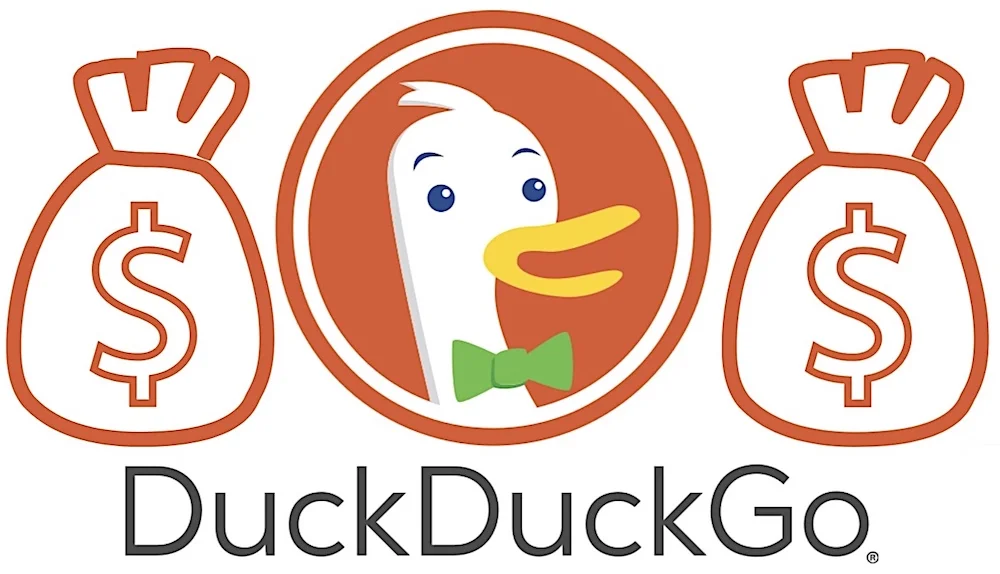 The primary business model of DuckDuckGo is keyword-based advertising. They do not track users' history or collect or share any personal data. Everything you search on DuckDuckGo remains anonymous.
DuckDuckGo partners with multiple data sources (for example, Apple for maps and Microsoft for ads) to provide a better search experience. This doesn't mean that your searches are shared with partners.
Technically, DuckDuckGo does not store personal identifiers like IP addresses and device information. When users click on ads, they are redirected to the advertiser's website through Microsoft Advertising's platform. This platform utilizes user-agent string and IP address so that it can accurately process clicks and charge advertisers.
The company doesn't believe targeted ads are a necessity — keywords are enough to determine relevancy.
And this strategy (of not collecting users' data) works very well for them. DuckDuckgo has been a profitable company since 2014. However, it generates less revenue compared to what it could have made by showing targeted ads.
And since it's a privately-owned company, it can easily get away with this stance. They have no external (public) pressure to increase their profits year-over-year. They can solely focus on technology and user experience.
Growth Story
DuckDuckGo has processed more than 125 billion searches since its inception. In 2022, it handled nearly 36 billion searches.
Surprisingly, the growth has slowed significantly in the past few years. Here's the breakdown of the company's growth in average daily searches from January 2016 to January 2022.
Jan 2016 to Jan 2017 — 30%
2017 to 2018 — 61%
2018 to 2019 — 62%
2019 to 2020 –52%
2020 to 2021 — 73%
2021 to 2022 — 17%
The slow growth rate might be the result of the backlash that DuckDuckGo faced in 2022. Around that time, security researchers revealed that DuckDuckGo's mobile browser wasn't blocking Bing and LinkedIn trackers on third-party websites due to a 'search syndication agreement' with Microsoft.
It's unclear why DuckDuckGo, which is known for its transparency, didn't share this agreement with the public.
The company hasn't been able to gain users' trust since then. Their average daily search volume peaked in January 2022 and has remained pretty consistent since then. However, this is expected to increase in the near future.
DuckDuckGo accounts for nearly 1.85% of the search market share in North America. According to SimilarWeb, about 50% of DuckDuckGo traffic comes from the United States, followed by the UK(5.25%), Germany(4.85%), and Canada(4.27%).
DuckDuckGo's Competitors
There are several other private engines that do not track personally identifiable user data like IP addresses, search history, and user agent strings. The most prominent ones are
Brave Search

: Unlike most other private search engines, Brave uses its own built-from-scratch index, offering seamless integration between private search and a privacy browser.

Swisscows

: Released in 2014, Swisscows uses semantic data recognition to deliver quick answers to queries. It uses the Bing index for English queries and its own index for German queries.

Startpage

: It delivers Google search results while protecting your personal data and removing all trackers. You can open search results through proxy for enhanced security and anonymity.

Qwant

: This EU-based search engine guarantees to protect users' privacy and provide the same search results to everyone.
Frequently Asked Questions?
Can you trust DuckDuckGo?
Yes! DuckDuckGo is a safe and trustworthy search engine that delivers accurate results. Although it doesn't collect your data, it can't stop other websites (listed in the search results) from tracking your activity. Also, it can't protect you from malicious web pages.
Individual sites and social media platforms can still track you, while intruders can target you with social engineering attacks. It is recommended to install a modern Antivirus software program to keep your devices safe from all types of malware.
How much does DuckDuckGo make a year?
DuckDuckGo doesn't reveal its revenue or profit (and it doesn't have to because it's a privately-held company).
However, in an interview with Philadelphia Magazine, Gabriel Weinberg, CEO of DuckDuckGo, shared that the search engine generated about $100 million in revenue in 2020.
What's the future of search engine looks like?
DuckDuckGo plans to continue to counter-position itself against tech giants like Google and Meta. Founder and CEO Gabriel Weinberg believes that DuckDuckGo can hold 10% of the global search engine market.
According to the Mordor Intelligence report, the next-generation search engine market size is expected to grow at a CAGR of 25.5% from 2023 to 2028. The market will likely be moderately concentrated, with a few top players like Alphabet, Amazon, Baidu, Alibaba, Apple, and Microsoft.
Read More 
18 Advanced Alternative Search Engines
13 Best Market Research Tools You Must Use