Founded in 2015, Upside has grown to become one of the leading platforms in cashback rewards field. Its users have earned more than $300 million in cashback rewards, and its merchant partners have generated over $700 million in profit since its inception.
But how does Upside make money? What's their business model, and who are their competitors? We have tried to answer these questions in the simplest way possible.
Short Answer:
A major portion of the Upside revenue comes from affiliate commissions. It receives up to 20% in affiliate fees from over 30,000 partners.
Upside also shows personalized offers to its users (based on search history and purchases) to increase the sales volume of its partners. For every item sold, Upside gets a referral fee.
Moreover, the company has also started offering white-label solutions to more prominent partners. The partners get direct exposure to 30 million+ consumers, and consumers get a chance to earn exciting cashback from trusted brands — a win-win situation for both sides.
What Exactly is Upside?
Upside is a retail technology company that allows people to earn better cashback and businesses to earn more profit. As a consumer, you can shop from over 45,000 stores and get unique cashback rewards. The cashback can be used with other discounts and coupons, and there is no limit to how much you can earn.
Businesses, on the other hand, can use Upside's technology to attract more customers and increase revenue. Upside analyzes business data (such as anonymized debit and credit transaction data) to understand the consumers' behavior and develops personalized offers to improve that behavior.
The best thing is businesses don't need any POS integration or staff training to put their products on the Upside platform.
Upside offers rewards in three places:
Up to 45% cashback at over 17,000

restaurants

Up to 30% cashback at

grocery stores

in cities like Phoenix, Chicago, Los Angeles, and Minneapolis
Up to 25 cents per gallon cashback at 25,000+

gas stations

across the United States
How Does It Work? The Business Model
The platform is simple and easy to use. It offers a separate dashboard to consumers and retailers.
First, you need to download the app from Play Store or App Store. Then, open the app when you are purchasing something from your favorite stores. Whether you need gas, groceries, or something to eat from fine dining, the app shows you the best offer to claim.
Pay for the item you are buying using your regular debit or credit card and follow the in-app direction. It will ask you to take a photo of your receipt and upload it to the app.
The platform takes care of the rest — it automatically verifies the purchase and credits the cashback reward to your account. You can use this reward to buy more items or cash out via e-gift card, PayPal, or bank account.
That's it! Purchase anything you want and earn real cash every time you shop. The platform works with more than 20,000 businesses (including Dominos, Kmart, Dunkin' Donuts, Shell, Valero, Speedway, etc.) at 50,000+ locations nationwide.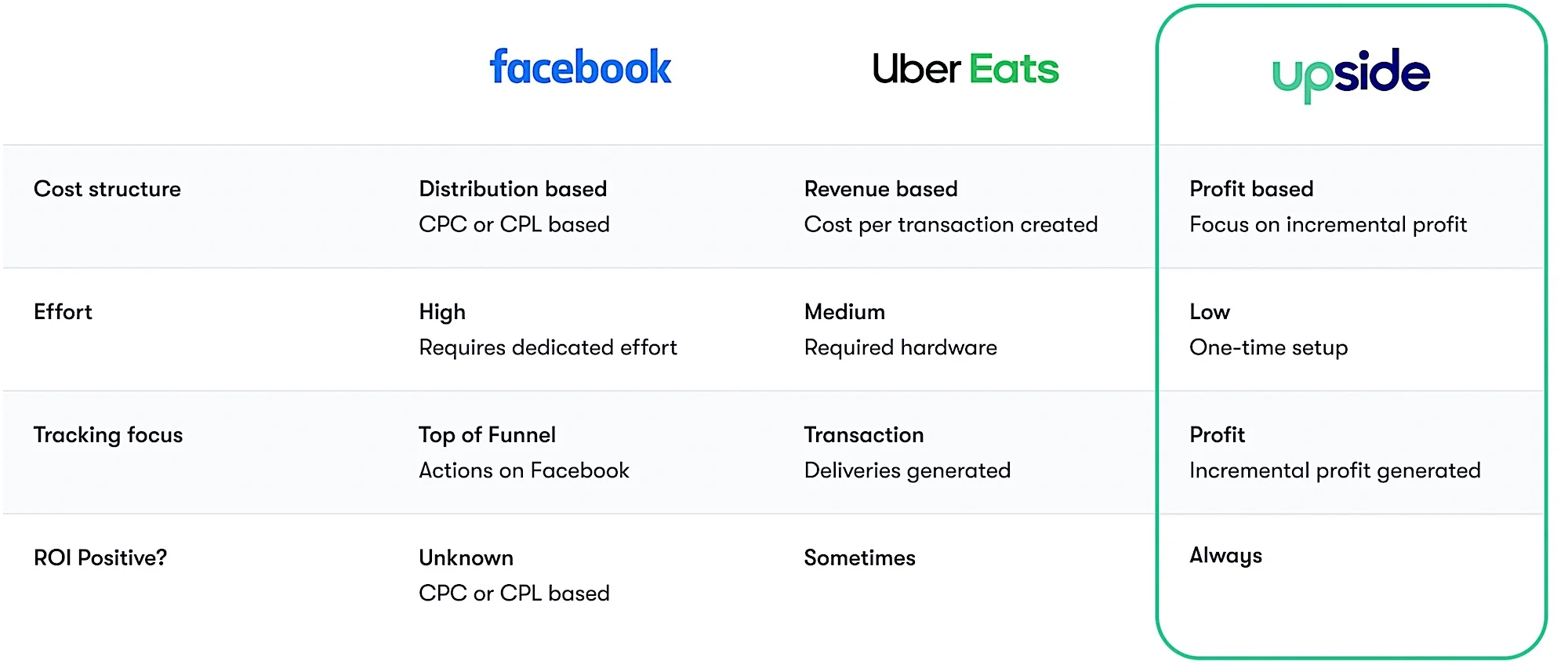 Upside compared to other platforms
For retailers (in various categories and industries), Upside makes it easier to earn profit and empower consumers with real value. The platform makes sure retailers earn a profit on every transaction (or they don't pay any fee) and track the impact of every transaction with an easy-to-understand dashboard.
How Does Upside Make Money?
Upside makes money in three ways: affiliate commission, personalized offers, and white-label solution. Let's look at each model in detail.
Affiliate Commission
Upside earns the majority of its income through affiliate commissions from its 45,000+ partner network. When a buyer uploads a receipt, Upside makes a percentage of that sale.
The company doesn't reveal how much it makes from each partner. However, like Amazon affiliate programs, the commission rate differs based on the item category. For example, if a user has bought pizzas from Domino's, Upside can get 4.5% of the total order. If a user orders groceries from Gelson's, Upside might earn 9% of the total purchase.
Personalized Offers
Upside utilizes machine learning algorithms (trained on millions of data points, such as customers' debit/credit card transactions and their locations) to display compelling offers to its users.
These offers are personalized for every customer on every transaction. Plus, the personalization is optimized over time to maximize sales and revenue.
In simple terms, Upside uses AI to display additional, relevant products that customers wouldn't have thought of purchasing before. This results in more sales volume and profits for its partners, which ultimately translates to more referral fee.
White-label Solution
Upside has also started offering white-label software solutions to its bigger partners, like Lyft, Uber, GasBuddy, and Current.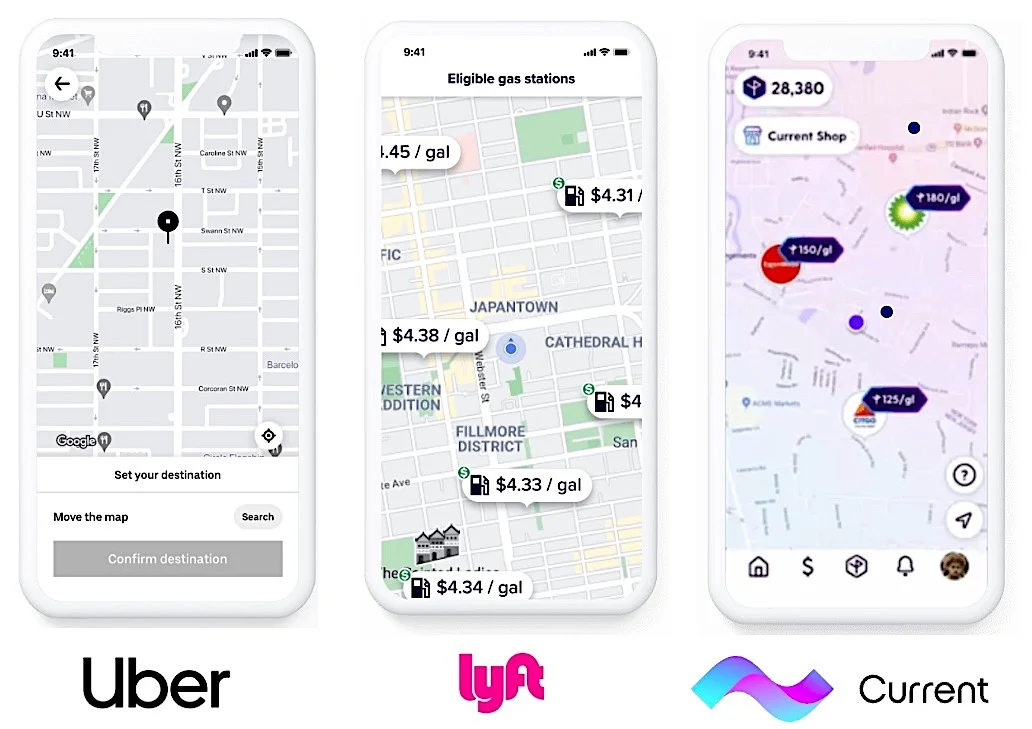 Small and medium-sized businesses can use Upside's partner APIs to deliver personalized promotions to people directly in their own branded app.
As a result, Upside gets more referral fees generated through these APIs.
Why Businesses Choose Upside
Businesses like to get themselves featured on Upside because the platform has more than 30 million active users who spend over $2 billion annually. It's a great place to market products/services and acquire new customers.
Plus, there is no harm in registering your business on Upside; if you don't make money, you don't have to pay anything.
Restaurant owners, in particular, have been proven to make profits on every transaction. They get two times more visits from customers through Upside.
Upside also offers detailed analytics so businesses can easily distinguish between new, regular, and infrequent customers. This helps them create custom cashback rewards to generate maximum profit from each customer.
Furthermore, Upside doesn't charge any service or maintenance fees. Anyone can join the platform within 5 minutes, and they will ensure you find your target audience.
The Growth Story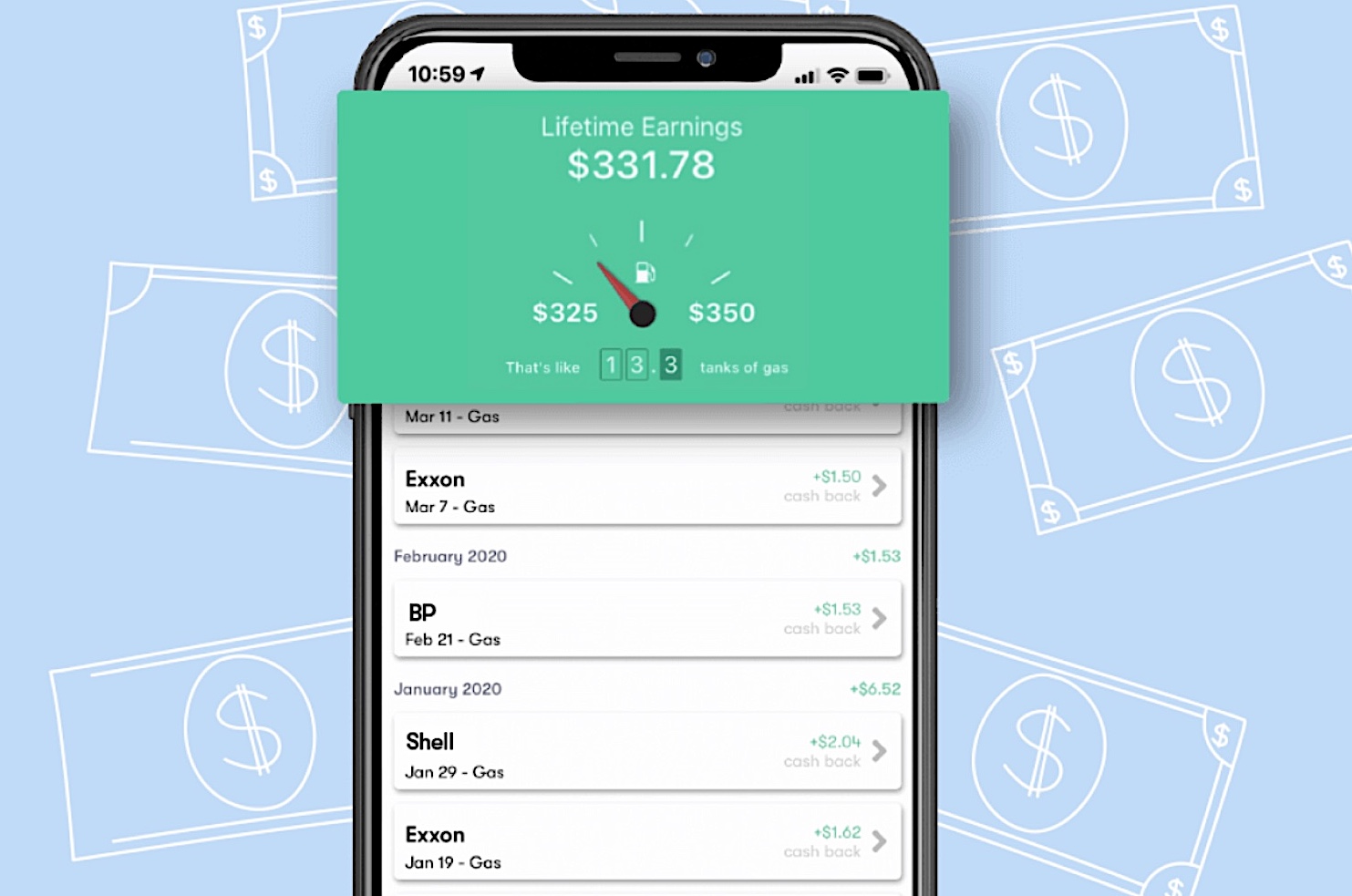 November 2015: Upside founders raised $6 million in series A funding.
January 2016: The platform, named GetUpside, was unveiled to the public.
May 2016: First gas stations join the platform.
August 2017: First restaurants join the platform.
June 2018: First grocery stores join the platform.
October 2018: The company closes series B funding.
March 2019: The company opens an office in Austin
October 2019: The company expands and opens another office in Chicago
September 2020: The company closes series C funding.
April 2022: The company closed series D funding — by raising $65 million in equity financing and $100 million in debt financing — at a valuation of $1.5 billion. At the same time, they changed their name to Upside.
October 2022: Upside opens a new office in New York.
Upside's Competitors
Upside is not the only cashback platform available in the United States. It has several alternatives, with top competitors being:
1. GasBuddy
GasBuddy is the world's largest community-based fuel platform, with more than 100 million downloads. It uses gas price data provided by users to bring drivers together and save significant money on gas/fuel.
You don't need to pay full price at any pump. Just get the free GasBuddy fuel card, link it to your bank account, swipe, and save up to 25 cents per gallon. So far, the company has helped North American drivers save over $3 billion at 150,000+ stations.
2. Fetch Rewards
Fetch turns your purchases into easy cashback and gift cards. Scan receipts from your favorite store and redeem your points to earn gift cards and make charitable donations.
The app gives you reward points at almost all popular grocery stores, restaurants, liquor stores, and gas stations. Plus, you can earn extra points with special offers, featured brands, and friend referrals.
3. Drop
Drop is a customer loyalty program where users earn points by using their linked credit or debit card. It allows you to save on a wide range of products, from groceries to home improvement items.
The app rewards you for shopping at more than 500 brands, including Amazon, Walmart, Uber Eats, Starbucks, Whole Foods, Expedia, American Airlines, and more. You earn points every time you shop through the app.
4. ibotta
With ibotta, shoppers can earn up to 30% cashback at thousands of top retailers. They can save big on in-store and online purchases by just installing an app or Chrome extension.
Earned cashback can be withdrawn via PayPal or your choice of gift card. According to the company, its users save 1.6 times over the rate of inflation on their groceries.
5. Rakuten
Rakuten lets you earn rewards on almost anything, from restaurants and electronics to clothes and ride-sharing. They will find you deals on hundreds of brands, apps, and services,
The platform offers its own Visa credit card that gives you an extra 3% cashback on qualifying purchases and 1% cashback everywhere else Visa cards are accepted. So far, Rakuten has paid its users over $2.2 billion in cashback. The average cashback per user is $63.50.
6. Checkout 51
Checkout 51 offers exciting cashback when you purchase groceries and products from your favorite brands. It also offers fuel rewards at gas stations like Exxon, BP, Chevron, Shell, and Mobile.
Unlike most other platforms, Checkout 51 features new deals every week. If you are not buying anything, you can participate in surveys to earn quick cash. An intuitive dashboard will show you how much you have earned. Cash-out once your savings reach $20.
More to Know
Is Upside legitimate?
Yes. Upside is a 100 percent legitimate company that has been in the business since 2016. You can earn rewards each time you purchase something and cash out via PayPal, e-gift card, or bank transfer.
You don't even need to add your credit card or banking details to earn cashback (just check in or upload a photo of your receipt to earn real cash).
What are the benefits of joining Upside for businesses?
Since Upside has more than 30 million active users, it could be far more beneficial than you think.
Helps you generate profitable promotional rewards to reach new consumers
Encourage bigger spends from regular customers
Uses AI personalization engine to increase return on investment
Analytics to track customers' behavior
No long-term contracts or service fee
Does the cashback reward expire? Is it taxable?
No. Money added to your Upside account does not expire.
Since money earned from rewards and deals is considered a transaction discount, it is not taxable income. We recommend that you reach out to a tax professional for more details.
Market size of cashback and rewards platforms
The global cashback and rewards app market size is expected to exceed $4.69 billion by 2027, growing at a CAGR of 6.98%. The growth is attributed to the extensive use of mobile banking, the availability of numerous payment gateways, and the adoption of loyalty programs associated with online payment methods.
Read More
How Does Venmo Make Money? [Complete Business Model]