Zelle is an online instant payment service that allows users within the United States to send and receive money quickly. It was launched in 2017 by Early Warning Services, LLC, a subsidiary jointly owned by seven of the largest banking institutions in the U.S.
Believe it or not, Zelle doesn't charge users for any of its services – it makes no money, at least for now. However, the partner banks may generate revenue by charging a fee on user payments to businesses for their services and goods.
Today, we'll explore how Zelle works, how it's different from its competitors, and how it fares against them. We'll also look at some of the issues that Zelle users are currently facing.
How Does Zelle Work?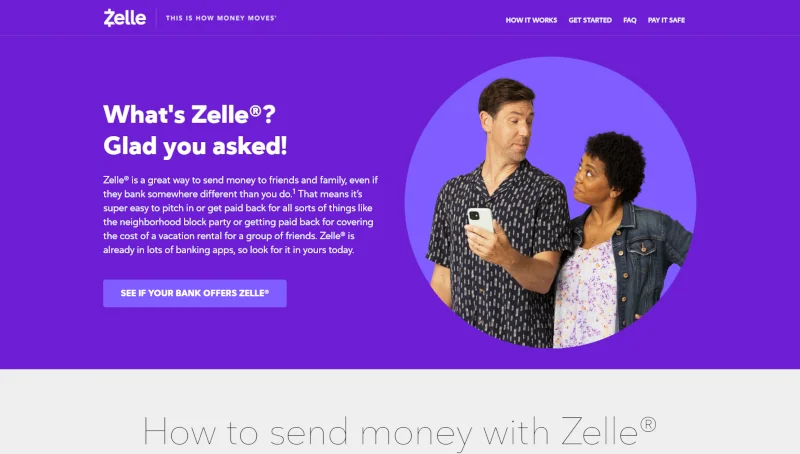 Image Courtesy: Zellepay.com
Zelle is a peer-to-peer payment service that facilitates fund transfer from one bank account to another instantly. This service can be used by anyone living in the United States with a U.S registered mobile number and bank account.
The Zelle network includes hundreds of banks and credit unions that are officially part of its ecosystem. Most of these banks have the Zelle platform integrated into their mobile banking app from where users can seamlessly use its services. Zelle requires users to register with the platform to be able to send and receive money through its network. The registration process is relatively easy and can be done in no time. It requires your basic contact information, including email address, mobile number.
If your banking institution doesn't yet support the Zelle, you can still use the service by separately installing the app and registering using a MasterCard or Visa debit card linked to a U.S-based bank.
Money transferring on Zelle is easy and almost effortless. To do so, the sender just needs to provide the recipient's U.S mobile number and email address. If you want to register Zelle with multiple banks, separate email or mobile numbers are needed for each of them. It usually takes only a few minutes for a money transfer to complete.
History of Zelle
Zelle was initially launched as the clearXchange service in 2011 by a consortium of three of the largest banking institutions in the United States – Wells Fargo, JP Morgan Chase, and Bank of America. The goal was to tackle the growing competition from online payment services such as PayPal and Square.
In 2015, Capital One and U.S Bank (the largest subsidiary of U.S Bancorp) joined the consortium as the owner-member of clearXchange service along with a number of credit unions and smaller banks as partners. In the same year, the platform introduced a real-time payment system that allows users to send money instantly across all member banks. However, during its early days, the service was slow and sometimes took up to five days to process transactions.
The clearXchange platform was kept without any fees and charges to gain a competitive advantage over other P2P payment services, notably Popmoney (owned by Fiserv), and PayPal.
Though clearXchange used existing bank accounts to connect customers with its network and relieve them from managing a separate account, most of its features were confusing. This, added with other accessibility issues, made the service reasonably difficult to use.
In 2016, clearXchange was sold to Early Warning LLC, a fintech company involved in payment risk management and fraud protection. The company itself is owned by several U.S banking institutions, including Truist Financial, Bank of America, Capital One, JP Morgan Chase, PNC Bank, Wells Fargo, and U.S Bank.
In September 2017, Early Warning launched a new and much-improved payment service named Zelle to replace clearXchange. However, the latter was not completely shut down and is still available to users receiving payments from companies where Zelle is unavailable.
Under the new management, the service was introduced to more than two dozen banks and was extensively advertised and promoted. Moreover, Zelle's in-app features were standardized across the participating banks to increase its user-friendliness.
These efforts made Zelle one of the fastest growing and successful P2P payment networks in the world. In 2018, the platform carried out 436 million transactions while processing $119 billion in payments. The next year, Zelle handled $187 billion and $307 billion after that.
How Many Banks Does Zelle Network Support?
In July 2021, Zelle announced that the platform is now supported by over 1000 financial institutions (including banks and credit unions) that represent about 74 percent (or 500 million) of all Demand Deposit Accounts (DDA) in the United States.
Some of the largest financial institutions that support the Zelle network (except for its owner-banks) are – Ally Bank, Fifth Third Bank, Morgan Stanley, Citi, BMO Harris Bank, and TIAA Bank.
The network also includes specialized partners such as payment processors- Finserv, FIS, and Jack Henry & Associates. Technology partners – CGI, IBM, and ACI Universal Payments, and security partners – InAuth, and NU Data Security.
How Does Zelle Make Money?
In a word, no! Since its days as clearXchange, Zelle offers its services to customers for free and doesn't make any money. It is likely to stay this way for the foreseeable future. Backed by some of the largest bank holding companies in the United States, making revenue is not an immediate concern for Zelle. Instead, expanding its user base and remaining competitive against other payment services in the market, including PayPal and Venmo.
While Zelle itself doesn't charge any fee for transferring money through its platform, the partner banks and credit unions are allowed to levy certain fees on those transactions. However, the banks usually choose not to do so.
Small businesses can also use Zelle as a mode of receiving payments, provided that banks of both parties support the Zelle network. Again, the platform itself doesn't charge any fees whatsoever, but the participating banks may collect certain fees. The company recommends that users, including small business owners, should check with their respective banks about any additional fees that may be charged for using Zelle services.
Though some of Zelle's largest partner banks are already offering bundled solutions for small businesses, by introducing transaction management, insights, and similar tools into its own platform, Zelle can not only expand its offerings but create a possible source of income. Another future monetization source for Zelle is its branded credit/debit card services similar to that of Venmo.
Zelle's parent company, Early Warning Services, is a for-profit company (LLC) that offers account management, fraud protection, verification, and financial reporting services to bank account holders. The company is most likely to be supported by its owner-banking institutions for maintaining the payments network.
Users Statistics
According to Early Warning, the Zelle network processed over 392 million transactions worth $106 billion during the first quarter of 2021. While the number of transactions increased by 61 percent year-on-year (same time last year), the total payment value jumped 74 percent from the previous quarter of 2020.
However, Zelle's most impressive growth came in the small business segment, which surged 180 percent YoY. Zelle is becoming increasingly popular among small businesses across the United States due to its seamless integration with almost all major banks and credit unions, added with the upsurge of peer-to-peer payments. In the second quarter of 2021, Zelle handled over 436 million transactions with a total value of $120 billion.
Based on the official sources, the average transaction value on Zelle is $273. The company also reported that financial institutions with less than $10 billion in assets now make up to 40 percent of the Zelle network. More than 90 percent of users utilize its mobile app to transfer funds.
A 2017 online survey conducted among U.S adults revealed that about 4 percent of the respondents used Zelle services more than once a day, while 2 percent of them used the platform only once a day. However, about 87 percent of respondents either didn't have a Zelle account or didn't use it.
According to an Insider Intelligence report, Zelle is currently the eighth-most downloaded P2P payments app worldwide, with 8.2 million downloads. Both Venmo (15.1 million) and Cash App (27.2 million) are ahead of it, while PayPal remains the most downloaded payments app with 56.6 million downloads.
Concerns About Zelle
Zelle is an easy way to transfer money to your family and friends' accounts regardless of the bank they use. However, it is crucial that you only send money to known and trusted people.
One of the major criticism Zelle has received since its rise to popularity is its lack of fraud protection and other security-related measures that prevent users from getting scammed or defrauded. Unlike widespread expectation, the Zelle network doesn't yet offer security features found in its competitors, such as PayPal.
For one thing, once you authorize a payment on Zelle after providing the recipient's U.S mobile number and email address, the money transfer cannot be canceled by any means (unless the recipient has not yet enrolled in the network). Moreover, the participating banks and the platform itself are not legally accountable for any fund transfer by the user.
The most common type of scam that takes place on Zelle is when an anonymous seller asks the buyer to pay for a product through the Zelle network instead of PayPal or other more secure payment methods. Since the network is supported by their bank or credit union, users generally feel secure and assume that the institution will intervene if anything goes wrong.
However, that's not the case. The seller, who is actually a scammer, will usually close his bank account after receiving the money. Needless to say, the promised product will never arrive. As a fraud victim, the customer can complain to the bank, but they will just say that there is nothing they can do since the user had authorized the Zelle fund transfer. For this reason, the platform urges users to consider other payment options in case they are not sure about the recipient.
In more severe cases, scammers can drain funds from personal savings and checking accounts through Zelle. After getting lured into providing just a few details, including a bank verification code (via phone calls), the scammers create a Zelle account to quickly transfer money from that account to their desired accounts.
Security Features Present in Zelle
To enroll in the Zelle network, users have to go through identity verification. It also features multifactor authentication (MFA), which is used to confirm a user's identity. Zelle recommends updating the security settings to enable MFA in case it is not.
Another important step towards protecting your bank account from fraud is to register for email alerts offered by banks and credit unions to get quickly notified of any suspicious activity with your account.
Read: How Much Money Is There In The World?
Frequently Asked Questions?
What are the Pros and Cons of Zelle?
Pros
Easy to set up and use
Instant money transfers (usually within minutes)
Allow cross-bank transfers
No fee for money transfers
Bank-grade security
Cons
Cannot cancel authorized transactions
It can only be used Within the United States
No credit card payment facility
Is There a Limit on Zelle Transfers?
Depending on the bank or credit union, there is a limit on how much money a user can transfer over the Zelle network. Most large banks have daily, weekly, and monthly limits for such transfers.
For instance, individual accounts with Bank of America have $3500 daily, $10,000 weekly, and a $20,000 limit over the period of 30 days. The bank's small business accounts, on the other hand, have remarkably higher sending limits. Business checking accounts with Chase bank have a single transaction limit of up to $5,000 (daily limit) and $40,000 a month. Zelle doesn't limit how much funds you can accept in a given time.
On a side note, if your bank doesn't support Zelle services, you can only send $500 per week.
Read: How Does Discord Make Money?
Venmo vs. Zelle – Which is Better?
According to a forecast by market research firm eMarketer, the U.S based mobile P2P platforms will handle more than $1 trillion in transactions by 2023. This growth is likely to be driven by three platforms – Venmo, Zelle, and Square's Cash App.
Venmo is undoubtedly the more popular P2P app out of the three, with a larger user base and overall public awareness. But Zelle has its own merits that make it increasingly popular.
While Venmo is more geared towards consumer-to-business transactions and is extensively used by the younger population for its social tools, more and more customers are using Zelle for paying bills and transferring large amounts of funds. It is mostly due to the platform's ease of use and a rapidly expanding ecosystem of banks on the Zelle network.
Though Venmo is mostly free to use, it charges users a certain amount of fee for instantly transferring money from your Venmo account to a bank. Zelle doesn't charge any fee for sending or receiving money, which usually takes less than an hour.
Moreover, while both platforms have sending limits in place for account holders, the limits on Zelle vary greatly depending on the partner bank. The sending limit on verified Venmo accounts is capped at $4,999 weekly (on person-to-person payments).
Read: How Does Venmo Make Money? [Complete Business Model]
To conclude, whether you should use Venmo or Zelle for mobile payments really depends on your specific needs. If you want to effortlessly split bills at a restaurant or bar, then Venmo is what you need. But if you're looking for a platform to pay bills and transfer money directly to bank accounts instantly, then Zelle is for you.