Automation tools have become essential helpers, streamlining processes and saving precious time for both individuals and businesses.
They can turn everyday digital tasks into smooth, hands-free operations. Whether it's syncing data between complex platforms or triggering actions based on specific conditions, these tools have become the backbone of modern productivity.
In the vast field of automation platforms, IFTTT (short for If This Then That) has been a well-known name for a long time. Recognized for its simplicity and versatility, IFTTT has been a go-to choice for people who want to automate their online tasks without dealing with complex coding.
IFTTT Working Principle
IFTTT operates on a simple principle: if a specific trigger event happens (this), then execute a predefined action (that). This straightforward yet powerful idea has made IFTTT accessible to people with different skill levels.
IFTTT's impact extends far beyond its user base. It has helped people automate social media posts, sync files across cloud services, control smart home devices, and carry out digital tasks with less effort.
However, as technology advances, so do the alternatives.
In this article, we have explored reliable IFTTT alternatives that offer similar or enhanced capabilities. They provide you with a diverse array of choices to elevate your automation game.
12. Node-RED
Platform: Browser-based editor
Cost: Free
Node-RED is an open-source flow editor designed for connecting hardware devices, online services, and APIs in unique ways. It has an extensive library of useful functions, templates, and reusable flows.
Plus, it utilizes an event-driven, non-blocking model, which makes it ideal to run on low-cost hardware.
With this browser-based editor, you can build your app by dragging nodes from your palette into a workspace and wiring them together.
There are plenty of nodes in the palette that make it easier to deploy flows. You can enhance the palette by incorporating new nodes created by the community. Additionally, you can share your created flows as JSON files.
11. Scriptable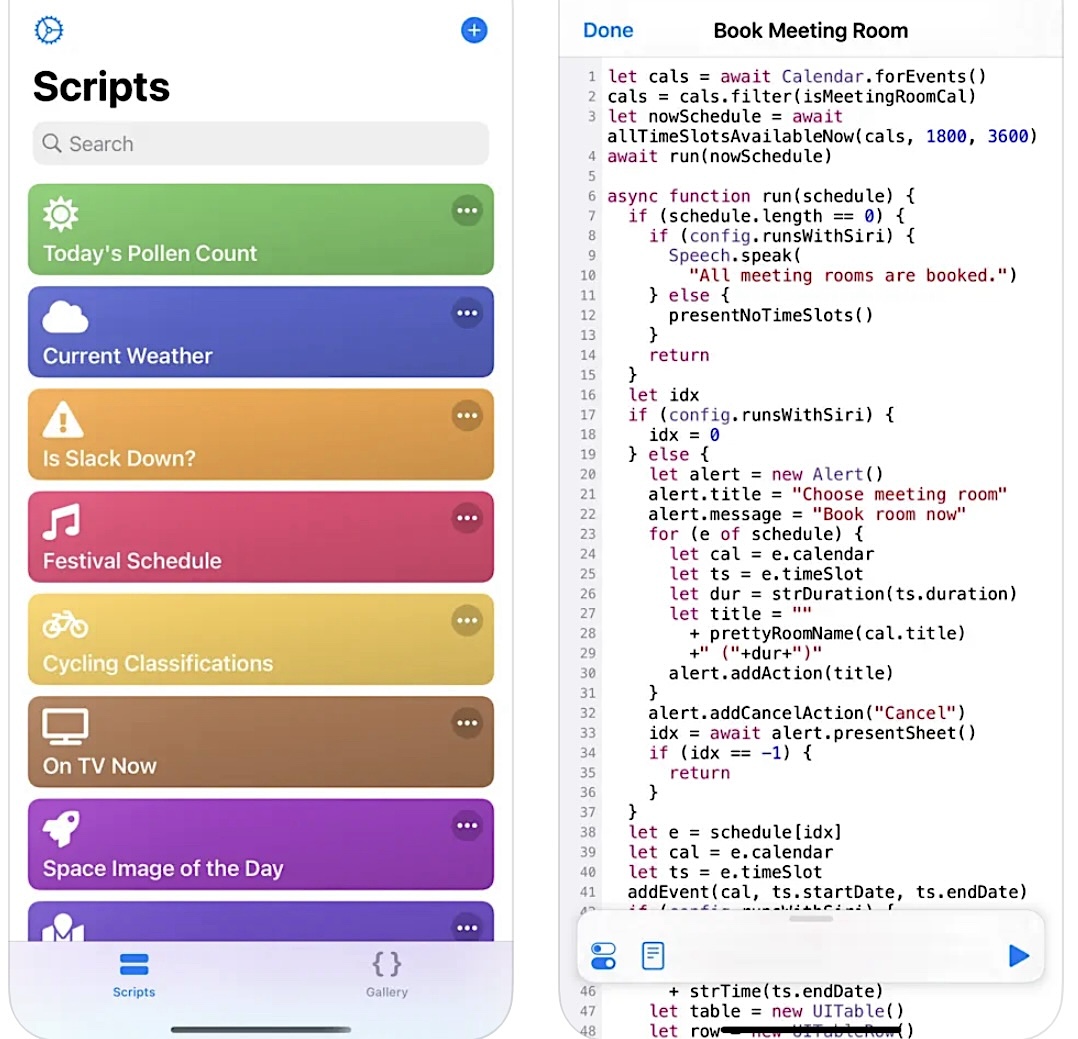 Platform: iOS
Cost: Free | Offers in-app purchases
Scriptable is an automation app that allows you to write scripts that integrate with native features of iPhone/iPad, such as documents, files, calendars, reminders, and much more.
You can write in Javascript to perform various tasks. For example, ask Siri to check the weather, manage a list of TV series you would like to watch, postpone the event in your calendar, and receive stock news every morning.
The editor can be customized to match your preference. Plus, you can run scripts from Siri shortcuts or third-party apps using Scriptable's URL schemes.
10. MacroDroid
Platform: Android
Cost: Free | Premium version starts at $1.99
MacroDroid is a configuration and task automation app that strikes the perfect balance between usability and features.
Like Applets in IFTTT, you need to create a Macro in MacroDroid to automate things. Each Macro is associated with a trigger that activates the automation, and you can choose from over 40 different triggers.
What sets MacroDroid apart from IFTTT is its ability to connect more than one action to a single trigger. It also offers constraints that serve as exceptions. For example, you can set a Macro to disable WiFi or Mobile data when the battery level falls below 10%.
Additionally, you can add constraints like not performing the action on specific days, such as Monday or Wednesday. While you can add as many constraints as you want, the free version limits you to creating only 5 Macros.
9. Elastic.io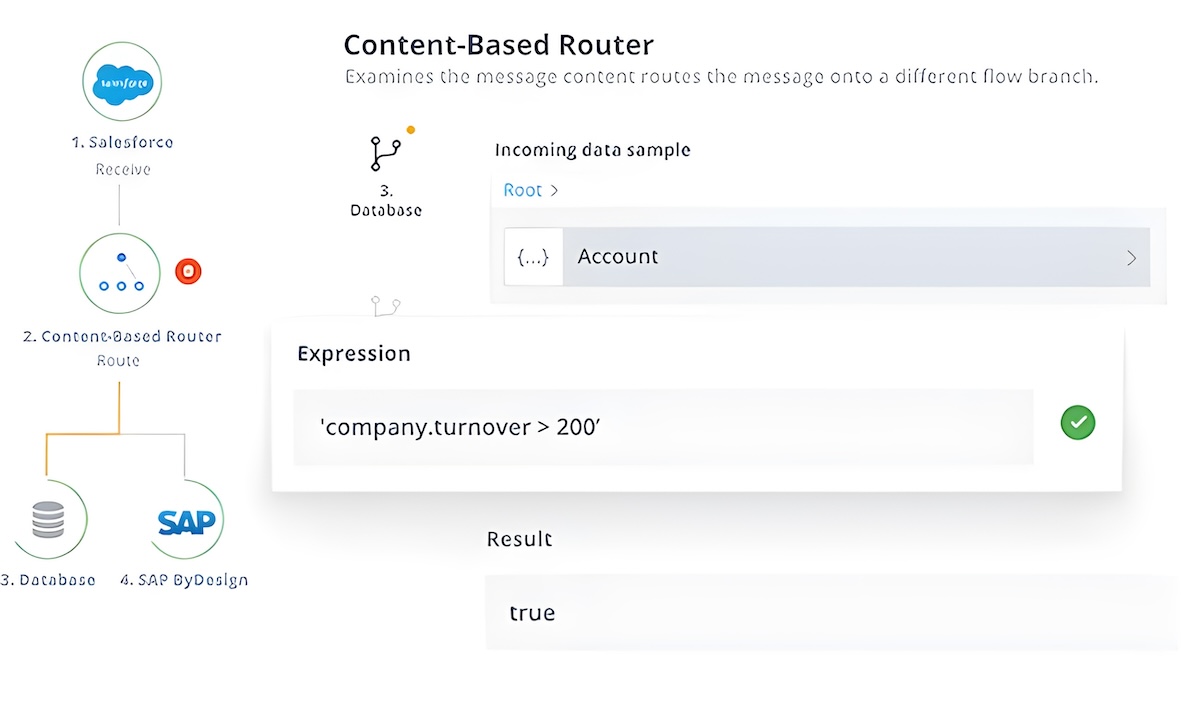 Platform: Web-based
Cost: Starts at $220 per month
Elastic.io is a hybrid integration platform specifically designed for professional developers. It allows you to connect APIs for on-premises and cloud applications securely. It also boasts a comprehensive library of built-in connectors for various business applications.
With a user-friendly dashboard, Elastic.io simplifies the monitoring, logging, and handling of errors. In short, it streamlines manual processes, allowing you to concentrate more on your strategic efforts.
8. Yonomi
Platform: Web-based
Cost: Free
Yonomi helps you connect your favorite home devices to play together, like Philips Hue lights, Amazon Echo, Sonos speakers, and smart locks, without any hub. All you need is to set up "Routines," where your devices respond automatically to each other based on your location, time, and preferences.
In addition to device coordination, Yonomi provides features like announcing calendar updates, delivering contextual weather updates throughout the day, pausing music during calls, and adjusting lighting and temperature. The app operates through the internet, so there might be some slight delay between issuing a command and the action being performed, though it remains faster than IFTTT.
7. Skyvia
Platform: Web-based
Cost: Free | Premium version starts at $19 per month
Skyvia provides quick and easy data integration, secure cloud-to-cloud backup with a one-click restore, and online data management via SQL. It's a complete online solution (SaaS) and doesn't require any local software installed except a web browser.
The data integration service allows you to perform data export, replication, and sync in a simple user interface. It provides you with automatic daily cloud backup with search, view, and restore functionality. Skyvia Query lets you utilize the cloud and database, design SQL queries using the visual query builder, and visualize the results as a chart or grid to get quick insights.
With the free version, you can integrate up to 5,000 records, run 5 queries per day, and backup 1 GB of data.
6. Integromat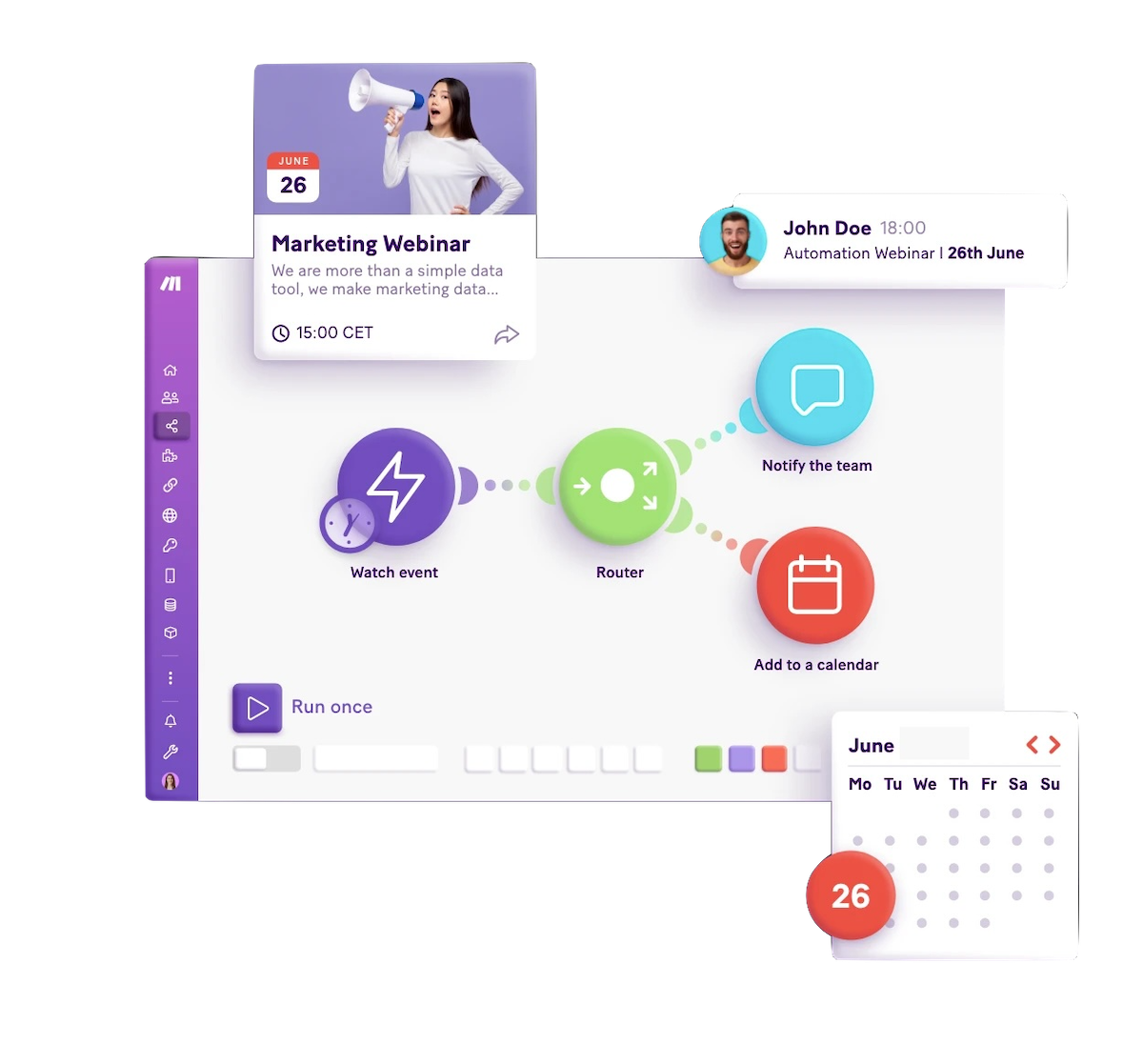 Platform: Web-based
Cost: Free | Premium version starts at $9 per month
Integromat enables multistep workflows named "Integrations." It works with an array of personal and business apps. Not only is it capable of connecting apps, but it can also transfer and transform data.
Integromat provides hundreds of pre-developed integrations for use cases, from software development to time and task management. They range from simple tasks to complex scenarios. All of these integrations can be customized to suit your specific requirements.
The free version allows you to perform up to 1,000 operations.
5. Microsoft Flow
Platform: iOS | Android | Web-based
Cost: Free | Premium version starts at $15 per month
Power Automate (developed by Microsoft) helps you build, monitor, and manage automated workflows between your files, services, and cloud-based data. It allows you to transform repetitive tasks into multi-step workflows. For instance, you can easily capture tweets and convert them into leads in Dynamics 365 with just a few taps.
The app is helpful if your work involves dealing with detailed reviews and running history reports.
As a Microsoft product, Power Automate seamlessly integrates with all Microsoft services, including OneNote, OneDrive, and Office. There are already hundreds of workflow templates (most of them are enterprise-based) to help you get started.
The company offers a free version of the app, but you need a Microsoft account to log in.
4. Tasker
Platform: Android
Cost: $2.99 | 7 days free trial available
Tasker is designed to extend your control on Android devices without the need for rooting or installing a special home screen. It allows you to perform tasks (set of actions) based on contexts (date, time, location, gesture) in user-defined profiles.
Tasker's real power lies in its flexibility to combine contexts and tasks. You can do many useful things with this app, like zip or unzip application data on the fly, wake up with a random song from your music collection, track phone location, read out loud incoming messages, phone number, WiFi or Bluetooth status, and more.
3. Zapier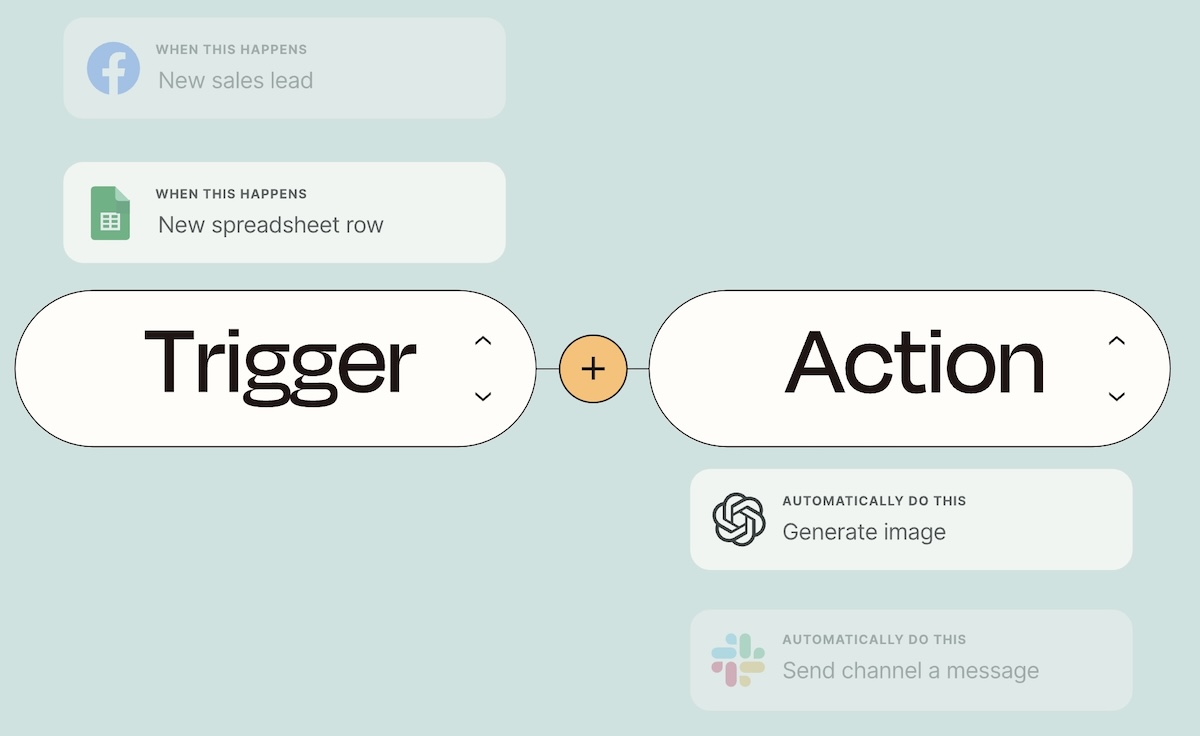 Platform: Web-based
Cost: Free | Premium version starts at $20 per month
Zapier specializes in automating tasks that rely on various third-party apps. You don't have to open multiple apps every time for a repetitive task. Zapier automatically moves information between your web apps so you can focus on other things.
Pick a Trigger that sets your Zap into motion within a couple of clicks, and it will automatically perform the necessary actions.
Zapier connects over 750 web apps, including Facebook Lead Ads, Quickbooks, Google Docs, and Trello. They add new options every week. With the free version, you can build one-to-one connections with your apps and perform 100 tasks per month.
2. Automate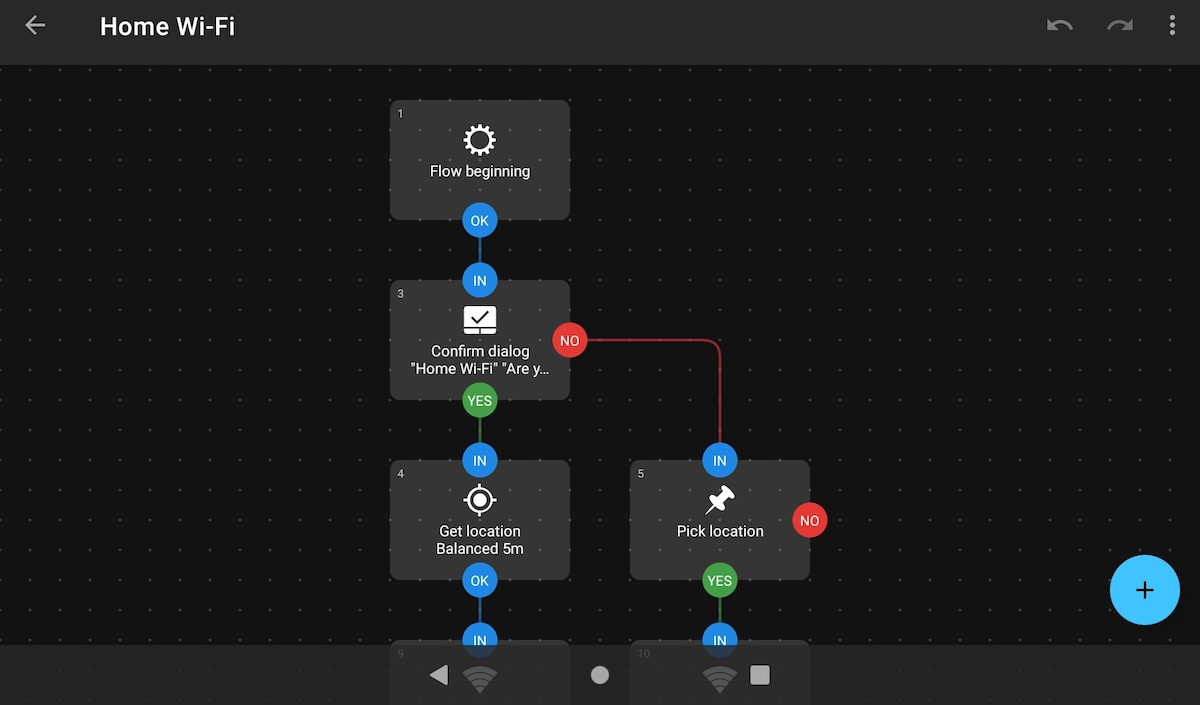 Platform: Android
Cost: Free | Offers in-app purchases
This app empowers you to automate various tasks on your smartphone using flowcharts. You can automatically adjust settings like GPS, WiFi, Bluetooth, audio volume, and NFC, and perform actions such as sending emails, copying files to Google Drive, playing audio, and taking pictures based on time and location.
To create automated tasks, simply add blocks and connect the dots. There are over 300 building blocks to select from, including conditions, loops, event triggers, actions, and more.
The app provides built-in templates to guide you through the process. All features are accessible to everyone without any ads or trial periods. However, in the free version, you can create up to 30 blocks.
1. Shortcuts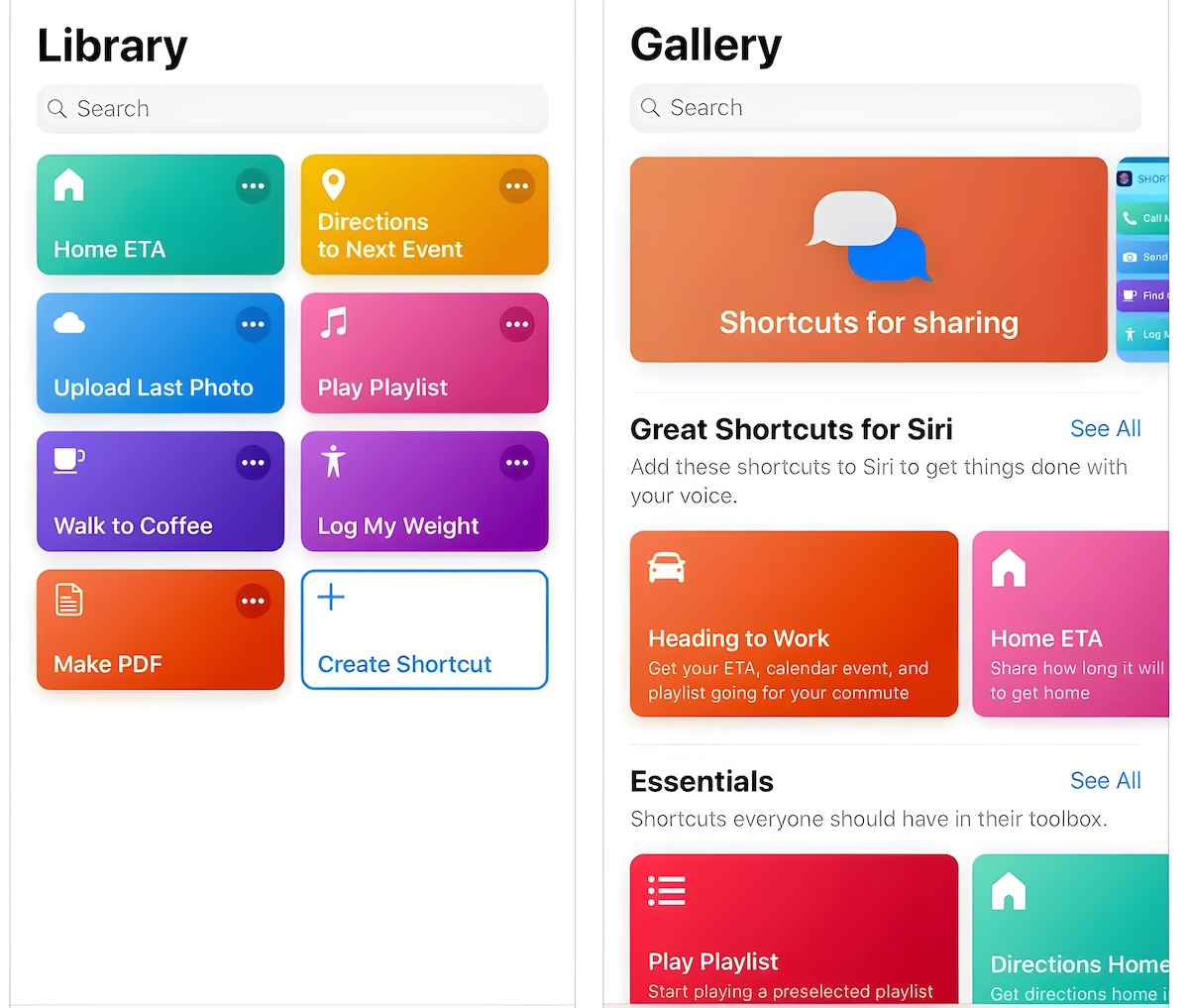 Platform: iOS | Android
Cost: Free
Shortcuts is your personal automation tool that lets you drag-drop any combination of actions. It offers more than 300 actions, including those for maps, contacts, camera, and reminders, to name a few.
With this app, you can make animated GIFs, make pdf from Safari, Tweet the song you are listening to, and even perform health-related tasks like automatically logging your water intake, caffeine intake, body weight, running time, and other exercises.
The app is intelligent enough to remind you to exercise or drink water based on the workflows you've set. Plus, you can export your workflow as a standalone app on your homescreen.
Read: 25 Best Mind Mapping Tools To Organize Your Ideas
Other Equally Good Tools like IFTTT
13. Workato
Price: $15,000 – $50,000 per annum, depending on business requirements
With Workato, you can create automated workflows that integrate processes, data, and apps to streamline business operations. It provides you with an intuitive interface for designing workflows. Plus, it supports conditional logic, loops, and other automation capabilities.
Workato features a vast library of over 400,000 pre-built templates for common integrations and workflows. These templates serve as starting points for new users, reducing the time and effort needed to set up standard business processes.
The platform is used by thousands of businesses to automate tasks like data migration and HR onboarding. According to its official website, its users experienced a 283% return on investment with a rapid payback period of just six months. Also, most businesses reported an 88% improvement in productivity.
14. Pabbly Connect
New Integration Launched!@flodeskinc
Beginners and experts use Flodesk to send emails people love to get, create high-converting sales funnels, and grow their businesses—all in one place. pic.twitter.com/8tlcK5ueil

— Pabbly (@pabblyofficial) July 18, 2023
Price: Free for up to 100 tasks per month | Premium version starts at $19 per month
Pabbly Connect is a robust automation platform that allows you to connect over 1000 applications from different sources. It supports almost all popular applications across E-Commerce, Helpdesk, Payments, CRM, Marketing, Web forms, and more.
It also has over 3,250 tutorials available, which provide ample inspiration and guidance to all users. These tutorials ensure that you can quickly grasp and implement advanced workflows.
Unlike some other platforms, Pabbly does not impose feature restrictions. It includes iterators in all its plans, offering unlimited access to paths, premium apps, and automation workflows.
15. SyncSpider
Price: Starts at $79 per month | Free demo is available
With SyncSpider, you can connect and synchronize data across various applications, enabling seamless communication between different systems. It facilitates real-time data synchronization, ensuring that information is continuously updated across connected systems.
SyncSpider focuses on e-commerce integrations, helping businesses synchronize and automate data related to product catalogs, order processing, customer information, and inventory management across various e-commerce platforms.
Unlike conventional automation tools, SyncSpider proactively monitors changes in APIs. This involves keeping a vigilant eye on updates, modifications, or potential disruptions in businesses' APIs. This approach helps reduce API downtime, freeing up developers' time and enabling connections between apps that lack native integrations.
16. Pipedream
Browser automation @Pipedream is here!

– Native Puppeteer & Playwright support
– Programmatically interact with websites
– Take screenshots, scrape content & more

Docs – https://t.co/7fmFqUEmqK
Blog – https://t.co/cZscpbfHRm pic.twitter.com/sfUETk4e5P

— Pipedream (@pipedream) October 18, 2023
Price: Free for up to 3 active workflows | Basic version costs $29 per month
Pipedream is a cloud-based automation tool that allows you to create, deploy, and manage workflows, commonly known as "workflows-as-code." It offers an intuitive dashboard and advanced scripting capabilities for building even-driven workflows that connect various APIs and services.
It has over 5,000 built-in actions, which you can utilize in your workflows. These actions cover a broad spectrum of functionalities, from processing data and sending emails to interacting with third-party APIs.
Moreover, Pipedream is trained on the API documentation of all integrated apps. This means you can interact with the platform in a more natural language manner (specify your intentions without delving into the complexities of each API). This abstraction simplifies the workflow creation process.
More to Know
Why should you consider using an automation tool in the first place?
In today's fast-paced work environment, adopting automation tools is no longer just a convenient option but a strategic necessity. These tools could help you in multiple ways:
They can handle repetitive and time-consuming tasks, liberating you from manual intervention.
They minimize the risk of human errors, enhancing the quality of your work
They allow you to focus on more strategic and creative aspects of your work
They can act as bridges, consolidating tasks across these various service
They are designed to accomplish more in less time
They can adapt to scale with your needs
Furthermore, these automated tools have been proven effective in generating detailed reports, providing insights into your processes, tracking performance metrics, and facilitating data-driven decision-making.
What types of tasks can I automate with these alternatives?
The alternatives to IFTTT have many automation capabilities, allowing you to streamline a broad range of tasks across different domains. This includes
Email automation
E-commerce automation
File management and syncing
Social media management
Data entry and database management
Smart home integration
Web scraping and data extraction
Marketing and sales funnel automation
Does IFTTT have a free version?
Yes. The free (standard) version of the IFTTT allows you to create 2 Applets of your own and turn on as many Applets as you want. Yet, if you wish to make multi-step Applets with queries and conditional logic, you'll need the Pro version, priced at $3.20 per month. If you want to expand your API's reach to an ecosystem of up to 200 million users and over 650 services, it will cost you $199 per year.
Criteria for Evaluating IFTTT Alternatives
While each automation platform has its unique strengths and weaknesses, we considered six key factors to create this list:
A user-friendly interface so you can navigate and utilize its features without a steep learning curve
The complexity of workflows it can handle
The range of triggers and actions it supports
The degree to which you can customize and configure automation sequences
Ability to integrate with a wide range of applications and platforms
Its pricing model, including any free plans and the scalability of paid plans
What are the open-source alternatives to IFTTT?
There are more than 40 open-source alternatives to IFTTT, so hopefully, you can find a suitable replacement. The most reliable ones are:
How is Zapier different from IFTTT?
IFTTT is geared towards personal and home-centric applications, making it a preferable choice for users seeking extra guidance. On the flip side, Zapier places a stronger emphasis on business-related apps, offering more actions per application compared to IFTTT. However, it's important to note that in terms of pricing, Zapier is more expensive than IFTTT.
Read More
18 Best Apps For Small Business