Walter Elias Disney, born on December 5, 1901, made his name as a cartoonist, animator as well as a film producer. He started his career as a cartoonist at Kansas' Pesmen-Rubin Commercial Art Studio in 1919. From there, he went to work for a film Ad company. One thing led to the other and he ended up with Disney Brother Studios (later re-branded as The Walt Disney Company).
After almost a century later, it is quite easy to forget that Disney is not just a multibillion-dollar company. Below, we have compiled some of the most interesting facts about the creator and the mastermind of the Disney empire.
Short Facts
18. The Disney family name is derived from the Norman-French word d'Isigny. Walt Disney's ancestors anglicized their name after settling in a small English village now called Norton Disney.
17. Walt Disney played Peter Pan in a school play once.
16. After his initial success with short cartoons, Walt Disney founded Laugh-O-Gram studio in 1921. His very first. It was during this time that he hired the likes of Rudolf Ising, Ub Iwerks, and Hugh Harman.
15. Alongside cartoons, the studio began production of silent film Alice's Wonderland in 1923 mostly to boost its poor financial strength at that time. The company, nonetheless, went bankrupt in the same year.
14. In the Mickey Mouse universe, two different characters are named Mortimer Mouse; one is Minnie Mouse's uncle and the other is Mickey's nemesis. But do you know that our beloved Mickey himself was originally named Mortimer?
13. Before the release of Snow White and the Seven Dwarfs, a majority in the film industry had expressed their doubts and predicted that it would eventually bankrupt the company. Few even labeled it "Disney's Folly." The film, however, was a huge success, grossing close to $8 million in a year on a $1.5 million budget.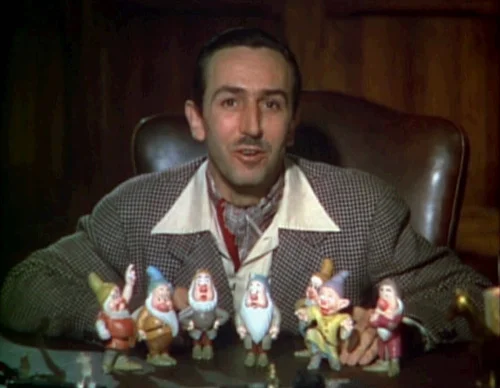 Screenshot from Snow White theatrical trailer 
12. During the Second World War, Disney produced several award-winning propaganda (anti-Nazi) films including Der Fuehrer's Face‍ and Victory Through AirPower.
11. Walt Disney held the sole rights of the technicolor production process for two years from 1932 to 1935. It led other studios to go either bankrupt or vie for its alternatives.
10. An asteroid, 4017 Disneya, located in the main asteroid belt is named after Walt Disney. It was discovered in 1980 by Ukrainian astronomer Lyudmila Karachkina.
9. His First Famous Cartoon Character Was Oswald the Lucky Rabbit
In 1927, on the request of his distributor Charles Mintz, Disney worked on a new cartoon character on behalf of the Universal Pictures. It was named Oswald the Lucky Rabbit. The character received instant popularity and became Disney's first major hit.
After a widespread success, Disney hoped to get a budget increase for the Oswald series. However, when the proposal reached Mintz, he not only rejected it but asked for a pay cut instead. Disney also found out that Universal owned Oswald's intellectual rights.
Angered by this, Disney left the studio along with a few of his artist associates who remained loyal to him.
8. Walt Disney Didn't Drew Mickey Mouse
Walt Disney with Mickey Mouse
After losing most of his staff to Winkler Pictures, Disney established his own studio in 1928. He asked his fellow associates to come up with ideas for a new character. Among them was Disney's long-time friend Ub Iwerks.
His team came up with different ideas based on animals such as cats, dogs, and frogs but none of them were much appealing. It's been said that Disney was inspired to use mouse as his new cartoon character by a pet mouse at his studio desk, which he had recently adopted.
Disney shared his ideas with Iwerks, who then created the Mickey Mouse as we know today. Apart from autograph events and on special requests, Disney never drew Mickey.
7. However, He Did Gave Voice To Mickey Mouse
A screenshot of Mickey Mouse from its official debut in Steamboat Willie
From its inception in 1928 to 1947, Mickey Mouse was voiced by none other than its creator Walt Disney. In 1947, the voice work was assigned to Jimmy MacDonald, who was Disney studio's sound effects division head at that time.
From time-to-time, however, Disney would reprise his voice acting role until his death in 1966. Some of the shows that he voiced are the Mickey Mouse Club TV series (1955-1959) and the "Fourth Anniversary Show," which aired on September 11, 1957.
6. Walt Disney Dropped Out of School To Enlist In The Army
While in school, Disney frequently made patriotic-themed pictures and cartoons of the First World War. Sometime in 1918, he tried to enroll in the United States Army to serve in the war but was rejected as he was too young.
Disney later faked his age to join the Red Cross, where he became an ambulance driver and was sent to France to see frontline action. His time there was, however, short as the war ended with Allied victory in November.
Read: 14 Richest Superheroes Of Marvel and DC Comics
5. Disney And His Family Had a Private Apartment At Disneyland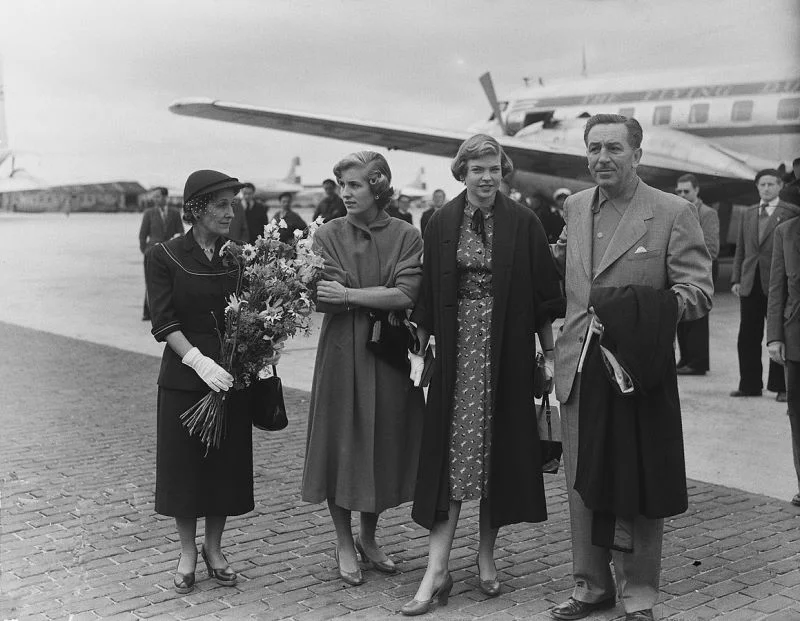 Walt Disney and his family | Image Courtesy: Wikimedia Commons
Many hardcore Disneyland fans already know about the secret apartment at Main Street, USA. Located right above the firehouse in Town Square, a lamp light flicker through a window around the clock. The lamp is kept aflame as a tribute to Walt Disney.
Inside the apartment are vintage instruments, antique decorations, and furnishings that remain mostly unchanged from the times when Walt and his family used to spend time here. The apartment is off-limits for the general public and can only be accessed by VIP guests.
In an interview with HuffPost, Diane Disney Miller, Walt's daughter and founder of the Walt Disney Family Museum told the reporter that the secret apartment used to have a fire pole and a screening room where they watched live-action films.
4. No, Walt Disney Was/Is Not Cryogenically Frozen
Walt Disney died on December 15, 1966, at the age of 65, after being diagnosed with lung cancer. After his death, Disney was buried at Forest Lawn Memorial Park Cemetery (in Glendale, California) and was not frozen, contrary to the widespread belief.
The myth was most probably started in 1972 in an interview by Bob Nelson, the president of the Cryonics Society of California at that time. Though he specifically told that Walt Disney was not cryogenically frozen, people misinterpreted that he wanted to be frozen.
3. He Helped His Housekeeper Become a Wealthy Woman
Thelma Howard was a long-serving housekeeper/cook to the Disney family. She started her job in 1951 and quickly became an essential part of the family. Disney was so fond of Howard's work that he even referred to her as the "real-life Mary Poppins."
At the end of every year, Walt Disney would gift Howard and his other employees a portion of Disney's stock. For most, this offering wasn't lucrative back then. She retired about three decades later in 1981.
It turned out that Howard never sold any of her Disney shares, whose value has increased more than twelve times between 1980 and 1993. Her personal wealth stood around $9 million when she died in 1994. In her will, Howard left half of that amount to her disabled son and the other half was donated to the welfare of needy, homeless children.
2. Walt Disney Was a Massive Railfan
Disney's love for trains has never been hidden. In his youth, he lived nearby Atchison, Topeka and Santa Fe Railway line, where he grew fascinated with trains. Another reason for Disney's strong affection towards trains was his father Elias and uncle, both of whom worked on railways.
It was during a train ride back home, that he came up with the idea of mouse-centered cartoon character after he lost the fan-favorite Oswald the Lucky Rabbit in 1928.
Years later, he built a model steam engine and railroad at his L.A house backyard. He named the steam engine the Lily Belle after his wife Lillian, which looped on a half-mile track.
1. He Holds The Record Of Most Academy Award Won By Any Personality
Walt Disney received his first Academy Award for Mickey's Orphans in 1932 (and an honorary award for creating Mickey Mouse). From thereon, he won a total of 22 Oscars until 1969. Some of his memorable award-winning creations include The Old Mill and Three Little Pigs.
Read: 18 Most Powerful Marvel Characters Of All Time
Disney was also nominated for a record 59 times and received honorary Academy awards. Winnie the Pooh and the Blustery Day was nominated and won the Oscars in 1969, making Walt Disney among the very few people to win the award posthumously.