There have been a lot of queries about jobs in recent years. One of the most common questions people ask is whether consumer services is a good career path.
The answer to this question is not straightforward because consumer services is not really a single career path. It encompasses a range of fields and job profiles that would be worth pursuing for many people.
To give a more specific answer, we need to explain different types of consumer services, the number of jobs available in the country, the biggest employers, current market trends, and the pros and cons of entering the consumer service industry. Let's start with the basics.
What Exactly Is Consumer Service?
Consumer services refer to services acquired for personal, household, or domestic use or consumption. These services derive much of their value from intangible elements such as an experience, process, or outcome.
Unlike consumer goods (which are tangible elements), consumer services cannot be seen, touched, or smelled. For example, computer software, consulting, accounting, education, health care, insurance, and investment banking are all consumer services.
Do not confuse it with customer service, which involves providing services to customers before, during, and after a purchase. While customers buy the product, consumers are the actual users of the product. Consumer service involves providing services directly to users.
Today, thousands of consumer services companies are developing solutions for emerging global markets. According to the McKinsey Global Institute, developing nations and demographic shifts are driving consumption growth.
The elderly population in developed countries and the working-age population in North America and China will generate about 50% of the total global urban consumption growth between 2020 and 2030.
The United States consumer services industry alone includes 450,000+ businesses with a combined profit margin of over 12 percent.
Consumer Services vs. Industrial Services
While consumer services are geared towards individuals, industrial services are designed for corporations and businesses of all sizes. For example, employee training and marketing software services are industrial services; Online bill payments and personal legal advice are consumer services.
Examples of Consumer Services
Consumer services involve helping individuals with a range of product or service-related issues. While most consumer services representatives work in retail and hospitality, some are based in other types of businesses.
Retail
In the retail industry, businesses sell products or services to individual consumers for personal use. In the United States, there are more than 3.8 million retail establishments, from stores and restaurants to auto mechanics and gas stations. They employ about 44 million people, making retail the biggest private sector employer in the nation.
Since customer expectations rise every year, retailers keep improving their business models to stay ahead of competitors. Big retailers use advanced technology (such as AI chatbots or machine learning algorithms for product recommendations) to increase customer experience.
Healthcare
Health services cover preventative, rehabilitative, emergency, home care, and long-term treatments. These services are provided by medical professionals, corporations, and health care workers to those in need.
Over the past decade, the healthcare industry has experienced a huge paradigm shift. Hospitals all over the world have adopted Electronic Health Records (EHRs), making it easier to access medical history and treat patients.
The healthcare industry accounts for over 10% of the GDP of most developed nations. In the US, health spending is projected to grow at a CAGR of 5.4% from 2019 to 2028. It is estimated to exceed $6.2 trillion by 2028.
Education
The education industry covers an expanding array of organizations that strive to provide a lifelong learning experience. These organizations include schools, colleges, universities, as well as corporations that focus on training and skill development programs.
Today, education is delivered via both traditional and modern methods that include storytelling, online training, discussion, and directed research.
All in all, the education sector is responsible for training people of all ages to learn new skills, obtain valuable employment, and contribute to economic growth. According to Zion Market Research, the US education market size will reach $2.3 trillion by 2028.
Hospitality
Hospitality represents a large portion of the service industry and is mainly comprised of:
Food and beverage

: includes food trucks, bars, and restaurants

Travel and Tourism

: includes various types of travel and transportation agencies

Lodging

: covers various accommodation services from hostels to hotel resorts

Recreation

: refers to leisure activities like sports, entertainment, and wellness
All these fields are interconnected in one way or another, and most of them are rapidly evolving due to new technologies and the high expectations of customers.
Finance
Financial services are comprised of a wide range of businesses that manage money, including banks, insurance companies, credit card companies, accountancy companies, credit unions, investment funds, stock brokerages, and consumer finance companies.
These businesses are the primary driver of a nation's economy. They provide liquidity and free flow of capital in the marketplace. When the finance industry works well, the economy grows, and corporates are better able to manage risk.
Information Technology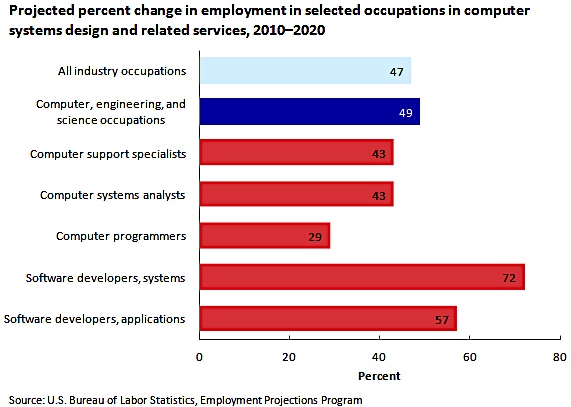 The IT sector is made of three major industry groups: technology hardware and equipment, semiconductors and semiconductor equipment, and software and services.
Nowadays, giant tech companies are heavily investing in R&D and undertaking riskier projects with great future potential. Most of the money is being spent on artificial intelligence, machine learning models, and quantum computing.
According to the US Bureau of Labor Statistics, jobs in the IT sector are poised to grow at a CAGR of 13% from 2020 to 2030.
Product as a Service
Over the past decades, companies have focused on selling their products in one-time transactions. However, things are now gradually changing — many producers and manufacturers are progressively adapting the business model through which they can generate revenue on a regular basis.
Product as a Service is one such model. It's a combination of products accompanied by services. Users subscribe to the product or service and pay recurring fees. This makes it easier for companies to acquire customers, create a more predictable revenue stream, build deep relationships with customers, and quickly make changes based on customers' feedback.
Professional Services
Professional services are provided by individuals or companies to help clients manage or improve certain areas of their businesses. The sole proprietor, partner, or corporation providing the service is often described as a consultant.
This sector includes a wide range of occupations, such as lawyers, teachers, doctors, physicians, engineers, architects, accountants, financial planners, and management consultants.
Utilities
Utility services refer to all products, services, and equipment related to energy, water, sewerage, and telecommunications. It covers the installation and maintenance of cables, pipes, wires, utility poles and structures, and other infrastructure associated with such services.
Number of Jobs Available In Consumer Services
Consumer service is one of the largest sectors of the global economy. Almost 50% of all jobs in the United States are in consumer services. But since many different kinds of jobs are available in this category (ranging from dry cleaners to brain surgeons), it is very difficult to figure out the exact number of vacant positions.
Jobs in the education sector, for example, include everything from teaching primary school students or Ph.D. students to college counseling and student loan refinancing. Another large sector is retail and wholesale, which includes jobs like accountants, salespeople, and logistics professionals.
As per the US Bureau of Labor Statistics report, retail salespeople and customer service representatives are the two most common occupations in consumer services. They make up over 6.9 million jobs.
Other common occupations in this field include office clerks, receptionists, customer service managers, technical support engineers, and marketing research analysts.
Companies In this Field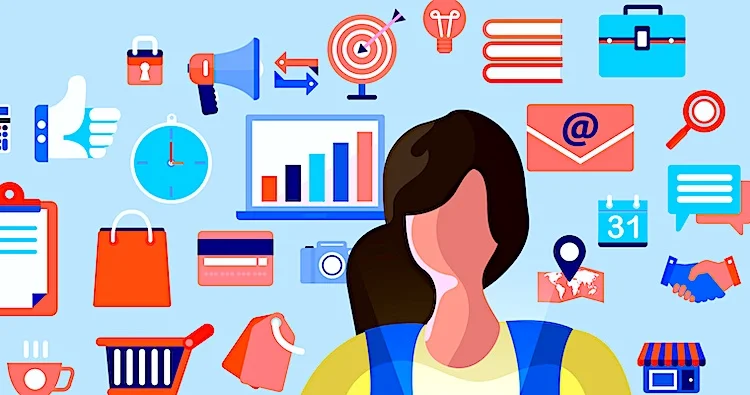 Walmart, Apple, Amazon, The Walt Disney Company, Costco Wholesale Corporation, Pfizer, Home Depot, Starbucks, McDonald's, Comcast Corporation, Uber, and Brookfield Asset Management Inc are some of the giant companies in the consumer services field.
Walmart, McDonald's, and Amazon are among the top 10 largest employers in the world — with 2.3 million, 2 million, and 1.6 million employees working for the company, respectively.
Highest Paying Jobs
In the United States, average salaries in different consumer services fields range from $28,000 to $650,000, depending on education, certification, additional skills, location, and the number of years one has spent in his/her profession.
The two highest paying fields are finance and medical field.
Jobs in financial consumer services include accountant, fund manager, stockbroker, loan officer, auditor, economist, financial analyst, and more. Financial analysts, for instance, make $72,469 a year on average. Financial managers earn an average of $124,129 annually, while loan officers make $186,237 a year. The hedge fund managers with 20+ years of experience make an average total compensation of $325,000.
The best paying jobs in the medical field include pediatrician, oncologist, cardiologist, and neurosurgeon. They have an average annual income of $177,130, $321,549, $448,374, $642,301, respectively.
Steps To Becoming A Consumer Service Professional
If you are interested in any of the consumer services fields, getting an entry-level job isn't as difficult as it sounds. However, for high-paying professions, you need to have all the necessary qualifications.
You can take the following steps before applying for various positions in consumer services. These steps will definitely increase the chances of landing your dream job.
1. Acquire in-depth knowledge of the industry 
Learn core methodologies used by major companies and their most selling products and services. Industry knowledge goes beyond academic content learned in schools and colleges.
More specifically, you need to learn to analyze the company's relationship with suppliers and competitors, types of clients and their expectations, product development process, and capabilities and strategies of leading companies in the industry.
You will always learn new things, especially in rapid-changing industries where the economy and technology play an important role.
2. Refine skills 
Take time to understand what skills you already have and how you can improve them to achieve your goals, like becoming an expert in a particular field or earning a promotion.
Different job roles require different combinations of professional and personal skills. For example, a software engineer requires proficiency in programming languages and mathematics. You can develop new skills faster by reading books, joining a training course, getting a mentor, and practicing daily. It would be better if you set aside time to work on each skill.
3. Contact appropriate businesses 
Gain further information about the companies you are interested in. Learn as much as you can about their objectives, working culture, and how they plan to achieve their goals.
Find out if any of these companies are offering internships. You can apply as an intern directly from their official websites or contact them via phone, email, webform, live chat, or social media.
Before applying for any entry-level position, read the job description carefully to understand what knowledge and skills the employer expects from a good candidate.
4. Create a perfect CV 
Every time you apply for a job, you compete against 250 other applicants on average. That's why you need to make it good enough to be noticed.
List all your relevant work experience and key achievements, qualifications, and relevant skills that fit the job opening. You can also attach a cover letter to increase your chances of getting hired.
5. Make a good first impression 
Although skills and knowledge are important, interviewers also place a large premium on a candidate's personality and actions. Make sure you present yourself in the best way possible.
Show up on time
Bring only essentials
Be courteous and attentive
Don't be afraid to ask questions
Pros and Cons of Entering this Field
A career in this field can be both rewarding and challenging. Let's focus on the benefits first.
Countless opportunities 
There are literally infinite opportunities in consumer services. Some businesses don't even require professional qualifications. You can lend a profitable job based on your knowledge and skills.
The most common consumer service jobs include counter and rental clerks, janitors, cashiers, automotive service technicians and mechanics, tax preparers, credit counselors, healthcare workers, sales managers, customer support, insurance agents, retail associates, software developers, and marketing professionals.
Low entry requirements 
Many consumer services jobs do not require college degrees; they only need a high school diploma. So if you are not fortunate enough to afford expensive degrees, go for entry-level jobs in consumer services.
Once you lend a job, you may receive training on several skills such as client management, cross-selling products, professional demeanor, stress reduction, and multiple other courses based on your job profile. Most of these courses last for a couple of weeks only.
Develop interpersonal skills 
A career in consumer services gives you a chance to meet different types of customers every day. While most of them are nice and polite, some are downright rude.
Gradually, you will build the ability to deal with difficult people and learn the pain points of various consumers.
Work on various technologies 
Even an entry-level job can give you the opportunity to get familiar with various cloud computing platforms or offline commercial software programs. Whether you are at the physical stores or just assisting consumers over the internet, you gain valuable experience of working with tools of voice communication, client management, and analytics.
Such experiences are vital and can help you develop a successful career in other fields as well.
Earn bonuses and commissions
Many firms offer bonuses and commissions in addition to regular wages. These rewards are usually tied to monthly or quarterly performance. For example, you earn more commission or a fixed amount of money once you hit certain goals, which may involve goods sold, hires placed, meetings closed, etc.
A career in consumer services has some potential drawbacks too. For example —
Manage frequent changes 
You may need to handle changes in business policies, processes, or product portfolios. This could be frustrating if changes happen too frequently. However, on the positive side, changes keep things interesting and you will keep learning new skills.
Working hours could be irregular 
In some fields, you may need to work on holidays, weekends, and late-night shifts. Working schedules may differ month to month.
Burnout and stress 
Sometimes, things get difficult to handle, especially when dealing with rude clients. And it gets worst when you have to work irregular shifts. This may lead to greater work stress or work-family conflict.
Furthermore, jobs that involve tedious or chaotic tasks can result in fatigue and job burnout, which may affect your mental and physical health.
Conclusion
If you enjoy helping people or like to meet new people, consumer services may be a good career path for you. But since it is comprised of numerous industries, you need to choose a specific field based on your qualification and skills.
If you are familiar with the field, make it a priority to learn as much as you can about all major companies in that field. Learn about their product development process, performance, competitors, target audiences, and plans.
One interesting aspect of consumer services is that it will always be in demand as long as humans live on Earth. No matter how customers' expectations change or what technological advances we see in the future, people will continue buying services that make their lives easier.
Read More
14 Best Paying Jobs in Consumer Services