Programmers spent countless hours on computers, designing, writing, implementing, and testing code. That's why they need a keyboard that's comfortable to type on, switches that feel responsive and light, and some additional features like programmable keys.
Developers and writers need to choose a keyboard that they can type on for hours without straining. A keyboard that makes long tasks easy, fast, and stress-free. A keyboard with reprogrammable keys, so users can easily access frequently used apps on their machines.
Overall, a good keyboard minimizes how often you use the mouse or trackpad and improves your productivity. It should also have great build quality, so you don't need to change the board every year.
Below, we have listed some of the best keyboards for programmers and developers that fulfill the core requirements and boost productivity. To make the list as good as possible, we have emphasized factors like precision with anti-ghosting, macros, form factor, durability, reliability, and extra keys.
9. SteelSeries Apex Pro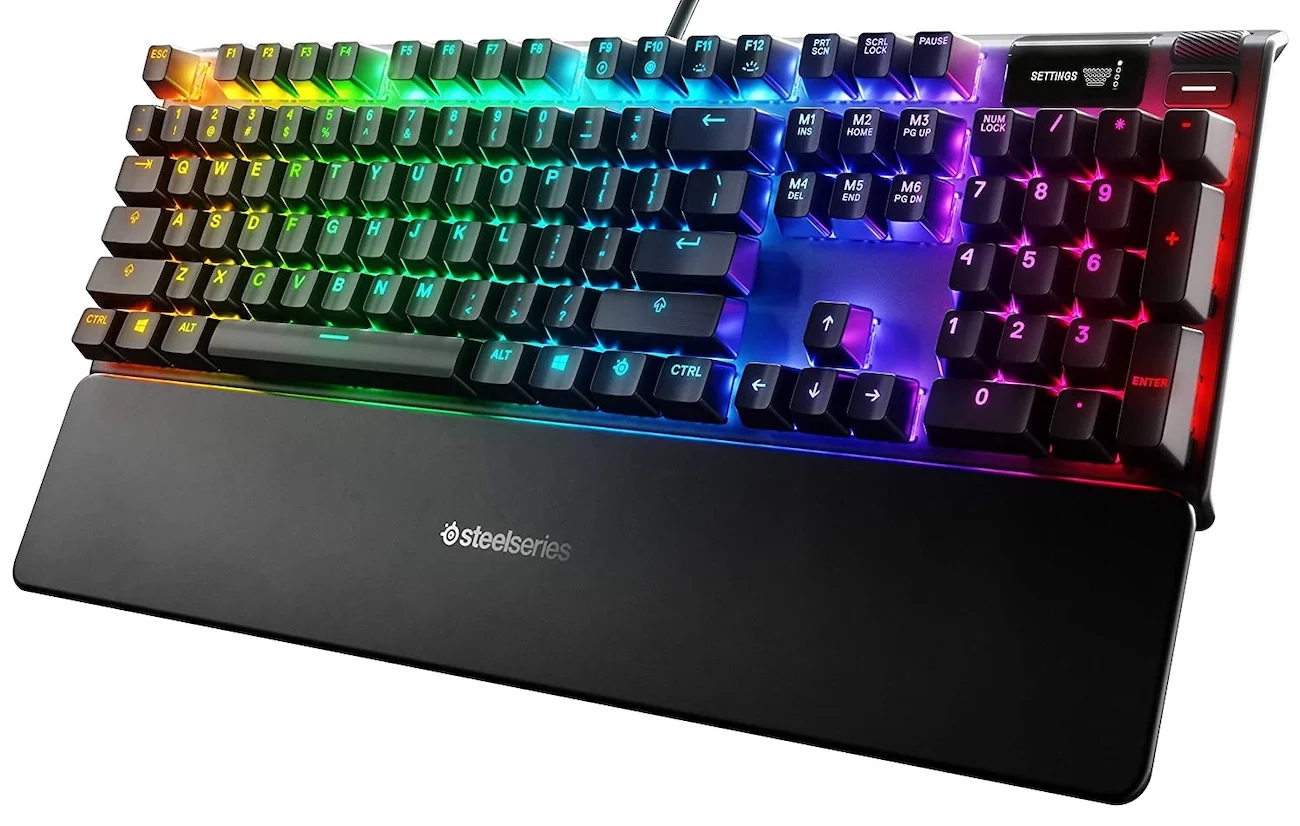 Type: Full-sized, mechanical keyboard
Price: $180
Rating: 9.5/10 from 3,000+ customers
SteelSeries Apex Pro is made of aircraft-grade aluminum alloy, which gives the keyboard extra durability and sturdiness, making it the perfect centerpiece of high-end setups.
You can configure every key to meet your desired sensitivity level, whether it's for office work, gaming, or anything else. For instance, any key set at a deeper actuation will register when you have confidently pressed it (giving you fewer typos).
The keyboard has an integrated OLED display (on the top right side) that delivers on-the-fly updates and shows you useful information about applications running in the background. There is also a dedicated, clickable metal roller to adjust volume and change brightness and settings on the fly.
Overall, this keyboard can improve your productivity by reducing typing errors and delivering important details straight from applications, so you don't have to tab out of what you're doing.
Pros 
Very well-built design
Keys are absurdly responsive
Includes OLED smart display and RGB backlit
Detachable soft-touch magnetic wrist rest
Cons
No dedicated macro keys
Expensive
8. Dell Premier Multi-Device Keyboard Mouse
Type: Full-sized, wireless keyboard & mouse combo
Price: $70
Rating: 8.9/10 from 6,000+ customers
Dell offers a premium keyboard and mouse combo with superior multitasking features. The keyboard gives you quick access to recently used applications or functions with 12 programmable keys. It is equipped with function keys, programmed presets, and a dedicated numeric pad.
You can connect the combo with up to three devices and effortlessly switch between them using the connection-mode button on your keyboard and mouse. Download the Dell Peripheral Manager tool to easily pair devices, check connectivity status, battery, and create custom shortcuts.
Moreover, the keyboard protects your data transmission across devices with 128-bit Advanced Encryption Standard (AES) specification. This is quite a useful feature, especially when you need to pair the keyboard with an untrusted device.
Pros 
Slim and stylish with a titan gray finish
Soft and quiet chicklet keys
Adjustable tilt legs
AES encryption for keystrokes
Cons
7. Razer Blackwidow Elite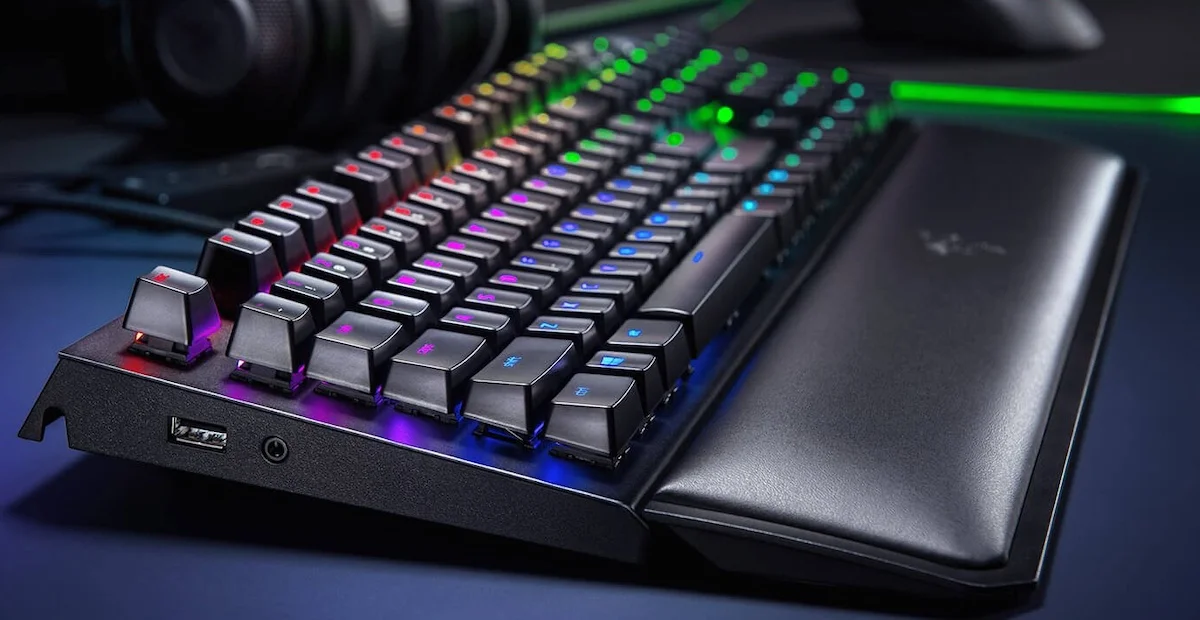 Type: Full-sized, mechanical keyboard
Price: $120
Rating: 9.4/10 from 5,000+ customers
Razer Blackwidow Elite has good ergonomics, thanks to the detachable wrist rest and two incline settings. It is built for prime performance, featuring Razer mechanical switches for faster actuation and a longer lifespan (up to 80 million keystrokes).
Razer switches are designed from the ground up — they have dual sidewalls for greater stability and enhanced protection against liquid and dust. The keyboard is available with three different switch options to suit your preferences: Green Switch (tactile and clicky), Orange Switch (tactile and silent), and Yellow Switch (linear and silent).
It gives you plenty of options to adjust key lighting and macros. You can turn each key into a macro key and activate your preferred settings using Razer's Hybrid onboard memory and cloud storage.  The onboard memory can save up to 5 personalized settings anytime, anywhere.
Pros 
Very well-built and sturdy
Available in three different switch types
Excellent backlighting
Digital dial with dedicated media controls
Cons
Customization software is a bit clunky and buggy
6. Microsoft Sculpt Ergonomic
Type: Curved and split keyboard
Price: $47
Rating: 8.7/10 from 7,000+ customers
Sculpt Ergonomic Keyboard is built on modern ergonomic principles, which focus on keeping wrists and forearms in a relaxed position. The shape of the keyboard reduces and corrects wrist pronation that causes pain and limited mobility. It also comes with a cushioned palm rest to provide support and promote a neutral wrist position.
The keyboard features 128-bit AES encryption that protects your data by encrypting every keystroke. And since it's a Microsoft product, it has a Windows button to give you quick (one-touch) access to the Start Menu.
Overall, the keyboard is designed for productivity and allows you to work with less strain, stress, and discomfort compared to other keyboards.
Pros 
Cushioned palm rest
Separate number pad
One-touch access to the Windows Start Menu
AES encryption for keystrokes
Cons
Setup takes up a lot of desktop space
5. Corsair K70 RGB Pro
Type: Full-sized, mechanical keyboard
Price: $160
Rating: 9/10 from 100+ customers
Although Corsair K70 is primarily a gaming keyboard, it can be used by coders and writers for long hours of comfortable typing. The board features Cherry MX mechanical keys, per-key RGB backlighting, and a durable aluminum frame.
It is equipped with AXON hyper-processing technology, which delivers an impressive performance by transmitting your inputs up to 8 times faster than conventional keyboards. This is achieved by 4000Hz key scanning and 8000Hz hyper-polling. It also processes up to 20 layers of hardware RGB lightning while maintaining speed performance. 
The keyboard uses a precision-molded keycap with 1.5 mm thickness for rigid stability. These keycaps are not like traditional double-shot PBT gaming keycaps that sacrifice thickness to allow in more RGB.
What's more? The Corsair K70 supports onboard macros recording. It has 8 MB of in-built storage that lets you store up to 50 programmable key profiles.
Pros 
Durable aluminum frame
Per-key RGB
Can store 50 onboard profiles and 20 lighting profiles
Adjustable feet
Cons
4. Logitech MX Keys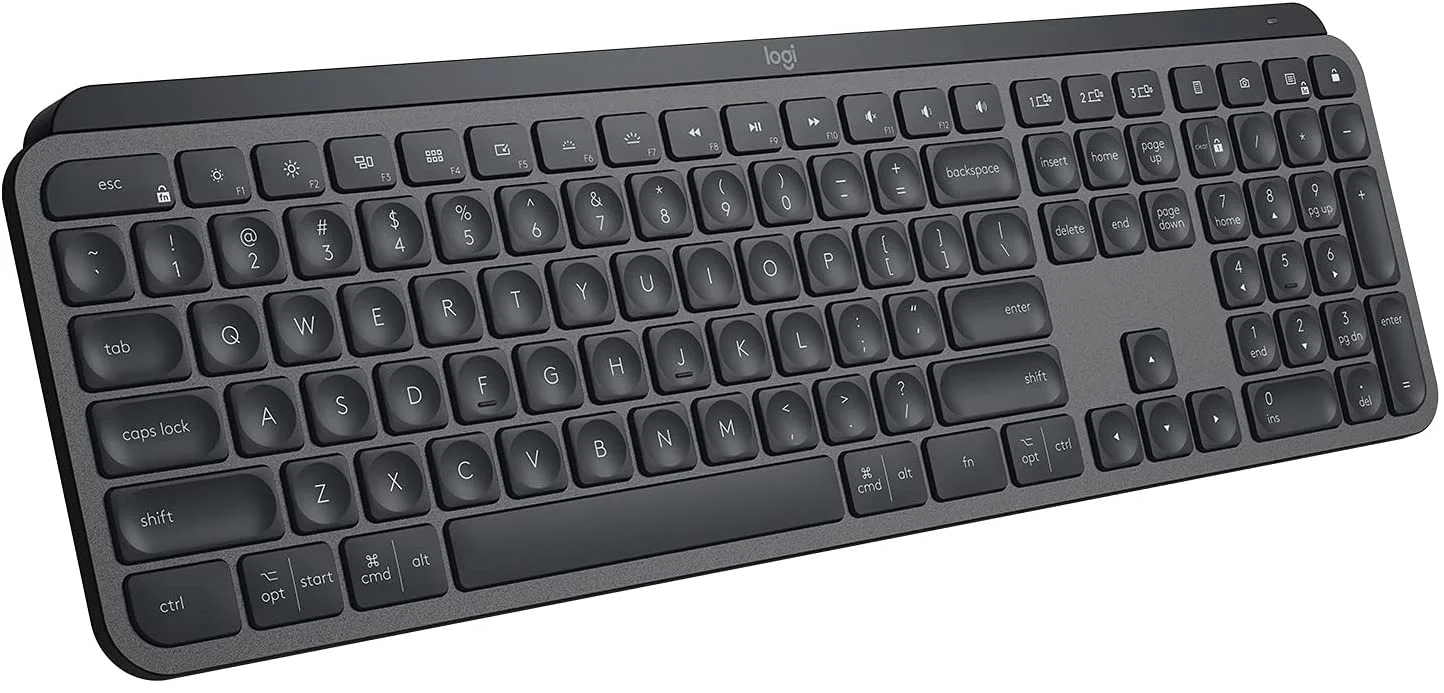 Type: Full-sized, wireless keyboard
Price: $100
Rating: 9.4/10 from 11,000+ customers
Logitech has used its decades of experience to design a keyboard with perfect stroke keys. Every keystroke is fast, fluid, and accurate, with a distinct tactile response.
Unlike other keyboards, Logitech MX consists of spherically dished keys that match the shape of your fingertips to provide satisfying feedback. Each key has a matte coating, so your fingers glide effortlessly over the surface.
The overall body is made of a single metal plate, which makes the keyboard stable and more durable. The improved stability also decreases noise and optimizes the responsiveness of keystrokes.
Logitech also provides a software tool to remap functions or media keys. You can download the tool from their official website and create custom shortcuts for screen capture, lock keys, calculator, battery saving mode, on-screen notifications, and more.
Plus, you can pair the keyboard with up to three devices and quickly switch between them by pressing an Easy-Switch button. It works with macOS, iOS, Windows, Android, and Linus operating systems.
Logitech claims that the keyboard stays powered up for five months (with backlighting turned off) on a full charge. Users can top up the power with a USB-C charging cable.
Pros 
Each keystroke is fluid and accurate, with a distinct tactile response
Sleek look
Long battery life
Can connect to up to three computers
Cons
No RGB, just white backlit
3. ANNE PRO 2

Type: 60%, wired/wireless, mechanical keyboard
Price: $85
Rating: 9.2/10 from 6,000+ customers
ANNE PRO has a minimalistic and compact design that feels very well-built and looks sleek in most computer setups. Since it's a 60% keyboard, it requires less hand movement while still being able to access all the necessary functions. It saves desk space and is easy to carry around.
This keyboard has several customization options, including the choice between various Gateron, Cherry, and Kailh switches. Although the keycaps are PBT plastic, they do not have much of a textured feel and are quite smooth.
What makes this keyboard special is that it can be connected to four Bluetooth devices. You can quickly swap between devices and start typing away. It also includes a detachable micro USB cable, which is used for charging and wired connectivity.
Pros 
Compact and Portable
PBT keycap material is tougher than ABS
Connect with up to 4 devices via Bluetooth
High-quality detachable cable for wired connectivity
Cons
Customizing each key may take time
2. Keychron K8
Type: Wireless mechanical keyboard
Price: $69
Rating: 8.8/10 from 600+ customers
Keychron K8 is engineered to maximize your productivity with the Tenkeyless layout. It offers convenient access to all functions and multimedia keys (for Windows and Mac) in a compact size.
The keyboard has three switch options: Gateron brown, red, or blue. Each provides different experiences. Gateron red switch, for example, is silent, while Gateron blue feels more clicky. Gateron keys are quite similar to Cherry MX switches but inexpensive. Their inclusion in K8 helps the company to keep keyboard prices reasonable.
You can also opt for Gateron Optical V2 switches (compatible only with the hot-swappable version of the K8), which offer a smooth and tactile typing experience and have a longer lifespan of up to 100 million keystrokes.
The keyboard comes with a 4000mAh battery that lasts up to 240 hours (with no backlight). It also has 18 RGB light patterns (including static white, breathing, and flashing) to match up to your mood.
Pros 
Hot-swappable option
Comfortable to type
15+ types of RGB backlight
Connect with up to 3 devices via Bluetooth
Cons
No macro-programmable keys
Doesn't include a wrist rest
1. Das Keyboard 4 Professional

Type: Mechanical key switches
Price: $169
Rating: 8.8/10 from 4,000+ customers
Das Keyboard 4 Professional has a sleek anodized aluminum top panel, a magnetically attached foot-bar, and a resonance-free bottom enclosure. Its gold-plated mechanical key switches are designed to last up to 50 million keystrokes.
The board uses MX mechanical keys to provide great tactile and audio feedback, so you can execute each keystroke with impressively-fast precision. It comes with both Cherry MX Blue (clicky, tactile bump) and Cherry MX Brown (soft, tactile bump) switches.
Plus, the keyboard has dedicated media controls, an instant sleep button, and a uniquely large volume knob that allows you to instantly adjust the volume while on a Zoom meeting or Skype call.
Pros 
Cherry MX keys with gold contacts
Media control switches with an oversized volume knob
Instant sleep to save energy
Anodized aluminum top panel
Cons
Read: 12 Best Keyboard Apps For Android With Advanced Features
More Equally Good Keyboards
10 Magic Keyboard
Type: 75%, compact keyboard with scissor switches
Price: $99
Rating: 9.7/10 from 10,000+ customers
Designed by Apple, Magic keyboard is a low-profile, wireless, and rechargeable keyboard intended for office and productivity use. It easily pairs with your Mac and can be charged via a UBC-C to Lightning cable.
The combination of minimalist design and improved scissor mechanism delivers increased stability and optimal key travel, so you can type precisely and comfortably. And since the keyboard makes very little noise, it could be an excellent choice for people who work in a noise-sensitive environment.
However, it lacks some common features like backlighting and macros. Also, it doesn't come with a wrist rest or have any incline settings.
11. HAVIT HV-KB390L
Type: Ultra-Thin 87-key Mechanical Keyboard
Price: $45
Rating: 8.9/10 from 2,000+ customers
HAVIT HV-KB390L is lighter and thinner than conventional mechanical keyboards. It is only 2.26 centimeters thick, about 25% thinner than a standard 104 key keyboard. The 3 millimeter of key travel and 45 gram of operating force gives you a swift typing experience without any bumping sounds (that long-travel switches make).
The lighter weight and optimal key travel does not only mean it is more portable and comfortable, but it also takes less time and effort to press a key. This allows you to react faster in everyday tasks.
You can install the local driver to configure backlit modes, macros, media keys, and key response time.
12. HyperX Alloy Origins
Type: 60%, Mechanical keyboard
Price: $80
Rating: 9.5/10 from 10,000+ customers
HyperX Alloy Origins 60 is a sturdy keyboard featuring custom HyperX mechanical switches. These switches are designed to be a balance of preciseness and responsiveness. They have a short travel time and low actuation force. They are also durable, rated for 80 million keypresses with no loss of quality.
The high-quality aluminum body keeps the keyboards stable when you type faster. You can adjust it to three different tilt angles (11°, 7°, or 3°), whichever gives you the perfect typing experience. Because of its compact body, you get enough space for rapid mouse movements.
Furthermore, you can use the HyperX NGENUITY tool to set up your own macros and create unique backlit patterns and save them directly to the keyboard.
13. Tezarre TK61 Pro
Type: 60%, Mechanical keyboard
Price: $59
Rating: 9.6/10 from 300+ customers
Tezarre TK61 Pro comes with double-shot keycaps, which are more durable than ABS. The keycaps do not fade and wear over time.
Gateron Optical Switches (Red, Blue, Brown, or Black) offer faster, lighter, and smoother actuation than mechanical switches. You can easily swap these optical switches with a puller (no soldering is required). It's a great feature for DIY users.
The keyboard supports anti-ghosting technology, full n-key rollover, and 16.8 million color combinations with multiple pre-built RGB backlight modes, such as Radar, Ripple, Aurora, Twinkle, and Wave. It is also IPX4 waterproof, which means it can shrug off the effects of water spills.
Frequently Asked Questions
Does keyboard really matter in coding?
While having a good keyboard won't improve your coding skills, it does offer a much more comfortable typing experience, which may indirectly help you make programming more enjoyable. High-quality keyboards with responsive switches, macros, dedicated multimedia keys, and anti-ghosting technology can significantly improve productivity.
Are gaming keyboards good for programming?
Yes, most of them are. Programmers and gamers have quite similar needs — precision, good feedback, and most importantly, comfort.
Mechanical gaming keyboards, in particular, are great for coding. This is because mechanical switches offer great tactile feedback and help you type fast and make fewer errors. With additional features like programmable keys and RGB backlit, you can customize the keyboard to fit your needs.
However, not all mechanical keyboards are the same. Different companies offer different kinds of layouts and switches. Some keyboards are perfectly optimized for long-hour typing and they might not be suitable for high-end gaming.
Do I need a keyboard with a numeric keypad?
Numeric keypads are primarily used for entering long sequences of numbers quickly, for example, in financial/accounting tools, calculators, and spreadsheets. Unless your job involves a lot of data entry, you don't need a keyboard with a numeric keypad. Most developers prefer not to have the number pad. It just takes extra space on the desk and doesn't add any value.
Read More