Emerging and industrialized countries rely on trucks, trains, ships, and airplanes as primary means for transporting and circulating goods. The trucking industry, in particular, handles the transportation of most products, including consumer goods, passenger vehicles, and hazardous substances.
Many companies provide logistics and supply-chain management services, facilitating quicker and cheaper deliveries to various destinations.
In the United States, trucks account for the majority of freight movement. This (freight trucking) industry employs over 230,000 people every year, and the number of local freight trucking companies is increasing year over year.
In general, the US trucking industry can be grouped into three main categories:
Full truckload carriers haul vast amounts of homogenous cargo
Less-than-truckload carriers transport objects that are bigger than parcels but not large enough to fill an entire container or semi-trailer
Courier sector handles the delivery of parcels and small and light goods
Below, we have featured the largest trucking companies in the United States, along with their business model and revenue.
Did you know? More than 85% of firms in the US long-distance freight trucking industry are owner-operators. That's why top companies only hold a small portion of the total market.
12. Werner Enterprises
Founded in 1956
Headquarters: Omaha, Nebraska
Annual Revenue: $765 million+
Number of Employees: 13,500+
Werner Enterprises provides a wide range of transportation and logistics services, including one-way truckload, expedited, cross-border, temperature-controlled, and custom solutions. It also offers freight management, truck brokerage, and final mile services.
The company has built a network of over 26,000 alliance carriers, which makes it easier for shippers to move goods across the world, on-time and safely.
They have been running a comprehensive preventative maintenance program for decades, facilitating minimal equipment downtime and maximum cargo capacity. Plus, they offer attractive freight opportunities to keep trailers full and drivers moving.
11. ArcBest
Founded in 1966
Headquarters: Fort Smith, Arkansas
Annual Revenue: $5 billion+
Number of Employees: 14,000+
ArcBest leverages its full suite of shipping and logistics solutions to meet customers' requirements every day, without fail. Their services can be grouped into four categories:
Freight shipping solutions
Supply chain optimization
Premium logistics
Moving services
The company (and its subsidiaries) operates more than 245 facilities in North America. Their fleet consists of 22,000 trailers, 4,000 tractors, and 83 straight trucks. The mix of company-owned equipment and a growing network of 80,000+ capacity partners allows ArcBest to provide the right solutions at the right time.
The major reason behind their success has been their long-term strategies. They always try to identify industry trends, analyze emerging technologies, and utilize data and analytics to build efficient systems for complex supply chains.
Over the past two decades, ArcBest has acquired several companies, solidifying its position in the $100 billion+ domestic transportation management market.
10. Old Dominion Freight Line
Founded in 1934
Headquarters: Thomasville, North Carolina
Annual Revenue: $5 billion+
Number of Employees: 24,000+
Old Dominion is an inter-regional and national less-than-truckload (LTL) corporation that offers various logistics and household moving services. It operates more than 250 facilities throughout the continental United States.
Their services include on-demand deliveries, guaranteed delivery windows, and expedited air freight. With a 99.1% on-time delivery rate and an exceptionally low damage claim rate, the company has been living up to its reputation for more than eight decades.
In order to make the whole transportation process more efficient and secure, Old Dominion invests about $12 million into technology every year. From load planning and routing systems to advanced telematics in vehicles, the company makes sure that goods move in the safest and most cost-effective manner.
Plus, they have built apps and web-based portals so customers can easily access their shipping information anytime from any device.
9. Schneider National
Founded in 1935
Headquarters: Green Bay, Wisconsin
Annual Revenue: $5.6 billion+
Number of Employees: 20,000+
Schneider National is a premier provider of transportation and logistics services with the broadest portfolios in the industry. Its services include Long-Haul Truckload, Expedited, Intermodal, Warehousing, Brokerage, Supply Chain Management, and Port Logistics.
The company hauls more than 19,300 loads per day, with 9000+ tractors, 33,830+ trailers, and 26,000+ intermodal containers on the road. Since they put safety first, they have hired 6,400+ drivers who've driven over 1 million miles. About 14% of company drivers have military experience.
Schneider serves more than 65% of Fortune 500 companies. They have collected numerous awards in the past couple of decades, including the Inbound Logistics' Green Supply Chain Partner Award, FreightTech 100 award, and several top carrier of the year awards by clients like P&G.
8. Saia
Founded in 1924
Headquarters: Johns Creek, Georgia
Annual Revenue: $2.75 billion+
Number of Employees: 12,000+
Begun in 1924, Saia's first 'truck' was a family car with the rear seats removed. The company continued to expand, opening multiple terminals throughout Texas and Louisiana.
Within 40 years of its establishment, Saia became one of the largest regional LTL carriers in the United States. By the mid-1980s, it had 23 terminals across the Southeastern states, about 1,000 employees, and over $50 million in revenue. Further acquisition and merger with other firms enabled Saia to offer a range of services in 36 states.
Today, it operates 185+ terminals across the country, employs more than 12,000 people, and handles over 30,000 shipments every day. Their network has become large enough to efficiently provide services in Canada, Mexico, Alaska, Hawaii, and Puerto Rico.
7. Landstar System
Founded in 1968
Headquarters: Jacksonville, Florida
Annual Revenue: $7.7 billion+
Number of Employees: 1,400+
Landstar System offers safe, secure, and reliable transportation services. Unlike traditional logistics businesses, Landstar has a large network of independent agents, leased owner-operators, and third-party capacity providers to meet clients' requirements.
More specifically, they have partnered with 1,200 agents, 11,000+ owner-operators, 17,500+ trailers and trailing equipment, and 102,000 truck capacity providers.
The company heavily relies on technology to coordinate freight shipments. They have developed a mobile app, LandstarOne, which allows capacity providers to find and set Load Alerts notifications.
Landstar has also built a proprietary system for agents so they can access real-time data and identify trends in their customers' businesses. This helps agents provide better services to customers.
6. Yellow Corporation
Founded in 1929
Headquarters: Overland Park, Kansas
Annual Revenue: $5.35 billion+
Number of Employees: 30,000+
Yellow Corporation is one of the most comprehensive logistics and LTL networks in North America, offering regional, national, and international services. It combines an advanced transportation management system with multi-modal logistics, fulfilling clients' shipping requirements coast-to-coast.
With more than 315 terminals, 60,000 trucking assets, and over 95 years of experience, the company can offer better expertise in heavyweight shipments and effective supply chain solutions. It makes sure that clients can ship commercial, industrial, and retail products (such as automotive parts, appliances, furniture, machinery, food, chemicals, etc.) with confidence.
The company provides three levels of service: Standard, Guaranteed, and Time-Critical. You can select any of these based on your shipment, pricing, and business needs.
5. Knight-Swift
Merged in 2017
Headquarters: Phoenix, Arizona
Annual Revenue: $7.5 billion+
Number of Employees: 28,000+
In 2017, Knight Transportation and Swift Transportation merged to form Knight-Swift Transportation Holdings Inc. It is now among the five largest trucking companies in the United States, operating with 19,000+ tractors and 58,500+ trailers and employing 28,000 people.
The company serves a broad range of clients in various industries throughout the US, Canada, and Mexico. Its most popular services include cross-border freight transportation, temperature-controlled transport, engineering services, equipment leasing, consulting, brokerage, and fleet solutions.
Knight-Swift also runs employee development programs, which include about 1,400 training courses. More than 30,000 individual learners have completed these courses, and about 9,500 participants enroll in the driver pre-hire safety training program every year.
4. J. B. Hunt
Founded in 1961
Headquarters: Lowell, Arkansas
Annual Revenue: $14.66 billion+
Number of Employees: 30,000+
Founded by Johnnie Bryan Hunt and his wife Johnelle, J.B. Hunt went public in 1983. By that time, it had become the 80th largest trucking company in the United States. With about 1,050 employees, the company was operating 550+ tractors and 1,000+ trailers.
Fast forward to this decade (the 2020s), J.B. Hunt employs more than 24,000 people and operates 12,000+ trucks. Their fleet contains over 150,000 trailers and containers. They have also added multiple Tesla electric trucks as well as all-electric box trucks to their fleet.
The company heavily relies on technology to make operations more efficient. For instance, it utilizes load optimization software tools to minimize greenhouse gas emissions and empty miles for drivers. They have developed an app to provide essential load data and other valuable information for effective communication between drivers and supportive teams.
Furthermore, the company has received SmartWay Excellence Award (from the United States Environmental Protection Agency) more than ten times.
3. XPO Logistics
Founded in 1989
Headquarters: Greenwich, Connecticut
Annual Revenue: $13.1 billion+
Number of Employees: 38,000+
XPO Logistics provides less-than-truckload (LTL) services to the most successful companies in the world. It covers almost all US zip codes through a single source, plus Mexico, Canada, and the Caribbean.
The company builds its own trailers at an in-house facility (in Arkansas) and trains new drivers at 130 locations. They are continually adding new terminals and expanding existing sites. At present, it is among the five largest LTL providers in North America and a leading LTL company in Western Europe.
Unlike most other trucking companies, XPO employs data scientists and IT professionals who work on machine learning, automation, predictive analytics, workforce planning, route and load optimization, workforce planning, and pricing algorithms. They have developed proprietary AI tools to streamline their operations and increase network productivity.
With more than 33 years of experience and 18 billion pounds of freight moved every year, XPO knows how to keep their 25,000+ clients happy.
2. FedEx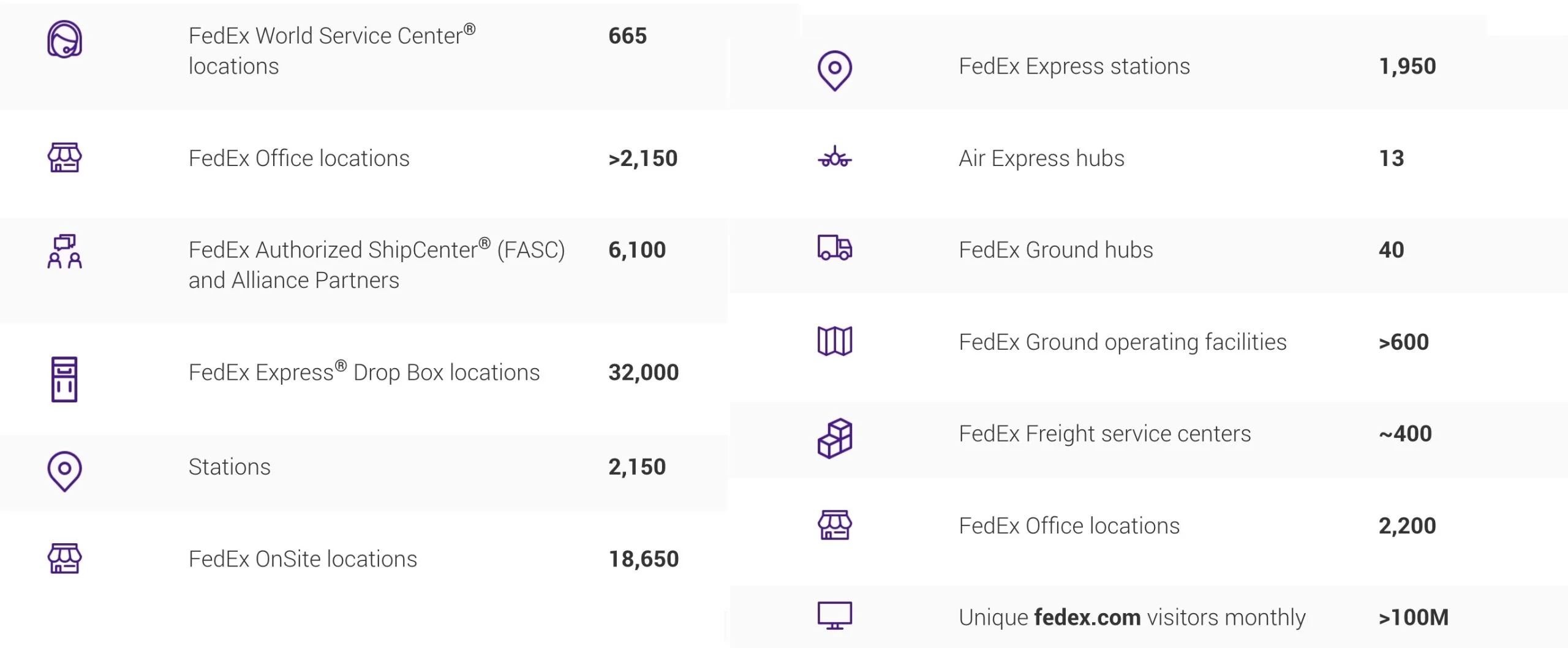 Founded in 1971
Headquarters: Memphis, Tennessee
Annual Revenue: $94.75 billion+
Number of Employees: 547,000+
Founded in 1971 (as Federal Express Corporation), the company delivered 186 packages on its first day of operation. Today, it delivers millions every day all across the world.
FedEx focuses on eCommerce, transportation, and business services. It is popular for its air delivery service named FedEx Express — one of the first large shipping corporations to provide overnight delivery.
The company has multiple subsidiaries, such as FedEx Office, FedEx Ground, FedEx Freight, FedEx Logistics, FedEx Dataworks, and more. Each has special strengths and capabilities, from delivering to over 220+ countries to providing effective supply chain expertise and building advanced tech solutions.
FedEx Freight, in particular, is the largest LTL freight carrier in the United States, generating over $9.3 billion in annual revenue.
The company is among the top contractors of the United States government and transports US Postal Service packages (via Air Cargo Network contract) on a large scale. Furthermore, it is investing $2 billion in sustainable energy initiatives to make its operations carbon-neutral by 2040.
1. United Parcel Service
Founded in 1907
Headquarters: Sandy Springs, Georgia
Annual Revenue: $101.07 billion+
Number of Employees: 534,000+
United Parcel Service (UPS) is best known for its ground shipping services and the UPS Store that facilitates shipments and offers tools for small businesses.
The company has a large portfolio of assets — ground, domestic, air, international, residential, and commercial services are supported through a single pickup and delivery network.
In the United States, UPS offers a full spectrum of guaranteed ground and air package transportation services. The ground fleet, in particular, serves all residential and business zip codes in the contiguous US. 
Every day, it delivers packages for 1.7 million+ shipping customers and 11.9 million delivery customers across the world.
The company operates more than 120,000 delivery vehicles, ranging from tractor-trailer trucks to bicycles. It uses different sizes and designs, based on the package volume and routes. For lower-volume delivery routes, the company uses production-based vehicles like Dodge Grand Caravan C/V,  Ford Transit, or Ford Transit Connect. They are also investing in electric vehicles these days.
Moreover, UPS was the first company to receive FAA's Part 135 Standard certification. This means the company has the license the operate an unlimited number of drones of any size.
Other Big Players In the Trucking Industry
13. TForce Freight
Founded in 1935
Headquarters: Richmond, Virginia
TForce Freight is committed to making LTL shipments easier and faster. It provides services in the United States, Canada, Mexico, Puerto Rico, Guam, and U.S. Virgin Islands.
Unlike most other trucking corporations, TForce Freight offers flexible pricing for unique shipping needs. One can easily compare rates side-by-side and view shipping details on the official website.
The company has more than 200 facilities in North America, and its fleet consists of over 6,700 tractors and 22,000 trailers. It also uses advanced technology to process and track shipments and reconcile billing.
14. Estes Express Lines
Founded in 1931
Headquarters: Richmond, Virginia
Estes Express Lines is one of the largest privately held freight transportation companies in North America. It offers a comprehensive suite of freight shipping services throughout the United States, Canada, Mexico, and Puerto Rico through 270+ terminals.
The company has developed many online tools and apps to make freight shipping easier — customers get the important information they need, right at their fingertips.
It currently employs over 20,000 people and operates 6,000+ tractors and 30,000+ trailers.
With over $4.4 billion in annual revenue, Estes Express Lines is a debt-free, financially-stable trucking company. It has won many awards for reliability, safety, and unprecedented customer service.
15. Forward Air
Founded in 1981
Headquarters: Greeneville, Tennessee
For over four decades, Forward Air has grown into a leading ground transportation solution and related shipping service provider. Although it started as an LTL firm focused on relieving dependency on air freight, it soon expanded its services to include Truckload, Intermodal drayage, Final Mile, and Brokerage.
The company generates more than 1.7 billion in annual revenue and operates 6,700+ trailers through 200+ locations.
Forward Air continues to evolve its approach to air quality practices. Its LTL service, for instance, decreases carbon emissions as truck miles emit less carbon than air miles.
16. Roadrunner Transportation Systems
Founded in 1984
Headquarters: Downers Grove, Illinois
Roadrunner provides LTL, parcel, and intermodal truck freight delivery along with air freight delivery services in the USA and Canada. It specializes in long-haul, metro-to-metro shipping.
Since the company has more direct routes between its 30+ facilities compared to its competitor, it can offer better services at a great value.
Roadrunner's network combines the element of two models: a hub-and-spoke model and an origin consolidation style network. This helps them deliver goods more efficiently at competitive transit times.
Furthermore, they have partnered with other carriers, rail providers, and third-party logistics firms to provide reliable services in every major metro city in the United States.
17. Penske Logistics
Founded in 1969
Headquarters: Reading, Pennsylvania
Penske Logistics provides chain management and logistics solutions to various industries, including food, beverage, automotive, retail, electronics, healthcare, and industrial manufacturing.
It is best known for its freight management and dry-van truckload services. It also offers customized supply chain and logistics solutions, such as dedicated contract carriage, distribution center management, and freight brokerage.
The company operates over 390,000 vehicles through its 1,350+ facilities. Additionally, the Penske Truck Rental service (which is recognized for its classic yellow trucks with blue stripes) provides both consumer and commercial truck rentals in North America.
More to Know
How big is the trucking industry in the United States?
In the USA, trucking is responsible for most of the overland freight movement. Its market size is over $1.1 trillion. This includes the transportation of goods (via road) from manufacturing plants to distribution centers, the transportation of building materials to construction sites, and the transportation of waste in the construction industry.
About 97.4% of fleets operate twenty or fewer trucks, and 91.3% operate six or fewer, which means most carriers are small firms. Furthermore, nearly 13.5% of all registered vehicles are commercial trucks.
Who is the richest owner of a trucking company?
With a combined net worth of over $11 billion, Tom Love and his wife, Judy Love, lead the trucking industry in personal wealth. They are the founders of Love's Travel Stops & Country Stores, which employs more than 38,000 people and has 600+ locations in 42 states.
Freight trucking Market size
According to the Allied Market Research report, the global freight trucking market size will exceed $4.4 trillion by 2031, growing at a CAGR of 5.1% from 2022 to 2031.
The major factors behind this growth include increasing demand for door-to-door transport, expansion of the eCommerce industry worldwide, rise in urbanization, and advances in fleet management systems. Modern trucks with telematics and enhanced safety tools can get live traffic updates, track loads, offer smart routing, and call roadside assistance during a breakdown.
Why you can trust us?
We thoroughly analyzed the 30 biggest trucking companies in the United States. It took more than 30 hours to do the comprehensive research, after which we decided to shortlist the top 17 corporations based on their fleet size, annual revenue, number of employees, as well as market capitalization (for public companies).
We DO NOT earn commission from any of the listed companies. Moreover, we have two separate editors who have no influence over our listing criteria or recommendations.
Read More
13 Best Dump Trucking Companies
13 Best Lease Purchase Trucking Companies