As a web designer/developer, you might be visiting thousands of websites just to get an idea of any new available design. In the last couple of years, numerous compelling designs have been introduced. The web technologies are really expanding at an exponential rate and the W3C standard has pushed the website to the next level. The new looks are overtaking old ones and if you really want to create something amazing you have to walk with technology.
Today we are going to represent you a few Latest Web design trends of 2014, so you don't need to visit thousands of sites to get a single idea. Welcome to the era of all new digital web designs.
10. Video Content
Gone are the days when people used to communicate in text language. Now bloggers are using interactive infographics, audio, charts, and images to broadcast their stuff in an effective manner.
In 2014, we have seen an increase in video tutorials and that's even better than text communication. Why people waste their time reading thousands of words when they can get the same stuff in the video. Lots of business websites are using videos as background to convey their messages in a pretty nice way. In fact, if you purchase any website theme, you will get an integrated video post format.
9. Responsiveness
Photo credit: Flickr
To put the whole website structure on handheld devices, you need to know the concept of responsiveness that adjusts the web according to the screen size. Responsive design is not new as we all are using this for the last couple of years.
The reason we have put this on our list is because of the fact that there is still a lot to be developed in this field. The aim is to change the site structure to provide the best viewing experience that includes easy reading, minimum scrolling and resizing. The concept is not only limited to website structure; nowadays, many big advertising companies are providing responsive ads.
8. Typography
We all know Google fonts service provides around 650 fonts for free. This is creating a whole new trend of displaying text. In 2014, there is absolutely no restriction and fees to buy the custom font. Display your text message in a font format you like. I believe, at the end of next year, it will be hard to find a hundred websites using the same font.
7. Mega-menu navigation
This is the era of fancy navigation style. Last year saw a new trend of showing the primary menu. Nope, the menu is no more representing a few words, it has become something more, something mega. Now you can see plenty of magazine websites using mega menu i.e. they are displaying featured images along with the post title on hovering on a particular item. It looks great and also gives a wide option to navigate the website.
6. No Sidebars
Around 5 years ago, all websites were showing a sidebar area along with the content. Now the situation is different. No, we are not saying the displaying sidebar is completely outdated. There are thousands of sites displaying more than one sidebar. But a few websites are now focusing on full-width content. You can say, it is basically zooming the single piece of stuff to get extra users' attention. No sidebar concept is more successful in a single page or single product website.
5. Big blocks
Perceiving information is usually based on size, graphics, color, sound, and fonts. Big blocks are really a good method to broadcast a limited amount of content. It focuses the reader's attention on a single statement at a time. When you display lots of blank space, big font size, dark font colors along with HD image in a box, obviously users are going to read it. These kinds of blocks help to make content even more powerful.
4. Flat design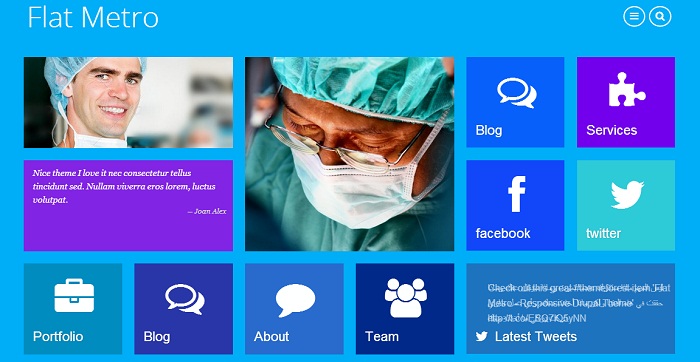 Using gradient, drop shadow, border-radius is an old fashion. Flat design is a combination of compelling and smooth colors that makes the web design even more graceful. Microsoft has been using metro UI since the launch of Windows 8 and now, Apple introduced the flat design on the iOS 7 platform. In upcoming years, you will see tremendous growth in the flat designs interface.
3. SVG Animation
Photo credit: DeviantArt
SVG stands for Scalable Vector Graphics which are built around lines and coordinates rather than pixels. SVG fonts and images can be resized or colored easily without any loss of quality.
Photo credit: Wikimedia commons
In the coming years, the vector is going to replace the major part of the bitmap image used on websites. The only con is it doesn't support all browsers and there are millions of people still using the old browser version.
2. Minimalist
Minimalist is the same as flat design but without any combination of fancy colors. It just focuses on a single color theme and content. It has been popular for years and more and more websites are adopting the minimalist concept. Moreover, it has so many advantages such as low page load time, fewer requests, professional look and more.
1. Parallax

Parallax is evolving and will continue in the next upcoming years. Those who want a slight 3d effect on their website can integrate the parallax effect. Most of the people think it as a horizontal scroll only. Let me explain to you in a simple way, it is the concept of the horizontal scroll in which object near to the viewpoint (let's say screen) appears to move faster than the object kept far from the viewpoint. This object movement effect creates a great 3D illusion.
Photo credit: Wikimedia commons
There are many websites that are using parallax scrolling in order to capture the attention of customers. High page load time and large bandwidth consumption are the only disadvantages of Parallax. But who knows, next year we might get a solution to these negative points.
Grab the Information through Infographics: