Why do we love Linux? Because it is freaking awesome, right. Not only it's open-source and free, meaning anyone can use it legally without paying to anyone, it's also driven by millions of volunteers and Linux lovers so that any problem regarding any particular distribution can be easily solved by collective heads all over the globe.
Linux has surely come a long way since its initial release in 1991, from only couple of distributions to more than hundreds of mainstream one's. Now coming to the point, almost all of us have a spare old computer which we mostly avoid using due to its software compatibility issues.
But with Linux there is always a way to use even the scantiest of computer system. There is an entire line of lightweight Linux distros that are specifically built to target old system. These distros consume considerably less amounts of memory and processor speeds and are highly cost effective. The one acceptable downside is that you won't be getting those "eye candy" features in your old PC or laptop anymore.
15. ConnochaetOS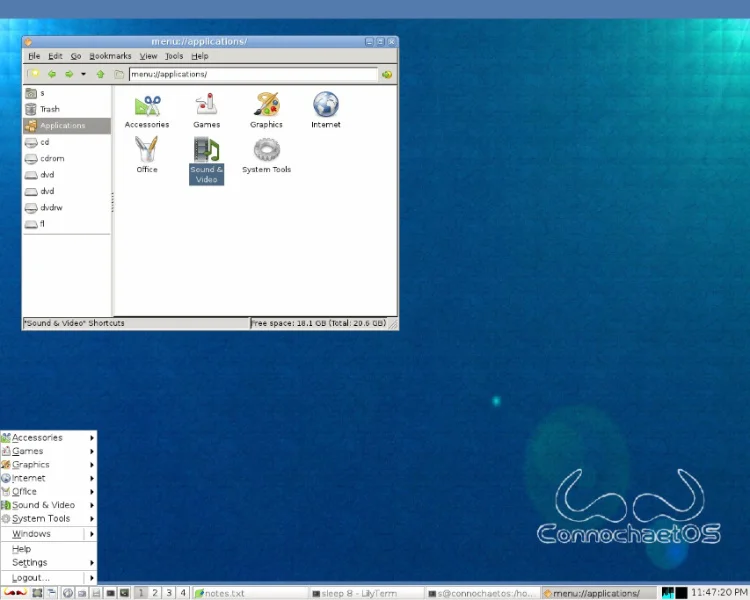 Download: connochaetos.org
ConnochaetOS is one of the two successors of now discontinued Linux distribution DeLi Linux. ConnochaetOS is designed solely for the purpose of powering personal computers with much limited resources and since that's the case, it is available for x86 (32 bit) only. It follows the KISS principle (Keep Things Simple, Stupid) and it's 100% based on Salix OS and Slackware and follow their versioning scheme to keep the update process much simpler.
14. BunsunLabs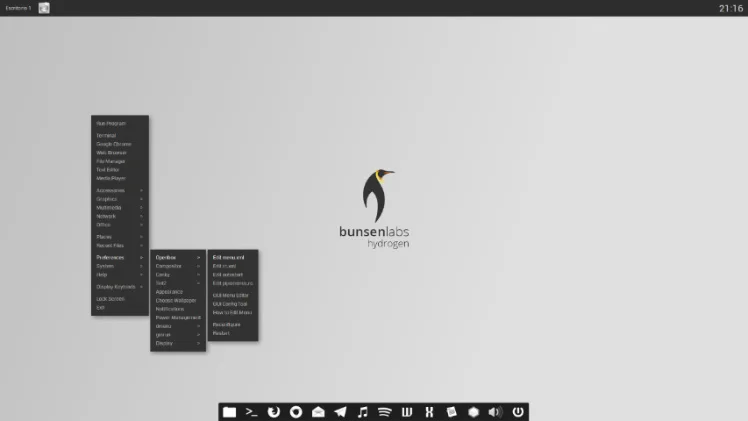 Default User Interface: Openbox
Download: bunsenlabs.org
BunsenLabs Linux is a further continuation of an earlier community based project CrunchBang Linux, which offers an adjustable, light-weight Openbox desktop. It's built on top of Debian with no major changes in the way how base Debian works. It is readily available for Debian i386 (i686) and amd64 (x86-64) architectures, however you can also get it on your ARM based platforms.
13. Absolute Linux
Default User Interface: IceWM
Download: absolutelinux.org
Absolute Linux is basically a light-weight version of Slackware Linux built for everyday use. Some of the default applications that are offered include: LibreOffice, GIMP, Firefox, p7zip and Xfburn, etc. Many script utilities are included with Absolute Linux to aid with configuration and maintenance of the system.
12. Trisquel Mini
Default user Interface: LXDE
Download: trisquel.info
Trisquel Mini is a lightweight alternative of Trisquel operating system, which is basically derived from one of the most popular Linux distribution Ubuntu. Trisquel Mini is specifically designed for resource deprived computers with older hardware as it uses a combination of the low-resource environments such as LXDE and light GTK+ and X Window System instead of GNOME and Qt-KDE applications.
11. SparkyLinux
Default User Interface: Multiple
Download: sparkylinux.org
First came in 5 years ago, sparkyLinux offers you a light-weight operating system designed for new as well as old computers with various customization to choose from. It is built on the "testing" branch of Debian Linux and is compatible with i486 and x86_64 machines.
Although it comes with a LXDE as a default desktop environment, advanced users can easily install other environments provided by the developer team such as Enlightenment, JWM, Openbox, KDE, LXQt and MATE, their newest Budgie is under development. In a nutshell, if you need a Debian based lightweight operating system with a loaded admin utilities, then you can totally go with this distribution.
10. Manjaro Xfce Edition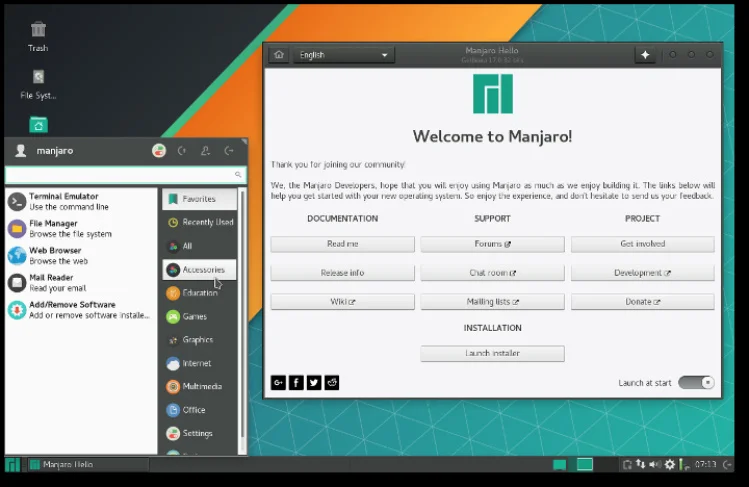 Default User Interface: Xfce
Download: manjaro.org
Manjaro remains the one of the most popular Linux distributions according to distrowatch based on page hit rankings. The operating system comes in three different desktop environments; the KDE edition, GNOME Edition and the Xfce edition, which remains, according to their website their flagship offering. In 2017, its developer team announced that manjaro will no longer support 32 bit architecture, so this might affect your choice.
9. antiX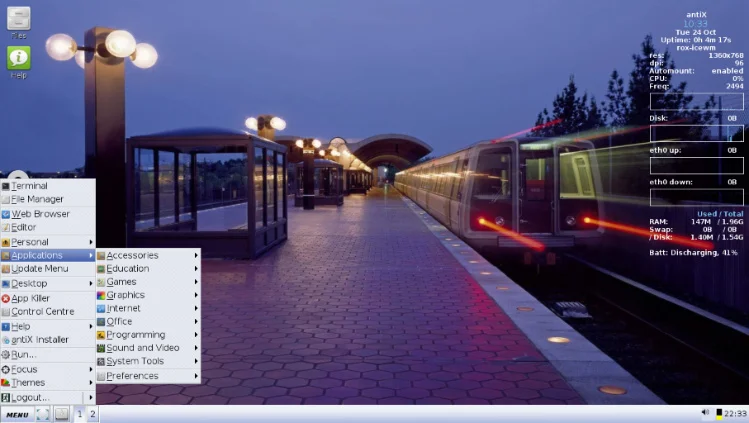 Default User Interface: Multiple
Download: antixlinux.com
With state of the art kernel and apt-get package system with Debian-compatible repositories, antiX distro is preferred by many Linux users all over the world. It is lite and simple operating system, which was developed after keeping both new and old users in mind.
antiX is readily available for 32 and 64 bit architectures so it's a good news for the owners of older systems who are considering this distro. And yes, one more thing, unlike Debian and most of the Debian derivatives antiX doesn't support systemd.
8. Peppermint Linux OS
Default User Interface: LXDE
Download: peppermintos.com
If you are planning to jump from your windows OS to the deep well of Linux and not sure where to start, then Peppermint OS should be up for your consideration. And for user who are already sailing on the Linux boat for some now can also try this OS, not just because it is lightweight and supports both 32 bit and 64 bit systems but due to its unique approach towards creating a hybrid desktop.
The operating system achieves this by simply integrating local and cloud applications. However, it is possible for Linux users to install applications from Ubuntu compatible repositories and run a number of cloud based applications alongside local software.
7. Bodhi Linux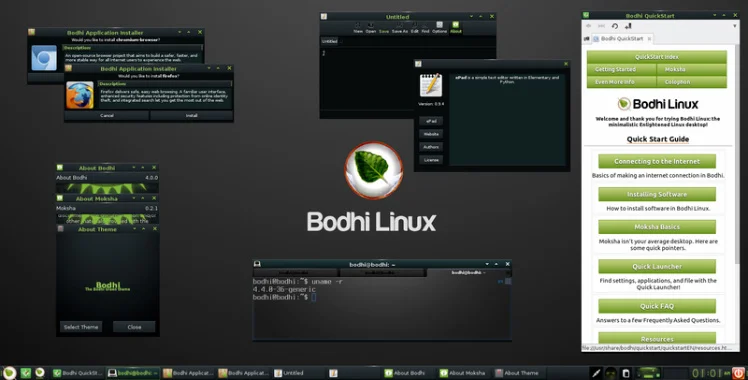 Default user interface: Moksha
Download: bodhilinux.com
Bodhi Linux is a light-weight Linux distribution which provides a minimal base system with several essential applications such as PCManFM file browser,  Midori web browser and a terminal emulator. Users can further add/ install any sort of applications and software they deem important for them.
It is based on Ubuntu, so the vast Ubuntu repository can solve your software availability problem and it uses Moksha window manager, Enlightenment 17 continuation with further bug fixes and more. As far as compatibility is concerned, Bodhi Linux currently supports both 32 bit and x86-64 systems.
6. SliTaz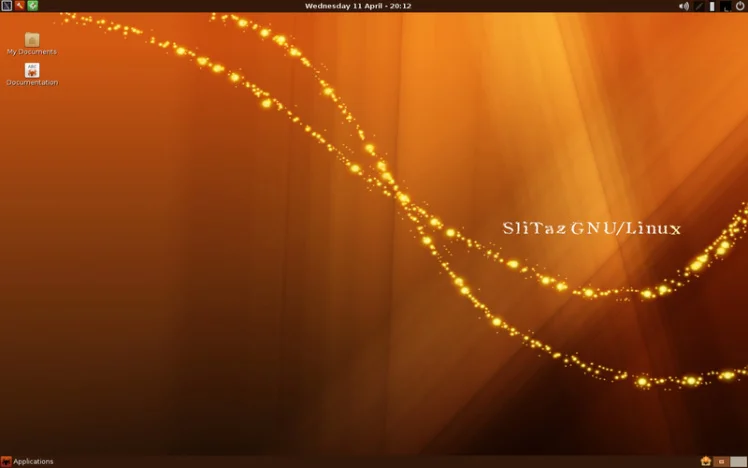 Default User Interface: Openbox, LXDE
Download: slitaz.org
Wondering what that name might mean? Well, according to its boot screen it stands for "Simple, Light, Incredible, Temporary Autonomous Zone." SliTaz is an efficient and lightweight Linux distribution, which can be used for older hardware and as a Live USB. SliTaz can be installed on all i486 or x86 Intel compatible. It can also operate on RAM as low as 16 MB and a small swap memory (paging).
5. Arch Linux (Lightweight Desktop environment)
Image Courtesy: michaelwnelson.com
Download: archlinux.org
This list is not just about new users who are searching for a suitable Linux distribution for their old computers, but it also has something for advanced users too. As an advanced user, if you haven't heard about Arch Linux (which is highly unlikely) then let me tell you that is just the operating system you want if you like to personalize things your way.
Its design is based on KISS principle and put emphasis on minimalism, elegance and bug free environment. Because we are talking about older systems, one probable thing you should know that Arch developers have ceased to provide compatibility for 32-bit system. However, there is an archlinux32 option that you can try.
4. Linux Lite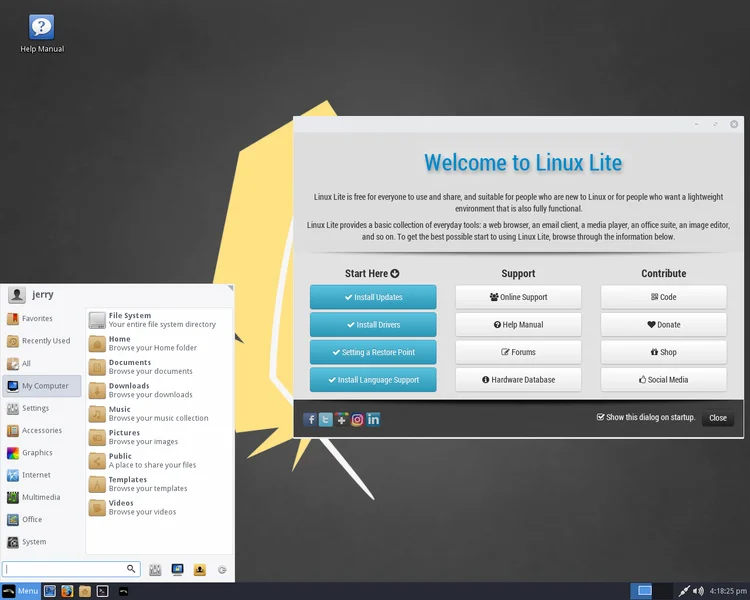 Default User Interface: XFCE
Download: linuxliteos.com
It is one of those Linux based operating system that a newcomer should consider first handedly. Developed by Jerry Bezencon and his team, Linux Lite was initially introduced to lure Windows users to Linux by making it look like similar to the Windows. The idea was to debunk a common myth that Linux is hard to operate. So if you are looking for a Linux distro that's lightweight, user-friendly, then you should simply try it.
3. Puppy Linux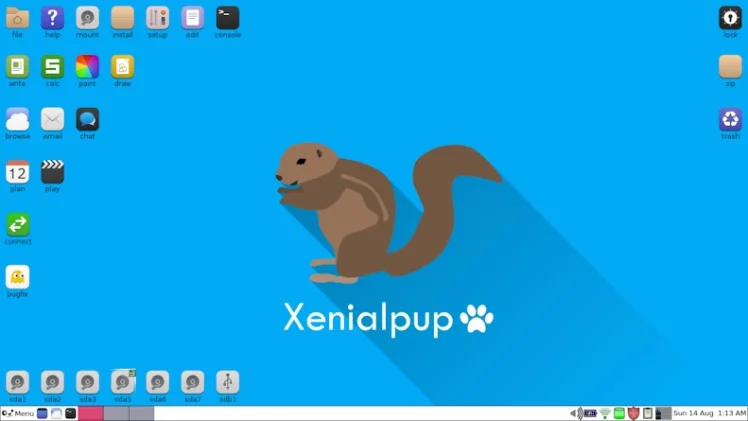 Default User Interface: IceWM and ROX Desktop
Download: puppylinux.org
Like puppies? Who wouldn't. And I am almost certain that you would love Puppy Linux too. Focused on low memory footprint and simplicity, this Linux based operating system is truly a lightweight distro. The complete system can easily run from RAM with new versions taking as less space as 210 MB.
Lightweight applications such as AbiWord, MPlayer and Gnumeric are included, along with a web browser (lightweight) for your choice and a utility for downloading several other packages. Although, its default windows manager is JWM for all releases, you can get IceWM desktop, Fluxbox and Enlightenment through Puppy's PetGet application management system.
Read: What's New In Linux Kernel 4.12 – 15 Biggest Feature and Changes
2. LXLE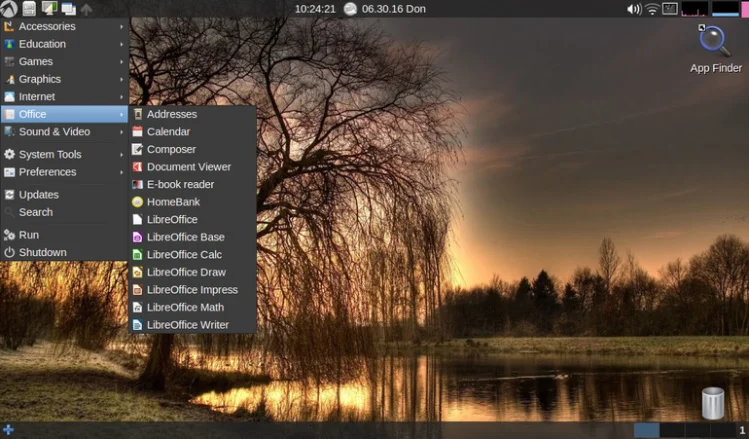 Default User Interface: LXDE
Download: lxle.net
Since its initial release in 2012, LXLE has made its way to one of the best light-weight Linux distribution. It is based on Lubuntu and uses an optimized LXDE user interface. Although, the operating system was intended for old and resource deprived computer systems, it works well with high end systems too.It comes with a plethora of default applications that you need such as GIMP, LibreOffice, Audacity and much more. Apart from being light-weight it is also simple even for a beginner.
1. Lubuntu
Default User Interface: LXDE
Download: lubuntu.me
Not just light-weight Linux distros, but any given list of Linux distributions is incomplete without Lubuntu. Lubuntu is based on Ubuntu and they share same repositories, but instead of Ubuntu's GNOME and Unity shell it uses the LXDE desktop environment. Over the years, Lubuntu has gained its reputation as one of the fastest and light-weight Linux distributions, which might not be an "eye candy" but surely gives a better performance at an extremely low cost.
Read: 18 Best Linux Games| Premium and Open Source
Lubuntu is perfect for low-end systems as its lighter, way less resource hungry and energy-efficient. From Mozilla Firefox browser to email client and Word processor and more, you get everything so if you looking for the best lightweight Linux distribution for your old computer then this is the gem. Lubuntu became an official member of the Linux family on 11 May 2011.