The new version of Linux Mint, dubbed Sylvia, is here. The update comes 5 months after the release of 18.2 version in June, and like other versions in the 18.x series, this version will be supported until 2021.
For those who still don't know about Linux Mint, it's powerful yet easy to use OS based on Debian and Ubuntu that provides incredible multimedia support and comes bundled with several useful open-source application.
Linux Mint 18.3 comes with some additional useful features and tools. Upgrades of Cinnamon and MATE edition are available, and KDE and Xfce edition will come later this year, once these editions have been released as stable.
The Linux Mint 18.3 KDE edition will be the final release, no more Mint KDE after this. Considering the limited resources to the development team, and how different KDE is from Mint's Cinnamon and MATE edition, this is fairly good decision.
For now, we've listed some of the biggest new features and changes in Linux Mint Sylvia for both Cinnamon and MATE edition.
8. Better Login Screen
The login screen now features more options for automatic login. For instance, if no one else uses your computer, you can set up the Linux Mint to log you in without entering a password. Lightweight Directory Access Protocol (LDAP) users can hide user lists and enter user names manually.
There are numerous UI elements like the panel indicators display tooltips, which you can disable or enable in the preferences. Moreover, Linux Mint now supports numlockx to switch ON the numlock key at startup.
7. XApps Improvements
The toolbar of Xreader (PDF reader) has been improved a bit. The history buttons are replaced with navigation ones, however you can still access through menubar. There is a new zoom-reset button, and two zoom buttons are switched in order to make application consistent with other Xapps. 
The Xreader automatically detects the size and DPI of the monitor and fits the document size accordingly so you can read with ease.
The fullscreen window of Xplayer (media player) is enhanced to be more consisted with window mode and to look cleaner.
Moreover, the Xed (text editor) features a minimap on the right hand side that gives you a glimpse of complete code.
6. Libinput Support and Nemo Extensions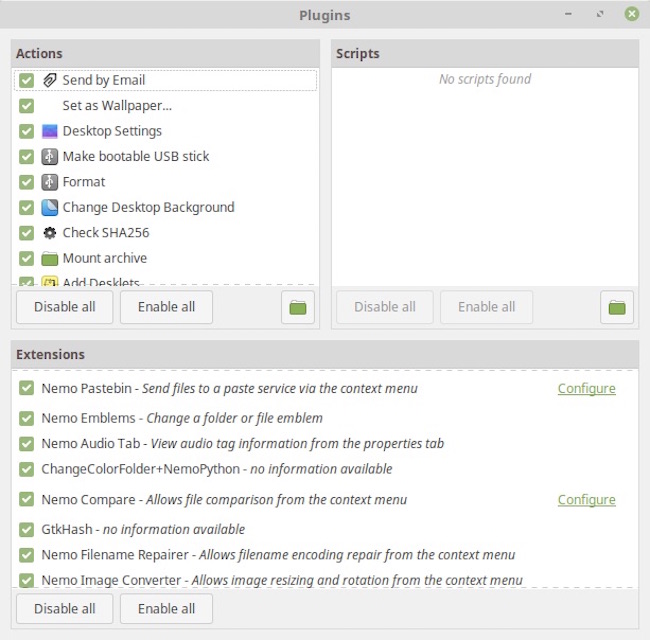 Nemo Extensions
The Linux Mint Cinnamon edition comes with Libinput driver as well as Synaptics touchpad driver (which is used when Libinput is removed).
Nemo extensions are now capable of passing their configuration tool name to Nemo in order to get a 'configure' button in Nemo plugins dialog. This avoids the cluttering of app menu and makes it quite simple to integrate extensions perfectly.
5. On-Screen Keyboard and Spices
Cinnamon spices
You can now configure the position and size of the on-screen keyboard in Cinnamon edition. It can occupy quarter, a third or half of your screen. Either place it on the bottom or at the top. Moreover, it pops up more accurately when you focus on any input method, thanks to Assistive Technology Service Provider Interface (AT-SPI).
The Cinnamon spices' (themes, extensions, applets) configurable module has been entirely redesigned. You can place applets in different panels and provide one click access to configuration settings. The 'more info' hyperlink is also there, which redirects to Spices' site for user reviews and screenshots.
4. Crash and Information Report
The objective of 'System Reports' is to generate reports when crashes occur, stack traces, and present relevant data. 'System Reports' is also responsible for producing information reports targeted at specific users, hardware or cases. Each report can detect its own relevance based on the desktop, CPUs, graphic cards, etc.
Developers can use this tool for writing reports and addressing particular issues by showing troubleshooting methods, workarounds and resolutions that can help affected users.
3. Backup Tools
The Backup Tool in Linux Mint 18.3 is almost fully-rewritten – the way it looks, the way it works and its features. It saves all data into a tar archive and when you restore a backup, all files are restored in the exact location they were before, with their original timestamps and permissions.
Saving your software is much easier – instead of presenting thousands of packages to select from, the Backup Tool now simply shows installed packages from the Software Manager.
Under the hood, the code is smaller and more efficient than before. Performance as well as stability has been enhanced, especially for multi-threading and data compression. Moreover, APT backend is switched to AptDaemon.
Linux Mint 18.3 also features a dedicated tool for system snapshots, known as Timeshift. You can see it as a companion of Backup Tool that saves everything except your personal data.
2. Flatpak Support
Flatpak is a tool for building and installing Linux based application. It that allows you to install applications that are not compatible with Linux Mint.
There is a whole new section dedicated to Flatpak and Software Manager displays the content of all Flatpak remotes in the list-format. Do not confuse between flatpaks and Packages – they are entirely different things, but Software Manager presents them in a similar way.
Like other applications, you can browse remotes, see their flatpaks, review and install them. They don't impact the rest of the services and run in their own environment.
1. Better Software Manager
Developers have spent a lot of time working on Software Manager to make it look more modern and polishing it to provide a better user experience. Inspired by Gnome Software, its layout is pretty simple, more consistent than before and it makes the apps look much cleaner.
Software Manager no longer uses WebKit, and it opens 3 times faster than before. It features popular applications like Skype, Steam, Spotify, WhatsApp, and they all are very easy to install. You don't have to enter password to browse applications, and if you enter password to install or delete an application, the authentication is remembered for a short duration, you can continue installing or removing other apps without having to enter password again and again.
Read: What's New In Kali Linux 2017.3
Other Minor Improvements
Linux Mint 18.3 supports spell checking and synonyms in various languages, including English, French, Italian, German, Portuguese and Russian.
The Driver Manager can detect CPU and show microcode packages in a more effective manner.
You can now run the Private Internet Access (PIA) Manager in user mode and it won't ask for root password at startup.
Redshift now comes preinstalled for adapting screen color temperature based on the time of the day.
mintMenu can show recently used apps.
Added a new set of background pictures.
Where and How to Download
Upgrading to the new version is as simple as ever – The Linux Mint developers have provided a quick guide to show you how to backup your data and apply update. You really don't have to worry about things breaking because there is no change in the kernel. All that is going to update is your Mint applications.
Linux Mint ships both 32-bit and 64-bit installation images. Download the HTTP version or torrent file right from their official website.
Bottom Line
This a minor update that takes a few small steps forward. Although the latest Linux kernel versions are available (up to 4.13), it is running kernel 4.10 by default. Also, it is still running X.org server 1.18.4, instead of newer 1.19.x series, and contains LibreOffice 5.1.6.2, instead of newer 5.4.x versions.
Read: What's New In Linux Kernel 4.12 – 15 Biggest Feature and Changes
However, it does include the latest version of MATE (1.18.0) and Cinnamon (3.6.6). If you need these editions, there are many good reasons to upgrade, and you can proceed further without a doubt. But if you're already running Mint 18.x system and kept it up to date, and happy with it, then we would suggest you to skip this release and wait for the Linux Mint 19.