Lithium, a slivery-white alkali metal, is taking the world by storm. The unique properties of lithium and its compounds have made it one of the most used elements in several industries.
Lithium has a wide range of applications, from electronic components to pharmaceuticals. The most popular end product of this element is lithium-ion batteries which are extensively used in portable electronics and electric vehicles.
While EV pioneer Tesla has played a crucial role in popularizing the use of lithium-ion batteries, there is an entire ecosystem of lithium mining firms and battery manufacturers that are contributing a lot to this petrol-to-electric transformation. At the highest level, the ecosystem begins with lithium miners that extract the element from the Earth.
In 2021, about 100,000 metric tons of lithium was produced — a substantial increase from 2010 when production was only 28,100 metric tons. According to the US Geological Survey, the worldwide identified reserves in 2021 were estimated to be 21 million tons.
For a long time, most lithium was extracted and processed by only a few large companies. However, this has changed in recent years. Below, we have listed the largest lithium mining companies according to their market capitalization.
Note: Since the stock price of a publicly-traded company changes every day, the market cap also fluctuates accordingly. 
9. Lithium Americas
Founded in 2007
Headquartered in: Ontario, Canada
Market Cap: $3.5 Billion+
Lithium Americas explores and evaluates lithium, potassium, and other mineral resources in South America. It is focused on the development of two lithium projects: The Lithium Nevada project located in northwestern Nevada, and the Cauchari-Olaroz project located in Jujuy province of Argentina.
The Thacker Pass deposit in northern Nevada is the largest and highest-grade sedimentary lithium deposit in the US. It is expected to meet all of the projected demand for lithium in the US, and thus substantially reduce the nation's dependency on foreign supplies.
The project incorporates advanced techniques to minimize carbon emissions and recycle water to a large extent. The planned mining location, processing facilities, and project infrastructure is intended to preserve ecological regions in the Montana Mountains.
Lithium Americas trades on both the New York Stock Exchange (NYSE: LAC) and the Toronto Stock Exchange (TSX: LAC).
8. Livent
Founded in 2018
Country: United States
Market Cap: $3.6 Billion+
Livent is a chemical manufacturing company that harnesses lithium's potential to change the energy landscape. It produces lithium hydroxide monohydrate, lithium carbonate, and high-purity lithium metal to enable densely-packed, longer-lasting batteries.
The company has developed a proprietary lithium metal product called LIOVIX. It's a unique printable formulation of lithium metal and other substances that can significantly enhance the performance of lithium-ion batteries while reducing manufacturing costs.
Plus, LIOVIX can extend the battery lifespan with more recharge cycles. It also allows battery manufacturers to precisely control the amount of lithium they use, which ultimately results in higher process efficiency.
These improvements have been validated by several reputed OEMs and battery manufacturing customers across the globe. What's more impressive is LIOVIX can be embedded into existing battery manufacturing techniques using conventional equipment and processes.
Livent has a wide range of product portfolios (including lubricants and alloys), powering demands for modern mobility, green energy, and specialized innovations. The company employs over 1,000 people who operate manufacturing sites in the US, UK, China, Argentina, and India.
7. Allkem Limited
Naraha Plant (in Japan) developed to convert industrial-grade lithium carbonate feedstock to battery-grade lithium hydroxide
Founded in 2007
Country: Australia
Market Cap: $4.6 Billion+
Allkem Limited is a specialty lithium chemical corporation formed from the merger of Galaxy Resources and Orocobre Limited. Its business portfolio comprises lithium brine and borax operations in Argentina, a lithium hydroxide conversion facility in Japan, a high-quality lithium operation in Australia, and a hard-rock project in Canada.
The vertically integrated product strategy of the company plays a crucial role in transitioning to a low-carbon economy. They also focus on capacity-building programs and initiatives to increase business opportunities and promote local economic development.
Allkem has established partnerships with Prime Planet Energy & Solutions, Jujuy Province, and Toyota Tsusho Corporation. It is currently listed on Toronto Stock Exchange and Australian Securities Exchange.
6. Sichuan Yahua Industrial
Founded in 1952
Country: China
Market Cap: $6.3 Billion+
Headquartered in Chengdu, the capital of Sichuan Province, Sichuan Yahua Industrial Group develops civil blasting materials and provides blasting services. The company is engaged in specialized blasting, direction blasting, earth-rock blasting, as well as design, consultation, and supervision in blasting.
Its major revenue-generating products are industrial detonators, industrial explosives, and customized civil explosive materials. They are used in mining, urban renewal, warehousing and transport of dangerous goods, geological exploration, and national defense sectors.
Yahua Group has multiple subsidiaries that produce lithium hydroxide, lithium carbonate, and other lithium salt products. They are also engaged in the development and R&D of military ignition powder and military priming materials.
So far, Yahua Group has possessed more than 180 patents, including 21 design patents, 27 for inventions, and 137 for utility models.
5. Pilbara Minerals
Pilgangoora lithium and tantalum project | Image credit: Australian Mining
Founded in 2005
Country: Australia
Market Cap: $6.4 Billion+
Pilbara Minerals is a lithium and tantalite mining company located in Western Australia. It has two processing plants: the Pilgan Plant, which produces a tantalite concentrate and a spodumene concentrate, and the Ngungaju Plant, which produces a spodumene concentrate.
Spodumene is a pyroxene mineral made of lithium aluminum inosilicate. It's a crucial source of lithum. 
In the Pilgan Plant, approximately 330,000 tons of spodumene concentrate and 321,000 tons of tantalite concentrate are produced every year. This mining and processing facility contains a dense media separation system (to make a coarse concentrate) and a flotation and gravity circuit (to make fines concentrate). Both coarse and fines concentrate are mixed together to yield high-quality spodumene concentrate products.
The company is adapting a growth and diversification strategy to become an inexpensive, sustainable producer and integrated raw materials and chemical suppliers in the near future. Because of its quality of operation and significant scale, Pilbara Minerals has attracted investments from global partners, including Great Wall Motor Company, Yibin Tianyi, and Ganfeng Lithium.
4. Tianqi Lithium Corporation
A facility in Shehong, Sichuan 
Founded in 1995
Country: China
Market Cap: $19.1 Billion+
Tianqi Lithium Corporation is engaged in lithium concentrate extraction, advanced lithium compounds production, and lithium resource investment. It has established global mineral and chemical operations in China (Chongqing, Jiangsu, and Sichuan), Chile, and Australia to provide services across Asia, Europe, America, and Oceania.
So far, Tianqi has obtained 134 patents and led/participated in the formulation of 20 national and industry standards. Their major products include industrial-grade lithium hydroxide monohydrate, lithium carbonate, lithium chloride anhydrous, and lithium metal.
In order to fulfill the increasingly growing demand for rechargeable batteries (driven primarily by energy storage systems and EVs), the company has opened a lithium hydroxide plant in the Kwinana Industrial Area in Western Australia. It has two production trains to generate 48,000 tons of battery-grade lithium hydroxide every year.
In 2018, the company acquired a 24% stake in Sociedad Química y Minera (another major player in the lithium industry) for about $4.1 billion.
3. Sociedad Química y Minera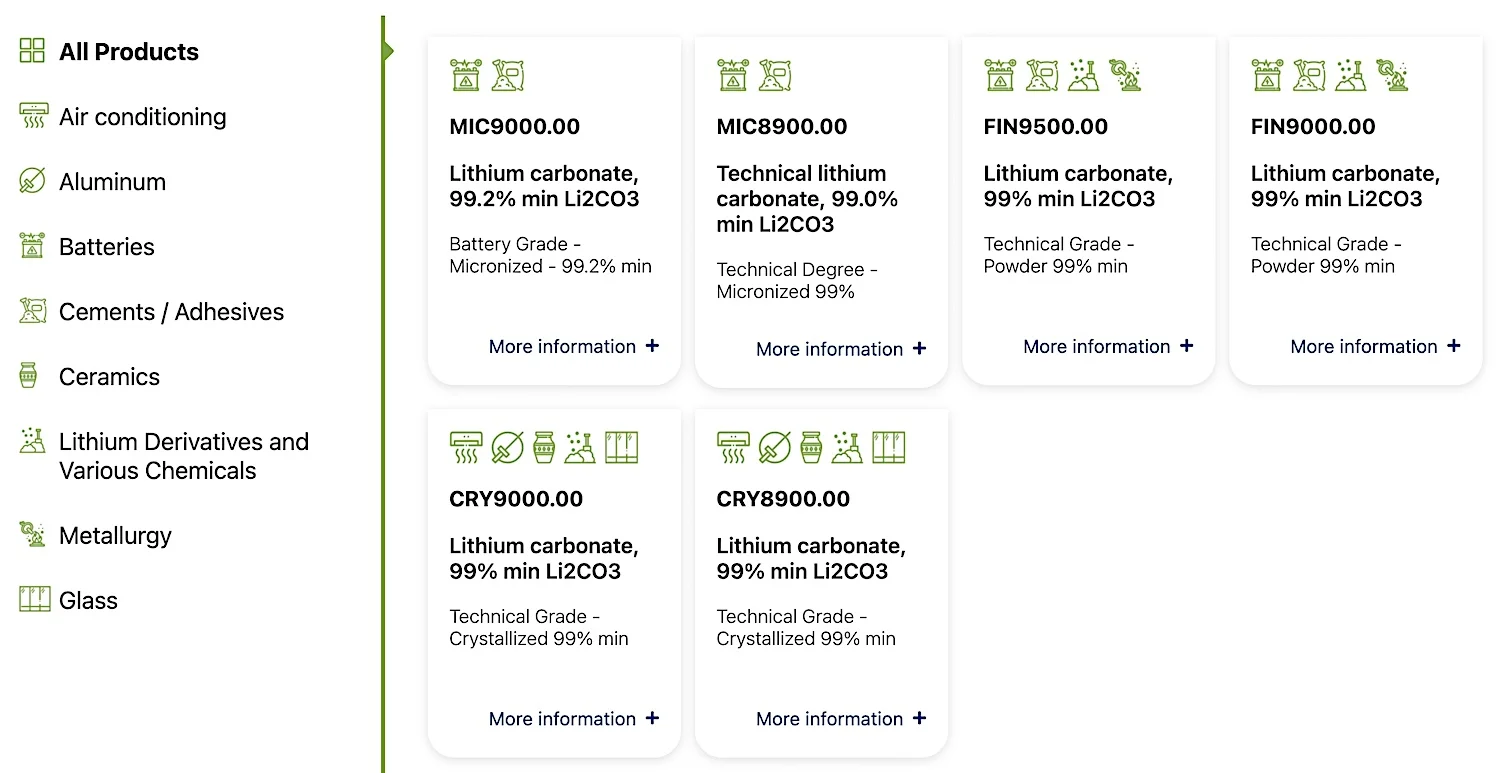 Founded in 1968
Country: Chile
Market Cap: $21.2 Billion+
Sociedad Química y Minera (SQM) is a global mining company that operates in five business areas: Lithium and derivatives, Iodine and derivatives, Specialty Plant Nutrition, Potassium, and Solar Salts.
In the Salar de Atacama, the largest salt flat in Chile, the company makes lithium hydroxide and lithium carbonate from brine.
Lithium carbonate

: is a versatile compound used in various industries, including electronics, glass, and ceramics. Since it is the lightest solid compound and has high electrochemical potential, it is widely used as a cathode material in lithium-ion batteries.

Lithium hydroxide

: is mostly used for making lubricating greases that can work under extreme loads and temperatures. About 70% of the lubricating greases made worldwide contain lithium. Furthermore, lithium hydroxide is used in batteries to make them more sustainable and long-lasting.
SQM has the capacity to produce 70,000 metric tons of lithium carbon every year. The company has plans to expand its capacity to 150,000 metric tons per year in the near future.
2. Albemarle Corporation
Founded in 1994
Country: United States
Market Cap: $21.34 Billion+
Albemarle Corporation operates three categories of specialty chemicals:
Lithium (accounts for 36% of the company's revenue)
Bromine specialties (31% of the revenue)
Catalysts (26% of the revenue)
Albemarle produces various lithium alloys to meet highly specialized requirements of lithium-battery research and thermal battery manufacturers. This includes a wide range of lithium alloys, such as lithium silicon and lithium aluminum in the form of powders, ultrathin lithium foils, and precision cut-to-shape custom-shaped lithium anodes.
Albemarle is one of the largest providers of lithium for EV batteries. The company employs about 5,600 people and serves customers in over 100 countries.
Sociedad Química y Minera, Albermarle, and FMC Corporation together develop just over 50% world's lithium and lithium storage products, while just under 50% are developed by Chinese companies.
Read: 10 Different Types of Batteries | Explained
1. Ganfeng Lithium
Founded in 2000
Country: China
Market Cap: $23.5 Billion+
Ganfeng Lithium Co Ltd covers a broad range of the lithium battery supply chain, from lithium development and processing to battery manufacturing and recycling. Its products are widely used in energy storage, pharmaceuticals, chemicals, electric vehicles, and 3C products. 
Ganfeng Lithium is the only company that has commercial-scale techniques for extracting lithium from brine, ore, and recycled items. It is also the world's largest lithium metal producer and third largest in terms of lithium compound capacity.
To minimize resource consumption, Ganfeng is working on various projects that focus on extracting resources from natural solar radiation. Plus, they regularly optimize technical means to enhance product yields and reduce resource waste. For maximum utilization, the lithium extracted by-products are delivered to glass, cement, and other industries.
While the company's resources are located worldwide, most of its revenue comes from China, North America, European Union, and Hong Kong.
Read: What Is A Graphene Battery? [A Simple Overview]
Other Big Lithium Mining Companies
10. Youngy Co. Ltd
Founded in 1998
Country: China
Market Cap: $3.5 Billion+
Youngy Co Ltd is engaged in the R&D, production, and sale of asphalt and lithium products. Its major revenue-generating products include battery-grade and industrial-grade lithium carbonate, lithium concentrate, lithium hydroxide monohydrate, and lithium salts.
The company also produces lithium battery equipment such as automatic air extractors, polymer battery automatic packaging, automatic liquid injection, and grouping machines. These products are distributed within domestic markets.
11. Core Lithium Ltd
Founded in 2010
Country: Australia
Market Cap: $1.2 Billion+
Core Lithium is focused on the development of capital-efficient and lowest-cost spodumene lithium projects in the Northern Territory and South Australia. It primarily explores silver, lead, zinc, uranium, copper, gold, and zinc deposits.
Its flagship project, named the Finniss Lithium project, is within close proximity to power stations, gas, and rail and covers an area of about 500 square kilometers of its tenements. One of the key advantages of this project is that it can produce high-quality lithium concentrate using a simple Dense Media Separation (DMS) processing technique, which requires low finance and operating costs.
12. Piedmont Lithium Inc.
Founded in 1983
Country: United States
Market Cap: $1.1 Billion+
Piedmont Lithium Inc. is building an integrated lithium business in the US. Their assets are strategically located (in the renowned Carolina Tin Spodumene Belt of North Carolina) to efficiently serve the fast-growing US electric vehicle supply chain.
The company serves various markets, from creating lithium-ion battery materials to recovering minerals used in industrial processes and everyday consumer products. In 2020, they signed a sales agreement with Tesla to supply high-purity lithium ore (spodumene concentrate) for up to 10 years.
Read: Can I Buy SpaceX Stock? How Much Is It Worth Today?
13. Bacanora Lithium
Founded in 2004
Country: United Kingdom
Market Cap: $300 Million+
Bacanora Lithium is focused on developing a 35,000 tons per annum battery-grade lithium operation in Sonora, Mexico in partnership with its investor Ganfeng Lithium.
The company owns ten mining concession regions, covering an area of about 100,000 hectares in the northeast of Sonora State in Mexico. Seven of these mining concessions were included in the Sonora Feasibility Study. As per the study, Bacanora has to spend approximately $4,000 to produce one ton of battery-grade lithium — the lowest operating costs in the industry.
Read: Solid State Battery [A Simple Overview]
Frequently Asked Questions
Which country is mining the maximum amount of lithium?
In 2021, Australia ranked first in terms of lithium mine production, with an output of nearly 55,000 metric tons. Chile and China, on the other hand, produced 26,000 and 14,000 metric tons of lithium.
The countries with the largest lithium reserves are
Chile – 55% of the world's total
Australia – 18%
Argentina – 11%
China – 6%
United States – 4%
Given the current status of lithium production and the abundance of lithium reserves, it seems likely that Australia and Chile will remain the world's largest lithium producers for the foreseeable future.
Should you invest in lithium stocks?
According to the report published on Fortune Business Insights, the global lithium market is estimated to grow at a CAGR of 8.1% from 2021 and 2028. The major driving factor for this growth is the evolution of the automotive industry over the past few years.
There are many public companies that can take advantage of the increasing demands for lithium. However, like other basic material producers, investing in lithium companies isn't for novice traders. Rapidly increasing demand for a material used for manufacturing a product doesn't always equate to higher sales and profit margins for a company. One has to correctly analyze the supply and demand in the market or make significant profits.
Although most lithium stocks have already given massive returns, some are still available at attractive valuations. We recommend you to go with the market leaders and stay invested for the long term to get decent returns. And don't invest without taking the help of your financial advisor.
Read: 15 Most Expensive Stocks (Per Share) In The World
Is there any lithium ETF?
Picking a stock is one way of getting into the lithium market, but ETFs (short for exchange-traded funds) can give you broader exposure at a lower risk. There are several ETFs to select from. The most popular ones are
Global X Lithium & Battery Tech ETF
Amplify Lithium & Battery Technology ETF
WisdomTree Battery Solutions UCITS ETF USD Acc
ETFs Battery Tech & Lithium ETF