The best thing about smartphone is you can customize it in any way you want. The market of smartphones has increased at a tremendous rate in the last couple of years. Android and iOS together hold over 90% of the smartphone market. That's the reason millions of iOS and android apps are available on the internet to enhance your device feature and interface. Today, we are presenting some great lock screen apps that have awesome designs and helpful features. It's worth giving a try if you are getting bored of the default or old lock screen on your device. Let's make unlocking your phone interesting and entertaining.
All apps are free, unless specified.
For Android
1. Echo Notification Lockscreen
Echo Notification Lockscreen automatically organizes and displays the notification which allows you to receive notification directly from the lock screen. This a lightweight app that wakes the phone on arrival of important messages only. You can create reminder, group notification into priority, social, media and work. It works with almost all custom launcher including Everything.me, Yahoo Aviate and Go Launcher.
2. WidgetLocker Lockscreen
WidgetLocker is a great lock screen replacement that includes various built-in styles, re-sizable widgets, custom grid size, buttons, notification badges and much more. You can control the overall look, layout and feel of your lock screen.
3. AcDisplay
AcDisplay shows notification on minimal and beautiful lock screen. The app has great interface and delivers smooth & fast performance. It also includes inactive hour feature that saves battery and active mode feature that uses sensor to wake your phone up when you need it.
4. Ubuntu Lockscreen
The first Ubuntu Touch OS lock screen on Android. The app has formal Ubuntu style interface and various setting to change animation and color. It also includes 3rd party app notification, locking timer and easy to use music button on lock screen.
5. Code Lock Live Locker
Code lock is a unique theme that works with Locker master. This app lets you unlock the screen in classic style.
6. MixLocker
MixLocker is a simple app that fills your smartphone with beautiful wallpaper and creative themes. It includes various unlocking patterns and safety locks. You can display camera, flashlight, music player and other useful icons/widget on lock screen.
7. Sparky Lock Screen – $2.99
Sparky is filled with creative and eye candy lock screen themes. However, it isn't very feature heavy but the app works smoothly and offers unique custom options. You can try the free version before buying the premium one.
8. SlideLock Locker
SlideLock is a very simple and lightweight app that allows you to receive notification on lock screen. Swipe the screen to the right to unlock and swipe left to open camera. It also includes custom status bar, setting for each 3rd party app and pebble watch support.
9. GO Locker
GO Locker is a very popular app packed with numerous beautiful themes. In the free version, you get plenty of unlocking styles and shortcuts to system switches. Moreover, it allows you to lock home button and read messages directly from the lock screen.
10. DashClock Widget
DashClock Widget can be used as a widget on home screen to get all sorts of information including emails, messages, notifications, news, missed calls, alarm etc. Make sure the enable widget is turned on in your security settings.
11. Cover Lock Screen (Beta)
Cover is an impressive app with smooth scrolling and quick response. It takes care of what you need every time you turn your phone on. It has app switching features, peek feature that lets you open app direct from the lock screen and smart setting based on the location. Smart setting allows you to select different apps (that will be displayed on lock screen) for the different places.
12. MagicLocker
MagicLocker is a simple and colorful app with numerous themes to match your style. You can activate SMS, phone, camera and other shortcuts on lock screen. Moreover, the app also allows you to customize wallpaper, date format, font, notification bar and block home key.
13. LokLok: Connected Lock Screen
LokLok allows you to connect with your group by leaving drawing, notes and photos for them. They will see it when they turn on the device, right on the lock screen. It's much like turning your lock screen into white board which is synchronized with you and your connected buddy.
14. Locker Master
Locker Master is stylish app filled with live themes and unlocking methods. It includes sidebar navigation, animated live weather, unread SMS and missed calls on lock screen. You can also display 3rd party app notification including Facebook, Whatsapp, Twitter, g+ and more.
15. Joy Locker
Joy Locker is a unique game screen locker about firearms, beauties, anime and more. You can create your own ukulele and play it to unlock. Also, there are various mini games like gun shooting, playing with fish, soccer, which you can display on screen locker.
16. Next Lock Screen
Next Lock Screen is designed by Microsoft that saves your time with quick app launch feature. You can access the information you need direct from the lock screen such as calendar, missed call, text message or any third party app notification. The lock screen background is dynamic that changes with location.
17. C-Locker
C-Locker provides numerous screen lock interface and unlock methods. It includes 3 unlock methods: Classic, Bubble and Scroll up.
18. Dodol Locker
Dodol Locker comes with beautiful high quality themes. You can even customize the whole theme to make it fit for your lock screen. It also offers great security features that include Pattern and PIN numbers.
19. DIY Locker – Tattoo Locker
DIY Locker lets you design your own lock screen. It is packed with sweet pattern, stylish live wallpaper, slide plugin calendar and numerous icons. Moreover, you can add 9 pictures, 10 photo style, countdown and countup on lock screen.
20. Alarm Anti Theft Screen Lock
If your friends are evil who often take your phone while you are distracted, then this app is absolutely designed for you. Alarm Anti Theft Screen Lock will sound an alarm, police siren, starts to vibrate and blink effects on the screen whenever someone tries to operate your phone.
For iOS
Read: 10 Things iPhone Does Better than Android
21. Lockster – $1.99
Lockster lets you create your own custom lock screen background in 5 easy steps. It includes unique image editor and 60 stunning designs that help you create beautiful background which supports parallax effects.
22. Every Day Spirit Lock Screens – $1.99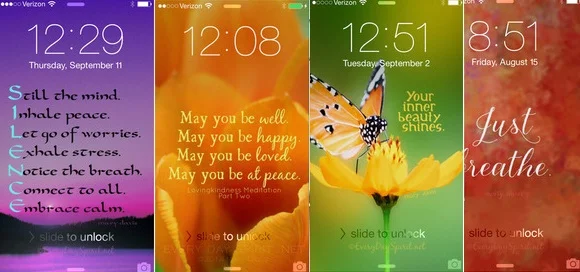 Every Day Spirit is a mega collection of beautiful hand-crafted wallpaper with inspirational messages drawn from numerous spiritual traditions. Install these wallpapers for your lock screen and receive thoughts on joy, faith, unity, peace, kindness wisdom and more.
23. LockScreen Lab – $0.99
LockScreen Lab creates wallpaper for iPhone and iPod touch. It lets you customize your lock screen with new themes and backgrounds. It also includes calendars, to-do lists, multiple text fields and numerous beautiful wallpapers. Use them as overlay & more, there are unlimited customization possibilities.
24. Magic Screen Pro – $1.99
Magic Screen applies stunning effects to photos & text to create great wallpapers for lock screen. The app is packed with powerful text + photo editor, calendar, HD wallpapers and various awesome effects & frames.
25. Pimp
Pimp provides tons of designs and colors to customize your lock screen. It includes 35 HD wallpapers, 350+ status bar and docbar pattern and colors. You can add unlimited photo effects, lighting and blur effects to wallpaper.
26. LockScreen+
LockScreen+ is the easiest way to customize your iPod or iPhone lock screen. You can use any photo, change color tint and personalize with texture & custom frame of lock screen.
27. If Found Lock Screen – $0.99
If Found Lock Screen allows you to add message/note to your lock screen wallpaper. For example, you can add your contact information, so that if the device is ever lost, whoever finds it can easily return. You can fully customize the text and background.
28. Lock Screen Calendar
This app allows you to set calendar wallpaper on lock screen quickly. It includes various fonts, month names in different languages and HD wallpapers that gives parallax effects.
29. LockScreen Magic
LockScreen Magic provides colorful HD wallpaper themes with retro, classic and modern designs. You can also make custom wallpapers according to your convenience.
30. FancyLock
FancyLock is a beautiful and eye caching lock screen app. It is not feature heavy but you can customize it with new colorful themes and creative styles.
31. 10,000+ LockScreens with ActiveBlur
The app is a mega collection of awesome lock screens and home screens. It is integrated with Activeblur technology that creates a great floating illusion. Moreover, there are numerous myriad HD wallpapers that deliver amazing parallax effects.