Chess is an ultimate nerd game that requires intelligence and clever strategies. It is more than 1500 years old. Some of ancient chesses are represented in museums all over the world. But the time has been changed and it shows in modern chess set designs. They are much different and quite compelling. Presenting 30 unique, creative and a few expensive chess sets that will force you to replace your common board.
31. Bauhaus Chessmen
Bauhaus Chessmen has a minimalist design with high quality wooden slide box. Every piece is a solid maple wood shaped into a cube, cylinder and spheres. It is available on Amazon for $317.
30. The Star Wars Chess Set
It has all Star Wars characters and includes 32 collectible pewter figurines with the Empire donning a silver finish and Jedi wearing gold. The board has a glass etched surface (with death star imagery) and padded storage drawer for protecting your pieces.
29. Thumbs Up Shot Glass Chess
Make it more fun by adding shot glasses. Each of the 32 shot glasses has an image on its side that denotes which piece it represents. Drink the piece you have captured that means the more you capture, the more you drink and the worse you play.
28. Batman Chess
This is Batman Gotham Cityscape Chess set by noble collection. It has a bulky light-up board that weighs more than 20 pounds and pieces are made of pewter and die-cast metal. It is available at Wpshop for $715.
27. Round 3 Player Chess
Add a new twist to your original game with 3 players round chess board. The board in made of PVC plastic and 19 inches in diameter. It includes 48 Staunton style pieces of black, gray and ivory color. Available at Amazon for $50.
26. LED Chess Set
LED Chess is a DIY (do it yourself) project by Tetranitrate. The light shines through the glass board which is connected to the outlet and pieces change color with every move. A small light or battery can also be inserted in each piece. Price starts at $61.
25. Romans Chess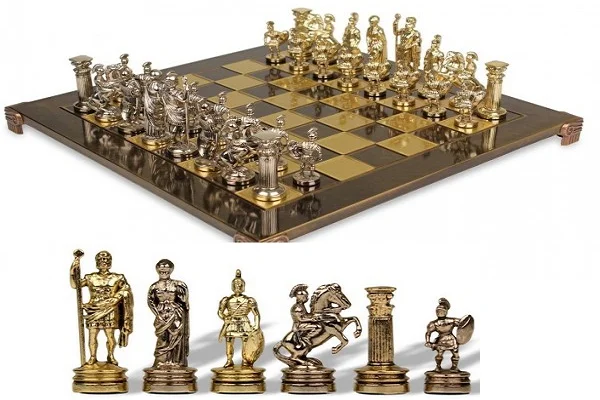 A simple chess with Roman style chess pieces that are entirely made out of brass and nickel plated cast zinc. The set is available at Amazon for $120.
24. Wobble Chess set
Wobble is inspired from the 70's Weeble toys, designed by Adin Mumma. Every piece has simple curves and weighted dome base for balance. Moreover, concave squares create a playful as well as beautiful landscape.
Available at Amazon for $249.00
23. Ralph Lauren Hammond Chess Set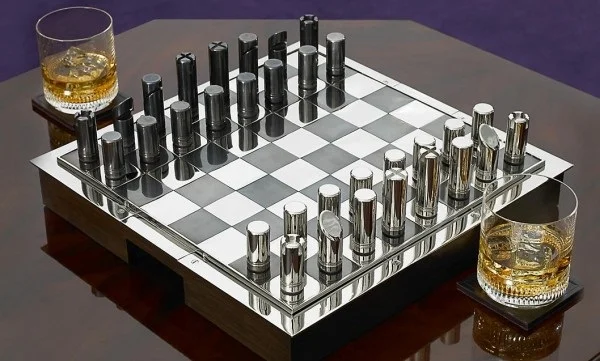 Hammond chess set is crafted from blackened nickel and rich leather. The nickel board is modeled after a minimalist design and black leather base conveniently stores all game contents.
Price: $1995
22. The Lord of the Rings Chess
This is for Lord of the Rings series fans. It includes 32 pieces that are miniature sculpture of actual cast members. The ancient map of the Middle East is mounted below the playing surface. The board is available at Amazon for $495.
21. Auto Parts Chess Set
This is actually made of used auto parts and scrap metals. The chess pieces are made of leftover metal of a die machine. The queens are specially made from cogs, screws and bearing from a car's electric system. The overall set weighs 6.17 pounds and available on ebay for $99.
20. Typographical Chess Set
A typographical chess, design made by nylon plastic with matte finish and light grainy feel. You can buy it for $95.
19. Platonic Chess
Image source: deviantart
The design is inspired by chemical elements of carbon molecules. The pieces (other than king and queen) are made of platonic solid. Queens are specially created from spherical buckyball and truncated icosahedron is used for the king. Unfortunately, it is not available for purchase.
18. 3D Chessboard
Created by Ji Lee
Get a whole new perspective on the game with 3d board. However, there is nothing new in the chess pieces but the chessboard will give you a feel of real battlefield.
17. Star Trek 3d Board
Yet another 3d board featured in star trek movie and TV series Big Bang Theory. It includes three large and four small movable attack boards. The set is 14 inches tall and available at Amazon at $550.
16. Chess 4
Make your war more complex and difficult with Chess 4. It includes one gold, silver, black and ivory set, available at Amazon for $18.
15. 3D printed Chess
Photo credit: xyzworkshop
This is an adorable 3d printed chess set based on Bauhaus Style. This allows you to bring the garden into your living room. Each piece can be planted with herbs or succulents to give them individual personality and to assign unique texture & color.
Also Read: 15 Amazing Things You Can Make With 3D Printer
14. Dragon Chess
This board is for fantasy fans that features heavy pieces in the form of ancient dragon warriors. Apart from playing purpose, this might be a great collection for your library or drawing room showcase. It is available at Amazon for $125.
13. Chess set for Tesla
This is inspired by world's greatest scientist Nikola Tesla and created by Paul Fryer using 32 vacuum tubes. Paul converted these tubes into chess pieces which slot into a port of custom board and shows their identity through a glowing icon on the top.
12. Ferrari Carbon Fiber Chess Set
This precious set is made from carbon fiber cover wood, fiberglass and personalized metal Ferrari shield on the front. The knight piece is inspired by the PH and all pieces are made of red and black furnished wood. It is available at the Ferrari store for $1,913.
11. Motherboard Chess
A geek design for geeks. It is made of real motherboard components and 32 black microprocessor chips. Pawns are made from capacitors, rooks from power transformer, knights from inductor coils, bishops curved from hard disk drives, kings from motor cores and queens from clock battery.
Read: 14 of the Advanced Working Machines Made of LEGOs
10. Chain Mail Chess Set
Image source: instructables
The entire set is created by chain mail. You can image the amount of word required to make a one single piece. It is made by artisan David Austin and consists of 42,256 rings. You will love the clank of chain mail on chain mail by dropping a piece into a new strategic location. The bad thing is, it is not available for purchase.
9. Transparent Onyx Chess Table
This is internally illuminated chess table with transparent onyx and black absolute granite inlays. The side panels as well as playing surface are illuminated and made of handmade maple wood structure. It is available at Amazon for $3,800.
8. Bronze Illuminated Chess Set
As the name suggests, it is made of Bronze metal surface with LED's inside illuminating the engraved glass playing surface. The board is designed by Ben Rousseau. The pieces are made of CNC lathe, one set is frosted and other is highly polished. Price available on request.
7. Tiffany Chess Set
It is designed by Frank Gehry, made of fine bone-china. It is available from Tiffany and Co. for $25,000 through special order.
6. Baccarat Crystal Chess
This is a limited edition crystal chess set by Baccarat, a symbol of beauty and crystallized perfection. It features two master craft piece sets: midnight blue and clear crystal. The chess set is valued at $27,300.
5. Renault F1 Chess Set

It is created from the parts of real Renault F1 automobile and will cost you more than $41,000. The pieces are shaped into the form of cockpit, suspensions and hubs.
4. Amorphous Organic Chess Set
This unique set is designed by Alastair Mackie. Each chess piece encapsulates a dead insect which is clearly visible through the piece. The white piece consists of flying insects and black side contains ground based insects.
3. Art of War
Art of war is a million dollar chess set that is inlaid with rhodium, gold and precious materials. It includes solid gold chess pieces that are created with diamonds, sapphires, emeralds and rubies. It comes with a velvet line wooden case, with lock and key.
2. Royal Diamond Chess Set
This is extraordinary luxury chess set designed by Charles Hollander which has been valued at 5 million dollars. 30 artisans spent more than 4500 hours creating this board and pieces. The set is entirely hand made in 14 carat white gold, 9990 white and black diamonds and 186.5 grams of sliver.
1. Jewel Royale Chess Set
Read: 15+ Super Stylish PC Keyboards with Amazing Design
Jewel Royale is currently the most expensive chess set in the world. It is valued at $9.8 by British Jewelry Company, Boodles. The set is made of platinum, gold and decorated with 748 diamonds, 146 sapphires and 73 rubies.