Artificial intelligence has shaped various aspects of our lives in recent years. AI image generators, in particular, exemplify the boundless creative potential that AI can unlock.
These remarkable tools have redefined the way we approach image creation. They used machine learning algorithms and neural networks to create unique images, either from scratch or based on existing data.
Today, these tools are used for content creation, graphic design, marketing, and even scientific research. They have become invaluable assets for many creators.
The most popular name is Midjourney. Initially released in July 2022, it has over 16 million registered users. It uses a diffusion mode to create realistic images from text descriptions.
What makes Midjourney unique is its ability to generate high-quality images with a variety of creative styles. Since its release, it has been used by designers, artists, and researchers to create artwork, album covers, scientific illustrations, and various other creative content. The average visit duration on Midjourney.com is around 6 minutes and 30 seconds.
However, Midjourney is a paid service, and its subscription price (which starts at $10 per month) may be too high for some users. Also, it doesn't allow users to edit and enhance existing images.
In this article, we've explored some of the best Midjourney alternatives that offer different creative styles, a lower price point, and additional features.
9. Craiyon
Price: Starts at $6 per month
Platform: Web-based
Craiyon is primarily an AI art generator. It uses advanced AI models to turn text prompts into images. You can request it to produce various types of art, from a Dragon Ball Z battle card to sushi painted by Van Gogh.
All you need to do is type a text description of the image you want to create, and Craiyon will generate a grid of nine images. You can then select the most relevant image, or try generating it again with a different description.
Although the platform is still under development, it has already been used to create a broad range of images, from surreal landscapes to realistic portraits.
Examples of things you can generate with Craiyon
A map of a fictional world
Photorealistic portraits of celebrities
Logos for your new business
Educational infographics to teach new concepts
Creative projects, including album art, book covers, and video game assets
This creative tool can be used by designers, artists, researchers, or anyone who wants to create unique and interesting photos.
As for pricing, Craiyon offers a generous free plan that permits you to create up to 9 images each month.
For unlimited image generation and an enhanced experience, you can opt for the Pro version (priced at $6 per month). With this paid version, you'll enjoy faster processing, an ad-free environment, and no watermarks on your creations.
8. starryAI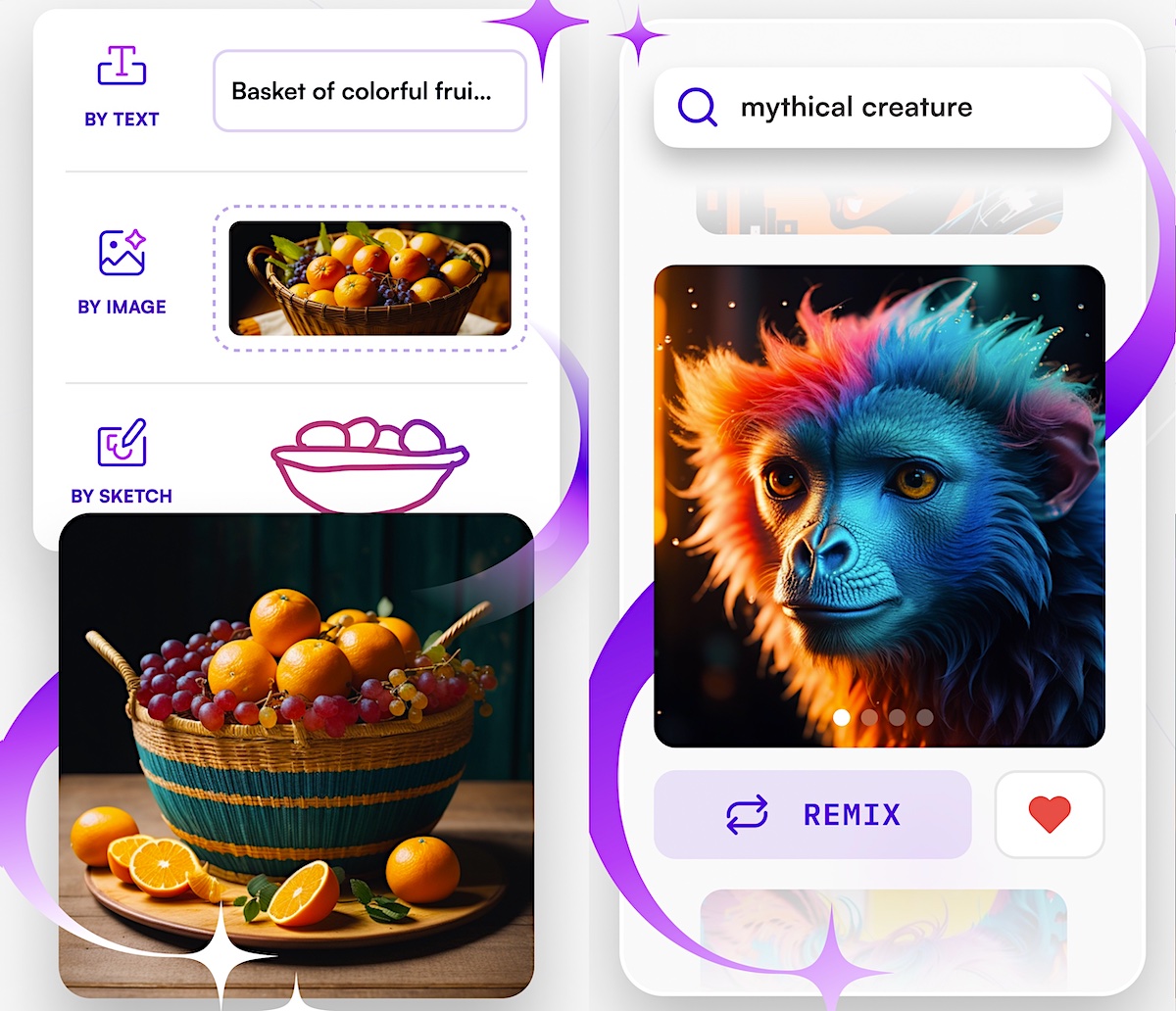 Price: Free
Platform: iOS and Android
AI art generation is a tedious process that requires graphics and technical expertise. starryAI makes this process simple with its intuitive, easy-to-use interface. It is available for free on Android and iOS devices.
The app employs state-of-the-art AI techniques for generating art. AI models undergo regular updates, ensuring that you benefit from improvements in the quality and capabilities of generated images over time.
Unlike most other tools, starryAI provides a high degree of customization. You can choose from many different styles, aspect ratios, and initial images to tailor final outputs as per your specific needs and preferences. This gives you more control over AI-generated creations.
Key Features
Over 1000 styles
Create art in bulk
Edit/retouch with precision
Produce image variation
Enhance output quality
When you sign up, you receive 5 credits (equivalent to 25 images) in your account. You can earn more credits by watching ads or completing simple tasks like inviting friends to join the app.
More importantly, it doesn't add watermarks or any branding to the output. You retain full ownership of the artworks generated using starryAI. This means you can use these creations in your projects, print them out for physical use, or share them on social media without any restrictions.
7. Playground AI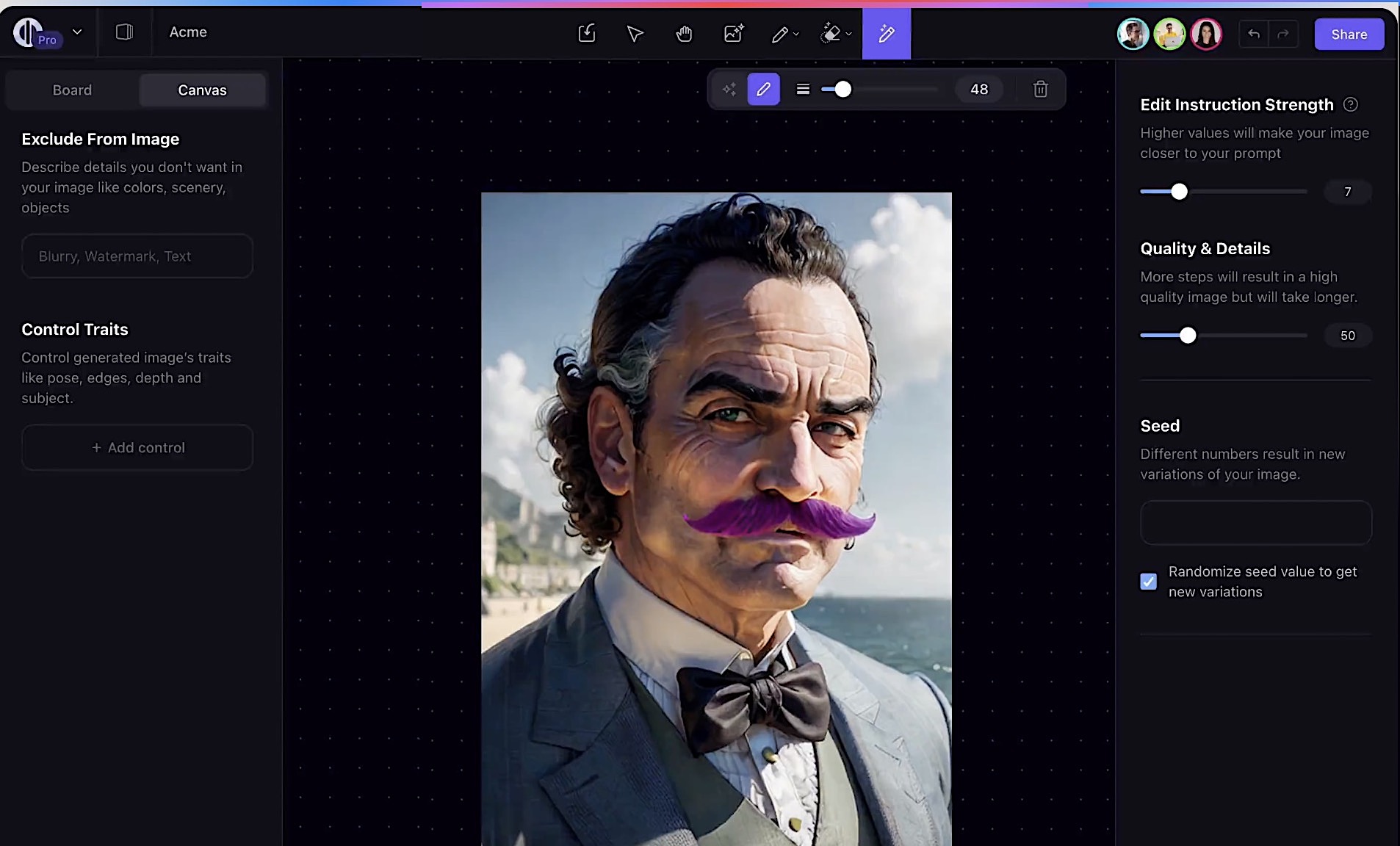 Price: Free | Pro version costs $15 a month
Platform: Web-based
Playground AI allows you to create images from text descriptions. It uses multiple AI models, including Stable Diffusion v1.5 and v2.1, to create art in different styles, such as artistic, cartoonish, and realistic.
While the platform is still under development, it can be used as a fun and educational tool to teach students about different concepts or to explore different artistic styles.
The more specific you are with your text descriptions, the better the AI will be able to understand what you want. You can use the "generate" button multiple times to create different images for the same text description.
Key Features
Adjust color palette, composition, brushstrokes, and other style settings
Configure the level of detail, the number of objects, and the background.
Upload an image to use as inspiration
The free version allows you to generate 1,000 images per day (which is more than enough, in my opinion). However, it limits the image size, quality, and detail. The pro version allows you to create 2,000 images with no limits on dimension (up to 1 million pixels), quality, and details.
Regardless of what plan you choose, images generated on Playground AI are owned by you. There is no restriction on commercial use as long as you follow their terms. Just don't use someone else's work without their consent.
6. NightCafe Creator
Price: Free | $6 for $100 credits
Platform: Web-based, iOS, and Android
NightCafe Creator offers different methods to create AI-generated art. Click the "create" button in the main menu and choose a creation method. These methods are user-friendly and designed to help create exceptional illustrations without putting too much effort.
The platform employs various machine learning models, including Stable Diffusion, VQGAN+CLIP, Real-ESRGAN, and Neural Style Transfer. These models function together to produce unique art from text prompts and improve the quality of creations.
VQGAN and CLIP, in particular, are two crucial machine learning algorithms used in NightCafe. VQGAN creates art, while CLIP evaluates how well the art matches the text description, providing feedback to improve the art's alignment with the text prompt.
Key Features
Nine different conversion styles to choose from
Bulk creation and download
A vibrant AI Art Community
NFT integration
What really sets this platform apart is its community. You can join a community of thousands of AI art enthusiasts, where you can see other's work, engage in chat rooms, share your own creations, and participate in contests.
As for pricing, you can produce unlimited basic art for free. However, more advanced settings, like photorealistic diffusion or higher resolution, require credits. You can either buy credits (starting at $6 per month) or earn them by participating in the community.
5. Dream by WOMBO
Price: Free | Premium version costs $9.99 per month
Platform: iOS and Android
The Wombo app is designed to transform words, text prompts, and photos into stunning digital artworks using AI models. Just add a description like 'deep ocean' or 'alien space station, select the type of art (VFX, realistic, anime, street art, etc.), and the app will create a corresponding artwork.
You can also turn text into different artwork, such as song lyrics, poems, journal entries, and star signs. Whether you want a colorful and vibrant painting or a darker one, the app has plenty of options to match your creative vision. This makes Wombo suitable for a range of creative projects.
Key Features
Text and image-based art creation
Offers various art styles, from realistic to surreal
Adjust small details by giving instructions like "add a background" or "change hair color"
Share your creations on social media
You can further customize the output by providing instructions in text format. Fine-tune details like adding backgrounds, adjusting lighting, or changing hair color.
If you already have an image, upload it to the app, and it will transform it into unique artwork tailored to your preferences. This function is particularly useful for repurposing personal pictures.
As for pricing, Wombo uses a freemium pricing model. The free version lets you generate up to 5 photos daily with limited art styles. The paid version, which costs $9.99 per month or $89.99 per year, gives you full access to every art style and the capability to produce unlimited, larger-sized images.
4. Stable Diffusion
Price: Free (open-source)
Platform: Web-based, iOS, and Android
Stable Diffusion utilizes deep learning to create images from text prompts. If you describe something in words, it can turn that description into a real picture.
Besides generating images, it can also perform additional operations like fixing parts of an image, making a particular section appear outside of an existing image, or changing one image into something else — all guided by your written instructions.
Its UI is simple and extremely easy to use. You won't need any expertise to generate high-quality pictures.
Key Benefits
Simple and user-friendly
Generates high-quality pictures within two minutes
Allows you to fix parts of a picture
Doesn't collect personal data
This tool also cares about your privacy. It doesn't collect or use any personal data from you. It doesn't even store the text description you enter or the pictures it generates. Your creations remain private.
3. DALL·E 2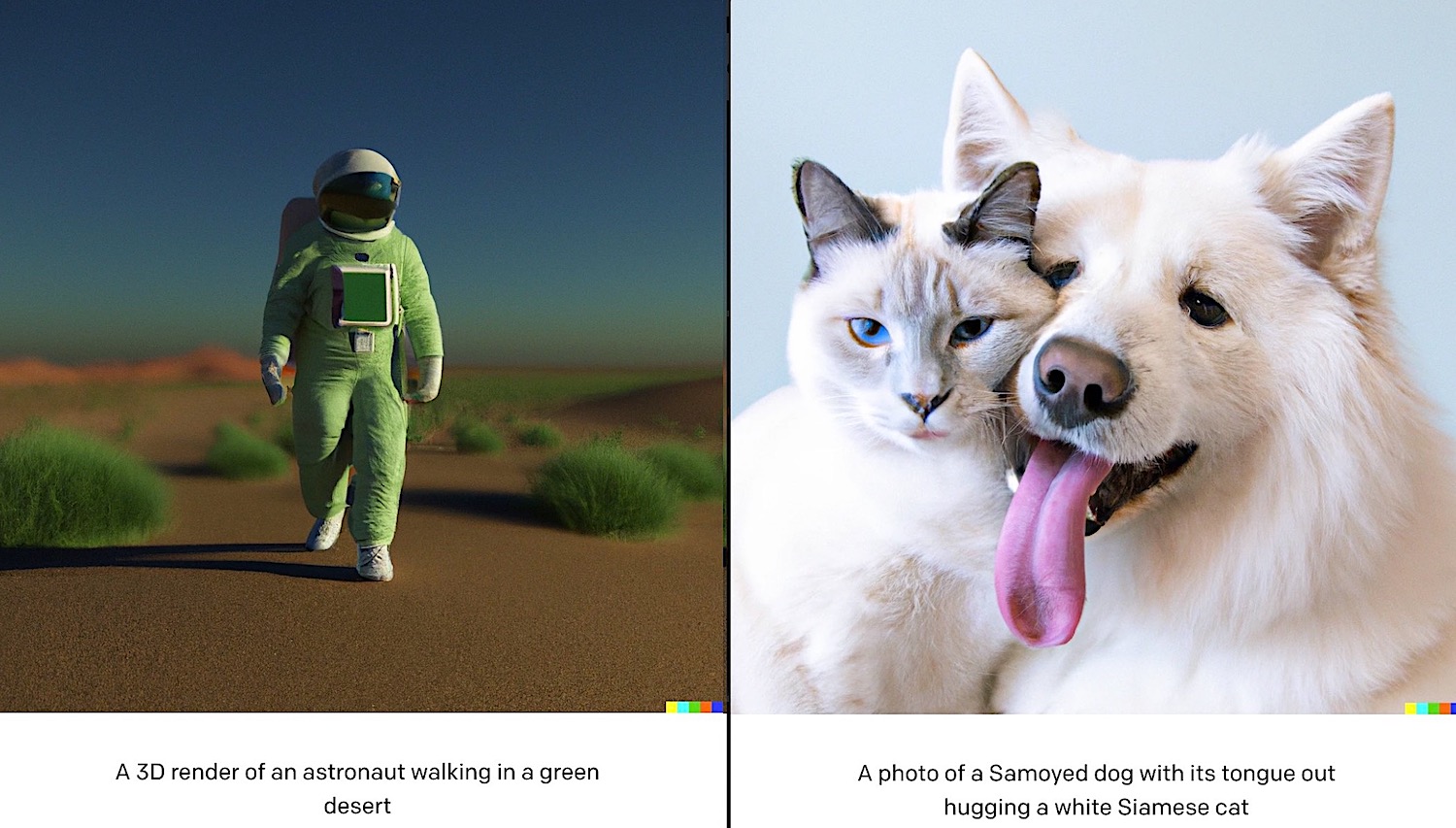 Price: Starts at $15 for 115 credits (one credit = one image)
Platform: Web-based
Developed by OpenAI, DALL·E specialized in creating digital images from written descriptions. It uses deep learning techniques to generate pictures in various artistic styles, from paintings and photorealistic photos to emoji-style images.
In 2022, OpenAI released an improved version of DALL·E called DALL·E 2. It can produce more realistic pictures at higher resolutions, combining attributes, concepts, and styles.
This improved version can rearrange and manipulate things within its generated images, creating imaginative and coherent compositions. It can understand the context and correctly place objects in new compositions without needing detailed instructions.
It can even 'fill in the blanks' by adding relevant details. For example, it can add Thanksgiving decorations to holiday-related prompts.
You can also use it to make realistic edits to existing photos. This includes removing or adding objects while considering factors like textures, shadows, and reflections.
Key Features
Understands context and incorporates relevant details
Generates abstract or stylized versions of real photos
Fuses together characters or elements from different worlds
Integrates with various platforms and applications
Its pricing is based on a credit system. When you use DALL·E to generate images through text promotes or request variations, you spend a credit.
You can choose how many credits you want to purchase based on your needs. Pricing starts at $15 for 115 credits.
2. Jasper Art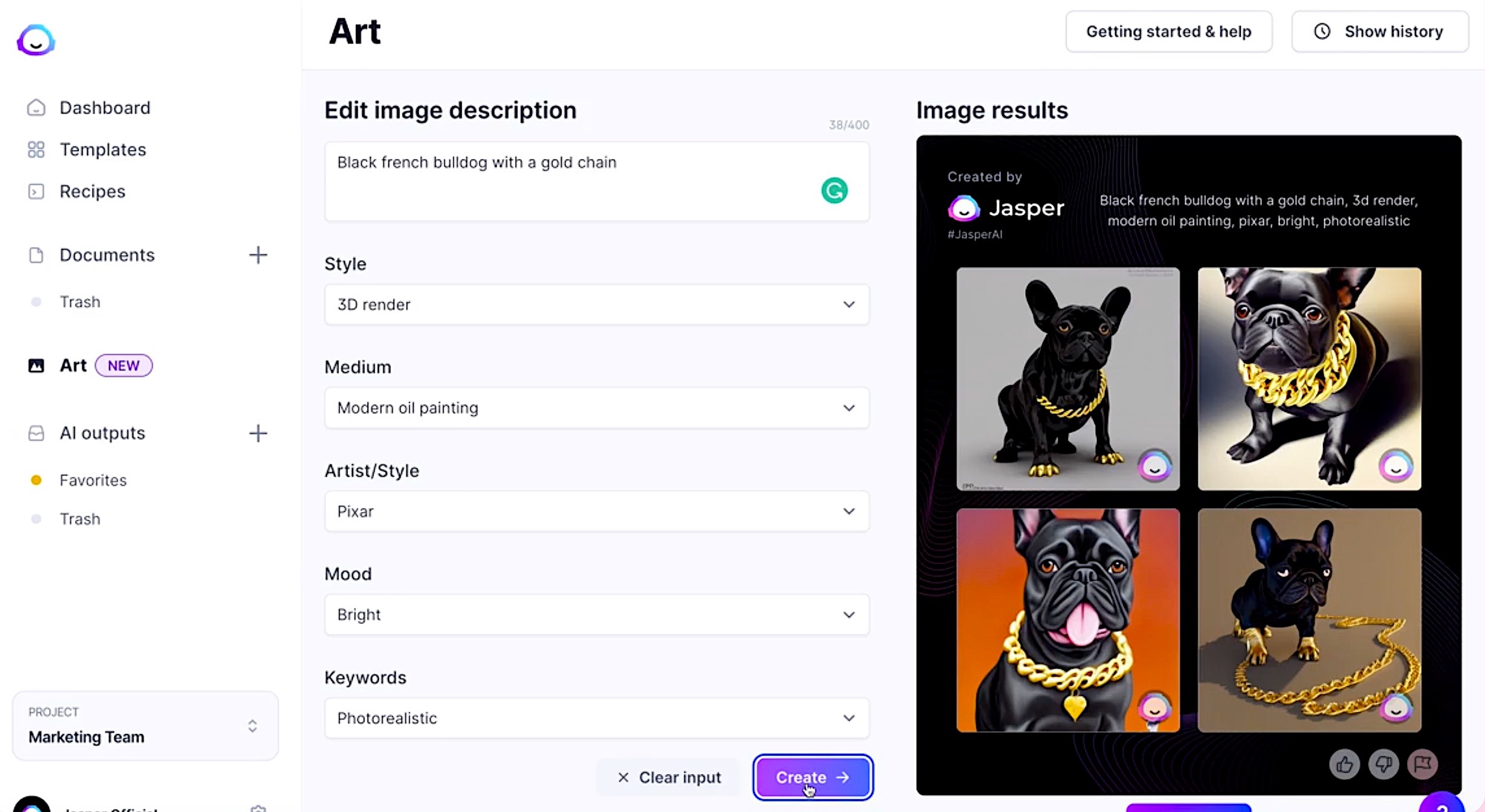 Price: $49 per month | 7-day free trial available
Platform: Web-based
Jasper Art offers both text-to-image and image-to-image functionalities. This means you can use it to create image-based text descriptions and modify or enhance existing images.
Unlike other AI tools, Jasper Art gives you multiple options to describe the image you want to generate. For example, you can use the drop-down menus to specify style or mood, or drag-drop your own images as input.
It has dozens of pre-made prompts (templates), which you can use to get started quickly or generate pictures in a specific style or category.
Key Features
Offers different templates to streamline the image creation process
Generates high-resolution 2k px pictures
Edit and share generated pictures
Royalty-free commercial use
Click on the "Create Art" button to start the image generation process, and it will create four images based on your input. If you are not satisfied with the output, alter your text description or click the "create art" button again.
Since all generated images are copyright-free, you can use them freely in your commercial projects.
Their official website shows over 100,000 businesses have used Jasper to scale up content. Impressively, it has received an outstanding rating of 4.8 out of 5 stars from a user base of 10,000 individuals.
1. Fotor
Price: Free | Pro version costs $8.99 per month
Platform: Web-based, iOS, and Android
While Fotor is primarily an image editing tool, it is also integrated with an advanced AI image generator, which takes text prompts and turns them into matching pictures.
You can enter various text prompts, from simple concepts like 'a rose scented perfume' to more complex ideas like 'bending of spacetime caused by the presence of mass and energy'.
Fotor aims to offer endless creative possibilities by generating images in less time. It can produce images in different styles, including anime characters, cartoons, product designs, mockups, backgrounds, etc. Just select the style and aspect ratio that best matches your idea.
And since Fotor is primarily an image editing tool, you can easily process the AI-generated image. Its simple image editor allows you to upscale and enhance photos, apply various effects, remove backgrounds, and add captions or graphics from a library.
Key Features
Generates unique faces, anime characters, and mockups
Generates abstract images for use as backgrounds or in design projects
Provides a photo editor to further enhance AI-generated images
Diverse image styles offer endless creative possibilities
Fotor is not designed to replace humans but to improve workflow and efficiency in creative processes. It aims to offer creative professionals tools to speed up image generation and customization.
The platform also takes precautions to avoid generating inappropriate or unsafe content.
As for pricing, Fotor uses a freemium model. The free version limits the number of images you can generate per day (up to 10) and the size of those images.
The pro version allows you to generate 100 images per day up to a maximum size of 2048*2048px. The pro plus version (costs $19.99 per month) allows you to generate 500 images per day up to a maximum size of 4096*4096px. Both versions offer additional features like the ability to remove backgrounds and create collages.
Other Equally Good Midjourney Alternatives
10. Blue Willow
Transform tiny strokes into extraordinary art with BlueWillow! ✨

Harness our industry-leading image resolution to unleash your big creativity on a small canvas pic.twitter.com/7TfaepsNJu

— BlueWillow (@BlueWillow_AI) June 20, 2023
Price: Free | Paid version costs $5 per month
Platform: Web-based
Blue Willow aims to make creating artwork accessible and user-friendly for all individuals of all experience levels. Just describe what's in your mind, and it will generate an impressive graphic for your project.
It provides not only literal interpretation of prompts but also artist interpretations, enabling more creative and imaginative outputs. You can create a range of artworks, from characters and cartoons to company logos and backgrounds.
Blue Willow also encourages you to join its Discord community, where you stay updated on the platform's developments and engage with other users.
The free version lets you create 10 images a day. You may encounter advertisements as a way for the service to cover its costs and maintain its free availability.
For $5 a month, you can remove ads and increase the image generation limit to 50 prompts per day.
11. Visme AI Image Generator
Price: Free | Premium version costs $25 per month
Platform: Web-based
Visme is a user-friendly and versatile online tool built for creating a range of visual content, from infographics and presentations to social media graphics and more.
It turns text prompts into pictures within a minute. You can choose from several output styles, such as paintings, pencil drawings, abstract art, 3D graphics, etc. There are literally endless possibilities for creating stunning art based on text prompts.
However, to get better results, you need better prompts. Try to make your text input as detailed as possible. Use descriptive terms for ambiance, mood, and style. Add artist and designer names for the AI to use as inspiration.
As for pricing, the AI image-generating function is available to all Visme users, regardless of whether they are using a free or paid plan. The free plan allows you to generate 10 images per month, while the premium plan (which starts at $29 per month) offers a more generous allowance of 500 prompts per month.
12. Hotpot.ai — Art Generator
Our ML team has been slaving away for months to elevate the artistic style of our text-to-image models.

Here are early results.

We are excited to share more with the world later this week as we finally bring these into production.https://t.co/HhelD406AC pic.twitter.com/3kWJK4hCi6

— Hotpot.ai (@HotpotHelper) April 4, 2023
Price: Free for personal use | $12 for 1000 credits (5 credits = 1 image)
Platform: Web-based
With Hotpot.ai, you can quickly generate outstanding art, illustrations, and pictures from text descriptions. It uses a Generative Adversarial Network to generate images that are both creative and realistic.
The platform encourages you to provide detailed descriptions for the preferred output. Specific descriptions like " a vibrant, abstract digital artwork featuring swirling patterns of neon colors evoking a sense of cosmic energy and interstellar motion" would yield better results than vague requests.
Its pricing model consists of both free and premium options. Premium users can purchase credits for commercial use and additional features, while the free version is available for personal use only, with the requirement of providing attribution to Hotpot.
Furthermore, the platform stores cryptographic hashes of generated images to address intellectual property concerns and legal issues.
13. Hypotenuse AI
Price: Free (10 images per day) | $9 per month to generate 100 images daily
Platform: Web-based
Hypotenuse utilizes an advanced AI model to produce unique, highly personalized images based on your description. This model is trained on a massive dataset of millions of images from the web, allowing it to draw numerous visual concepts and styles.
Graphic designers and professional artists have also contributed to the AI's training, providing valuable guidance in creating visually appealing pictures.
Every time you hit the 'Generate' button, Hypotenuse AI produces pictures from scratch without pulling or copying from existing sources. This ensures you get unique, highly personalized output tailored to your specific descriptions.
Frequently Asked Questions
Are AI-generated images indistinguishable from those created by humans?
It all depends on the complexity of the task. AI tools excel at generating images for specific tasks, such as image synthesis, style transfer, or creating realistic portraits. In these cases, AI-generated art is quite convincing.
However, more detailed and nuanced artistic creations exhibit differences that humans can discern. Also, these images may struggle to convey the same depth of emotion and meaning as human artists.
Where can I use these AI image generators?
Today, AI tools are being used in various contexts and industries to streamline the design process and enhance creativity. The most common areas where these tools find applications are
Graphic design and branding
E-commerce
Social media and marketing
Gaming and entertainment
Product design and prototyping
Interior design
Research and Data Visualization
Are there copyright or ethical concerns when using AI image tools?
The straightforward answer is yes. While different tools have different terms and conditions, it is crucial to approach the use of AI image tools with responsibility, awareness, and understanding of the legal and ethical considerations.
Can AI art generators replace human creativity entirely?
No, AI image-generating tools cannot replace human creativity entirely (at least in the near future). AI systems operate within the parameters of their training data. They may struggle to create unconventional ideas that go beyond what they have been exposed to during training.
Art, at its core, usually involves expressing distinctive perspectives, emotions, and original ideas that are deeply human experiences.
Why You Can Trust Us?
We have researched over 25 AI image generators and analyzed performance and accuracy. It took us 8 hours to do comprehensive research and read users' reviews. Finally, we decided to shortlist the 13 best Midjourney alternatives based on their usability, speed, and accuracy to match text descriptions.
We DO NOT accept paid articles or earn any commission from the featured products/services. Plus, we have two separate editors (Biprojit Das and Amit Kumar) who have no influence over our listing criteria or recommendations.
Read More
17 Tools to Instantly Convert 2D Images to 3D Ones