You have dozens of apps installed on your smartphone. Where did you find them? Most probably, you have searched the app on app store or play store. Unfortunately, searching capabilities of these giant stores is far from better. It doesn't help you find the best alternative of what you are searching for. Sometimes you need to put the exact phrase of application in the search box. However, there are plenty of third party tools that help you discover the new/related applications efficiently.
We are listing all search engines for both iOS and Android apps to help you dig deeper into the app index and find the things that don't normally make to the front page.
15. Vionza
Vionza is quick and easy-to-use web-based tool apps for iPhone, iPad and iMac. The interface seems quite old, but the features and functionalities are equally good. You can dig deeper into the app world and filter the search results according to device type, price range and rating.
Read: 29 Useful Apps for Rooted Android Devices
14. Appgravity
Appgravity is iOS and Android app search engine that lets you discover great new apps. It shows latest reviews, recent favorites and recently rated apps on the front page. Enter the keywords in the box and it will show all apps matching those keywords in list format. You can sign in to favorite the app you like, download and review, and share it with your friends.
13. Appolicious
Appolicious is a web-based tool for searching the best iOS and Android application. Enter the phrase and it will show you all possible apps matching the keywords. You can further sort them according to relevancy, popularity, rating, recency and price. The "Today's Picks" option displays the apps that are getting more hits on this day.
12. Fiiser App Search
Fiiser is an app that lets you search over 2 million apps. It breaks the platform limitation and provides all apps in the world. You don't need to download and install apps, just try them online immediately through Fiiser. Any device can open the app such as smartphone, tablets and desktop, providing millions of free app trials.
11. Mobile9
Mobile9 gives you free apps, games, themes, ringtones, wallpapers and more for iOS, Android and Windows phone. First, you need to enter the name of your smartphone and it will show all downloadable items (apps, icons, wallpapers, ringtones, fonts, games etc.) that support your device.
10. GetJar
GetJar is an independent mobile phone app store with around 1 million apps. The website features big and bold interface, displaying top and new applications on the front page. You can search through categories (like games, social networking, education, finanace, health, music, adult, travel, etc.) or enter the keywords in the search box.
Read: 15 Most Expensive Android Apps in the world
9. Apptism
Apptism is a web-based tools to search from more than 1 million iOS apps. The front page displays the apps by categories or you can browse for games, entertainment, lifestyle, music, video, travel, business and finance related apps. Further, you can filter the search results based on price, rating and best apps of each category.
8. Fnd
Fnd is built on bootstrap, coffeeScript, moment.js and ember. It lets you search not only iOS applications, but also TV shows, books, Mac apps, music and podcasts. You can go to the chart section and filter your search results based on price and category.
7. App Annie
App Annie provides market data and app analytics that are useful for app developers. The top chart shows all leading iOS, Android and Windows apps. You can sort the results by category, country and price. The keyword rank feature lets you find all matching applications for all platform. Moreover, there is a top matrix section that shows trending apps in country.
6. AppPicker
With thousands of apps available, searching the right one can feel like a daunting and confusing experience. AppPicker's aim is to provide a better way to discover iOS apps that are best for you. The tool helps you effectively navigate the sea of apps in an efficient and enjoyable manner. Also, their team publishes 6 app reviews every day and about the apps that have become free or gone on sale.
5. AppShopper
AppShopper is an iOS app directory with more than 1.8 million apps. You can search for any application and sort the result according to device compatibility, release date, price and popularity. The top chart shows you the best 200 apps measured by downloads. Registered members can organize the purchased applications and manage wishlist to check updates and prices.
4. AppApp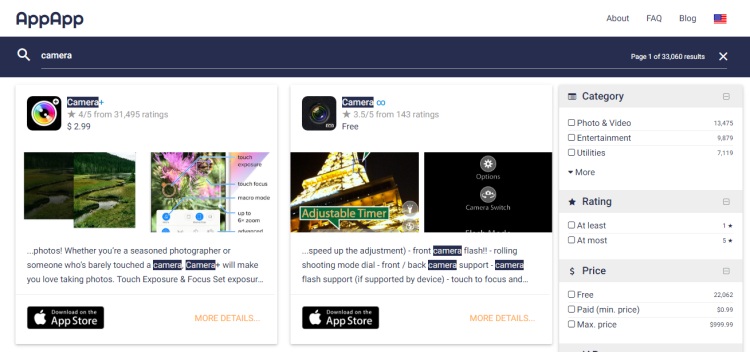 AppApp is a search engine for iTunes App Store, developed by Reason Factory. The website is built on Bootstrap framework and provides a quite impressive interface. Just enter the phrase into the search box and it will display all iOS applications matching that phrase. Like Google Search Engine, it shows you total number of results found. You can filter these results according to category, rating, price, release date and supported device.
3. Google App
You can use the Google web search engine as app search engine. To do so, click on more–>apps. Now enter the keyword and Google will return results in the form of apps only. Most of the results will redirect you to the app store or play store. However, it also displays the download links from authorized websites, and add-ons for browsers like Chrome and Firefox.
Related: 30+ Amazing Features of Google Search Box
2. Appcrawlr
As the name suggests it's an app discovery engine for both iOS and Android applications. The front page is quite impressive as it makes it easy to find app based on goal, food, music, kill time, meet new people, etc. It comes with a great filter to sort apps based on downloads, relevance, popularity and what's trending. Moreover, you can discover the applications for particular audience only like for chess lovers, designers, kids, travelers, pilot, teachers and more.
1. Appszoom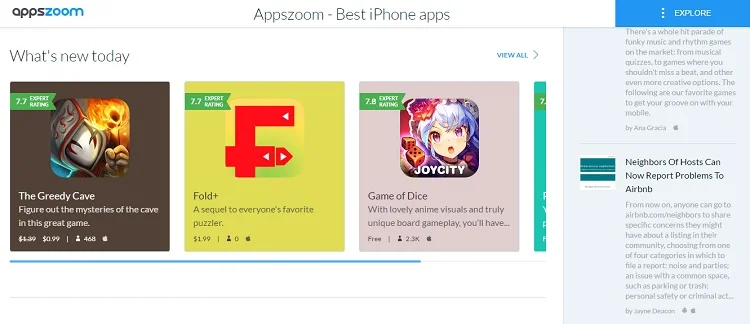 Read: 20+ Apps That Can Earn You Extra Money
Appszoom helps you explore Android and iOS apps that are tested and organized by humans. Their team tests and sifts through over 7,000 apps every year. Here you can discover the apps and games from several categories and based on usability such as apps related to health, shopping, food, book, productivity, news, music etc. You can sort the search results by relevance, popularity, release date, price, expert and user rating. Moreover, you can join the community to share and recommend apps to your friends.