Vehicles that are used by the military either to engage in combat or transport personnel are distinguished as military vehicles. After the Second World War, new technologies were rigorously introduced to make these machines more efficient and effective.
In the early 21st century, a whole new breed of vehicles, more sophisticated than ever, began serving in armies around the world.
Below, we have compiled some of those advanced machines along with futuristic military vehicles that will dominate the ground warfare sphere in years to come.
10. RMMV Survivor R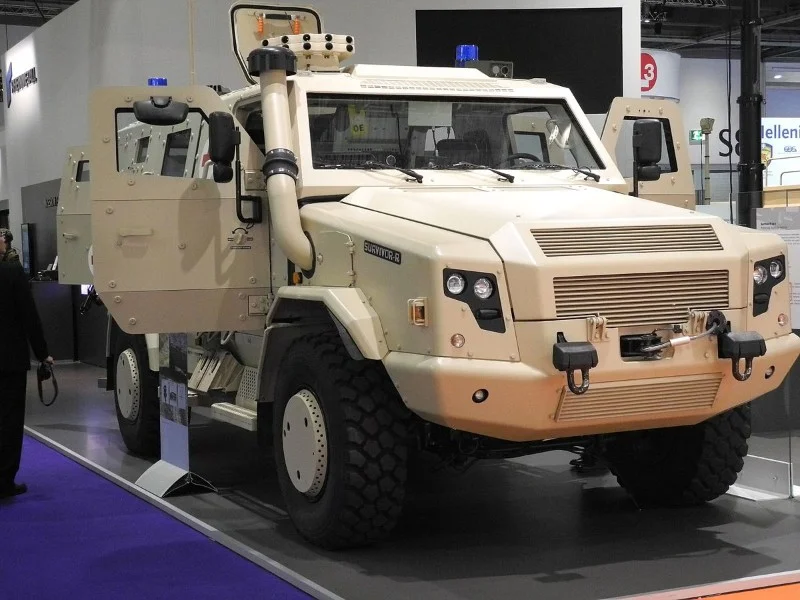 An RMMV Survivor R on display in DSEi 2015 (ambulance) configuration | Wikimedia Commons
Manufacturer: RMMV/Achleitner
The RMMV Survivor R is a multi-role armored vehicle jointly developed by Achleitner (Austria) and Rheinmetall MAN Military Vehicles. Survivor R comes in three different configurations; command and control, CBRN (chemical, biological, radiological and nuclear) warfare, and ambulance role.
The vehicle is powered by a high-sulfur fuel tolerant six-cylinder diesel engine producing 340 horsepower and 1250 torque. It features a 12 speed fully automatic transmission and a central tire inflation system.
Armor and Firepower: The armored cabin of Survivor R meets NATO's protection standards on military vehicles (STANAG), and it also offers a favorable payload-to-weight ratio. The command and control variant of Survivor R can be fitted with a remote weapon system featuring a .50 cal and grenade launchers.
9. Polaris MRZR
A U.S paratrooper of the 82nd Airborne Division driving an MRZR Light Tactical Vehicle on Fort Bragg familiarization course
Manufacturer: Polaris Industries
The Military/Marine RZR (MRZR) is an all-weather, ultra-light mobility vehicle currently in service with the United States Marines and U.S Army Special Operations Task Force units.
The beauty of this vehicle is that it can be deployed over long distances by almost any military aircraft, including the Bell V-22 Osprey. It has proven itself to be fairly effective in transporting troops and providing logistical support in remote locations. The vehicle has a payload capacity of about 680 kg.
8. Iveco SuperAV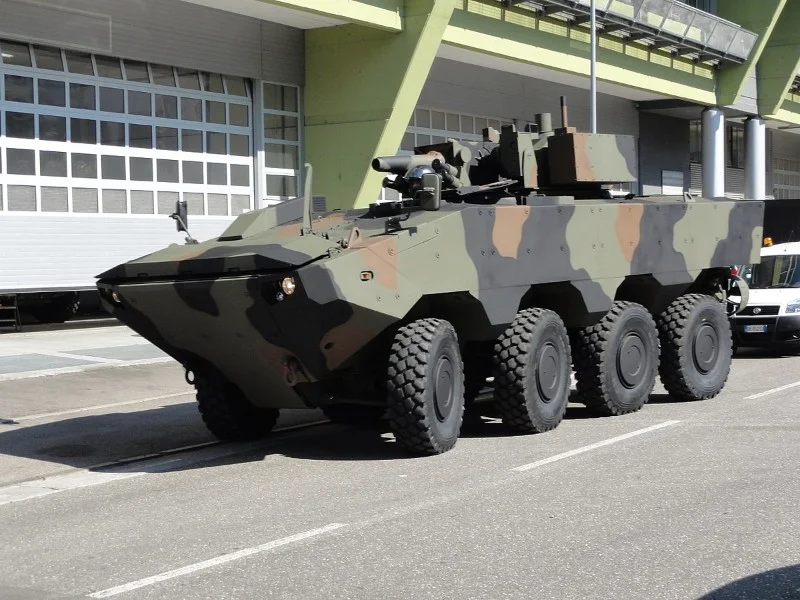 Iveco SuperAV
Manufacturer: Iveco/BAE Systems
The Iveco SuperAV is an amphibious armored personnel carrier developed by Italian manufacturer Iveco S.p.A. The vehicle can go as fast as 10km/h on water, with an operational range of 64 km. It has a payload capacity of about 9 tonnes.
In 2018, the United States Marine Corps announced that a modified version of the SuperAV (by BAE Systems) would replace the assault amphibious vehicle AAVP7A1 RAM/RS currently in service.
Protection and Armament: The armored vehicle provides basic protection against landmines and IEDs. Remote-controlled weapons station or turrets can be accommodated if need be. The modified (Marine) version of the SuperAV was reshaped to improve its performance on the water and overall protection.
7. Joint Light Tactical Vehicle
Oshkosh L-ATV fitted with remote weapon station M2A1 .50 machine gun | Image Courtesy: Oshkosh Defense
Manufacturer: Oshkosh Defense
The Joint Light Tactical Vehicle of JLTV is part of a long term project to replace light utility vehicle Humvee, which is widely used in the United States Military at the moment. The JLTVs are mobile units with significantly high off-road performance. Like Humvee, they can be deployed in different roles/configurations.
A single unit of Joint Light Tactical Vehicle has two armor kits (A-kit/B-kit) at its disposal. The A-kit, which is factory-installed, provide a limited or basic amount of protection. The B-kit can be installed (and uninstalled) for extra shielding.
The vehicle is equipped with state of the art electronic monitoring technology that alerts the operator in case of any internal failures.
Overall, JLTVs are lighter, smaller and offer better protection than Humvee and almost all Mine-Resistant Ambush Protected vehicles.
6. Black Knight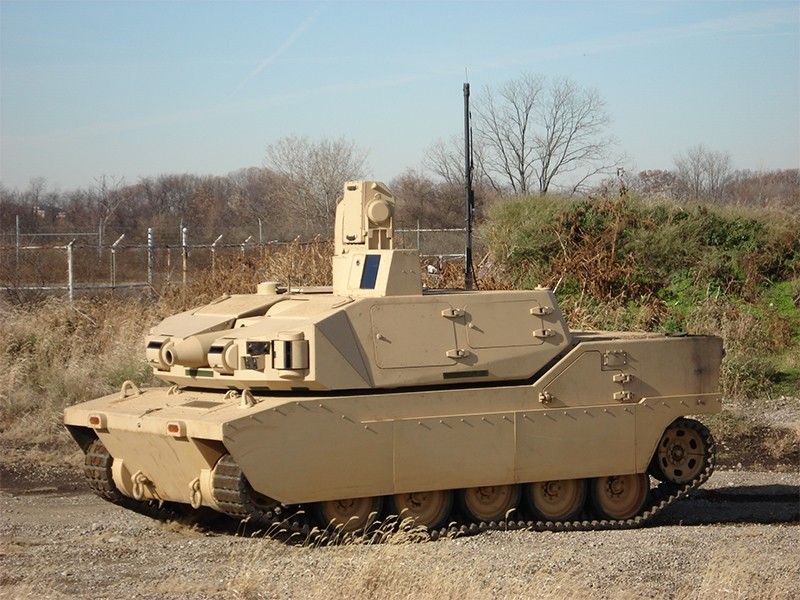 Black Knight unmanned combat vehicle
Manufacturer: BAE Systems
Status: Prototype
For years, governments, along with defense contractors, are testing technologies that could effectively replace human operators from situations where their presence is potentially dangerous or impossible. The Black Knight is one such technology.
The unmanned, armored combat vehicle, Black Knight, is actively developed by the BAE Systems, which will be remotely conducting tasks such as probing and intelligence gathering for the military in the future.
The vehicle can be controlled by an operator inside Bradley Fighting Vehicle from a safe distance, while it can also be controlled by a dismounted soldier. Many mission-critical tasks, such as route planning and navigation, can be done by this vehicle without any human assistance.
The Black Knight is fitted with a 30 mm cannon and a 7.62 mm heavy machine gun.
5. Active Denial System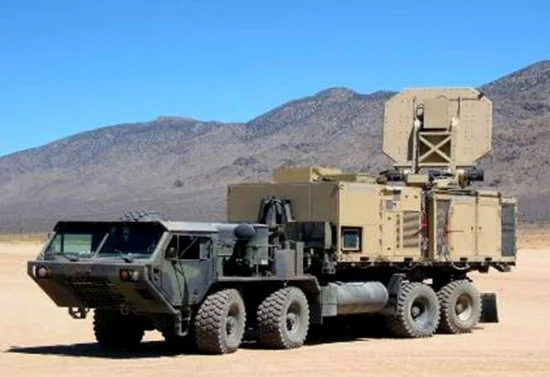 An operational Active Denial System unit
Manufacturer: U.S Military/Raytheon
Active Denial System or ADS is an energy weapon developed by the United States for various tasks, including riot control and area denial. It works by inflicting pain by heating human targets from a considerably long range.
When activated, the weapon fires a high-powered directional beam of 95 GHz towards the target(s). The ADS is known to cause second-degree burns. However, it only penetrates the top-most layer of the skin (about 0.4 mm deep).
The system was deployed in the Afghanistan War in 2010 but was recalled without any front line action.
4. S-400 Triumph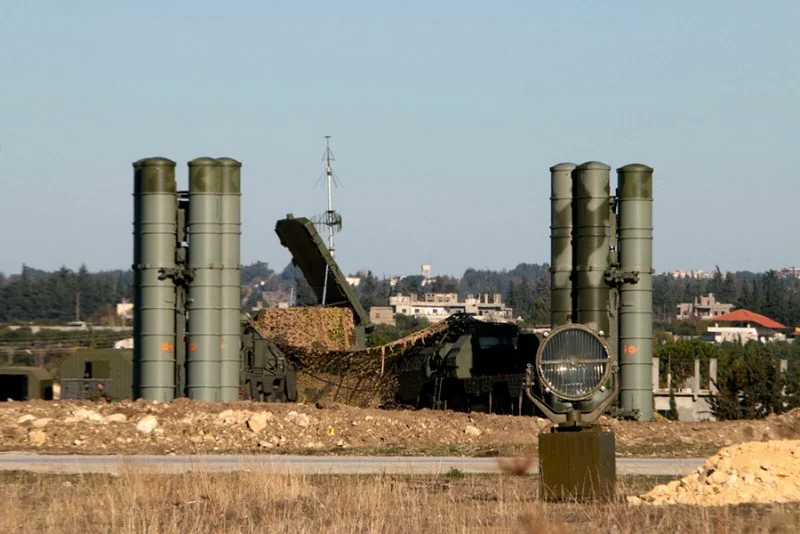 Two S-400 SAM launchers and radar guidance system at Khmeimim airbase in Syria | Image Courtesy: Mil.ru
Manufacturer: MKB Fakel
The Russian built S-400 Triumph is one of the most advanced air defense missile systems in service. A single S-400 unit consists of six surface-to-air missiles (SAM) systems, a battle management system, and a few other support vehicles.
The S-400 has a target detection range of 600 km (150 km for stealth ones), while it can track about 300 targets simultaneously. A High-Altitude Detector (96L6E radar) enhances the system's aircraft detecting capability.
There are four different missile types the system can be equipped with; 40N6E missile with close to 400 km range; 48N6 missile with 250 km range; 9M96E2 missile with a 200 km range; and 9M96E missile with 40 km range.
3. Electronic Warfare Tactical Vehicle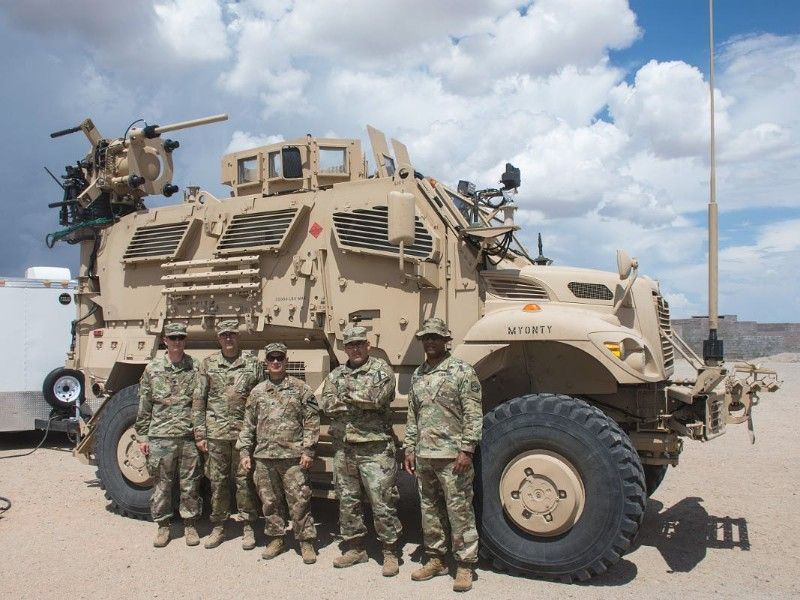 U.S Army Soldiers from the 3rd Brigade Combat Team, 1st Cavalry Division in front of an EWTV at Yuma Proving Ground | Image Courtesy: US Army
Designer: SRCTec, Inc
The Electronic Warfare Tactical Vehicle or EWTV is a truck-mounted EW system developed for the United States Army. It accommodates a modified version of the CREW Duke electronic warfare system, which is currently used by the army in counter-RCIED (Radio-Controlled Improvised Explosive Device) role.
The EWTV can detect and jam enemy communications across a wide spectrum of frequencies, including that of drones and IEDs. Since EW systems are vulnerable to enemy sensors and subsequent airstrikes as they conduct active jamming, the EWTV puts more emphasis on "precision" targeting rather than high-power broadcasting, which is easily detectable.
To protect the electronic hardware and its controllers, the vehicle utilizes MRAP (mine-resistant ambush protected) armored vehicle with blast protected seats and underbelly.
Read: What if NASA Had The US Military Budget?
2. Krasukha-4 Electronic Warfare System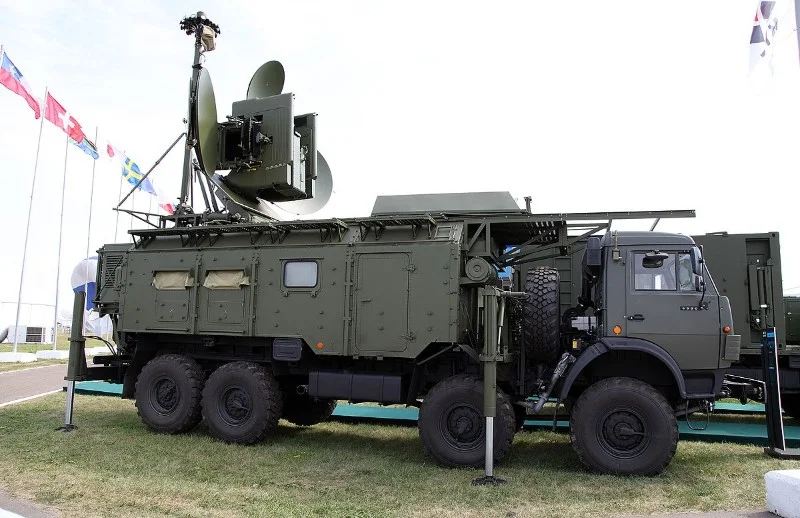 Krasukha-4 EW system in display | Image Courtesy: Vitaly V. Kuzmin
Manufacturer: KRET Corporation/BAZ
The Krasukha-4 is perhaps the most robust truck-mounted electronic warfare system in the world. With an operational range of 300 km, this Russian EW system can effectively disrupt AWACS and even Low Earth Orbit satellites.
It is powerful enough to make radar-guided missiles and enemy surveillance systems such as UAVs and ground-based radars, within its range, completely useless. The entire setup is mounted on BAZ-6910-022 quad-axle artillery tractor powered by a V12 diesel engine.
Krasukha-4 EW systems are being actively used by the Russian forces in Syria.
1. Stryker
A United States Army Stryker ATGM missile fire | Image Courtesy: U.S Army/Flickr
Manufacturer: General Dynamics Land Systems
IAV Stryker is a general name of a family of armored fighting vehicles that are both well-armed and agile as they are easily deployable. In essence, they are a hybrid between an IFV (infantry fighting vehicle) and an APC (armored personnel vehicle).
Stryker provides an extensive computer (electronic) support for the operators, aiding them in tracking both friendlies and hostile targets. Its thermal imaging capabilities far exceed that of most other armored vehicles.
Read: 15 Coolest And Latest Military Gadgets
Armament: The front hull of Stryker armored vehicles protect against heavy machine gun (14.5 mm) rounds. It can be fitted with RWS Protector M151 RWS (.50 M2 and 7.62 mm M240 machine gun). The M1128 variant features a 105 mm tank gun.