Special forces or special operations forces are highly trained military units that are well equipped to perform unconventional or unorthodox covert missions concerning a nation's security interests.
There have been many accounts of unique forces throughout the history of warfare, which specializes in covert operations rather than conventional combat. For instance, the Romans used fast, small, and camouflaged ships with specially trained soldiers for scouting and commando operations.
Then, during the War of Crusades, Muslims deployed many camouflaged ships to gather intelligence and raid passing enemy ships. In Japan, ninjas were recognized as a special force.
It is clear that they are no ordinary military units, and so is this list. Below, we have compiled the 16 most dangerous special forces in the world based on their training, weap*ns, and achievements.
16. 9th Paratrooper As*ault Regiment – Italy
Active Since: 20 July 1942
The 9th Paratrooper As*ault Regiment "Col Moschin" is the most respected and elite special forces unit of the Italian Army. It is roughly modeled after the British SAS and is reported to operate in any environment and terrain. Though the Regiment was established in its current form in 1942, its origins can be traced back to the battles of the Italian Front between Austria-Hungry and Italy during the First World War.
Then known as the '9th As*ault Unit', the Regiment gained the reputation of being a fierce military unit after successfully defending crucial strategic positions on Monte Grappa. Col Moschin was one of them.
Notable Foreign Deployments and Missions
In March 1983, amidst the Lebanese Civil war, several operators from the 9th Paratroopers As*ault Regiment were deployed to Lebanon (a small middle east nation north of Syria).
Throughout the 1990s, the "Col Moshin" Regiment was deployed to volatile regions of the world, mostly as part of the UN peacekeeping missions. In 1993, an Italian strike team comprising operators from the 9th Paratroopers As*ault Regiment carried out the 'Battle of Checkpoint Pasta' mission against local rebel forces in Mogadishu, Somalia. It was the first time an Italian army unit was engaged in an all-out foreign conflict since World War II.
In the 21st century, the Regiment has been deployed in a support role, patrol, and training missions in Afghanistan, Iraq, and Libya on multiple accounts.
Other Special Forces Units in Italy: COMSUBIN is the special forces unit of the Italian Navy, similar to the British Special Boat Service (SBS) and US Navy SEALs. Another esteemed special forces unit of Italy is the Special Intervention Group [english for Gruppo di intervento speciale or GIS]. This unit is renowned for its marksmanship.
15. Special Service Group (SSG) – Pakistan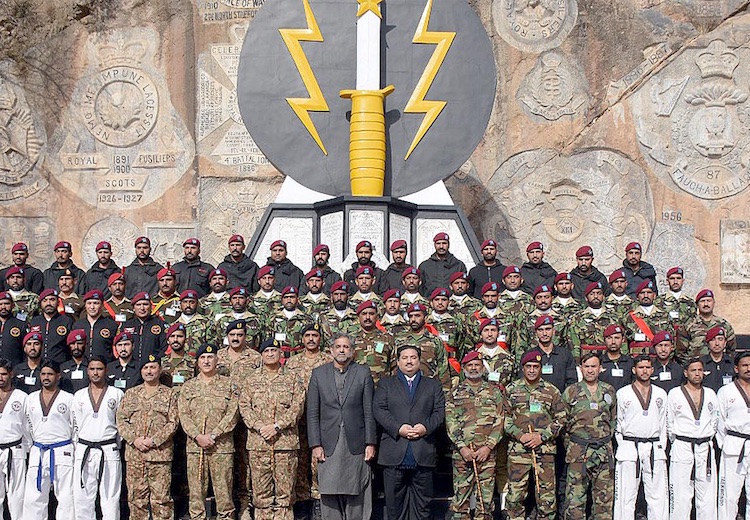 Former Prime Minister Shahid Khaqan Abbasi's visit to SSG Headquarters | Credit: Business Recorder
Active Since: 23 March 1956
The Special Services Group or SSG Pak was formed in 1956 after combining two regiments of the Pakistani Army, namely the 17th Baloch and 19th Baloch Regiment. Previously, the 19th Baloch was raised as a special unit with the help of the United States Army to counter the Soviet Union's growing military presence in Afghanistan and surrounding regions at that time.
The unit's initial training methods and field tactics were influenced by the US Army Special Forces with whom they closely operated against the Soviets in the 1960s and 1970s.
Notable Deployments and Missions
The nature of missions carried out by the SSG Pak since its establishment in the 1950s is mostly geopolitical, prompted by political tensions in the region. In the early 1960s, the Special Service Group made successful incursions on the Afghanistan-Pakistan border for reconnaissance and other covert operations.
SSG Pak then carried out several missions against Indian Kashmir, including Operation Gilbraltar, which led to the Indo-Pak war in 1965. Since the turn of the century, the Special Service Group has been instrumental in counterinsurgency operations inside Pakistani borders. They were also successful in subduing armed insurgencies in the Balochistan region that has been ongoing since the 1940s.
Other Special Forces Units in Pakistan: The Pakistan Navy Special Service Group or SSGN is one of the fiercest special forces units in the world with a high dropout rate.
14. EKO (Einsatzkommando) Cobra – Austria
Established In: 1978
Austria's EKO Cobra is a police tactical unit rather than a military force. The unit is independent of the Federal Police in Austria and is directly controlled by the Ministry of Interior. The EKO Cobra was raised in 1978 over concerns of the safety of East European Jews in the country, especially after the 1972 Munich Olympics mass*cre. Before 2002, the unit was known as GEK.
Notable Missions
EKO Cobra has carried several high-profile h*stage rescue and anti-terr*rist operations since its creation. It is the only police tactical unit in the world to successfully rescue a hijacked aircraft in mid-air that occurred on 17 October 1996. Cobra assisted Germany's counter-terr*rism unit GSG 9 during the deadly 2016 Munich shooting.
Most of the weap*nry used by the EKO personals is Austrian-made, including Glocks and Steyr.
13. MARCOS – India
HAL Dhruv helicopter of the MARCOS on Navy day 2013 at Kochi | Credit: Indian Navy
Active Since: February 1987
MARCOS (officially, the Marine Commando Force or MCF) is the special forces unit of India operating under the Indian Navy. The overall dropout rate of MARCOS is reported to be around 98 percent, meaning only two out of a hundred candidates graduate its training.
The origin of MARCOS can be traced back to the 1950s when the Indian Armed Forces raised a specialized unit of combat divers that can perform roles such as underwater demolition. However, they were not entirely efficient. Then in 1986, the Indian Navy decided to create a special forces unit that can conduct special operations in any environment.
To gain the necessary experience, three officers from the existing combat diving unit were chosen to receive initial training from the U.S. Navy SEALs and later with the U.K.'s Special Boat Service.
Notable Missions
MARCOS was an integral part of the Indian Peace Keeping Force created to put an end to the Sri Lankan Civil War between 1983 to 2009. During Operation Pawan, MARCOS operators successfully captured tactically important ports of Jaffna in northern Sri Lanka. The unit successfully executed several extended missions in Tamil Nadu (India) and the Maldives as well.
Today, MARCOS is mainly deployed in the border regions alongside the Indian Army to conduct covert operations against the Chinese and Pakistani military. It is also responsible for conducting anti-piracy operations in the Arabian Sea and the Persian Gulf.
Other Special Forces Units in India: Para SF is another widely respected special forces unit of India. It is part of the Parachute Regiment of the Indian Army that also includes airborne battalions.
12. New Zealand Special Air Service – New Zealand
NZSAS Headquarters Troop with the squadron's mascot (1955) | Credit: NZ History
Active Since: October 1959
The New Zealand Special Air Service, or 1 NZSAS Regt., is the most skilled and sophisticated military unit of the New Zealand Defense Force. Its responsibilities include counter-terr*rist operations, reconnaissance, CBRNE (Chemical, biological, radiological, and nuclear defense), and other special operations.
The NZSAS was originally raised in 1955 by the New Zealand government to support the Commonwealth war efforts in Malaya (now Malaysia) during the Malayan Emergency. The unit was disbanded in 1957 but was re-established in its current form in October 1959. It is modeled after the British Special Air Service.
Notable Deployments and Missions
Since its formation, the New Zealand Special Air Service troops have been deployed to several South-East Asian countries, including Thailand (1962), Borneo (1965), Vietnam (1968), and East Timor (1999). The NZSAS was a component of the Task Force K-Bar, a combined joint special operation task force consisting of SOF (Special Operation Forces) from seven countries that operated in Afghanistan until April 2002.
Between 2009 and 2012, the New Zealand Special Air Service Personnel carried out counter-insurgency operations in the capital Kabul.
During an interview in 2011, retired General David Petraeus (commander of the U.S led coalition forces in Afghanistan at that time) praised the unit for their valuable contributions in the war, including several high-risk arrests and weap*n raids.
11. Joint Task Force 2 – Canada
JTF2 operators during HALO operation | Image Courtesy: Instagram/JTF2.Canada
Active Since: 1 April 1993
The Joint Task Force 2, or simply JTF 2, is Canada's special operations unit known for its highly secretive nature. It was raised in 1993 specifically for counter-terr*rist operations both inside and outside of the Canadian borders. JTF2 also specializes in h*stage rescue and special reconnaissance.
Notable Operations
Despite its recent origin, the JTF 2 has been involved in several high-profile operations in Haiti and Afghanistan. Their deployment to Afghanistan following the American declaration of War on Terr*r in 2001 was so secretive that even the Canadian Prime Minister was apparently not informed about their movement.
On 23 March 2006, a small team of JTF 2 rescued three human rights workers of the Christian Peacemaker Team, who were abducted in Iraq, along with British SAS and intelligence from the U.S agencies. Both the Pentagon and the British Foreign Office praised JTF 2's role in that operation.
Though not officially acknowledged, JTF 2 is believed to have conducted a joint operation with the British SAS and SBS during the Libyan civil war in 2011. Reports of the group being secretly deployed to Kosovo also surfaced in October 2000.
10. GSG 9 – Germany
GSG 9 operators rappel on a German building | Credit: Wikimedia Commons
Active Since: 26 September 1972
GSG 9, also known as the Border Protection Group 9, is the tactical unit of the German Federal Police. Its capabilities include h*stage rescue, counter-terr*rist, and high-risk arrests. They are also known for developing new tactics and methods for such missions. The unit was established in response to the 1972 Munich Olympics mass*cre, during which 11 Israeli nationals were killed along with a German police officer.
The situation was extremely critical since the German police neither had the training nor equipment necessary for rescue and counter-terr*rist operations. Within a month from the incident, the German government commissioned the GSG 9 under the Federal police to thwart any similar situation in the future.
Notable Missions
On October 18, 1977, GSG 9 operators successfully rescued all 86 h*stages onboard Lufthansa Flight 181 in Mogadishu, Somalia. In 1982 and 1993, the group arrested several members of RAF (Red Army Faction, a far-left militant organization). In 2007, three suspected terr*rists were arrested by GSG 9 with a large cache of explosives.
Most of the equipment used by GSG 9 operations is German and American-made.
9. GIGN – France
GIGN operators during a demonstration | Image Courtesy: Bruno Domenjod
Active Since: March 1974
After the Munich mass*cre in 1972 and the Clairvaux prison mutiny a year before, the French government felt the need for a specialist law enforcement unit to tackle situations like organized crime, domestic terr*rist attacks, and h*stage situations in the future. As a result, the National Gendarmerie Intervention Group or GIGN was formed in 1974 as a tactical unit of the National Gendarmerie of the French Armed Forces.
GIGN is renowned for its swift responses and advanced combat capabilities during hostile situations and can operate anywhere in the world. The group reportedly has been involved in more than 1,800 missions.
In its current form, the GIGN is organized into six segments. The main as*ault unit, known as 'Intervention force,' consists of four platoons, with each composed of twenty-four operators.
Notable Missions and Operations
Perhaps the most publicized operation of GIGN was a successful as*ault on the hijacked Air France Flight 8969 in December 1994. The as*ault neutralized all three perpetrators without any civilian casualties.
A year later, in 1995, GIGN and the special operations units of the French Army and Navy captured the infamous French mercenary, Bob Denard from Comoros. Several GIGN teams have also been deployed to Afghanistan for policing and support operations.
8. JW GROM – Poland
GROM unit carrying out ship-seizure training
Active Since: 13 July 1990
JW GROM is one of the six special operations units under Poland's Special Troops Command and one of the world's most elite special forces. GROM operators have earned the nickname "The Surgeons" due to their expansive medical training and mission efficiency.
It was established in 1990. GROM took inspiration from other elite forces like British SAS, United States Delta Force, and SEALs during its initial years.
Notable Deployments and Missions
The existence of JW GROM was not known to the public until it was first reported in the news in 1992 and received widespread recognition in 1995 after its first significant military operation in Haiti. GROM was a critical component of the Polish contingent in the 2003 invasion of Iraq, responsible for securing important assets and counter-insurgency operations.
In Afghanistan, GROM operators were commended for their effectiveness during missions and training Afghan National Police.
7. Sayeret Matkal – Israel
Active Since: 1957
Sayeret Matkal, or General Staff Reconnaissance Unit, is a special forces unit of the IDF (Israel Defense Forces). It was created after the infamous Qibya mass*cre and the subsequent dismissal of Unit-101, IDF's only dedicated special force at that time other than the Navy's Shayetet 13.
Essentially a recon or intelligence-gathering unit, Israel's Sayeret Matkal can operate deep behind the enemy lines. It is also tasked with h*stage rescue and counter-terr*rist operations.
Before 1974, Sayeret Matkal was solely responsible for domestic rescue missions but was relieved from its responsibilities after the formation of Yammam, Israel's National Counter Terr*rism Unit.
Notable Missions and Operations
The success of Operation Entebbe in 1976 demonstrated the reach and capability of Sayeret Matkal to the world. On July 4, About a hundred Israeli commandos, including Sayeret Matkal operators in the main as*ault role, stormed Uganda's Entebbe airport and rescued more than a hundred h*stages.
6. Special Air Service Regiment – Australia
Members of SASR during the 2007 ANZAC Day march in Brisbane
Active Since: 25 July 1957
Nicknames: "Snake eaters," "chicken stranglers."
The Special Air Service Regiment, or SASR, is one of the most respected special operations forces in the world. It is a component of the Special Operations Command of the Australian Defence Force (ADF) and was created on 24 July 1957 (as a company) based on the principles of British SAS. It gained regimental status in 1964.
After its establishment, SASR gradually gained field experience from various special forces units of the Services Reconnaissance Department that were operational during the Second World War.
SASR operators are trained to conduct covert and surveillance missions with small teams and conduct full-scale raids in large groups. Alongside a specialist counter-terr*rist capability, SASR's other responsibilities include training local forces and rescuing Australian nationals from h*stage situations.
Notable Deployments and Missions
Read: 11 Different Types Of Swords [Based On Shape & Size]
SASR has been deployed in Borneo (1965), Vietnam (1968), Cambodia (1997), Kuwait (1998), and East Timor (1999) as part of the U.N Peacekeeping force. In Afghanistan, it played a key role in multiple military operations, including Operation Slipper and Operation Anaconda.
5. Delta Force (1st SFOD-D) – USA
Founder of Delta Force, Charles Beckwith in 1980
Active Since: 19 November 1977
Nicknames: CAG, Task Force Green
In recent years, the name 'Delta Force' has become synonymous with the special forces. It has practically become a household name. However, it was not supposed to be this way. Delta Force, officially 1st Special Forces Operational Detachment-Delta, is a secretive special operations force raised to engage high-value targets and perform counter-terr*rism, h*stage rescue, and recon operations.
The idea of such a unit was suggested by Charles Beckwith, a Special Forces officer, who had served as an exchange officer with the British Army's Special Air Service (22 SAS Regiment) during the Malayan Emergency. He proposed a highly adaptable and autonomous force that specializes in covert missions.
In an interview, former Delta Force operator Paul Howe stated about the high attrition rate of his Delta selection course. Out of his two classes totaling 240 candidates, only 12 to 14 completed the course.
4. Alpha Group – Russia
Alpha group emblem
Active Since: 1974
Nickname: Alpha Group (Alfa)
Some of you might be wondering what about 'Spetsnaz'? You should know that Spetsnaz is a general term used for all the Soviet/Russian special forces.
Alpha Group, officially known as Directorate "A" of the FSB Special Purpose Center, was established by the Soviet KGB in 1974 to execute counter-terr*rist operations and provide a security layer for the Soviet leadership.
At present, Alpha Group officially operates under the Federal Security Service (FSB), Russia's internal security agency. The Alpha Group operators are considered as one of the most aggressive in the world.
Known Operations
During the Soviet era, the Alpha Group took part in armed interventions in Afghanistan, Lebanon, and the Baltic region. Domestically, it has taken part in almost every major anti-terr*rist/h*stage operation, including the Moscow theater siege in 2002 and the Beslan school siege in 2004.
Read: 13 Best Spy Agencies in the World
3. Shayetet 13 – Israel
Active Since: 1964
Nickname: HaShayetet (The Flotilla)
Shayetet 13 is the special forces unit of the Israeli Navy, extremely proficient in counter-insurgency, maritime sabotage, search and rescue, and recon missions. It is one of the oldest and most respected special operation forces in the world, on par with the likes of British Special Boat Service and U.S Navy SEALs.
Notable Operations
Since its formation in 1964, Shayetet 13 had been involved in nearly every major Israeli war, including the Six-Day War (1967) and War of Attrition, during which it assisted Sayeret Matkal against Egyptian forces.
Shayetet 13 operators took part in the 1973 Israeli raid on Lebanon in which IDF forces, with assistance from Mossad (Israeli Intelligence agency), attacked several high-ranked leaders of Palestine Liberation Organization and Black September in Lebanon. It is considered a part of Operation "Wrath of God" launched by Israel in retaliation to the 1972 Munich Mass*cre perpetrators.
Read: 15 Coolest And Latest Military Gadgets
2. Navy SEALs – The United States
U.S Navy SEAL Delivery Vehicle Team members performing lookout training | U.S Navy 
Active Since: 1 January 1962
Nickname: "The Teams"
Navy SEALs, short for United States Navy Sea, Air, and Land Teams, were created in 1962 as a part of the Naval Special Warfare Command and the United States Special Operation Command. Although one can trace their roots to World War 2, the Vietnam war of 1961 saw the actual birth of the modern-day SEAL.
Notable Deployments
In the last few decades, Navy SEALs have been deployed in active war zones, including the Iraq invasion in 2003. Operation Neptune Spear was, without a doubt, the greatest achievement of the Navy SEALs.
Their training methods are incredibly harsh and often described as 'brutal.' An average SEALs candidate spends more than a year in a remarkable physical and mental training program before getting enlisted.
Read: 8 Most Powerful Military Helicopters In The World
1. Special Air Service (SAS) – United Kingdom
Special Air Service insignia | Credit: Wikimedia Commons 
Nickname: "The Regiment"
Role: Counter-terr*rist, reconnaissance, special operations
The Special Air Service (SAS) is one of the oldest and perhaps the best special forces that serve Britain. It was formed in 1941.
The Special Air Service is composed of three units: 22 SAS Regiment (the regular unit), 21SAS (Artists)(R), and 23 SAS reserve units (reserves). 22 SAS regiment has four active squadrons: A, B, D, and G. Each squadron contains more or less 65 men, categorized into four troops. Each troop has a separate headquarters section that is guided by a captain.
Read: 10 Most Advanced Military Vehicles In The World Today
Notable Deployments
British SAS played a significant role during the War in Afghanistan. During a joint rescue operation with U.S special forces, code-named Jubilee, the SAS operators successfully rescued the h*stages without any casualties from Badakhshan Province in Afghanistan.
The importance of the British SAS can be judged by the single fact that many of the powerful special forces overseas were initially based on SAS principles. One good example is the American Delta Force.